Omnichannel Marketing Guide – 5 Tactics For Effective Implementation
Omnichannel marketing is becoming an increasingly essential part of most companies' marketing mix, as consumers are adapting to the unified communication style utilized by this approach.
Omnisend research shows that eCommerce brands using omnichannel marketing had a 494% higher order rate than those using a single-channel campaign.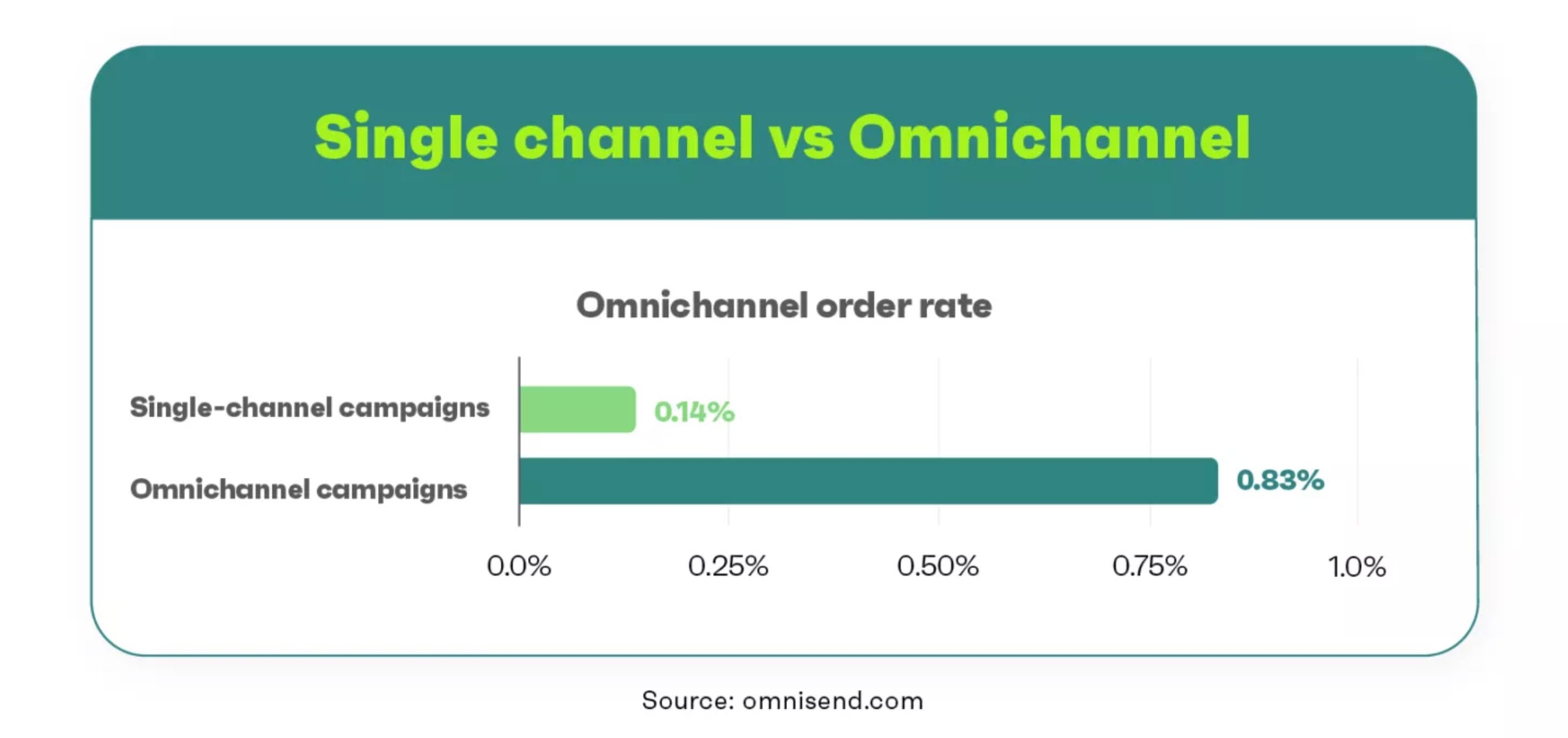 Essentially, omnichannel marketing allows all of your multiple channels to work together to talk to an existing customer or assist an indecisive shopper. For example, imagine a shopper is retargeted on Facebook with the product they abandoned in their online shopping cart. Pushing that further, if they buy the abandoned product, they get an order confirmation via SMS or notification, with a detailed receipt via email.
For all of this to work seamlessly, the data has to be synced seamlessly and near-immediately to provide the best experience for the customer.
However, while seamlessly synced data is crucial, it's not the only requirement: omnichannel marketing requires a strategy to be effectively implemented. In today's omnichannel marketing guide, we'll look at the strategic steps to take to prepare your omnichannel program, and the 5 tactics to implement it effectively.
Step 1: Identify a buyer persona
You shouldn't blindly create an omnichannel marketing strategy without knowing who you're creating your strategy for.
According to ITSMA research, 39% of brands that used buyer personas reported having higher conversion rates.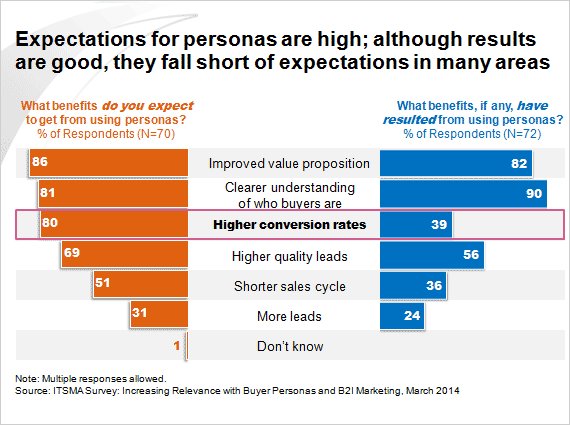 Understanding who your ideal customers are will help you understand how and when they like to communicate. For example, customers from the older generation may be happier to receive emails as the main communication channel, with clearer language and slightly longer timeframes.
Buyers from the younger Gen Z audiences would likely prefer a messaging platform like Messenger or WhatsApp, with quicker language and shorter timeframes. What would work for one of these audiences might be annoying for the other, and you may end up losing customers by confusing your buyer personas.
Step 2: Choose your communication channels
You don't need to be everywhere at all times, but you must be where your customers would like you to be.
Depending on how your business is set up, you could have both offline and online channels that will make up your omnichannel marketing. As Aberdeen research showed, more than half of all companies are using at least 8 channels to communicate with their customers: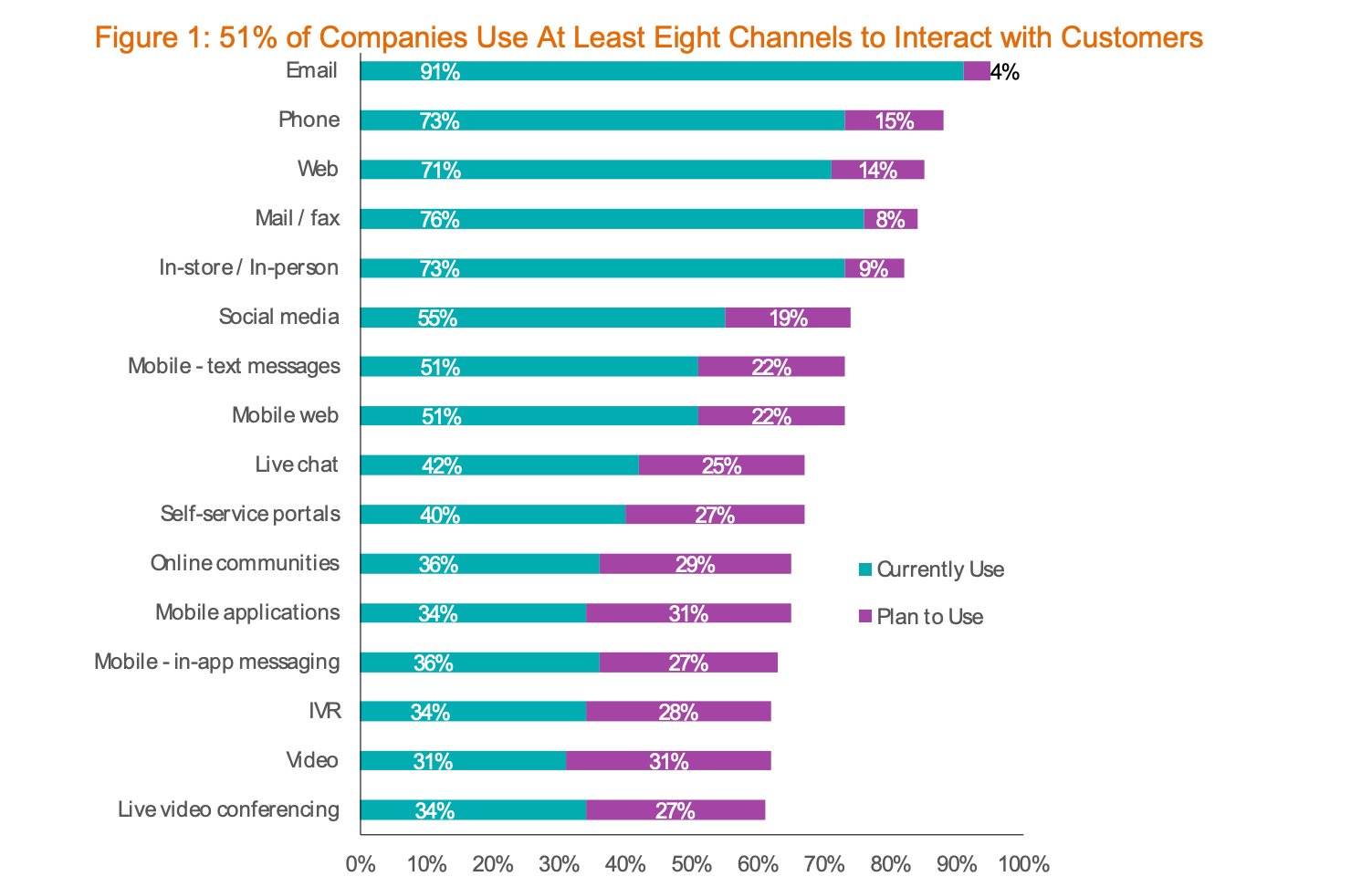 For most eCommerce stores, however, the most common communication channels are:
PPC, such as Facebook or Google Ads
Social media
Popups
Email
SMS
Push notifications
Live chat or chatbot
Phone
When you understand who your customers are and how they prefer to communicate, you can choose the channels that fit the best.
Step 3: Find an appropriate omnichannel marketing software
Once the strategy is fleshed out, the next step to success is to use a service that can offer as many of the channels as possible. On the one hand, this will help ensure that data is being synced continuously, as more separate tools used to handle this data can cause problems in syncing, not to speak of security and possible data violations.
On the other hand, the service still has to be powerful enough to do each channel well, rather than a jack-of-all-trades that is merely good at everything, but never great.
For the most part, you'll need about three different services: one, like Omnisend, which can handle the acquisition through retention channels, including email, SMS, popups and push notifications.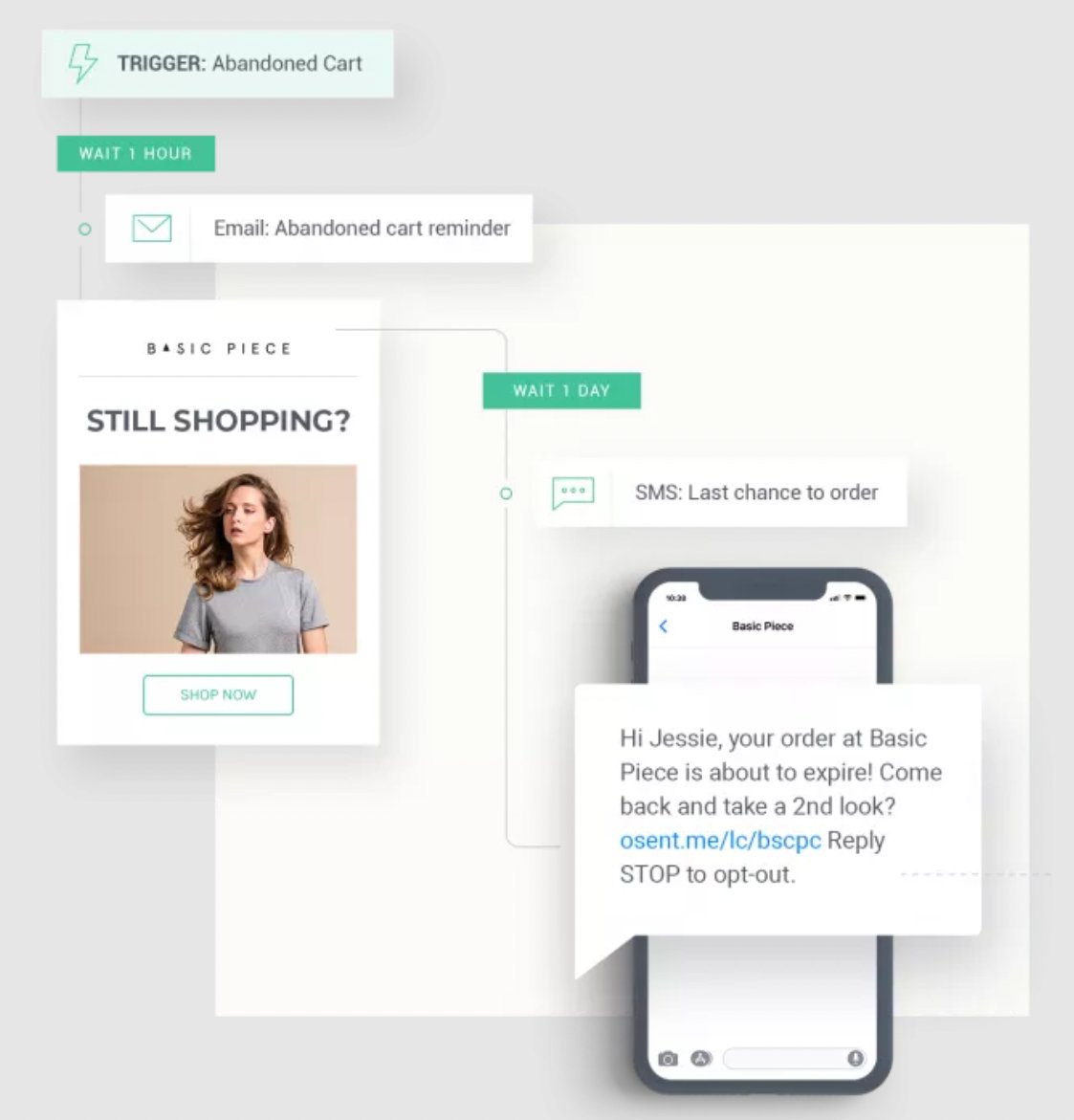 Then work with another tool for awareness channels, such as PPC and social media, and yet another for live chat, which will most likely have further customer support capabilities.
5 practical tactics to ensure effective omnichannel marketing
Now that we've got the basics out of the way, let's look at five practical tactics you can employ to make sure your omnichannel marketing is as effective as it can be.
Collect data
Having the capabilities to seamlessly sync data is one thing. It's also important to utilize this capability by capturing as much (important) data as possible. Data collection depends on clear communication of purpose, and you should get consent to collect and process this data as early as possible.
While a lot of marketing relies on email addresses, it's also important to gather other data such as:
Business phone number, for sending text messages
Date of birth, for birthday greetings and offers
Demographic data (such as gender, city or country, age, etc.) for greater segmentation and relevant messaging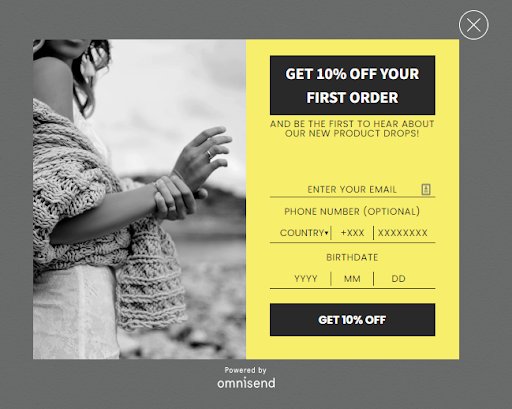 If you don't gather this data, you'll lose the opportunity to utilize many of the channels that make up omnichannel marketing.
Don't analyze data – gather insights
There is no such thing as too much data. However, in a marketing sense, this generally means the current inability to either filter or process the necessary data. Data analysis, as such, needs to go beyond mere analysis ("these many customers performed these actions at this time"). 
The analysis should result in insights, that will inform your next theories, tests, and steps. What does it mean that your customers do or do not click on CTAs inside your email, or visit your product page but don't buy at all?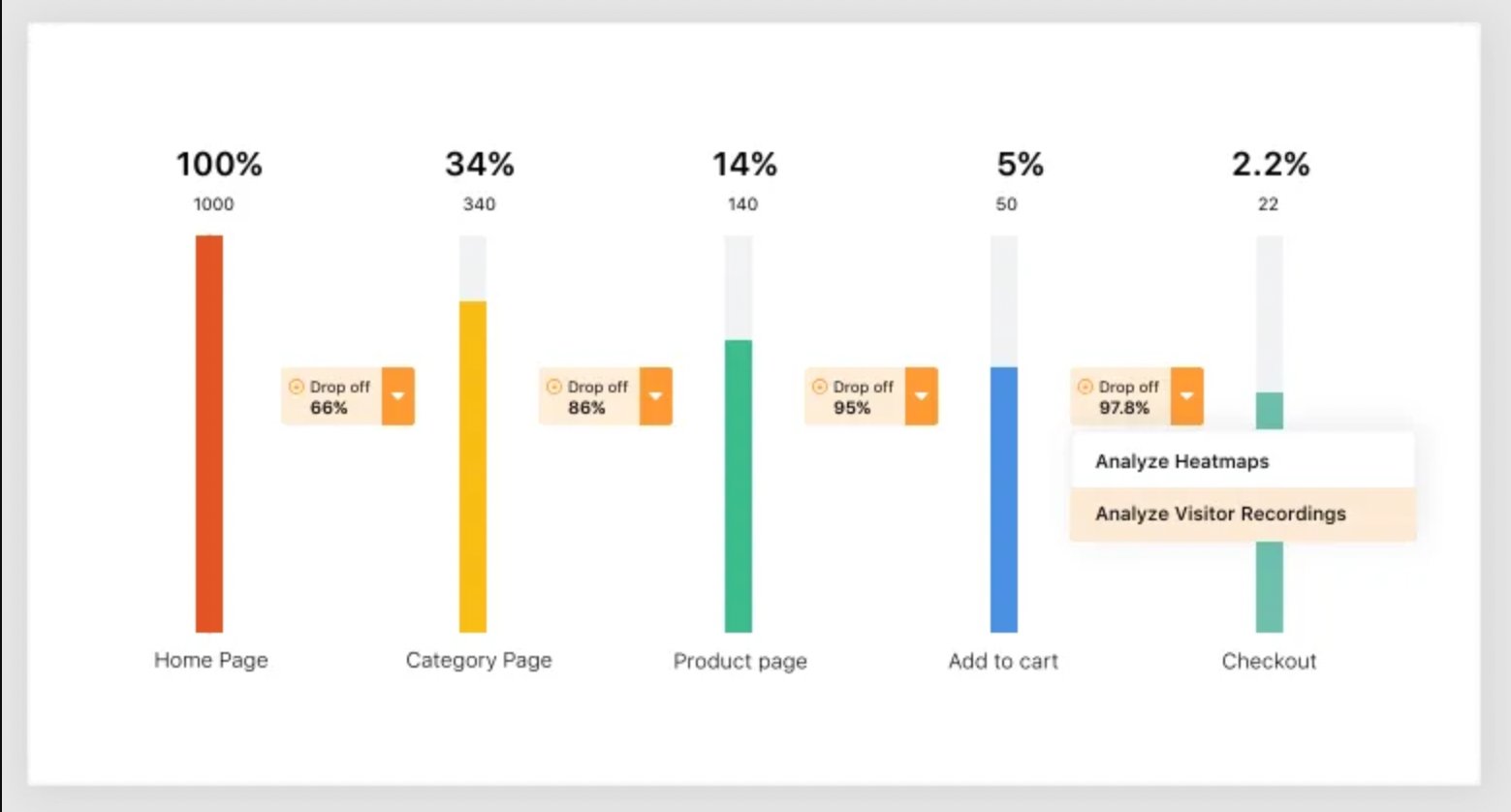 These insights are important, and it's important to not only analyze the data you have but to try to understand the story it's telling you.
Map your customer journey
With the insights you've gathered, plot them against where your customers are at in their customer journey. Tools like Omnisend have built-in customer lifecycle features that help you understand which of your customers are in any particular stage—such as "high potential," "loyalists," and even "about to lose." This overview is based on the data you've collected.

This can be done manually as well by building dynamic segmentation that takes into account the different stages of the customer journey and matches them with their abiding actions.
Actions like abandoning a cart for non-customers places them in the "Consideration" stage (and you'll need to get them to the purchase. Similarly, clicking on the shipping tracking link in your confirmation email places them in the post-purchase stage, and your task will be to get them to the "Loyal" stage.
Constantly test, learn and optimize
With powerful data insights in hand, the next step for you is to validate your ideas before you roll out new omnichannel experiences to your users. For this, you need an experimentation platform like VWO, that possesses two crucial capabilities:
Easy integration with customer data portals without the need to import data into VWO
Advanced customer targeting that enables you to run experiments on specific customer cohorts
For instance, you can test whether customizing content based on your visitors' industry type makes a difference to your business metric before you deploy the new content through different channels. You can test different promotions to different audience segments based on their behavioral attributes to gauge impact and only deploy what works best.
Creating custom segments of your audiences is easy and requires just a few steps in VWO. For instance, below is the configuration to target visitors from Fortune 1000 companies belonging to the communications industry.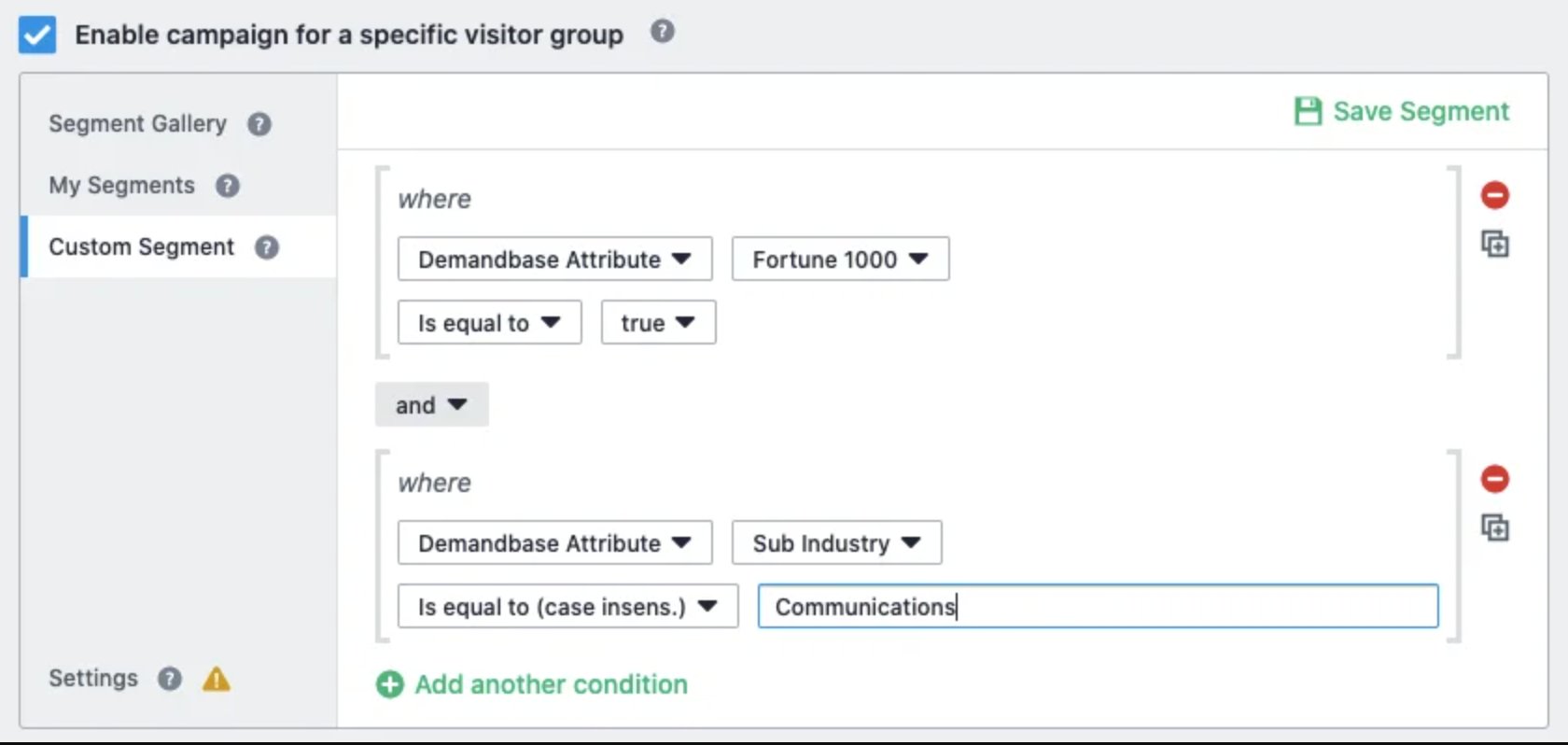 You can then run your experimentation campaign for the specific visitor group and measure the impact to validate your idea before you scale it.
With VWO Personalize, you can go even one step further. You can build delightful customer-focussed journeys by prompting each experience campaign at the right time. Those triggers could be based on visitors' persona or events like when they refresh the page when they've scrolled a certain depth, to the time they've spent on a page, among others. Take an all-inclusive free trial to explore in detail.
You can even A/B test subject lines, email copy, and workflows if your email marketing provider has that feature.
Be consistent in your messaging
Great omnichannel marketing should be understood as one team working for the same goal across different teammates, and all in constant communication.
While all the teammates don't have to sound and look the same, they should all be aligned on the common goals, the joint pain points to address, remember the important details, and have a similar outlook.
In essence, you should maintain your branding across all the channels that you use in your omnichannel strategy, ensuring that those channels are in constant communication so that the customer has a smooth experience.
Conclusion
Omnichannel marketing is a powerful, effective strategy—if used correctly.
By understanding your buyer personas, creating a strategy for how, where, and when to talk to your customers (and what to say), and having the infrastructure in place to seamlessly sync data through all the channels to provide the best customer experience, you'll see strong results on your website, and happier customers.