WorkZone is a web-based project management and documentation collaboration tool. Like most SaaS companies, they provide demos to convince people to buy their tool.
The lead generation page
To request for a demo, the prospects are supposed to fill out a form. This is the most important page of the website and has a few things working well for it — a short form, customer reviews by authority figures and an arrow pointing to the form acting as a direction cue. Take a look: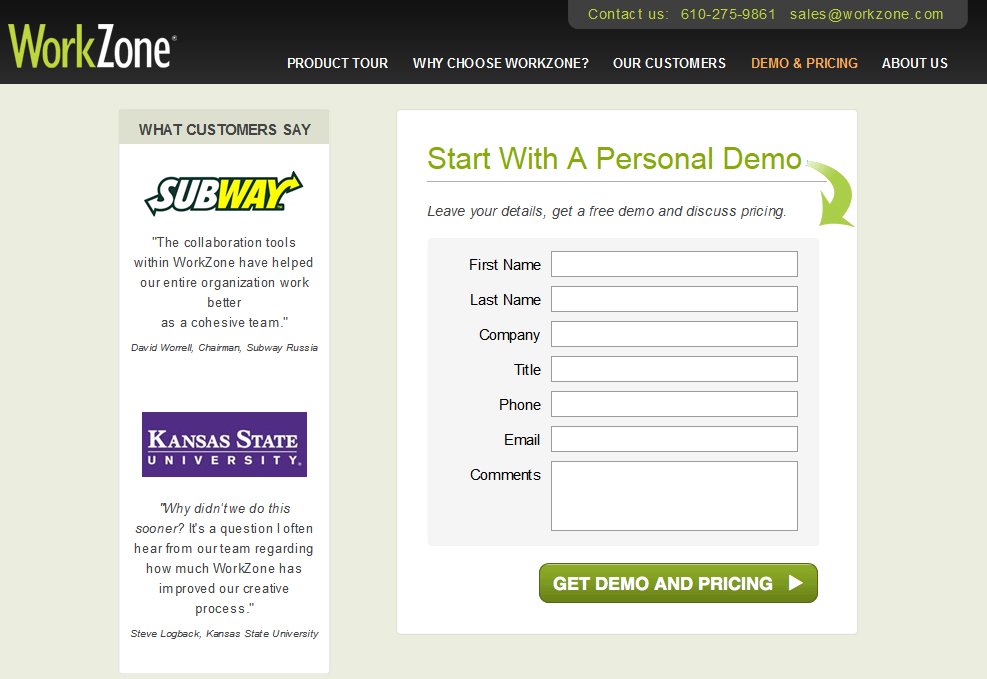 The Test
Steven Macdonald of WorkZone thought the colored logos used in the testimonials might be overshadowing the form. So he decided to use Visual Website Optimizer to create a quick A/B test. He created a variation with black and white logos and tested it against the original.
The test was run only on the new visitors coming to the website — thanks to the behavioral targeting feature of VWO. The goal was to track the number of form submissions. Here's how the variation looked: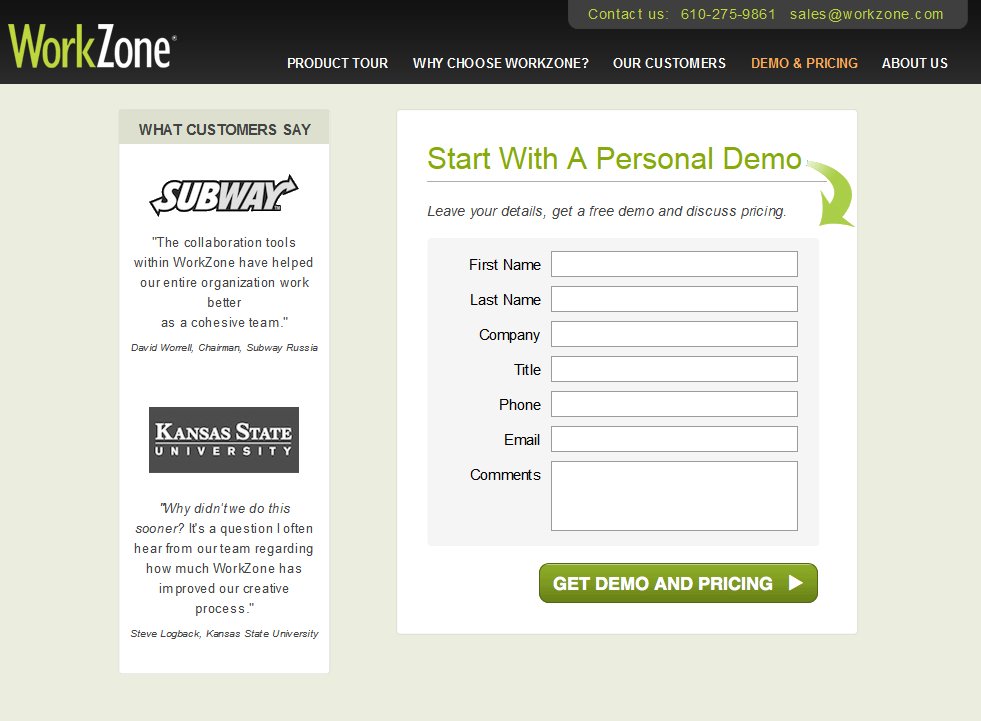 The Result
The Variation outperformed the Control with a 33.93% increase in form submissions and a statistical significance of 99%. The test was run for a duration of 22 days before WorkZone decided to hardcode the change on the website.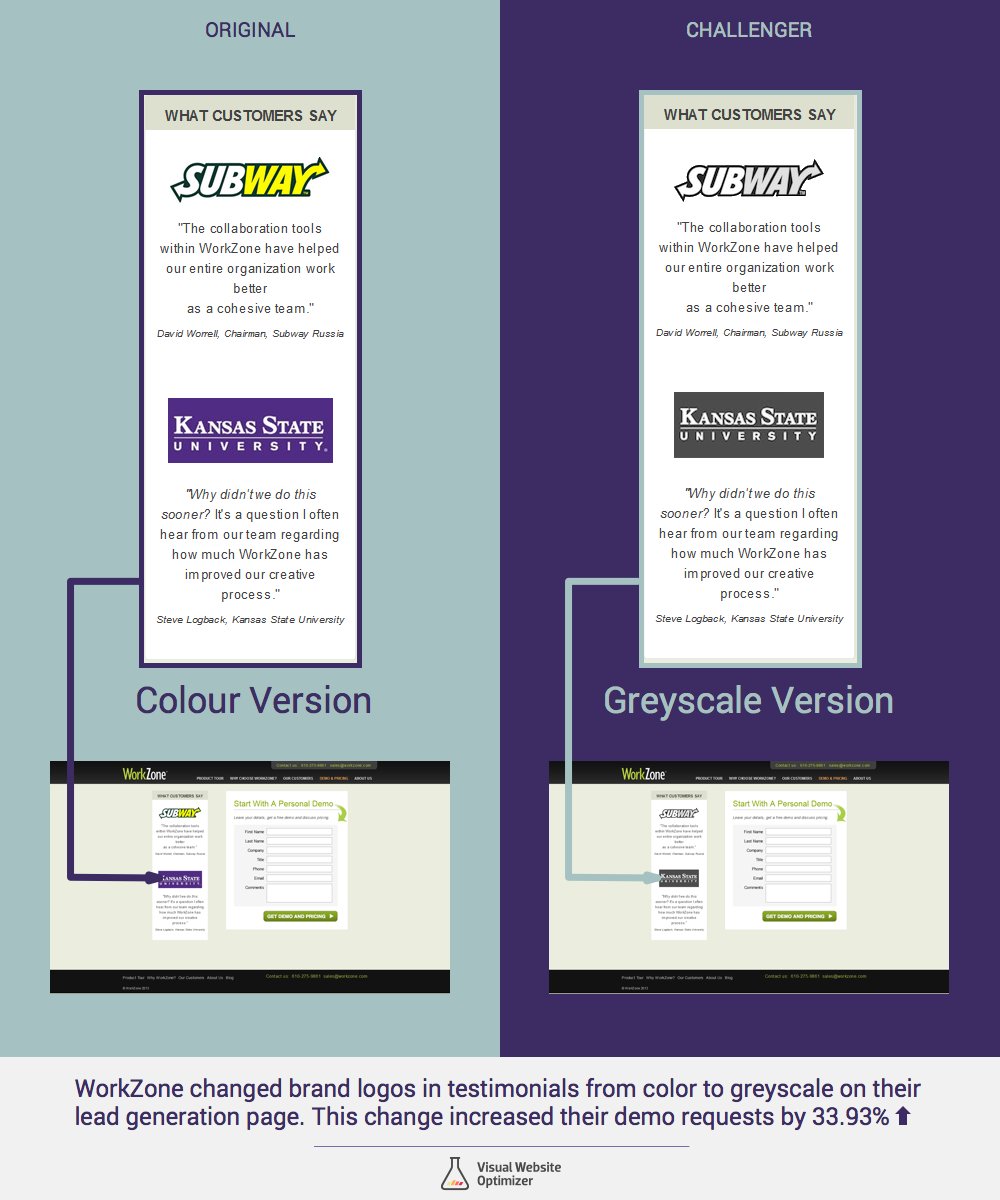 What worked?
That social proof is extremely powerful is already known. But what is relatively less known is how to use it effectively and how much to use it. Here's why the Variation beat the Control:
1) Colored logos were overshadowing the form
The demo request page has a lot of whitespace and mostly subdued background colors. The colored logos with more visual appeal clearly stood out and overshadowed the form — the main website goal. Eye tracking studies have also proved that pictures get immediate attention. As per visual hierarchy as well, the colors of the logos were well in contrast with the rest of the page which made them stand out.
Since the idea behind placing logos in the testimonials is that the brand gets quickly recognized, the black-and-white logos served the purpose without stealing the thunder of the web form.
2) They looked like clickable entities
The clickmap and heatmap report generated by VWO clearly showed that there was mouse movement and clicks in the testimonial bar. The rule of one page, one purpose was thus flouted!
A parting note
Greyscale logos may not be all that appealing but they worked in this case as they brought back the attention to the web form. You too might be having an element like this on your site — too flashy, too loud and distracting visitors from your main goal. Try A/B testing and see how it impacts your conversions.