Company Background
Hotel Institute Montreux is an international institute of hospitality and hotel management in Switzerland. They offer various undergraduate and postgraduate courses in hospitality and business management.
The Test
The primary lead generation avenue on HIM website is the 'Receive your free brochure' page. Originally, the page had a form where a prospective candidate had to fill in the details and request for a free brochure. Here's how the original form on the lead generation page looked like: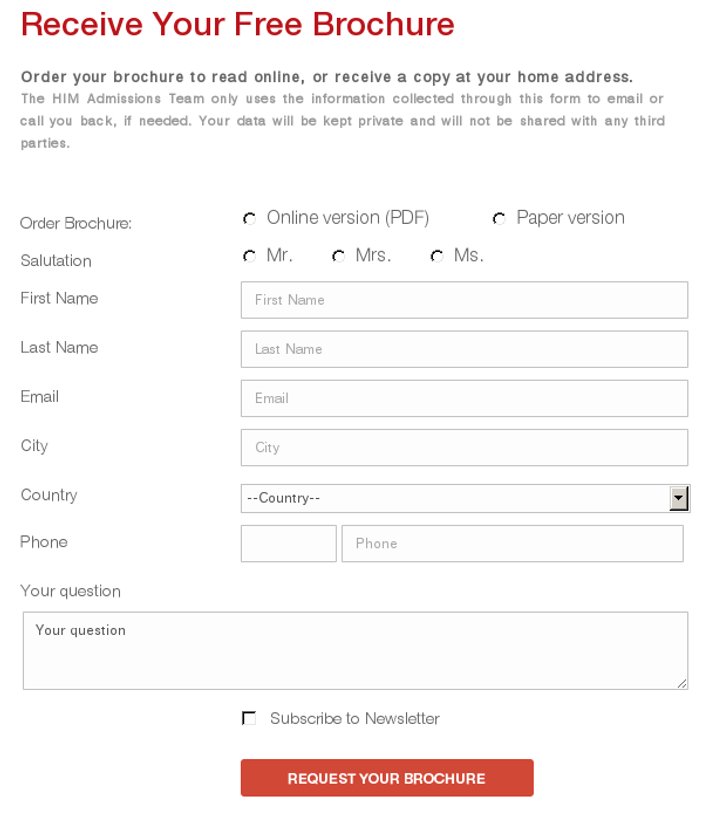 HIM assigned the responsibility of improving conversions on their lead generation page to their digital agency The Reference. After evaluating various elements on the website, The Reference found that though HIM had a lot of good testimonials on their testimonials page, there were none on the lead generation page. Spotting an opportunity there, they decided to run a split test on the lead generation page. The hypothesis behind this was to test if testimonials have an impact at the visitors' Zero Moment of Truth – the online decision-making moment.
This is how the challenger version looked like: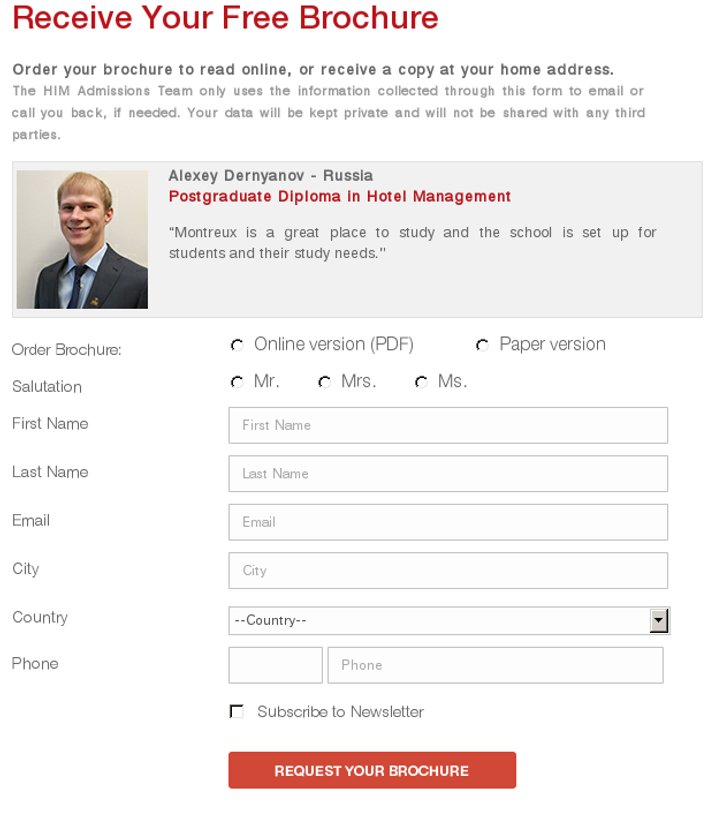 The Result
Placing the testimonial right above the lead generation form led to 50% increase in conversions on the form. This further translated to a 54% decrease in cost per lead for HIM's Google Adwords campaigns.
Why it worked?
Testimonials work as strong social proof for visitors. They add credibility to your landing page and are known to impact conversions in a positive way. However, this case brings to focus another aspect of using social proofs i.e. placement. Social proof can act as a strong influence at your visitors' Zero Moment of Truth. Therefore, placing them closer to the action point (the lead generation form in this case) tends to magnify their impact on conversions. Michael Aagaard from Content Verve tried this experiment on his e-book download page. He moved testimonials higher up on the page and saw 64.53% increase in downloads.
You can also test the placement of various other elements on your key landing pages to see how they impact conversions. Czc.cz, a VWO customer, tested 4 different versions of a customer review widget on their products page and saw a 7.5% increase in revenue!
Share your thoughts!
Have you experimented with the placement of elements on your landing page? We would love to hear about your experience in the comments section.