When you want people to take action, how you say things can make a lot of difference to the way people respond. Submit, sign-up, continue, are all obscure call-to-action texts and are not too compelling.
Call-to-action (CTA) button is the most important element on a web page. Your image, testimonials, copy, everything should ideally push the visitor to hit that awesome button.
So, when you write something vague or less-impactful on that crucial web element, it can cost you a lot more money than you'd expect.
In our current case study too, our customer, Roader Studios, realized that the CTA text for their new opt-in campaign, Famous in Five, is not too powerful.
About the Campaign
This opt-in was created as a teaser to promote a new challenge, Creating Fame program. It was a five day challenge where participants spent about half an hour each day, working on tasks, like creating a business pitch, pitching guest posts and interviews.
The goal was to make people realize that it is possible for them to make a mark in the online world within five days, irrespective of their industry type. They wanted to make them curious about the Creating Fame program that was due for launch in a few days.
Email traffic was redirected to this opt-in campaign. Here's the Original page where the much-targeted traffic was landing earlier: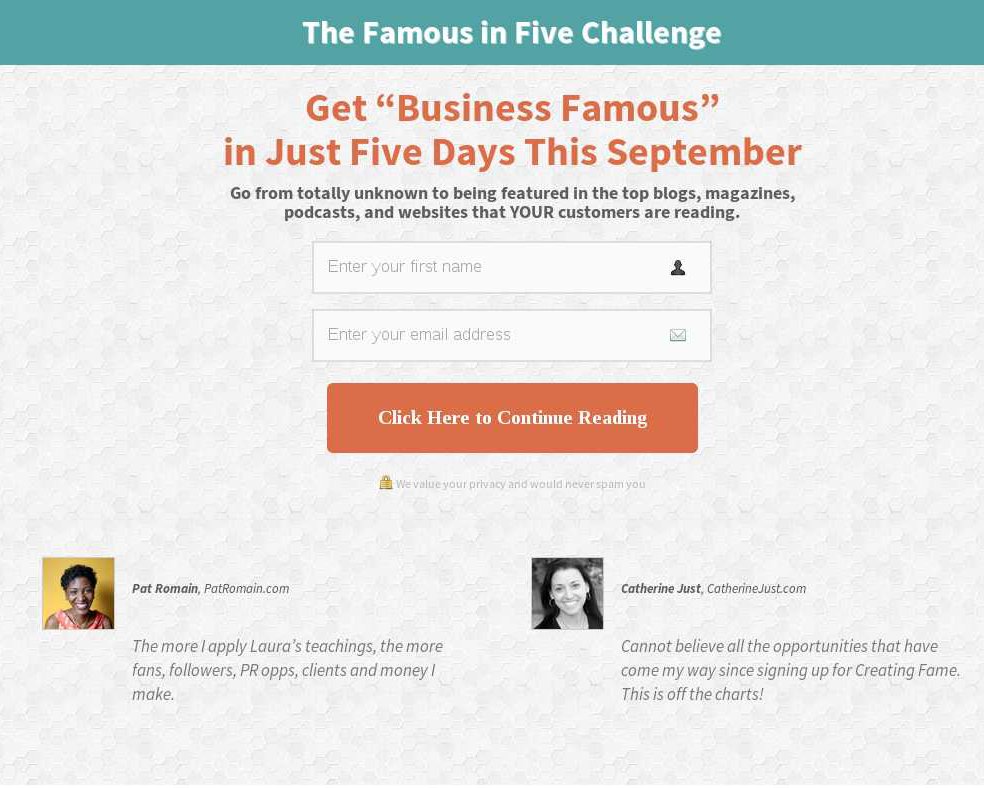 Test Hypothesis
The test hypothesis was that making the call-to-action button text more specific and hard-hitting will improve sign-ups for the campaign.
Once people enrolled for the five-day challenge, they were redirected to an article that emphasized why it has become so important for small businesses to maintain good online presence. So, the new call-to-action text said, "Make Me Famous" and this was their Challenger: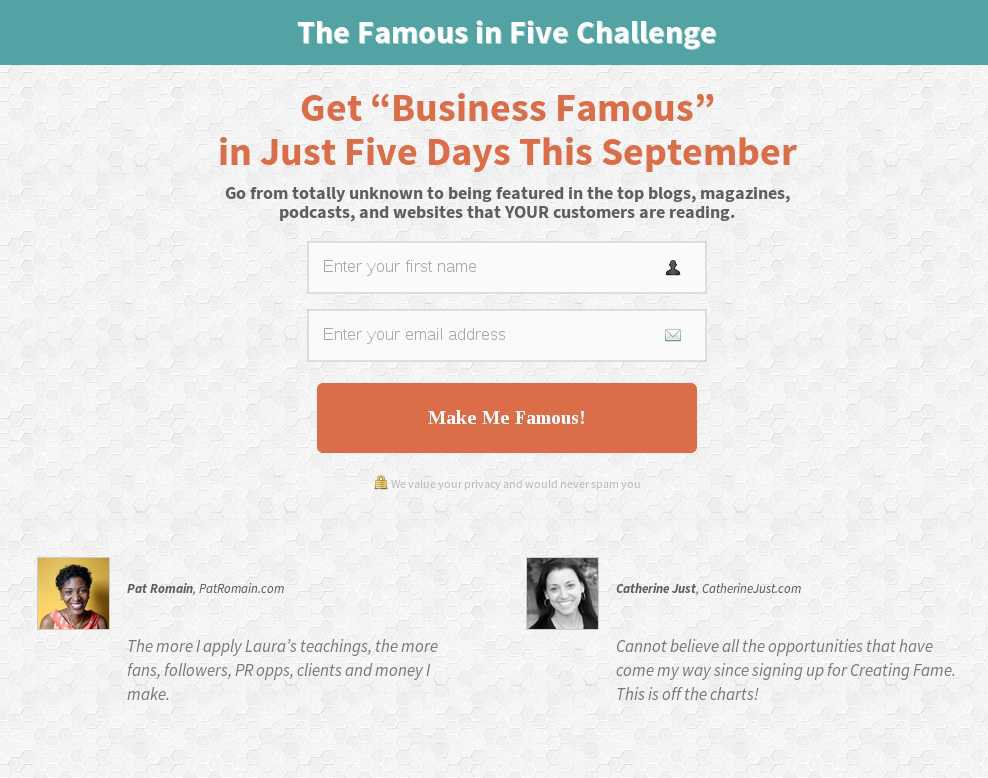 Result
The test ran for two weeks and the Challenger with more specific appeal in its call-to-action text beat the Original by 8.39%.
Below is the screenshot of the test report from Visual Website Optimizer:

You can check this image to draw a parallel comparison between the two versions: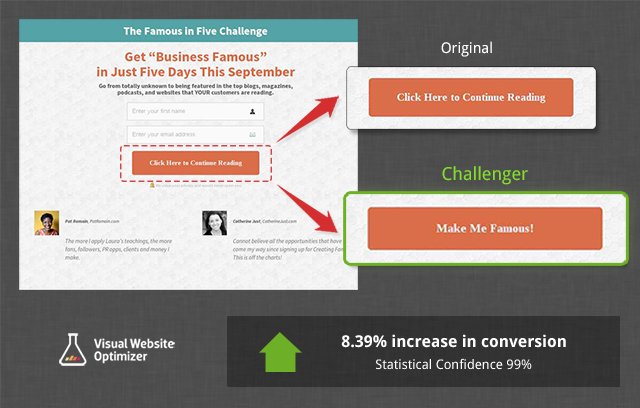 Although the text in the Challenger was definitely more specific, it's worth noting here that it also had a strong personalized appeal with the addition of the word, "Me."
Changing call-to-action texts to the first person (I, me, my, etc.) has worked for many other people. When the call-to-action text on Unbounce's landing page was changed from "Start your free 30 day trial" to "Start my free 30 day trial," their clickthrough rate increased by 90%.
Besides, another important observation you must not miss here is, the text "Make Me Famous" conveys better value of the campaign than the original button text. It tells people what they can expect to get, if they sign-up for the campaign. So, overall the change in the Challenger seemed very justified.
Your Turn
I'm sure a lot many of you have tested your button text before. How did it turn out? Were you able to draw any insights from it? Let's discuss it in the comments.