Success Story
Morningstar Properties increases number of business inquiries by testing the CTA copy
About Morningstar Properties
Established in 1981, Morningstar Properties is a developer, owner, and operator of real estate products focused on self-storage and marinas. With its corporate headquarters in Charlotte, NC, the company manages a network of marinas under the name Morningstar Marinas. 
Morningstar Marinas has created a community of boaters who come together to enjoy life on the water. They work quickly and efficiently to help customers get out on the water, so they can start boating and start having fun as soon as possible. With clubhouse facilities and picnic areas, clean bathhouse facilities, restaurants, fuel, fish cleaning stations, and ship's stores, Morningstar Marinas is more than just a place to store your boat—it's a boating experience you'll never forget. 
Morningstar uses VWO for their experimentation needs. We spoke to Alexandra, Digital Marketing Manager at Morningstar Properties, and discussed the team's experience with a recently conducted successful A/B test.
Goal
The team wanted to improve the number of inquiries sent via the form on their mobile website. This form was accessible via a CTA above the main navigation bar. It was hypothesized that changing the copy of the CTA would positively impact the number of clicks on it and, in turn, also increase the number of form submissions. (VWO's GPT-3.5 Turbo-powered AI copy generator provides a large set of copy suggestions based on the existing copy on your website. You can test out what works the best for your audience with the platform's quick experimentation capabilities. Take a free trial to find out how.)
Tests run
The team experimented with two variations of the existing CTA which said 'Contact Us. In variation 1, the copy was changed to 'Inquire Now' and in variation 2, the copy was changed to 'Store Your Boat'.
This is how the control and variations looked in the mobile navigation: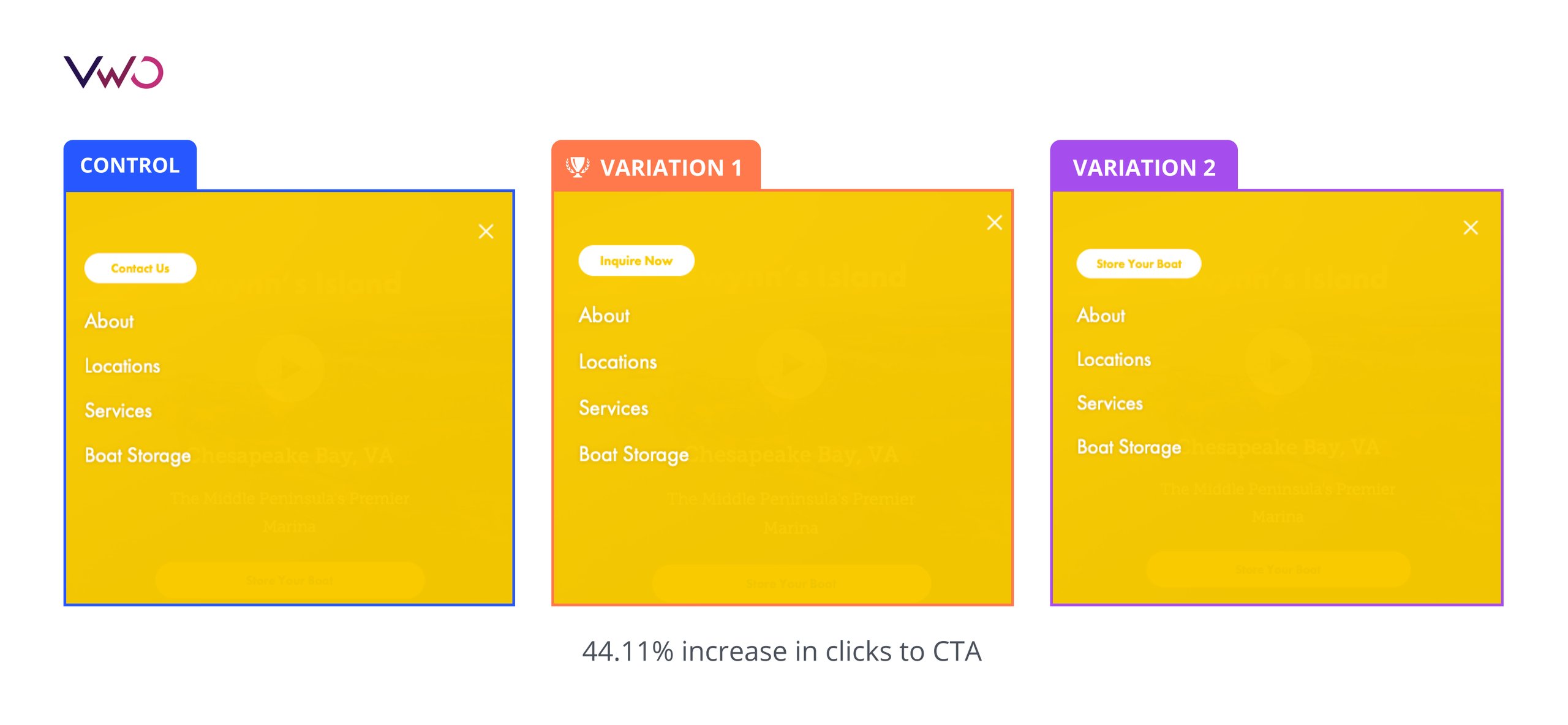 The test was concluded in nearly 3 months and Variation 1 was declared the smart winner by VWO. It led to a 44.11% increase in clicks to CTA which was the primary goal of the experiment. Variation 1 also performed the best on the second goal which was the number of inquiry form submissions. Here it reported an uplift of 15.43% over control.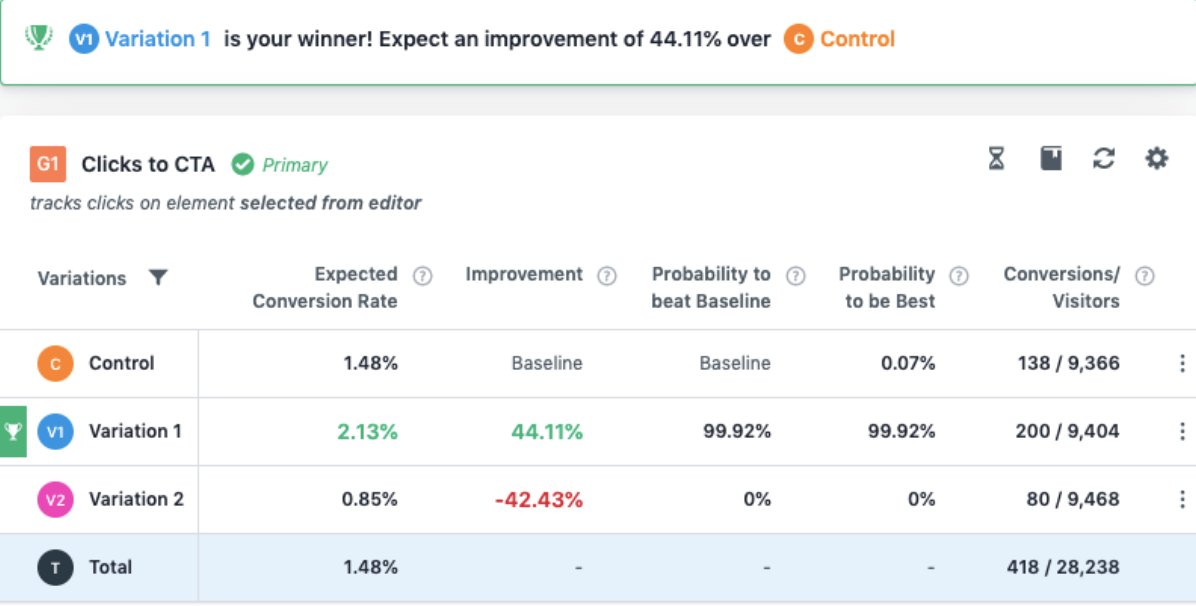 Conclusion
With the test for the mobile navigation CTA being successful, the team is also testing the CTA on their desktop website using VWO. One of their learnings from the mobile navigation test has been around testing relatively minor, but the right changes. It isn't always necessary to test radical ideas – this test has shown the team how minor changes to CTAs around the website can have a big impact and encourage experimenters to think about what the users of their website are looking for.

Experiment goals
Improving engagement with CTA, form completion rate and number of inquiries submitted
Impact
44.11% increase in Clicks on CTA
Explore Our Other Success Stories
Start and scale your A/B testing with VWO