Do you want to have a conversion-centered design?
Well, who doesn't? Wrong question.
Let me put it another way – how much do you know about designing for better conversions?
If you are awesome, you will know that the page elements that have most impact on the decision making of the prospects must get the attention they deserve. Often, this means increasing their size, giving them contrasting colors, or changing their placement on the page.
The point is, conversion-centered design should ensure that page elements which influence prospects' decisions the most are easy to spot when visitors are scanning the page.
In this case study, we show how Royal Discount used Visual Website Optimizer to achieve valuable testing wins by making important information stand out.
About the Company

Royal Discount offers computer hardware and software from recognized manufacturers like Microsoft, Adobe, Monster Cable and Symantec at discounted prices. The company has two main competitive advantages — 1) their top-notch customer service 2) extremely low prices. They hired Fruition.net to improve the conversion rate of their website.
Test Hypothesis
As is clear, pricing plays a crucial role in the decision-making of their target audience. So, the company first started out with a product page A/B test, where they added crossed out MSRP (Manufacturer's Suggested Retail Price). This gave a little boost to their conversion rate.
Next, they hypothesized that price information is getting lost in the remaining text on the page. Even though their call-to-action was standing out for visitors, they were probably missing out one of the key reasons why they should make the purchase from the Royal Discount website.
So, the hypothesis was that increasing the emphasis on pricing will increase conversions. "Add to cart" and the Final purchase were the two goals they were tracking. They made the change on their Microsoft Office 2013 product page to see how it works out.
This is their Original page: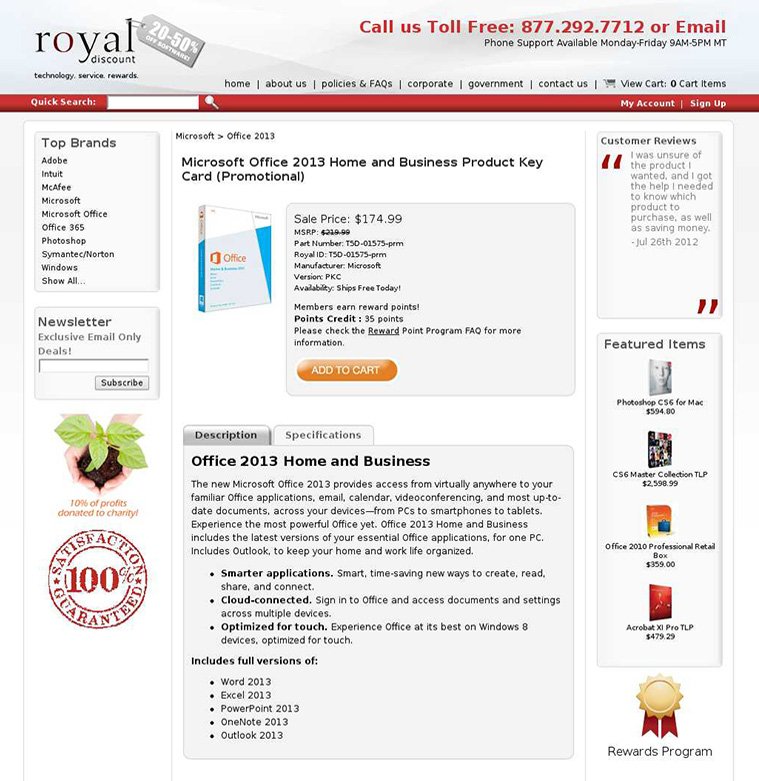 Fruition.net made a quick A/B test in Visual Website Optimizer, where they increased font size of the sale price from 15 px to 20 px and made it bold. The price of MSRP remained the same though. And this was their Challenger page after the change: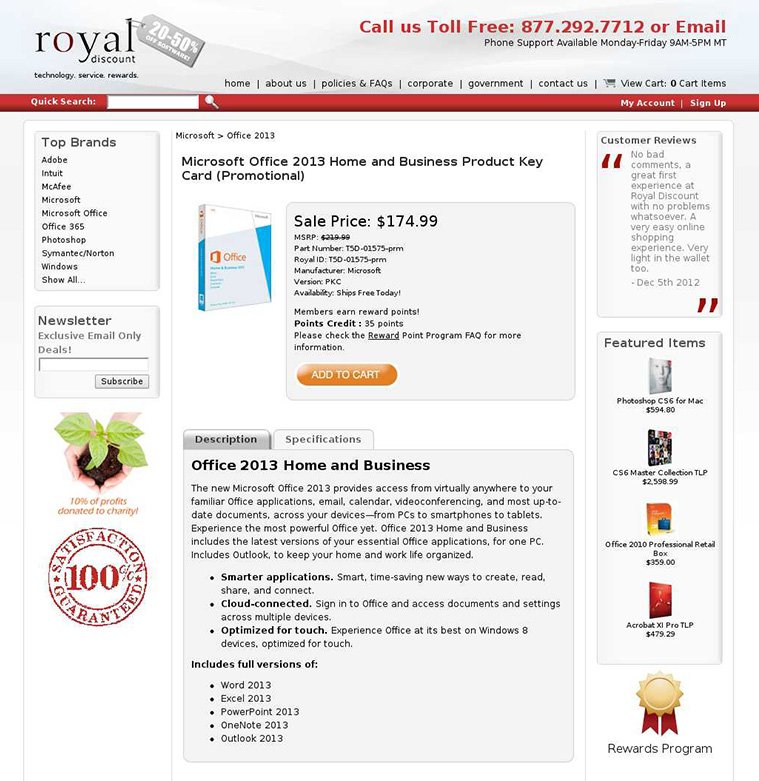 Result
The test ran for more than one month. The Challenger page pushed 36.54% more visitors into the conversion funnel for their "Add to cart" goal. And this increased their revenue by 10.21%, although the statistical significance for this goal hasn't been achieved yet.
You can compare the two versions in the image below: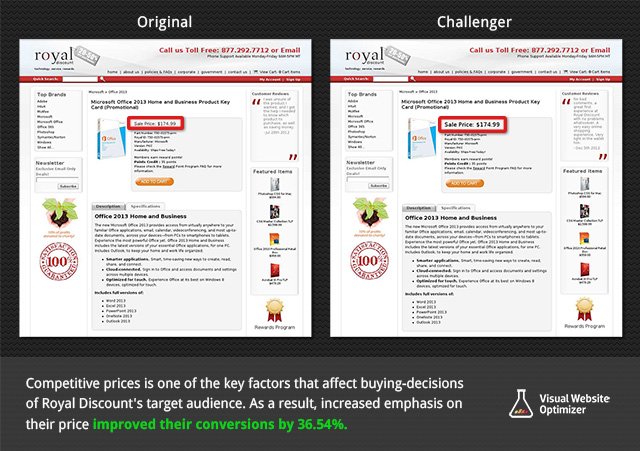 When buying a popular software product like Microsoft Office most people are not too concerned about great-looking pictures or product descriptions. Authenticity and pricing are their main concerns. By making a simple change, Royal Discount made it easy for their customers to make the decision to buy the product.
Suggest Some Tests for Royal Discount
Fruition.net plans to run some more tests to increase conversions for Royal Discount. What ideas do you have to share with them? Send in your test ideas in the comments section and I'll definitely convey them forward.