Migrate all your campaigns from Google Optimize & Optimize 360 to VWO in under 30 seconds
You won't need to worry about the effort or downtime when you move to VWO. All the important stuff will be migrated, so that you can hit the ground running.
Experience Types
Variants
Page Targeting
Audience Targeting
Behavioral Targeting
Objectives
Experience Settings
Users
Why wait till September, 30th? Migrate today.
VWO comes recommended by Google


It's easy. It's fast. It's automated.
Let our Chrome plug-in handle the migration.
Add plug-in

Add the VWO plug-in to your Chrome.

Launch plug-in

Open the plug-in and commence the migration process.

Login to accounts

Log in to your Google Optimize and VWO account.

Fetch data

See all your Google Optimize data in the plug-in.

Import data in VWO

Migrate the selected data to your VWO account and launch it.

And you're done

See all your data from Google Optimize in your VWO account.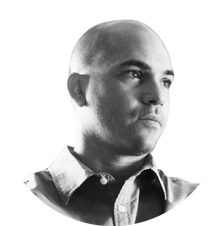 I was able to easily import my tests from Google Optimize using the new chrome extension. Very impressive. It was literally one click.

Anthony Calzadilla

Senior Web Developer
Here is an exhaustive list of everything that will be mapped and migrated using the chrome plug-in.
Experience Types
A/B Tests
Multivariate Tests
Redirect Tests*
Personalize Experiences
Banner Templates
Behavioral Targeting
Referrer URL
Technology - Browser
Technology - OS*
Custom Javascript

Coming soon

Geography*

Coming soon

Data Layer Variable

Coming soon
Variants
All Variants
Editor Changes
Variant Weights
Objectives
Page Views
Purchase Revenue
Maximize Purchase
Custom Event
Purchases
Page Targeting
URL
Host
Path
URL Fragments
All Conditions
All Operators (equals, contains, matches regex, startsWith etc.)
Experience Settings
Audience Targeting
UTM Parameters
Device Category
Query Parameter
Javascript Variable
First-party Cookie
Users
All Users*
User Name
Email id
*What won't get migrated?
Behavioral Targeting:
Time since first arrival
Metro under Geography
Mobile device info
Google Analytics audiences
Google Ads audiences
Experience Types:
Advanced redirect under redirect test
Users:
Container-level accesses
Users will added to VWO but wont be informed. You can notify them separately via VWO.
Others:
Multiple page flow
Activation events
Schedules of scheduled experiences
Coming soon : Once these attributes are available for migration, you will need to import these once again using the plug-in. We'll notify you when it goes live.
Still not convinced or need help? Book a migration call now
We've set up a dedicated migration team to help you. Book a free migration call, shoot us an email or pick up the phone and call us. We're here for you!
Select a Date & Time
(All times in )
Please let us know your details
What would your world look like in VWO?
We get it, you have been using Google Optimize for a long time, but we assure you that VWO is super easy to use and you will feel at home as soon as you get familiarized with how things work in VWO.
Let's start with how a Google Optimize campaign will look in VWO after migration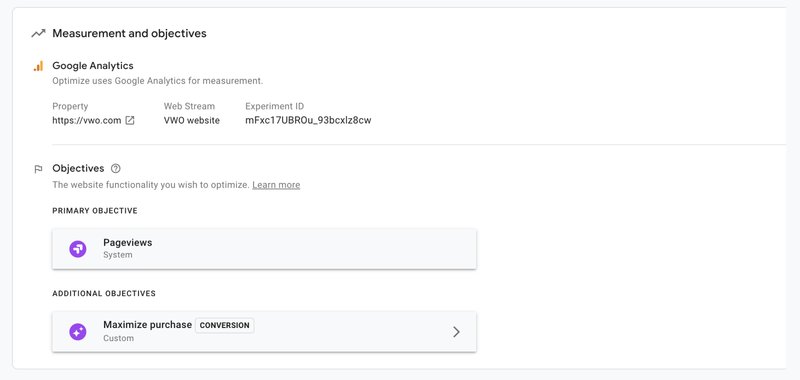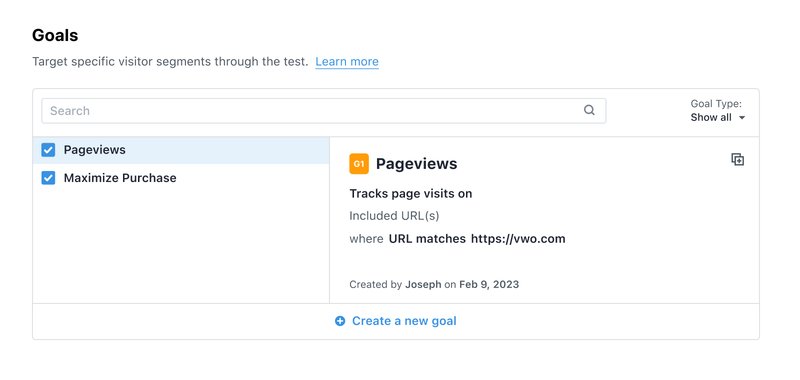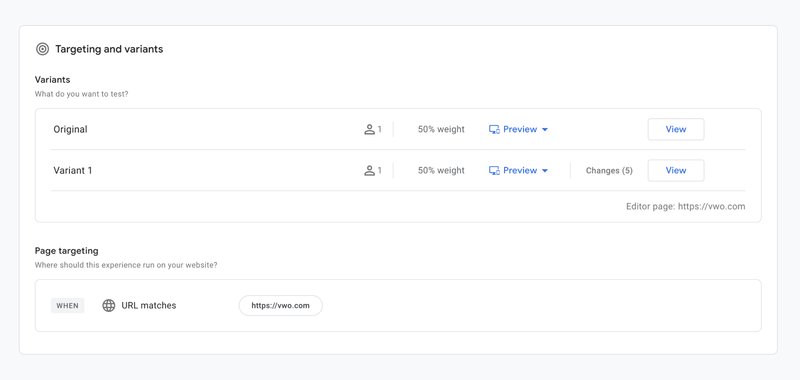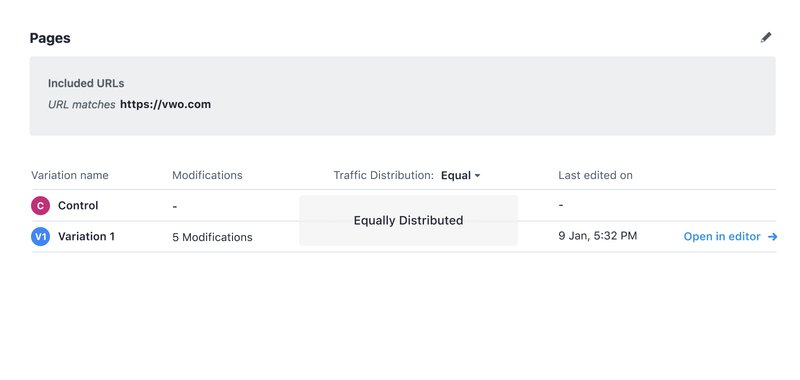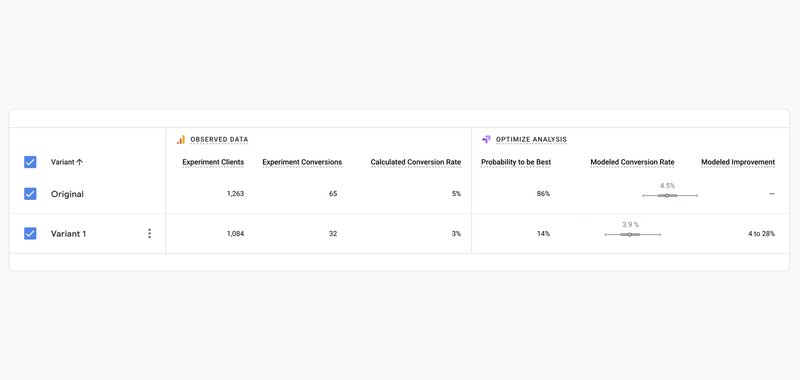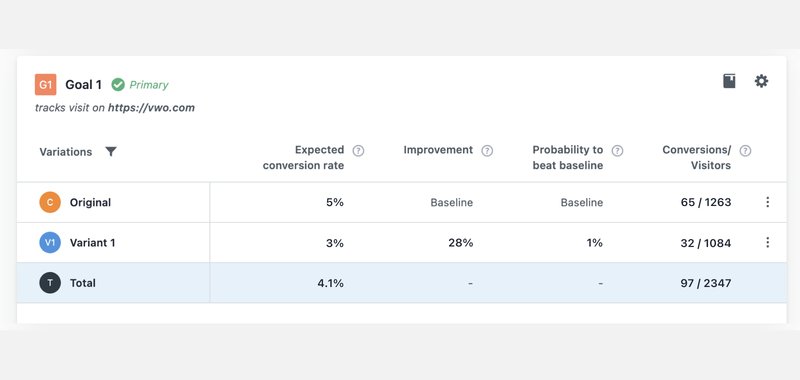 Next, let's look at post migration changes that you should be familiar with
Objectives in Google Optimize are mapped to Goals in VWO.
However, the name of the mapped object in VWO would be different as below:
Purchase Revenue <> mapped to revenue
Maximize Purchase <> mapped to custom conversion
Custom event <> mapped to custom conversion
Purchases <> mapped to revenue
Personalization experiences will get mapped to Personalize campaigns in VWO.
Since Google Optimize does not have personalization goals, an engagement goal will be added to all migrated Personalize campaigns by default
Banner template experiences will get mapped to Deploy campaigns in VWO.
Experience status in Google Optimize vs. VWO
Running <> Draft
Draft <> Draft
Scheduled <> Draft
Ended <> Archived
Archived <> Archived
All the users imported would be created with browse access in the VWO account.
If the logged in user does not have access to the experience reports, reports data won't be migrated.
Lastly, here are a few important terminologies that you should know
Terminology
<>
Terminology
Experience Types, Page and Audience Targeting
Redirect Test
<>
Split URL Test
Personalization
<>
Personalize
Experience
<>
Campaign
Page Targeting
<>
URL Targeting
Editor Page
<>
Default URL Campaign
Objective
<>
Goal (for non-Data360 accounts) / Metric (for Data360 accounts)
Audience Targeting
<>
Pre-segmentation
Visual Editor
App Bar
<>
Editor Dock
Variant Menu
<>
Variation Panel
Changes
<>
Modifications
Interactive Mode
<>
Navigative Mode
Editor Pallet
<>
Editor Options Panel
Now that Google Optimize is definitely out of the picture, even in GA4, VWO is the best fit for you, here's why.
65Bn+
Experiences Optimized
136K+
Websites powered by VWO
13+
Years since inception
A testimonial by Mason Furr on using VWO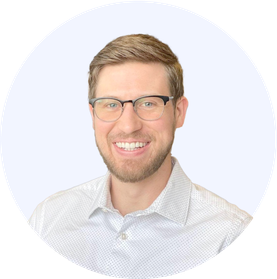 In my opinion, VWO checks all the boxes and is much more robust than Google Optimize and is free of the antiquated, buggy, and overpriced bloat of Optimizely.

Mason Furr

Senior Performance Marketing Manager
Specially for Google Optimize and Optimize 360 users
A FREE plan, specially for Google Optimize Users
Just launched, the VWO Testing Starter Plan is the ideal plan for Google Optimize users to move. Free to use upto 50k monthly tested visitors with no limits on testing.
Discounts to ease the move for Google Optimize 360 users
If you are moving to a paid plan of VWO, apart from the white glove treatment that awaits, you are also eligible for a one-time welcome discount. Just say the word.
Frequently Asked Questions
No. This is a no-cost solution.
The one-click plug-in will do the heavy lifting for you. All your Google Optimize data will be imported to your VWO account.
You cannot transfer Time since first arrival, Metro under Geography, Mobile device info, Google Analytics audiences, Google Ads audiences, Advanced redirect under redirect test, Container-level accesses, Multiple page flow, Activation events, Schedules of scheduled experiences
This information resides in your GA and Adsense accounts. VWO only pulls data from your Google Optimize account.
VWO offers native integration with GA and GA4. You can leverage this to push your experiment data to GA/GA4.