This case study is written by Thijs van der Wal, Conversion Rate Optimization Consultant at Traffic4u, an online marketing agency that uses Visual Website Optimizer to optimize websites for their clients. This post explains how they increased bookings by 33% for Djoser, a major Dutch travel agency, and won the prestigious Gold Award at WhichTestWon's Online Testing Awards 2014.
The test: "Take an Option"
This test was implemented on all travel details pages of Djoser.nl and focused on travel data/price table. Within this table, visitors continued to a booking form in order to book a specific trip. In the original version (Control), a text link with a call to action button 'Book now' was placed next to the specific travel date.
The variation consisted of an extra link called 'Take an option' that opened the same booking form and captured the same information, BUT, it didn't immediately book the visitor's tickets. Instead, it reserved a spot in the tour for the visitor and then they had the option to cancel within 72 hours without incurring any charges. Once the 72 hours were up, the reserved spot would automatically convert into a confirmed booking.
The variation treatment with "Take an option" call-to-actions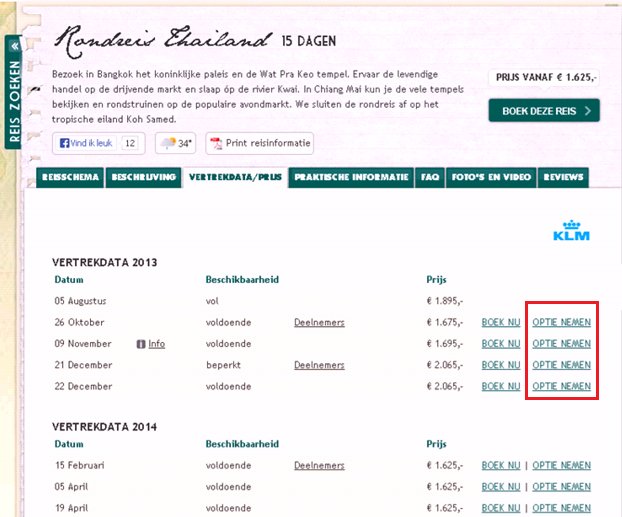 The test was chosen because Traffic4u, on the basis of data-analysis and experience, concluded that making an actual booking was too far a step for visitors of Djoser. This option was automatically converted into a booking after 72 hours which was of course clearly communicated via the booking form and the confirmation e-mail. It is possible to cancel the option within 72 hours without receiving a fine, either by phone or e-mail.
Result
A statistically significant result (99 %) revealed that the variant resulted in a 33.1% increase in bookings (including options) during the testing period of seven weeks. Obviously, data from the backend was taken into account. Extra online bookings are a good thing, however, if these bookings are cancelled by phone or via the website, this won't increase revenue. In this case, the (limited) amount of cancellations did not influence the significant result.
Why Does Adding 'Take Option' Result in Extra Bookings?
Adding 'take option' is a success because of its relationship with several psychological principles. An 'option' sounds less definite compared to a booking. With an option it is still possible to sleep on it, while your place on the tour has been reserved. The chance that an option will be cancelled is very small, because the visitor has already put in effort when entering personal information. Hence, the visitor (unconsciously) had already entered into a relationship with Djoser.
Learning
This test shows that implementing relatively small changes on a website can lead to significant improvements in conversions. However, not all tests will lead to a positive result. As an advertiser, you can come up with hundreds of tests, but just a few will lead to significant conversion improvements. On one hand, this does not matter as you can also learn from unsuccessful tests but conversely, you also want the effort invested in conversion optimization projects to actually result in conversion optimization and eventually generate more revenue. Hence, the advice for advertisers is to design a continuous process, based on the following steps:
Continually evaluate the effectiveness of your website (with e.g. web statistics but also user feedback)
Defining A/B tests on the basis of impact/effort-estimations
Build and conduct tests
Document test results and implement winning test variations
Note: WhichTestWon is a platform for A/B and multivariate testing cases. Each year WhichTestWon awards the best tests in the industry. This year, an independent jury examined 160 test cases from all over the world in different categories and selected 30 finalists. You can see the rest of the results here.