They say fear is a mind killer. We say, not addressing your customers' fears might be a conversion killer. Read on to find out why.
Company

Understand Quran Academy offers easy and interactive courses explaining the Islamic religious text to people. To get full access to its courses, one can opt for a $10 monthly plan or an annual plan of $99.
On its sign-up page, UnderstandQuran.com states its 7 key value points — 100% Money Refund and iPhone App Included being two of them. This is how it looked.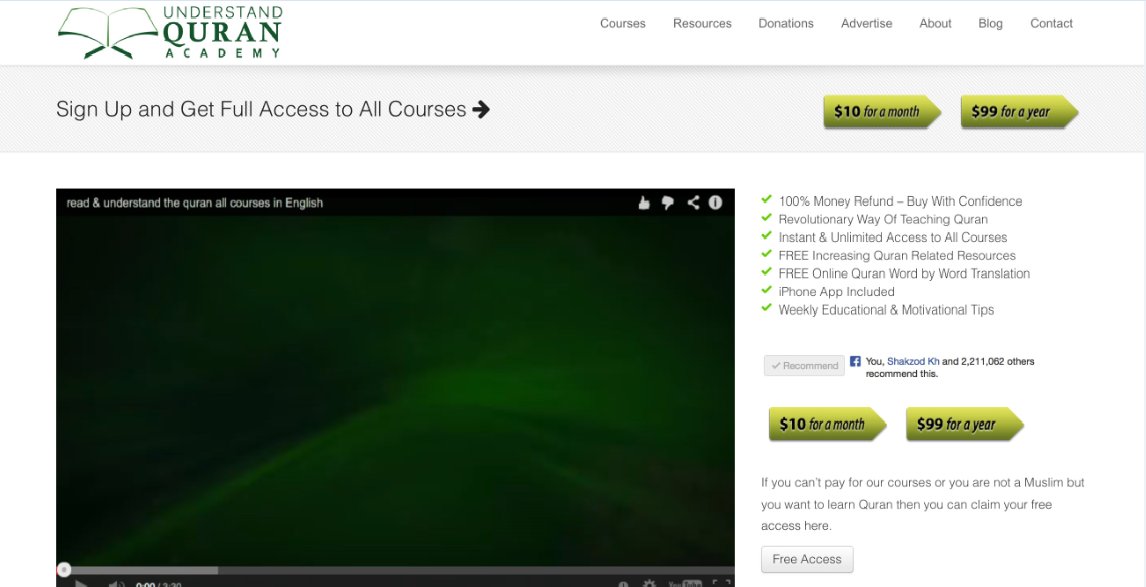 The test
UnderstandQuran.com created two icons – one representing the money-back guarantee and the other app store features. They used Visual Website Optimizer to run a simple A/B test and see if increased sales.

A/B test results
Using the Guarantee and App icons increased UnderstandQuran.com's sales by a significant 32.57%. The variation had a 98% chance to beat the humble control. The company ran the test for 11 days before proudly implementing the change on its website and soaking in the monetary benefits.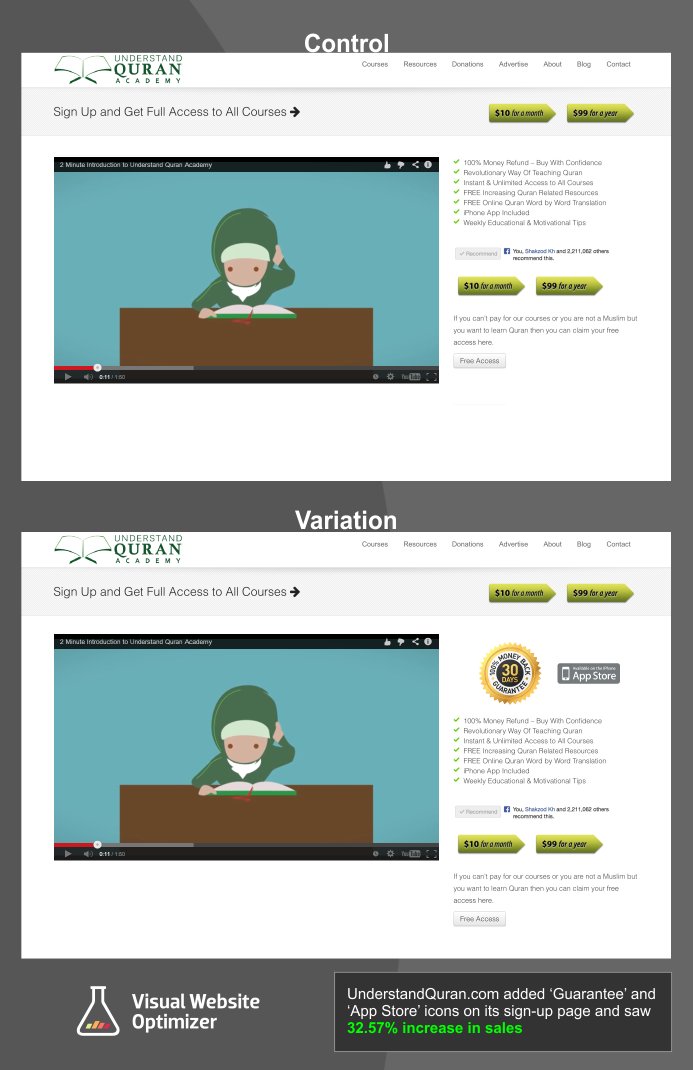 What worked?
"I have seen many other cases where highlighting risk-free Guarantee icons worked so I wanted to try on this company too," says conversion optimization specialist Maruf Yusupov, representing UnderstandQuran.com.
Evidently, the 30-day guarantee icon alleviated potential customers' fears and anxieties regarding the purchase. It eliminated one of the biggest barriers to conversions – perceived risk. The perpetual dilemma and skepticism of a potential customer is taken care of by the Guarantee icon. It has a balmy effect on the customers' anxieties — what if the product doesn't deliver what it promises, what if I don't find it useful or what if I find a better, cheaper variant?
Check out this another case study where Oriental Furniture increased conversions by 7.6% by adding a guarantee seal.
Key Takeaways
1) Say it out loud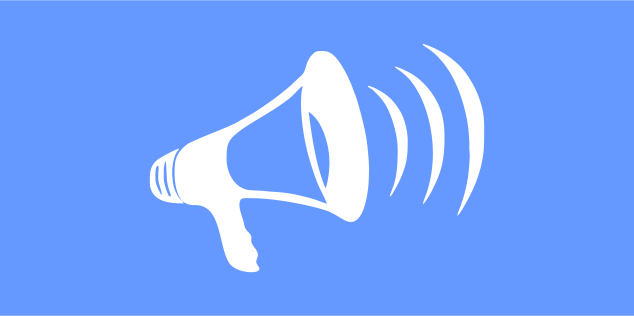 You might be offering a hard-to-resist discount or an unbeatable competitive advantage, but what's the point of it if your customers are not aware of it? According to Maruf Yusupov, the Guarantee and App features were already part of the text on the sign-up page.
"But we wanted to test if there is a positive impact if we highlight them. It seems there is :)"
And I rest my case.
2) Display it prominently
Now if you have decided on a point or two you want to highlight, make sure you place them at a strategic position so that it catches the maximum eyeballs. UnderstandQuran.com places these icons in a way that they don't disrupt the natural eye flow. They have made the icons larger than the call-to-actions (though not a best practice). It ensures the visitor sees the guarantee icon before the call-to-action buttons. Also, the orange color of the Guarantee icon stands out in contrast to the green color of the CTAs and is hard to miss.
Over to you
Got any views on this case study in particular or risk eliminators in general? The ball is in your court.