It's interesting how so many of us at some point reach a stage where we just give up and say "I don't have anything to test anymore!" The truth is, we read about best practices that constantly do rounds in the conversion optimization circle, try what all seems feasible and just call it quits soon after.
It's when you compel yourself to think beyond the best practices and dare to explore the lesser known territories that you find the real treasure which pushes your bottom line further up from where you had otherwise given up.
This case study is a striking example of one such rarely explored testing idea. After all, it's not everyday that you see people test two different approaches instead of focusing on changes in design or copy to increase conversions.
About the Company
Acuity Scheduling is an online appointment scheduling software that was founded in 2006. Catering to a varied customer base, the software is used by life coaches, colleges, salons and thousands of other businesses to streamline their process and accept millions of appointments without any chaos.
The business need was no different than any other company that offers their software online – they wanted to improve conversions for their paid signup accounts.
Based on the freemium business model, Acuity Scheduling offered 3 pricing plans to their users:
Unlimited Free Trial Account (with limited feature access)
Professional (Single User) Plan – $10/month
Premium (Multi-User) Plan – $19/month
Until now, the primary call-to-action button on the landing page directed users to the unlimited free trial account by default. The idea was to give customers a feel of the software and prompt them to upgrade to the paid plan within the app by making them realize the need to use the features that were reserved for paid users only.
Test Background
The users who signed up for free accounts but later deleted them were surveyed. It turned out that users expected more features in the free version. They wanted to use features that were made available in the paid version. And even though they were pointed to the paid version inside the app, they were put off by the need to upgrade to the paid account and hence deleted their accounts.
Test Hypothesis
On the basis of the outcome of the survey, the Acuity Scheduling team hypothesized that directing users to the limited 14-day free trial of their Professional plan directly instead of sending them to the unlimited free trial account (with limited features) should increase signups to their mid-level Professional ($10/month) plan.

Users of the 14-day trial of the professional plan now only had to enter their credit card information to continue using the software, instead of visiting the account settings tab to upgrade their plan, like before.
This was a huge change for the team, especially because the site had a few organic results and articles pointing to the site that suggested their unlimited free trial plan. Directing users to a paid plan meant a difference in users' expectations, which sure had the possibility of reducing overall signups.
Soon after, Acuity Scheduling used Visual Website Optimizer to setup and launch the test within a few minutes.
Results
Although the primary goal was to track signups for the paid version of the Professional plan, like any smart marketer who understands the need to track the impact of one test on multiple goals, the Acuity Scheduling team also tracked signups for their Premium plan ($19/month) as well.


(Click on image to view larger version)
The Variation increased the signups for paid Professional accounts by 268.14% with a 99.99% chance to beat the original. What came as an added surprise was a 77.78 percentage improvement for Premium plan signups too, however the statistical confidence for this goal hasn't been achieved yet.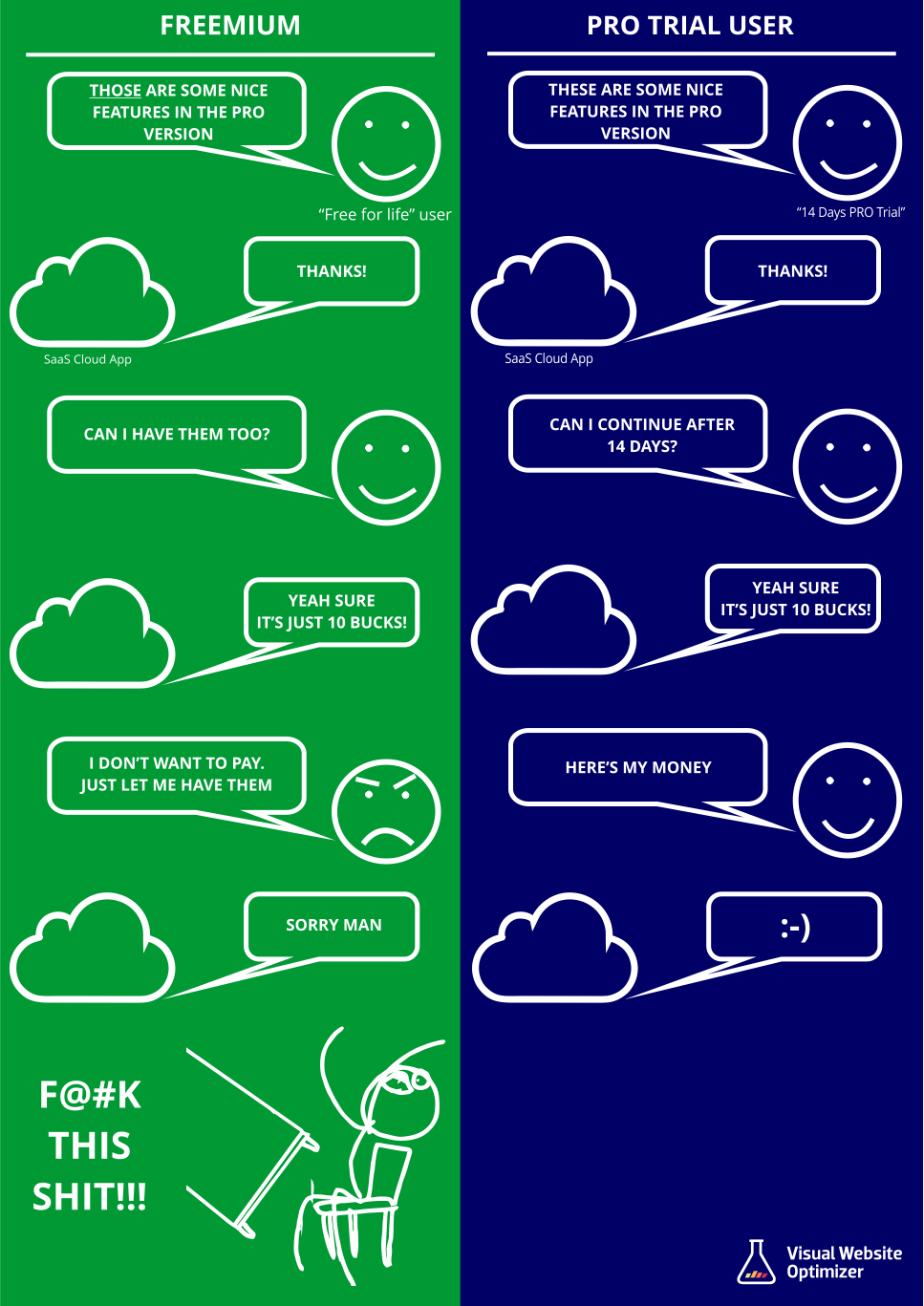 Why Did this Happen?
While the team behind Acuity Scheduling did utilize and act upon the feedback they received from the survey, there is another interesting way to look at these results. Just as we get used to certain comforts and luxuries, sometimes to the point that we can't imagine life without them, the limited-time free trial tries to get users hooked to the product, in the hope that they'll happily pay for it once the trial is over.
On the other hand, free-for-life users are used to not paying for the service. Acuity told us that many free-for-life users didn't like that certain features were not available to them and preferred to close their accounts instead of upgrading.
If you think about it, this could be a reason that offering a 14-day free trial of the Professional plan worked better for Acuity Scheduling than the original, limited feature set, Free for Life plan.
Let's Talk About Pricing Strategies
It seems quite logical for most of us to just accept that the longer you give the free trial, the better it is. But like all other elements on a web page, sometimes it's important that you question even the most easily accepted business strategies.
Even though the freemium business model is followed almost blindly by SaaS entrepreneurs, it may not work for all. There are many known names, like Crazy Egg and others who gave up their freemium business model to see a significant increase in their revenue.
The point is, the results are unique for businesses as they have different target customers. While case studies like these are great to draw inspiration from, you can only be sure after you've A/B tested the two approaches.
Neil Patel mentions a similar case in his article, where KISSmetrics tried reducing their free-trial length from 30 to 14 days. Although the number of free signups for both the plans remained almost the same, the usage of the product increased by 102% with their 14-day free trial, which increased their revenue.
Apparently, their users realized that they must use the product quickly, whereas in the case of 30-day trial, a lot many of them probably ended up forgetting to try it even though reminder mails were sent to them on a regular basis.
Another important thing to take note here is testing pricing strategies or plans can be a tricky situation. Several companies, including Amazon and Dell have got into the trouble for showing different prices to their customers for the same product.
Being subtle can pay off well when testing prices. One of our customers, Meebox, tested their variation with a 20% discount on their hosting service against the Control that offered no discount. The catch here was that people who were offered the discount had to consent for a 2-year lock in period with Meebox.
This wouldn't make the people feel cheated even if they get to know that a price test was running. Plus, the results were amazing with 121.56% increase in revenue (98% chance to beat original) and a bonus 46.24% increase in Average Order Value (AOV).
Tests Acuity Scheduling Can Try
Adding a video showing the product in action can boost paid signups
A bulleted, benefits based list instead of the 2-line text that appears above-the-fold on their homepage should work better for conversions.
Your Turn
I would love to hear your stories. Have you ever tested pricing on your website? What was the result? Good or bad, do share it with me in the comments section. Let's learn from each other than making costly mistakes!