Program Overview
15

to

30

%
Revenue Sharing
Enjoy industry's best revenue sharing arrangement with commissions valid until the 4th year of the customer's renewal.
15% on every referral
5% on year 2 renewal
3% on year 3 renewal
1% on year 4 renewal
Upto

25

%
Additional Bonus
If your earnings in a given quarter exceed a certain amount, you can reap the rewards of a higher commission on the excess.
Till $50k - 15%
Above 51k and less than 100k - 18%
Between 100k and 250k - 20%
More than 250k - 25%
90

days
Conversion Window
Our Referral Program provides one of the best conversion windows in the industry – 90 days! That means you'll get a commission for your lead referrals when they make a purchase anytime within 90 days.
Refer a lead in less than 20 seconds! 
Referring a lead has never been easier. Simply hit the 'Submit a Lead' button from your dashboard and fill out the short form! That's it!  Sit back and relax while our sales teams engage with them, give them a demo, and leave no stone unturned to win their business and commissions for you. 
We support you every step of the way 
We're here to help you succeed. As a VWO partner, you'll get free access toall the tools to promote VWO, track your progress, and earn top commissions.
Track Your Earnings Real-Time
Track all your referrals and earnings with a personalized dashboard. You can view metrics such as:
Rewards: View your rewards available to withdraw and any declined rewards, with the declined reason
Withdrawals: See a history of all your previously paid-out rewards and dates paid out
Reporting: Get an in-depth look at how your referrals are converting, total revenue generated, etc.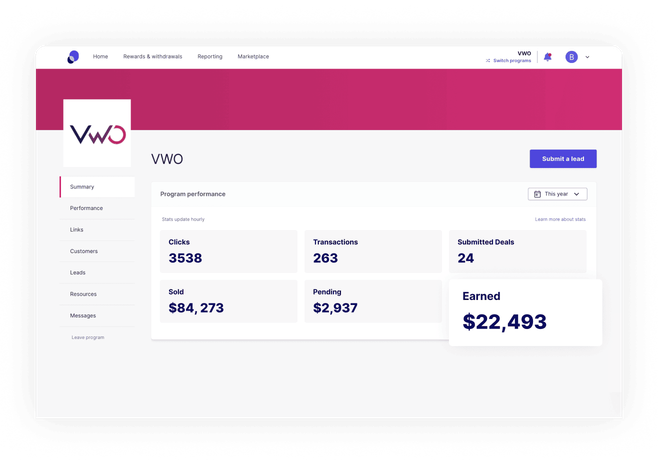 Automated and Timely Payouts
The automated payment disbursement process means your commission automatically hits your account in your upcoming payment cycle. Payment is due when:
Your referral becomes a paying customer
Money has been realized by VWO
For example, if the customer pays 20% of the payment, you get your commission on that amount. Every time the customer pays, you earn a commission on that amount.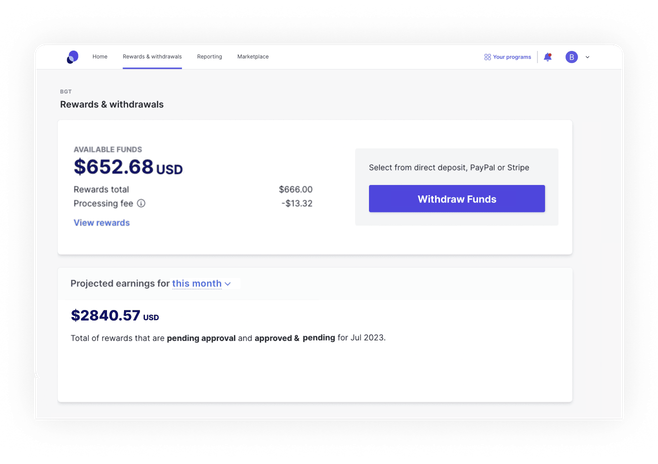 Commission or discount
You can choose to keep or pass on your commission as a discount for your referrals if you so desire. You can do the following with your commission:
Keep the entire amount as your commission
Simple,timelyPayoutsPass off the entire amount to your client as a discount
Keep a part as your commission and pass off a part as a discount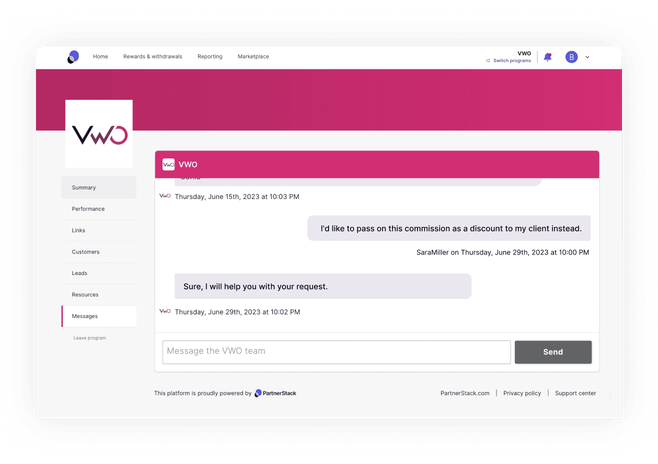 Handy Resources and Training
Get everything you need to pitch VWO's latest features and capabilities that can help your clients reach their optimization goals faster.
One pager that showcases the Depth of VWO's Experimentation Capabilities
A list of all our Tight-Knit Integration with the Ecosystem
Overview of VWO features for Growth opportunities beyond testing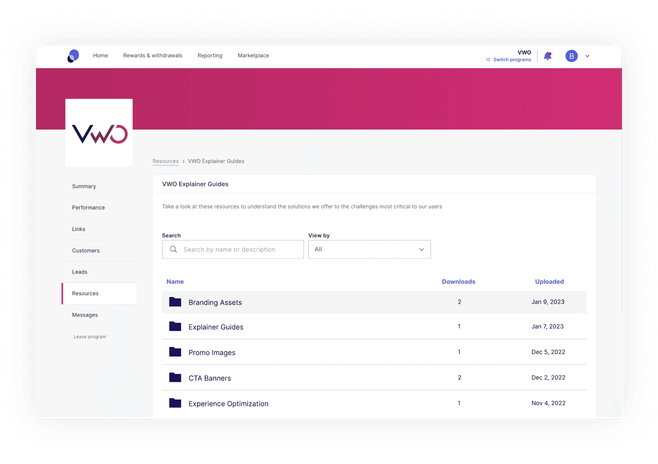 Which partner program is right for you? 
Our Partner Programs
Referral Program
If you're an agency, consultant, or industry expert with prospects, customers, and peers looking for a CRO platform, submit their information directly, and enjoy the commission when they become customers.
Affiliate Program
If you're a content creator, influencer, and marketer whose network trusts you for B2B software recommendations, simply share your trackable link and earn commissions for the traffic you drive to our site.
Know more
Our customers back our stack too!
A vast majority of our 2500+ customers purchase a set of VWO products to achieve their goals. While our industry-leading G2 ratings and benchmark CSAT scores are evidence enough, here's sharing some success stories in our customers' own words
You are in 'good hands'. VWO will be a partner to help your business scale and win within the optimization marketplace.
Since working with VWO, the partnership has flourished. They provide a robust platform, competitive pricing and strong partner support, which makes our job of developing services to our mutual clients easier.

Simon Gripton

Commercial Director


Still have questions?
VWO is an experimentation platform that enables brands to improve their key business metrics by empowering teams to run their conversion optimization programs easily. We help more than 2500 brands like Domino's, HBO, eBay, and Disney create and deliver digital experiences loved by their customers. We provide capabilities to unify customer data, discover customer behavioral insights, build hypotheses, run A/B tests on server, web and mobile, rollout features, personalize experiences, and improve engagement across the entire customer journey.
The VWO Lead Referral program is your opportunity to earn cash for referring your clients to VWO. You can share your unique link with your clients through email, video, or social media posts. For every successful referral, you will earn a 15% or more commission. The program allows you to add value and revenue to your business.
Any agency that caters to multiple clients is eligible to partner with VWO under the Lead Referral program. Digital marketing agencies, marketing, and social media agencies, or CRO agencies are eligible to become a partner.
To become a VWO partner agency, you will have to apply here. The process is simple - Apply, Refer & Earn Cash for every qualifying conversion.
No! You can become a VWO partner agency for free! There are no charges and you can get started as soon as you sign up.
Sign up for the VWO Lead Referral program to start earning competitive commissions through leads who convert into VWO clients within 90 days of clicking on your unique tracking link.
VWO uses Partnerstack, a complete partnerships platform to drive its Lead Referral program. Partnerstack supports us in building, launching, and scaling our partner agency channels. They help us recruit the right agencies, help us onboard them into our program, reward them for each conversion and empower them to become top performers.
Get amazing benefits like revenue-sharing, real-time tracking through a personalized dashboard, timely payouts, and a dedicated partner success manager when you sign up as a VWO partner agency.
For every referral that becomes a VWO client, you get a 15% or more commission. We offer tiers in our program. For example, in any given quarter, if your revenue exceeds a particular threshold, you automatically become eligible to earn a higher commission for the surplus:-
* Till $50k - 15%
* Above 51k and less than 100k - 18%
* Between 100k and 250k - 20%
* More than 250k - 25%
The sky is the limit when it comes to earning income as a partner agency. The more leads that you convert as a VWO client through your tracking link, the more you earn.
You can ensure success as a partner agency by knowing the products you recommend in and out, diversifying channels for recommending the products and owning your client base.
VWO's Lead referral program works on a commission basis. The more value leads you will provide, the more conversions, and the bigger amount you will earn as a commission.
You can find your custom referral link through the dashboard in PartnerStack. In addition, you can also view your entire referral journey from sign-up to conversion, the commission earned, and receive on-time payments under our Lead Referral program.
No! No special skills are required either. Simply post your VWO tracking link anywhere and start earning income.
As a partner agency, you can promote VWO Testing, VWO Insights, VWO Personalize, VWO Data360, VWO Full Stack, and VWO Deploy to your audience.
You will be paid after every new referral becomes a VWO client and payment has been realized by VWO.
The VWO Lead Referral program gives you an opportunity to earn commissions as per industry standards. We have a great sales team and you get a dedicated customer success manager so you know your referrals are in good hands. We provide you with a real-time dashboard giving you complete transparency, timely payouts, and extended cookie duration without any lock-in period for clients.
Yes! You can find blogs, banners, graphics, and other assets that you can use to promote VWO to your audience here.
Sure! Just ensure you use the right logo and adhere to our style guidelines. You can find both here.


You can reach out to us through your PartnerStack dashboard and our team will respond and help you out with your query.