What is Form Analytics?
Form analytics is a qualitative tool that lets you measure visitors' interactions with your website forms. Insights collected using this tool will help you understand how comfortable users share their information by filling out a form to avail of your products or services.
Let's understand with an example
Suppose you've got a lead capture form on your landing page that lets visitors share their details to download an eBook of your company.
You can use a form analytics tool to find answers to questions like:
How many users filled out and submitted the form?
How many users began filling out the form but abandoned it midway?
Which field most of the users were hesitant to fill?
How much time did users take to fill out the form?
Now let's say you observe that the refill rate for the team size field is high. This metric indicates that users are probably refilling the field because they can't interpret the purpose of that field. They might wonder – why do we have to share the team strength to download an eBook?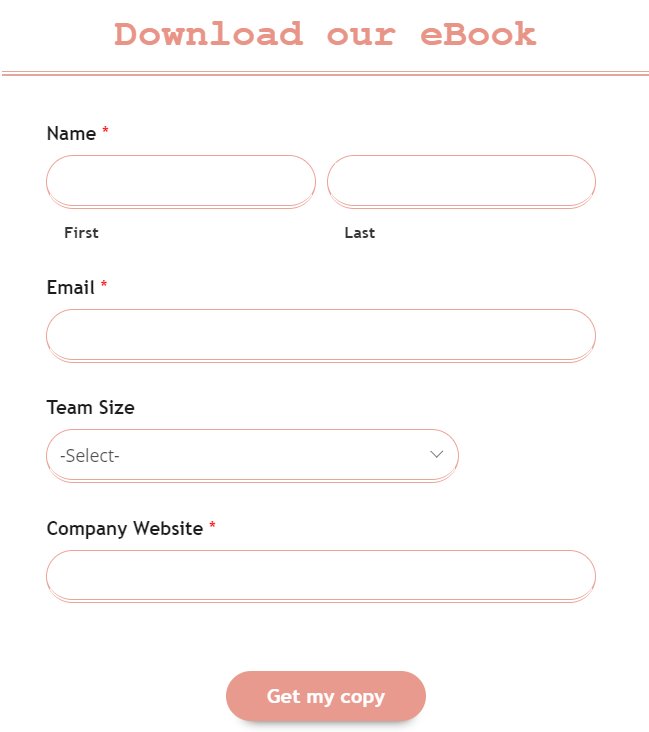 You can test and see if removing the field helps bring down the hesitation time and improve users' interaction time with your web form.
This is just one way of analyzing a form. Using a tool, you can identify other elements that users might find distracting and discover optimization opportunities for better conversions.
Top benefits of using a form analytics tool
Having a form on your website doesn't guarantee every visitor will fill it out. To measure the usage and performance of every form, using a form analytics tool becomes important. Here are some values using this tool brings to your business.
Reduce form abandonment
Lengthy forms, asking questions unrelated to the goal they want to achieve by filling out the form, and the absence of inline form validation are some reasons users abandon web forms. When you understand what distracts users from filling out a form, you can create smart hypotheses and test them to reduce form abandonment.
Make crucial business decisions
Removing some frictions may call for business-level decision-making. For example, your company's prospects have to fill out what kind of budget they're thinking in one of the form fields, and this is where you see visitors drop off. You can speak to the management and see if it's feasible to offer attractive offers to reduce the price-related intimidation among these prospects and encourage them to fill out the form.
Dive into segment-specific insights
Form analytics tools also allow you to enable form tracking for particular user segments. So, if you want to test how social media traffic is responding to your new email subscription form, you should be able to choose the right segment in your tool. This allows you to zoom in and see how different user segments interact with your forms.
How to optimize your forms for better conversions?
Form optimization is a surefire way to improve lead quantity and quality. Although how you should optimize your form depends exclusively on user behavior on your website, as there is no one-size-fits-all, here are some best practices you can consider following.
Catchy call-to-action headlines
Think of a call-to-action headline that encourages users to take an action on your web form. Grab your free copy, Start my free trial today, Reserve my seat now, and Get more insights in my inbox are some examples that catch users' attention and nudge them to move ahead by filling out the form.
Hide already filled-in form fields
Reduce cognitive load for users by hiding or removing the form fields they've already filled out in the previous steps of form submission. This will help save a lot of time and effort on the part of users and therefore encourage them to fill out the form with lesser hassles.
Move it to above-the-fold
Usually, it's seen that users pay more attention to content in the first fold and their attention drops as they scroll down on a page. You can run a test to see if placing the lead-gen form anywhere above the fold helps improve the form conversion rate.
Go for real-time form validation
This feature will help users get real-time feedback on their input in the form fields. So, let's say, a user enters his email address instead of a work email to sign up for a free trial. Real-time form validation should highlight the error and remind the user to enter a work email to proceed further in the process. Right prompts reduce the chance of users abandoning a form by offering help if they are not getting something right the first time.
Ensure the privacy of your users
Highlight privacy-compliant badges or add a link to your company's privacy policy below the form. This reduces skepticism among users as they feel safe in sharing their information with a company that takes the necessary steps to protect user data.
Why should you go for VWO Form Analytics?
With VWO Form Analytics, you can deep-dive into user interaction with every form field and uncover friction points to improve form conversions on your website. Take a quick glimpse of what this power-packed tool can do for you:
Enter the URL of the page where your form is located so VWO can start collecting data automatically. If not, you can also add these forms manually to the tracking list.
Analyze field-level form conversion metrics like hesitation time, refill rate, drop-offs, and ignored fields to analyze beyond just submission rates.
See how users progress ahead in the form submission process, where they drop off, or what percentage of users submitted the form through form funnel reports.
Never miss any drop-off or submission because VWO captures data in real-time. Plus, you can compare form conversions over time through data-range graphs.
Add your observations and share form results with your team members for further brainstorming and finding ways to optimize them.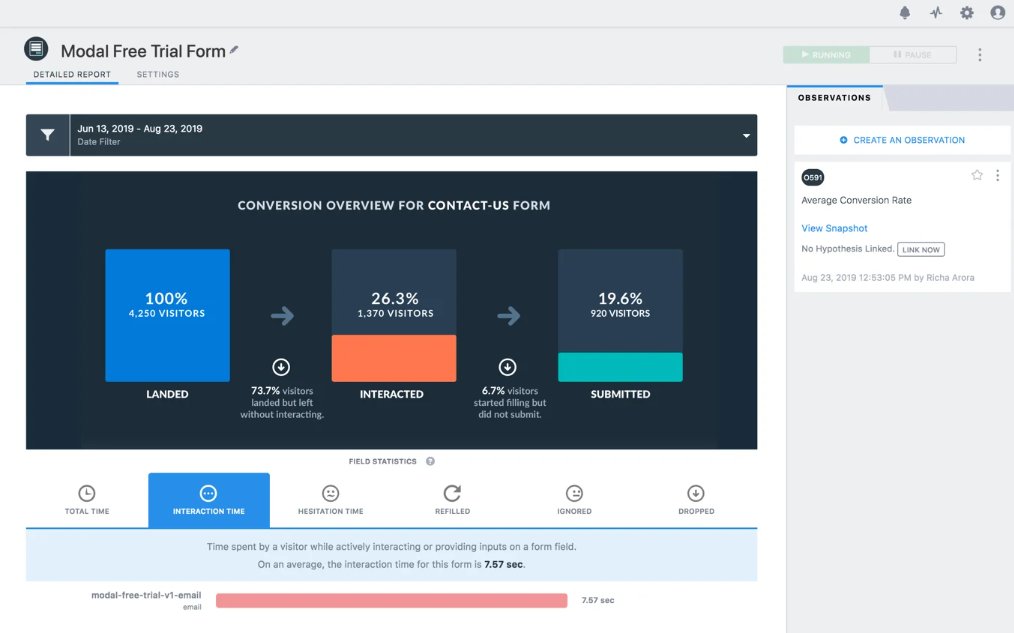 How Qualicorp increased the number of sign-ups by 16.93%
Company: A Brazil-based healthcare organization promoted and sold group health and dental-based insurance.
Objective: Economize Qualicorp is the company domain that suggests the best insurance plans according to users' inputs. Its primary objective is a lead generation and improving conversions through the 'Insurance quotation' page for plans. The team observed that users had to refill details like name and address in the second step of the form even after filling them out the first time.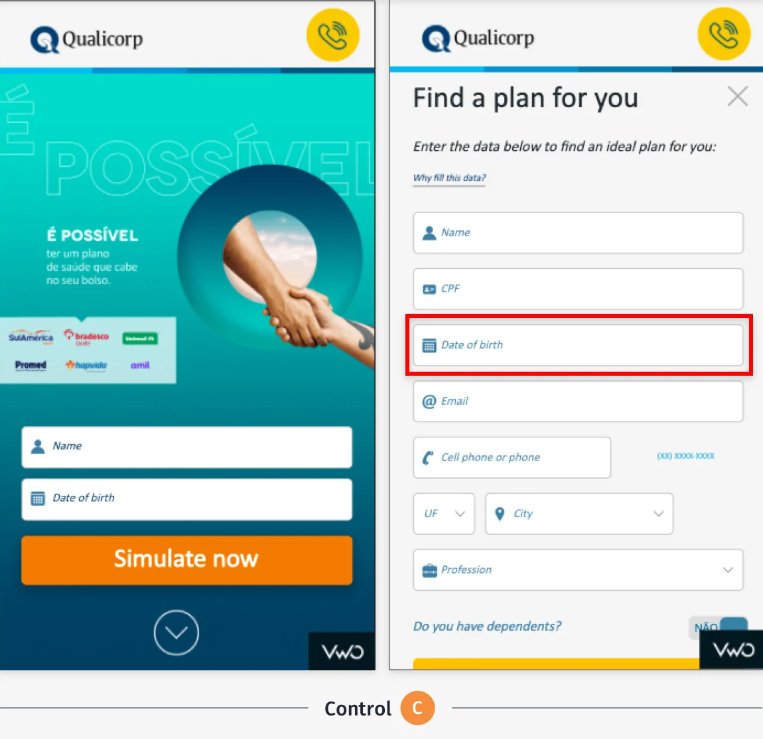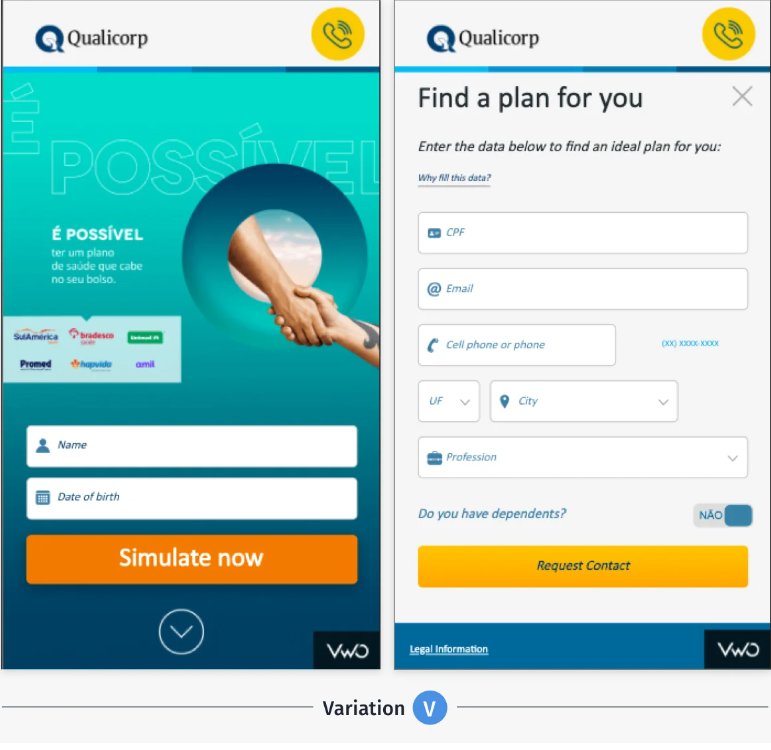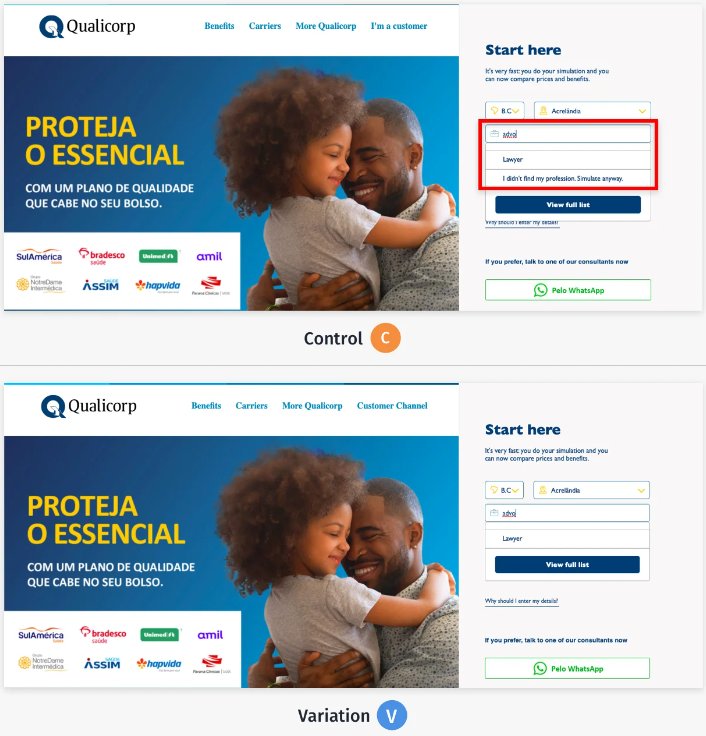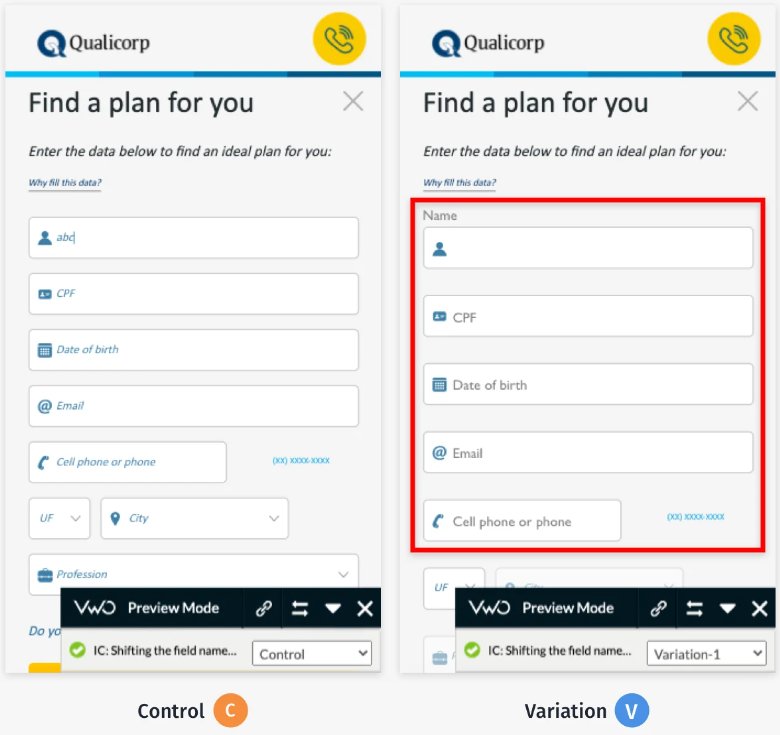 They also noticed that users got no results on the 'Resultado Page' on selecting 'N/A' for the professional field, and the 'count of plans available' form field was a must-to-fill for users and could be made skippable. VWO form analytics also showed a high drop-off during the form fill-up, which could be due to the field names not being easily understandable, resulting in fewer visitors reaching the 'Resultado Page'.
The test: Based on the observations made, Qualicorp ran 3 tests. They removed repetitive form fields, added more options under the profession field, made it compulsory for users to select an option, and showed field names only when users hovered over boxes. The variations for all three tests outperformed the controls, increasing form sign-ups by 16.93%. Read the details of these tests here.
Do you want to increase your form conversions like Qualicorp and other brands that have trusted VWO? Take a full-featured trial to kick-start your optimization journey today.