With the constant rise of disruptive technologies and innovative practices, marketing keeps evolving with time. It makes it essential for marketers to always be on top of all trends and developments within the marketing ecosystem.
The trends and developments give an idea to marketers about the strategies they're missing out on and areas where they can improve their efforts.
Marketers also need to look at the highest-performing businesses, and gauge their own marketing strategies based on benchmarks set by those businesses.
The State of Marketing report published annually by Salesforce is one of the valuable resources that can help marketers evaluate their marketing efforts, and get ideas to achieve even greater results.
Salesforce recently released the 2016 edition of the State of Marketing report. The report was built after surveying about 4,000 marketers across the globe, shedding light on areas where high-performing marketing teams are focusing and excelling. (The participants of the survey include 26% marketers in B2C, 29% in B2B, and 45% in B2B2C.)
Following are the key learnings from the report:
Challenges and Priorities of Businesses
Measures of Marketing Success
The biggest factor on which marketers measure the success of their efforts is "customer satisfaction." It is followed by "revenue growth," and "customer acquisition."

Top Marketing Objectives
Brand awareness enjoys the highest priority among all marketing objectives. But, it is closely followed by customer engagement, indicating a shift of marketing focus towards creating a more personalized experience for users.
Here are the top three priorities that marketers have:

Digital v/s Traditional
Marketers are increasingly allocating higher shares of their marketing budget to the digital medium. The budget share of traditional marketing, in contrast, is consistently decreasing with time.
By 2021, marketers will spend 75% of their total budget in digital marketing.
Practices of High-Performing Marketing Teams
Top Marketing Teams Focus on Customer Journey
Salesforce defines customer journey as "all interactions that a customer has with a company's brands, products, or services across all channels and touchpoints."
High-performing marketing leaders have already incorporated customer journey — its mapping and strategy — in their overall business strategy.
In fact, among high-performing marketers, 88% find customer success journey critical to the success of their overall marketing strategy. They are also 9.7 times more likely to actively map customer journey.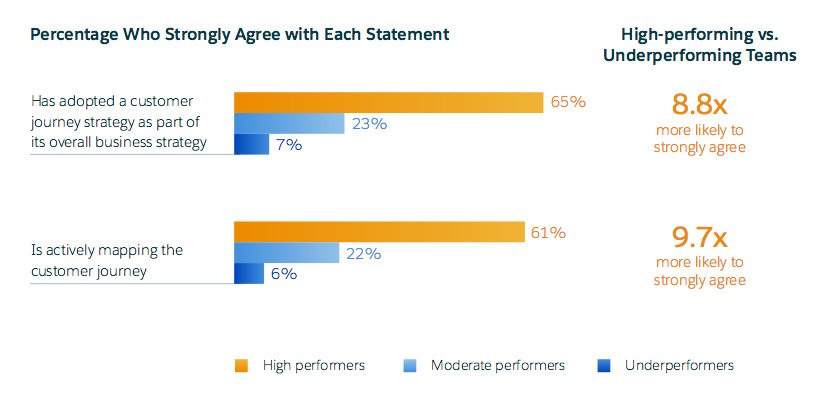 73% marketers who have adopted customer journey strategy find that it has positively impacted their overall customer engagement (the second biggest priority of marketers).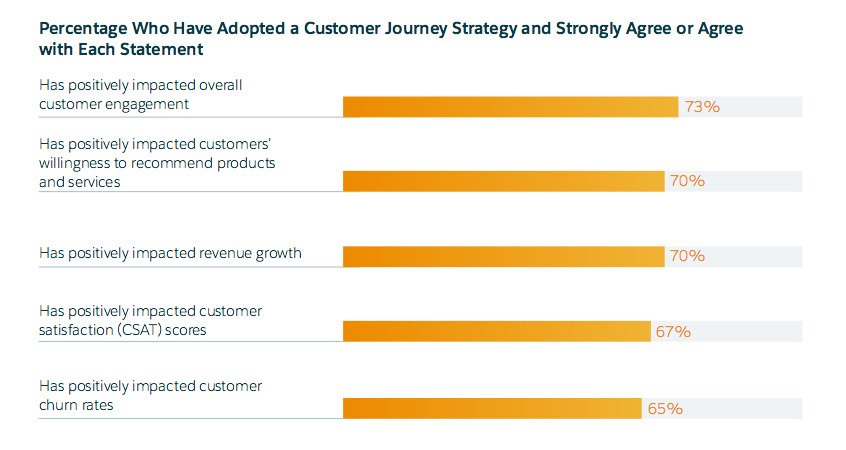 High-Performing Marketers Strive for Coherent Customer Experience
To get a holistic view of customers and offer them a unified experience, high-performing marketers are integrating all customer touchpoints digitally.  Marketers are trying to deliver seamless communication to customers, regardless of the touchpoint (e.g., sales, customer service, etc.).
Compared to under-performing marketers, high-performing marketers are 7.7 times more likely to lead customer experience initiatives across their business.

Notably, high-performing marketers are 34.4 times more likely to excel at creating personalized omnichannel customer experience.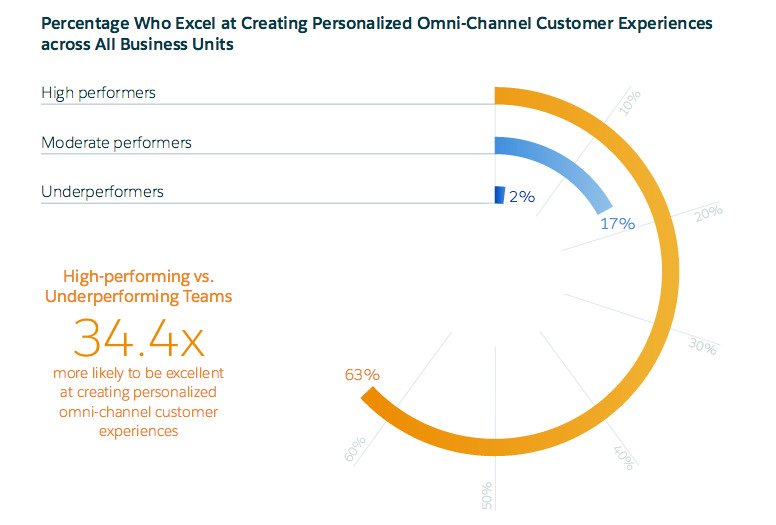 Marketers are, particularly, working closely with sales teams, and are taking extensive aid of CRM tools.
High-performing marketers are also more inclined towards leveraging predictive intelligence and personalized web experience.
High-Performing Marketers Take Help of Technology Innovation
Top marketing teams spend heavily on tools and technology that can automate their current operations.
This trend, however, is not limited to just top marketing teams. Among all marketers, 63% say that they'll increase expenditure on tools and technology in the next two years.
Below are the various areas of operation where marketers are taking help of technology: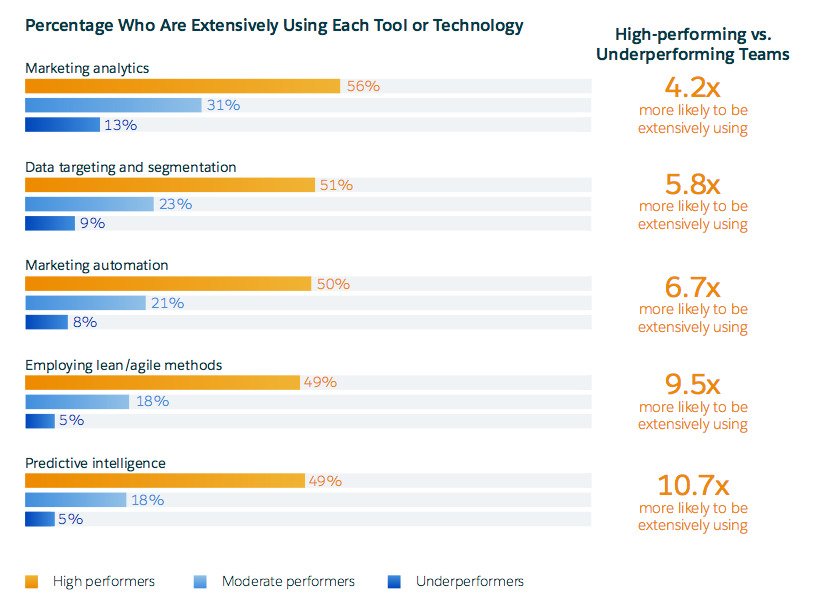 Top Marketing Teams Have Buy-In From Company Leaders
High-performing marketers align with their business leadership better. 83% of them have their executive team's full commitment to their marketing efforts.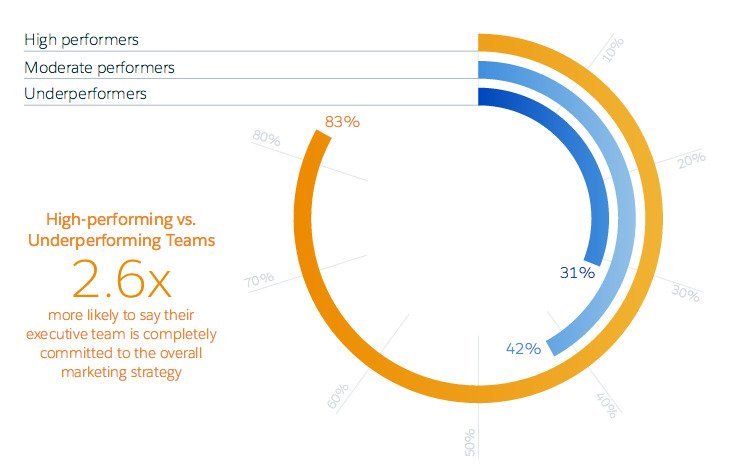 Insights Based on Marketing Channels
Leading Marketers Have a Cross-Channel Approach
The exclusivity of digital channels in a marketing strategy is gradually diminishing. Top marketers, especially, are actively aligning their campaigns from different digital channels.
For instance, 82% top marketers consider social media ads as a part of their mobile marketing strategy.
Top marketers are finding a high degree of effectiveness with this approach: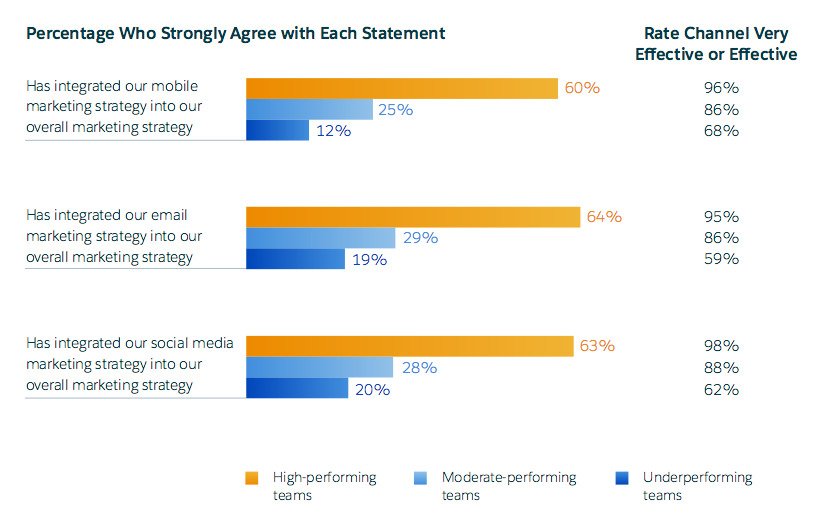 Mobile Marketing is Growing Faster Than Ever
The report highlights a 98% growth in the use of mobile apps as a marketing platform. It also reports a growth of 111% in SMS usage for marketing.
Mobile push notifications, the newest addition to mobile marketing channels, is seeing a tremendous growth of 145% in its usage.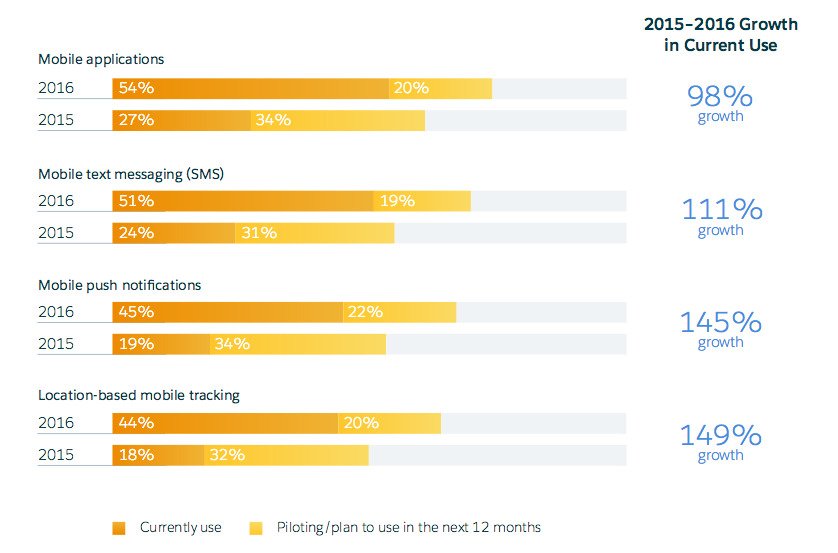 Marketers use the mobile marketing channel to drive numerous customer-centric campaigns. The mobile marketing campaigns are effective in delivering real-time, personalized information to customers.
Here are the highest rated mobile campaigns in terms of effectiveness: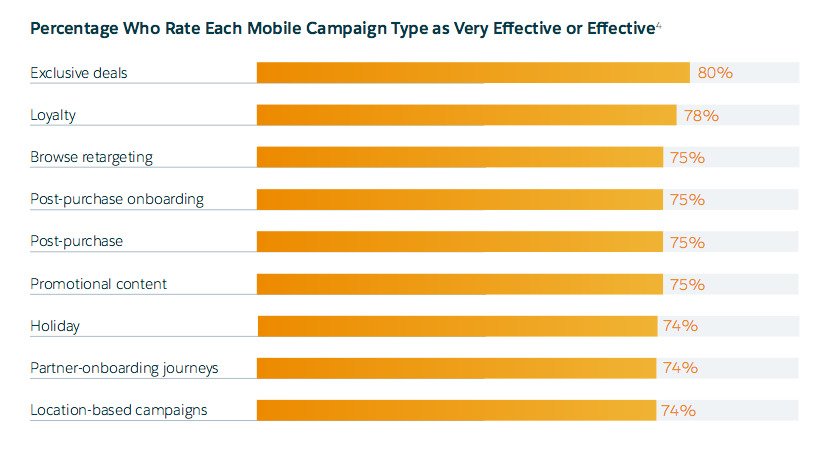 Top marketers are more advanced in their approach to mobile marketing. They actively align campaigns, and track mobile analytics data and user navigation patterns.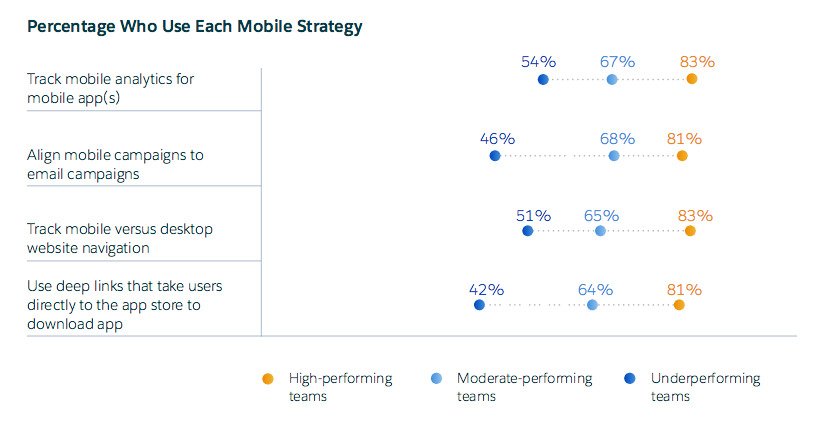 Email Marketing is Getting Even Smarter
Most marketers agree that email lies at the core of their business and customer strategy. Top marketers are leveraging predictive technology to make emails more personalized and relevant.
The RoI from email marketing has also witnessed an appreciable growth. Whereas, 54% marketers said that email directly generated RoI in 2015, the percentage surged to 79% in 2016.
Among the different email campaigns targeted at customers, marketers found "campaigns for developing customer loyalty" to be the most effective one.
Interestingly, campaigns related to social and mobile found their spot in the top five. This further strengthens the case of cross-channel marketing strategy practiced by modern marketers.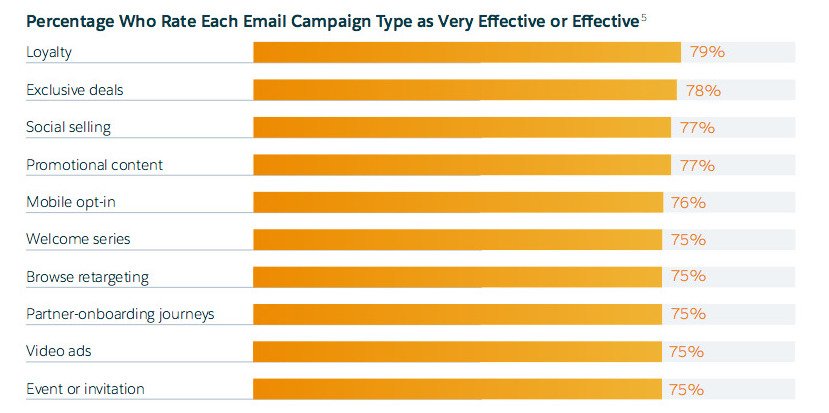 Social Delivers Greater RoI
Social media has increasingly become a critical function for businesses. 82% marketers concede that social media marketing is at the core of their strategy.
While only 9% marketers, in 2015, agreed that social media marketing generates significant RoI, the percentage increased to 39% in 2016.
Marketers use the social channel to establish real-time communication with customers. The top marketers are more likely to excel at responding to customers in a timely manner across all social media platforms.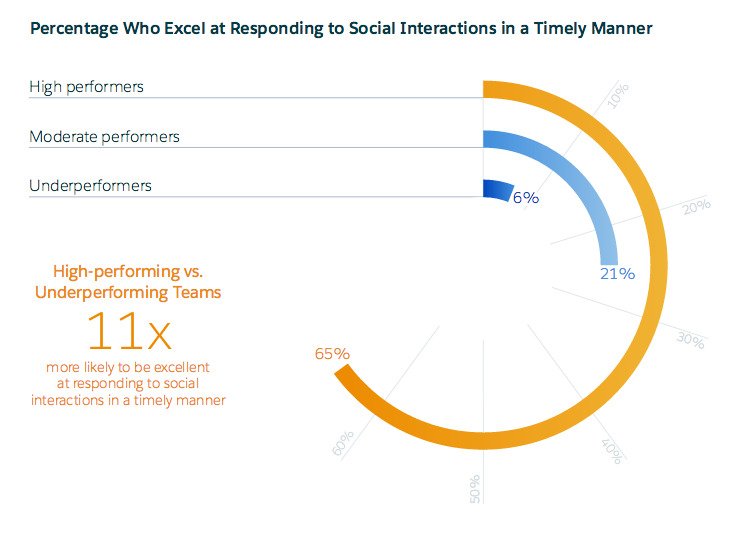 Trends on Digital Advertising
80% top marketers are going increase their spending on advertising on social platform. (Ads on social is the third largest area of increased investment for marketers.)
Apart from social, many marketers are also keen on using video advertising and native advertising more.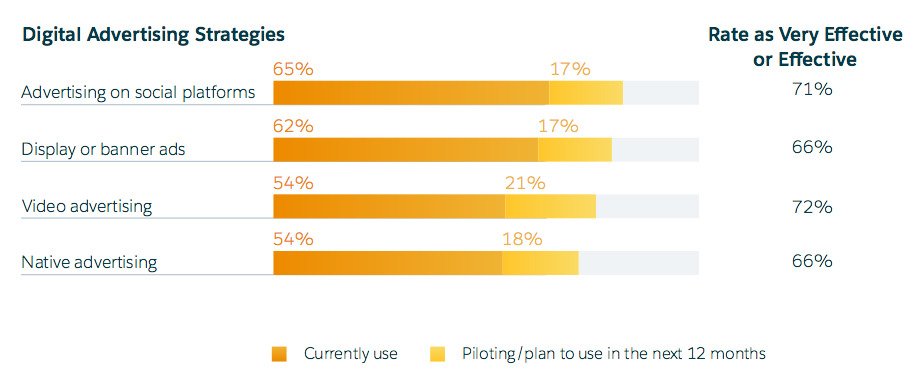 Smart marketers have learned the art of data-driven advertising on digital channels. 91% marketers target and segment their digital ads based on customer data.
However, high-performing marketers are more likely to track a variety of data points (e.g., personal data, website activity data, demographic data, etc.) to position their ads better.
Wrapping It Up
The "State of Marketing Report 2016" by Salesforce provides valuable insights into the practices of high-performing marketers. The report analyzes how marketers use different marketing channels, and gives pointers on formulating an effective marketing strategy to budding marketers.
You can download your own copy of the report here: State of Marketing Report for 2016 by Salesforce.