In this case study, you will find out how MedienReich ComputerTrainings used one simple tactic to increase site engagement by 40.87%.
Company

MedienReich ComputerTrainings is a German company which provides various software training courses. On its homepage, MedienReich showcases its services in three broad categories.
Open training: Offering training to participants from different companies.
Individual in-house training: These kind of trainings take place at individual companies and are tailored to specific needs.
Individual company training: These take place at their training centers and are again tailored to specific needs.
Here's how it looked: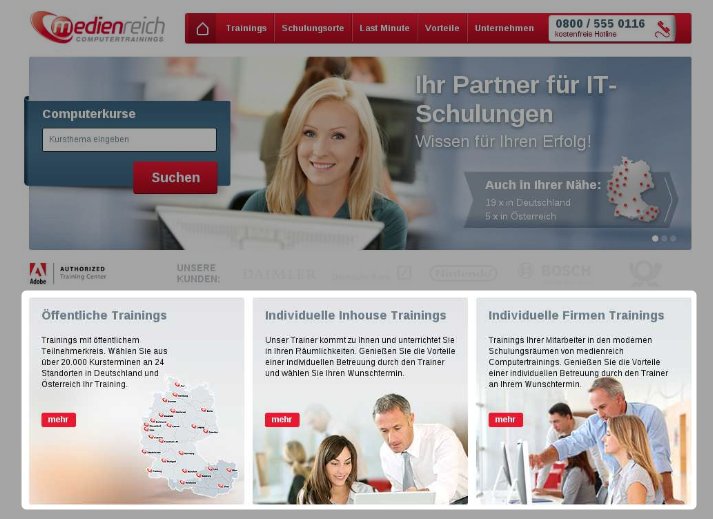 The test
MedienReich used Visual Website Optimizer to run a Split URL test. It replaced the three broad category types with 8 best-selling courses such as Photoshop, InDesign and AutoCAD. Tracking 'engagement' was the primary goal of the test.
The variation: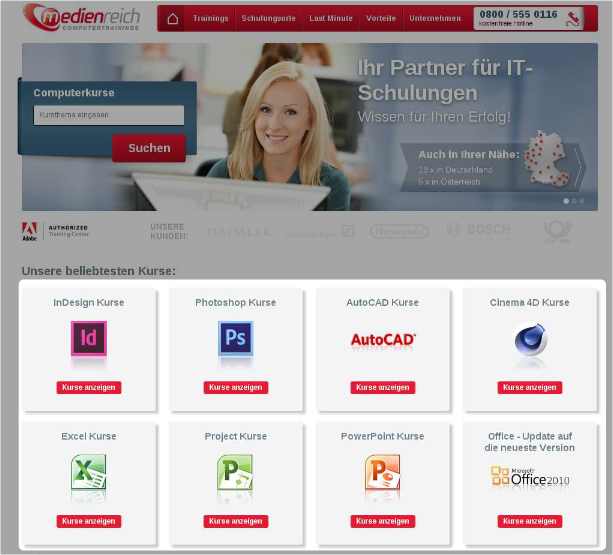 Split URL Test results
The variation, which displayed the popular courses, had victory written all over it. It had a 99.9% chance to beat the original. Replacing the 'courses types' with the 'hottest-selling courses' increased engagement by a robust 40.87%!
MedienReich ran the test for close to 20 days before embracing the changes with open arms six months back. According to Marc Stenzel, MedienReich's SEM manager, the year-on-year value of the homepage increased by 106.42% — from $2,149.72 to $4,436.41.
Why it worked
Get it straight from the horse's mouth:
"My hypothesis was that we could decrease the bounce rate when we display our bestselling training topics as it would reduce the effort the visitor has to put into looking for them. I was happy to see that the hypothesis was true," Marc Stenzel.
Key takeaways
1) Provide right information in the right order
Your website is like a story. And like all good stories, it has to convey the facts in a logical sequence for it to make any sense to the audience. The visitors would first want to know whether the courses of their choice are being offered before they decide if they want to opt for individual or in-house company training.
"It is crucial when in the conversion funnel you provide which information. The visitors wanted to know if we provide training for their desired topic in the first place. The information about the different training types (as seen in the control) is information the customer is interested in after getting to know whether we provide their topic. So, the right information at the right time is important."
2) Think from the user's perspective
Identify your buyer persona and then put yourself in their shoes like Marc did to understand what they are looking for.
"To create the test, I was trying to think more like the user and how I could make it easier to find what he was probably looking for."
3) Display your best on the homepage
Don't let your homepage be an extension of your ego. Throw all that useless information in the virtual black hole. Your homepage is the entrance to your store. Jazz it up with the very best of what you have got. Check out these tips on how to make your homepage a conversion magnet.
Let's engage more
You know what we define as good engagement level? When you go down in the comment section and bleed the keys off.