Ramit Sethi of 'I Will Teach You To Be Rich' said:
"When you can truly deeply understand people, even in fact better than they understand themselves, then your sales skyrocket."
You may understand your customers' needs very well but if you are not clear in your communication with them, your sales will suffer.
And since English is a widely spoken language that varies with different geographical locations, it's important that cultural subtleties are taken into account in your communication.
You must have heard that you should talk in the language of your customers for better conversions. What this means is that you should use the same vocabulary as them, and that does include being mindful of cultural subtleties of the language. This is often ignored by most marketers, but thankfully our customer, GreyBox Technologies, is not one of them.
About the Company
GreyBox is an India-based online business growth consulting company which helps medium to large enterprises to get more sales, leads, and higher investment returns from their online businesses.
They used Visual Website Optimizer to run a test on their client's website, Pcmbtoday.com. The site caters to learning needs of students preparing for national olympiads and highly-competitive entrance exams in the country. So it's majorly a go-to site to buy books (both ebooks and printed) and receives 80,000 to 100,000 visitors per month.
Test Hypothesis
The concept of shopping malls, inspired from the US market, is still in its infancy in India. While people in metro cities have adapted this urban buying scenario, most Indian cities still have traditional local markets.
Consequently, the hunch of the GreyBox team was that average Indian customers might not be familiar with the call-to-action (CTA) text, "Add this to my cart," as many of them might even be first-time online buyers.
This is the screenshot of their Original product page: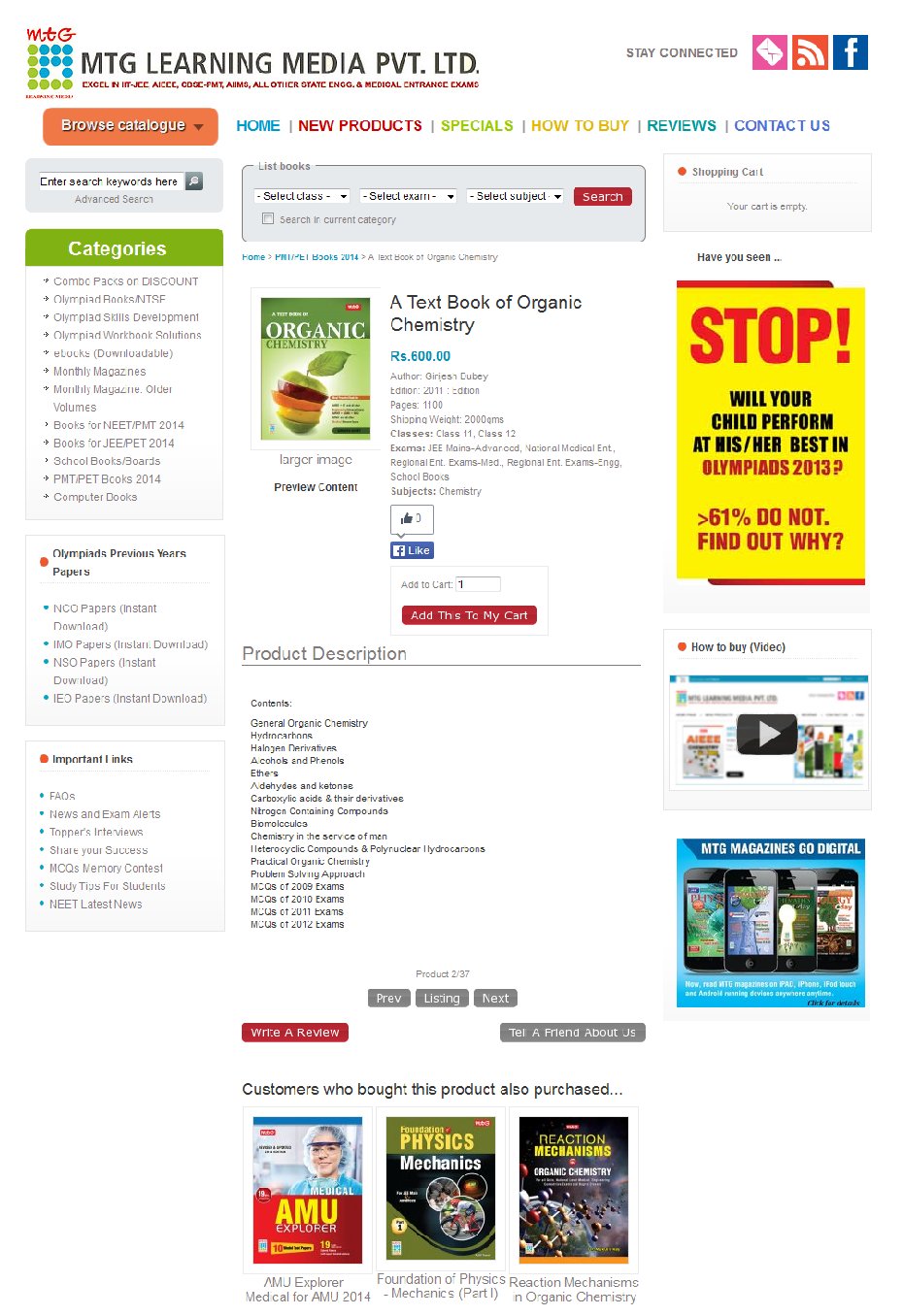 Thus they hypothesized that changing the call-to-action text from "Add this to my cart" to "Buy now" should increase clickthrough rate from product pages.
Here is the screenshot of the product page that was pitted against the control page with changed call-to-action text: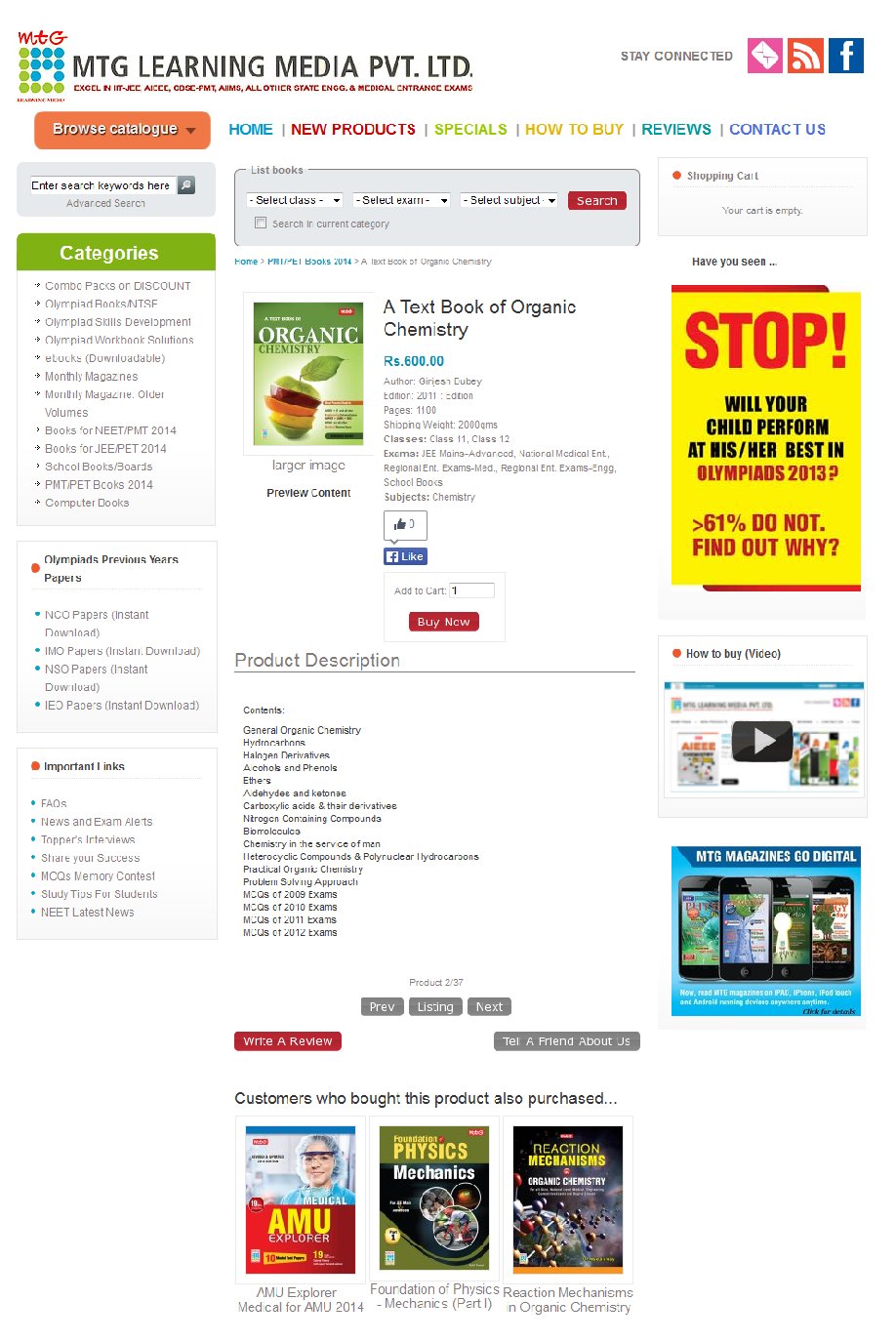 Result
The new page beat the original and pushed 8.41% more visitors down the conversion funnel. This might seem like a small win but considering the traffic received by Pcmbtoday.com and the fact that cart to conversion of the site is 42%+, it's a great conversion boost.
See the image below to compare the two versions: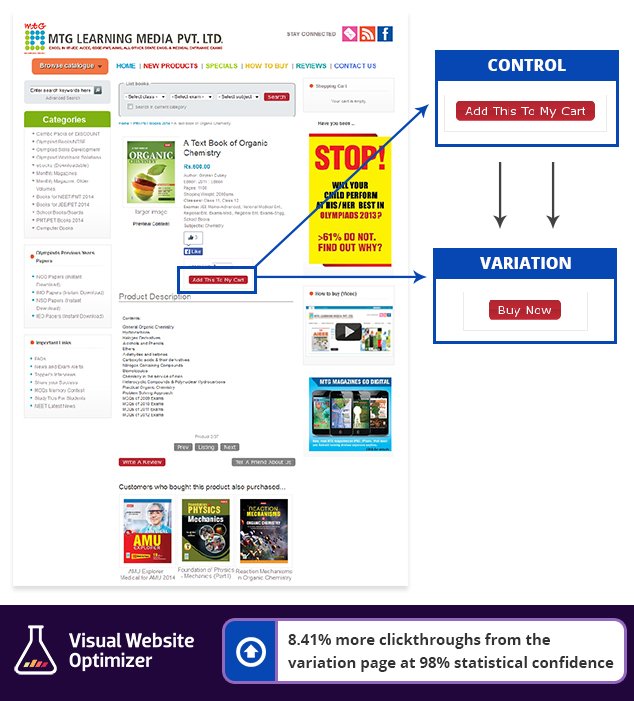 Tests That Pcmbtoday Can Try
Adding trust seals (for skeptical buyers) or any bold guarantees (like, low price guarantee for fence sitters) near the "Buy now" button can give an added assurance to site visitors who might otherwise prefer buying from branded online counterparts, such as Flipkart, Amazon, or eBay.
Increasing the CTA button size to make it stand out on the page and placing it above the fold can make for a good test.
This might be a long shot but it is definitely worth testing if adding the 'Look Inside' feature (like Amazon) improves conversions.
Chances are, yellow banner on the right is either being ignored by the visitors or is acting more as a distraction. Since it is not contributing to the goal of the product page of pushing visitors further in the sales funnel, it should be removed.
Stripping off book's 'Contents' under the product description is not adding any value to the offer and should be removed. I'd suggest a test where the yellow banner on the right is replaced with persuasive, benefits-driven description.
Negative social shares on the product page might be backfiring. Removing them might improve conversions.
Again, these are just suggestions for test ideas that Pcmbtoday can try. Do you agree/disagree with them? Do you have any other test suggestions? It's time you let it all out and bombard the comments section now!