This case study is written by George Harris, Director of eCommerce at Paperstone.co.uk. Paperstone uses Visual Website Optimizer to optimize their website and this post explains how they increased sales by showing visitors that products on Paperstone were cheaper than their competitors.
Office Supplies eCommerce overview (UK)
The UK online office supplies market is dominated by two or three established brands but there are many smaller dealers all selling the same or similar products. Office supplies eCommerce stores that are not blue chip brands compete on price first, followed by customer service. Customers increasingly want lower prices on office supplies and stationery, but they primarily buy from the few established brands who are usually more expensive. Our experiment was designed to make office supplies buyers aware that Paperstone were mostly cheaper than recognised brands to see if this increased our market share.
Hypothesis
"Displaying our competitors' higher prices on 5,000 product pages will increase clicks on 'Add To Basket' and our overall website conversion rate."
Here's the original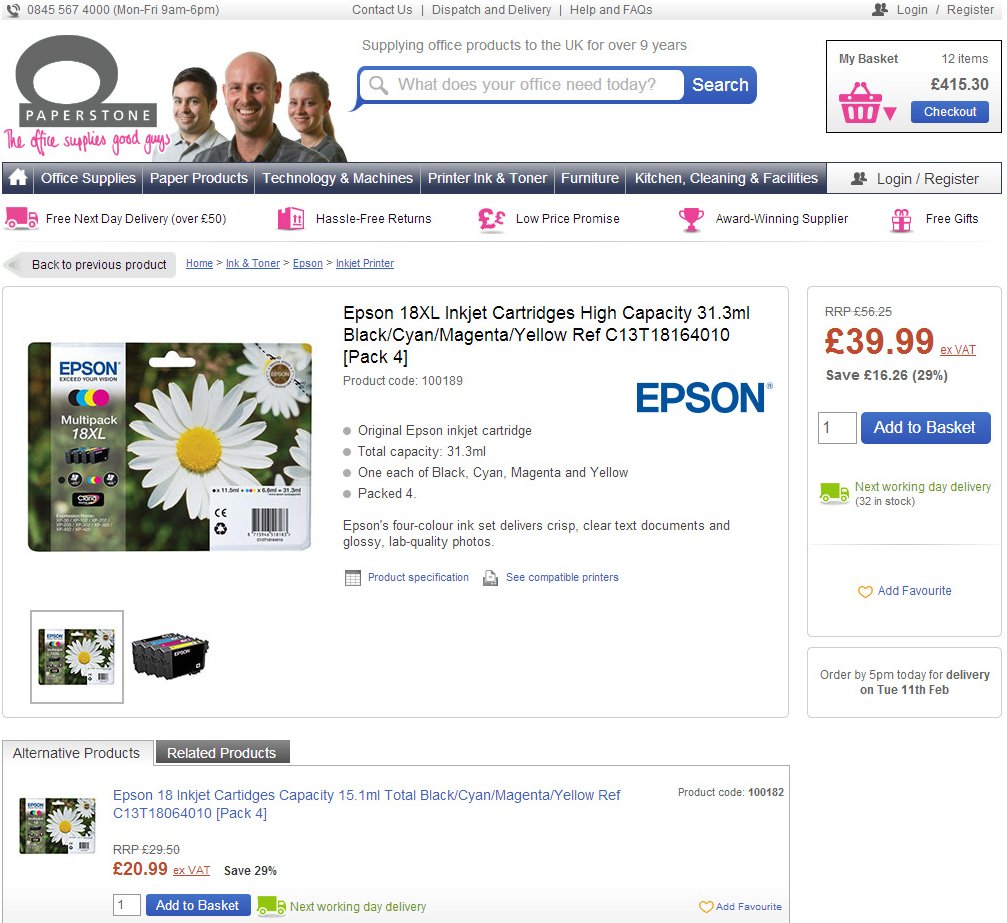 Risks/Our Concerns
Would displaying our competitors' prices drive potential customers to our competitors, if the saving is only small?
Would displaying our competitors' prices drive potential customers to our competitors, if the user was not previously aware that our competitors sold the product?
Would we appear more expensive on product pages that do not have the competitor price module? Competitor prices were not available for all products.
Would adding the competitor price module to our product detail pages create poor UX which distracts and puts off our users?
Would we get statistically significant results? With only 5,000 products out of our range of 18,000 showing the competitor price module, users were only entered into the experiment if they visited one of these price-comparable products.
Methodology (Version 1)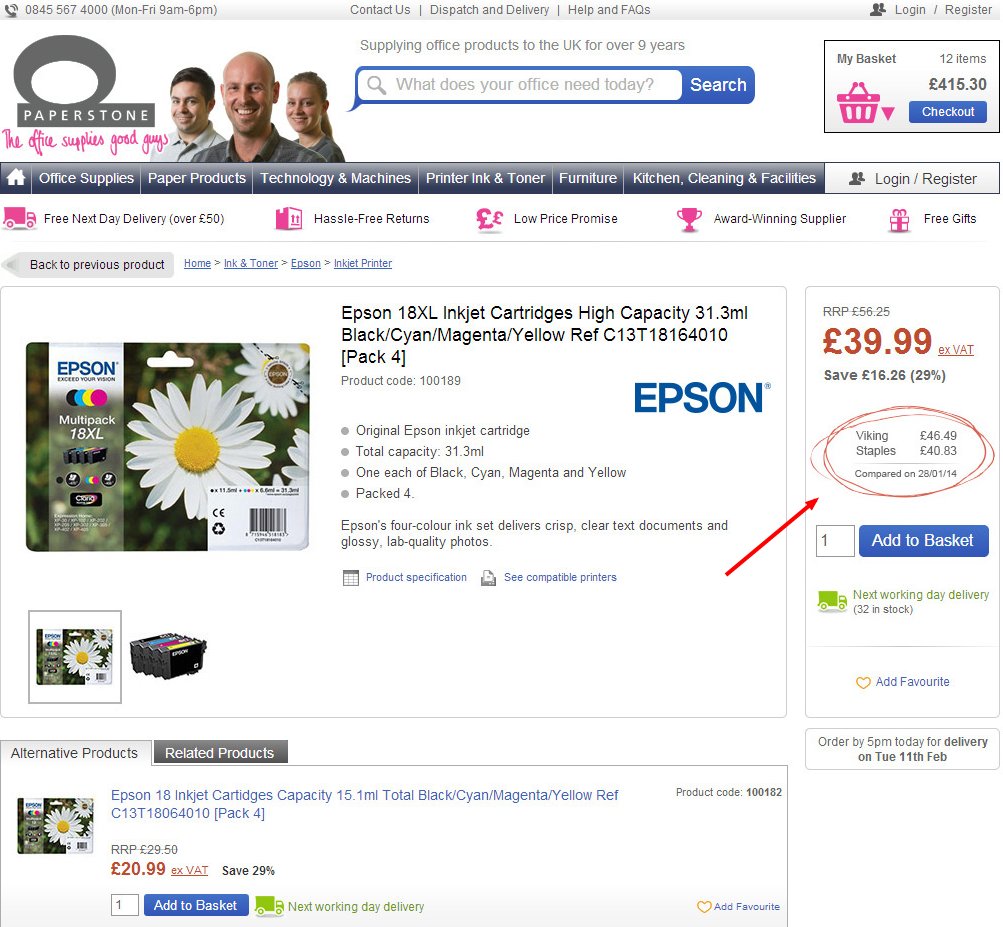 We ran this test for over 12,000 unique visitors 50/50 split between control and variation. Result was inconclusive for both conversions and add to basket, although both were reported as performing more poorly in the variation than the control.
Methodology (Version 2)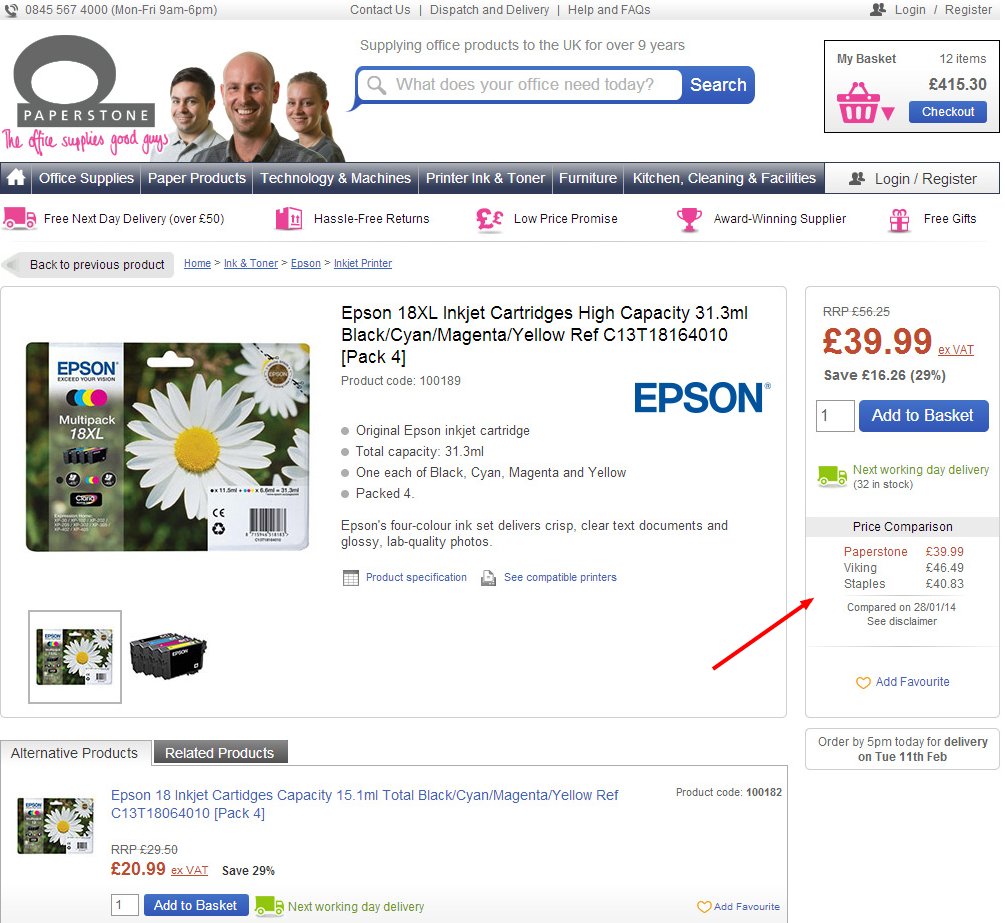 Changes made in this variation:
Moved competitor pricing module below add to basket. We wanted to see if moving the add to basket button down in variation one was having a negative impact on add to basket.
Put the Paperstone price next to the competitor price in the module and highlighted the saving. This was to make it easier for users to see the saving.
Made the design more "corporate" looking and gave the module a header of "Price Comparison". We thought that the previous style may have been causing banner blindness.
Result
We ran this test (variation 2) for over 12122 unique visitors 50/50 split between control and variation. Result was conclusive for an increase of 10.67% in conversion rate (95% confidence) and inconclusive for clicks on "add to basket".
Here's George's clarification on why Paperstone offers lower prices
It's very common for eCommerce stores or supermarkets to claim they are cheaper than each other because they will be cheaper on some products but not others. We are not cheaper on every product and don't claim to be. A larger eCommerce store does not need to be cheaper than a smaller store, as consumers will often go to the recognised brand as a starting point and not shop around. It is not a "competitive advantage" of ours, because the larger store could charge less if they want. They have a cheaper buy price than us (as they buy in larger quantities from suppliers) and simply make more profit because they can. It is a strategic move by us to try to win market share by giving people a reason (saving money) to buy from us and not a larger competitor.