As you begin to get a hang of A/B Testing, it is tempting to set up more tests to validate all your ideas, and you absolutely should! One of VWO's objectives is to help you set up campaigns fast, so you can scale up your testing initiative.
Researching your visitor's behavior patterns and defining well-structured hypotheses are core activities that you should obsess over. The more detailed your ideas are, the easier it is to test and understand their impact. The quicker you can set up testing campaigns, the more you can ideate and test.
One sure-shot way to speed up a campaign's set up process, is to be able to reuse changes that tend to repeat across campaigns. Some common reasons why you may need to repeat changes across campaigns are to
revalidate some aspects of an older idea
run a number of similar tests to thoroughly validate an idea
test another idea with changes from an earlier test
Moreover, reusing changes will also bring visual consistency compared to manually repeating the changes.
With this new update, the Visual Editor comes with a Library in which you can save changes and reuse them in your Testing and Web Rollouts campaigns.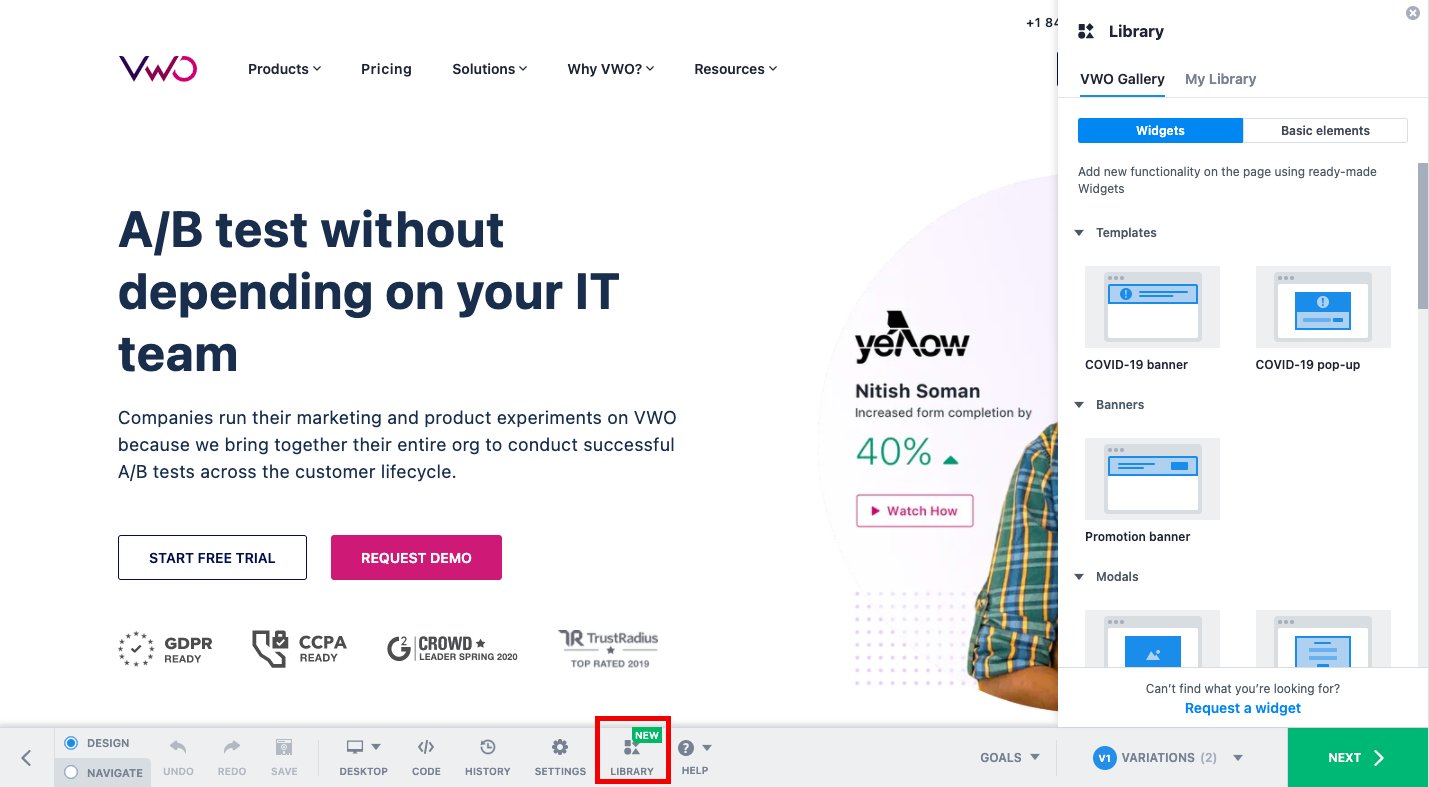 If you are familiar with VWO's Widgets and Elements (that you may have used with the Add operation), you can find them in 'VWO Gallery' in the Library. You can continue using them as you did before. In addition to VWO Gallery, you can save your reusable changes in My Library. These changes can be in the form of:
Widgets
Any page element, from basic text-blocks and buttons to banners and pop-ups can all be saved as Widgets.
If you have introduced new content in an earlier campaign with a Widget, you can save and re-use it in any of your upcoming campaigns. You can even save existing elements on the website and use them in your campaigns. For example, a banner announcing your shipping policy during checkout can be modified and used to announce an upcoming sale on the home page.
In this way, you can easily save widgets and use them in upcoming campaigns. Just select the element on the page and click Save to Library. Additionally, you can review the code and make required modifications before saving it. The following screen captures show how a widget can be saved and added.
Alternatively, if you wish to create a widget from scratch using code, click Create Widget. This is a great way to import any widgets your development team might have already created, like a sign-up form with input validations and the style which conforms to your branding guidelines. You no longer have to rely only on VWO's widgets, you are now in control of expanding your Widget Library as you please.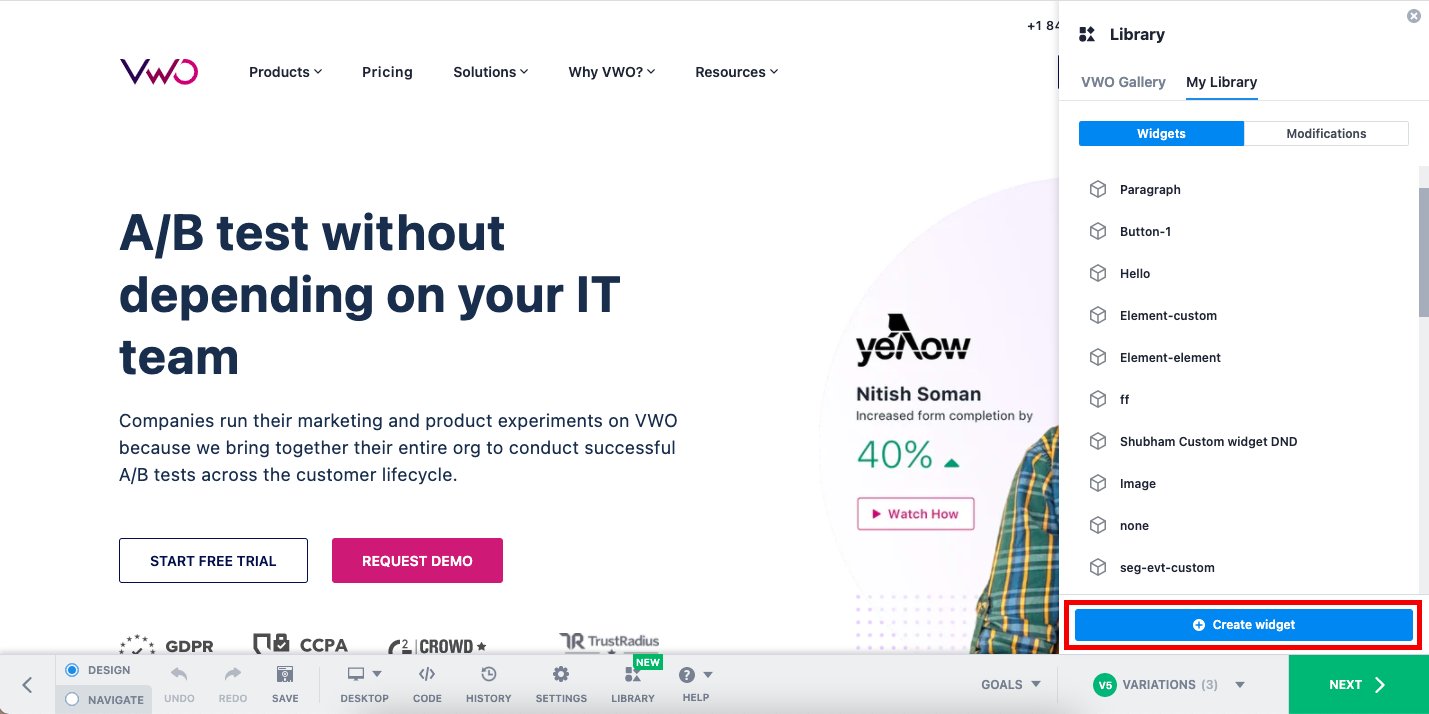 Modifications
When you perform a set of operations on an element, some situations may need you to repeat it on other elements- be it on another variation in the same campaign, or in a different campaign altogether. By saving the changes in the form of a single Modification, you can apply them all again in one shot.
Saving Modifications can be especially useful if you like to code custom changes to create variations. Click on Create Modification to invoke a code editor where you can add and save your custom CSS/JS code. You can then use this code snippet when you Edit Code to create variations. In this way, you can maintain a collection of code snippets that you tend to reuse across different campaigns.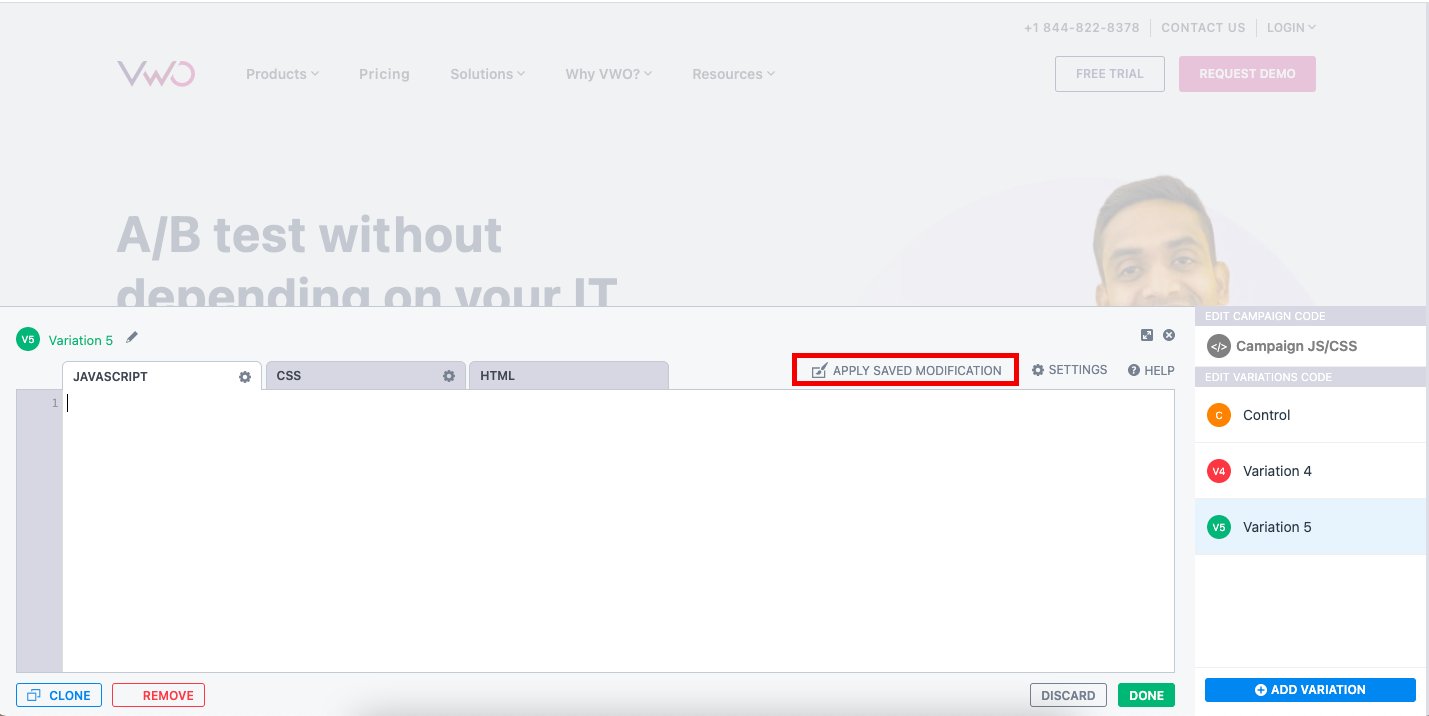 To save a changes that you have applied visually, go to the variation's details. Select the list of operations applied on any element and save it as a Modification.
My Library, where custom widgets and modifications are saved is available for Pro and Enterprise accounts for Testing and Deploy campaigns.
This feature is being rolled out gradually to all eligible accounts. There is a chance Library may not be available in your account yet. If you want to check it out right away, please submit the early access form below. You will receive an update from us once it has been enabled.