Our most recent integration update with Google Analytics 4 (GA4) is now available, allowing you to run A/B tests, Personalization campaigns, and Deploy campaigns by targeting audiences created in your Google Analytics account.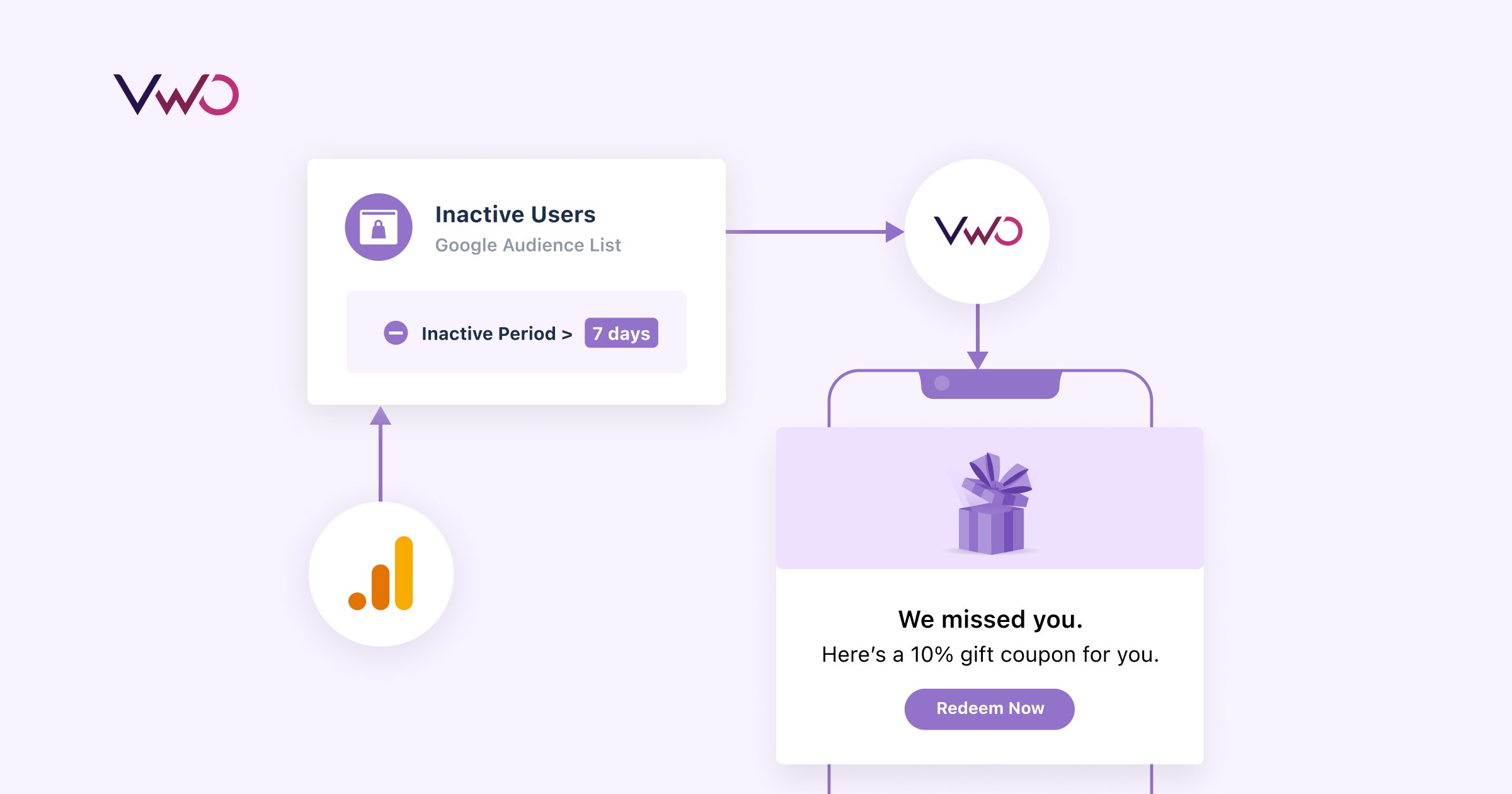 A quick overview of GA4 audiences
'Audience' is a grouping of users based on a range of characteristics or behavior. If you are familiar with Google Analytics, the GA4 audiences function allows you to classify your users based on dimensions, metrics, and event data. You can custom-build segments as per your individual business use cases.
The following are a few examples of audiences: Engaged Users (who have visited the website at least five times in the past month and have spent an average of five minutes on the site each visit), High Intent Users (who have visited the pricing page at least three times in the past week and have spent more than two minutes on the page each time), and Frequent Buyers (who have made at least three purchases in the past month and have a lifetime value of over $500).
Integrating GA4 with VWO
The video below shows in detail how you can connect GA4 with VWO and sync audiences to be used in campaigns.
You can sync up to five audiences from your GA account at a time into your VWO account and use them as a campaign targeting condition.
Let's now explore some example use cases of this integration
Personalized Onboarding:
Audience: "Free Trial Users" who have completed at least 50% of the onboarding processes but have not yet converted to a subscription plan.
Using this audience from GA4 within our platform, you can run a personalized onboarding A/B test. This audience can be used to determine which onboarding experience version best converts free trial customers to premium plans.
Upgrade Testing:
Audience: "Users on Basic Plan" who have used the software for at least six months synced from GA4 to VWO.
You can run an A/B test on the pricing page using this audience on our platform. This audience can be used to determine which pricing plan variant is more effective in upgrading users from the basic plan to the premium plan.
Abandoned-Cart Recovery:
Audience: "Users who have added items to the cart but haven't completed the purchase" sent from GA4 to VWO.
You can run an abandoned cart recovery A/B test using this audience in VWO. This audience can be used to determine if an abandoned cart recovery pop-up widget will effectively drive users to complete the purchase.
How can you use the GA4 audience list in VWO?
When creating a campaign in VWO Testing, VWO Personalize, or VWO Deploy, select 'Enable campaign for a specific visitor group' under 'More Options.' Then, go to 'Custom segment' and make a segment with the 'GA4 Audience List' condition. You can also create advanced custom targeting segments utilizing many other visitor attributes and events and save them under 'My Segments' for quick reuse.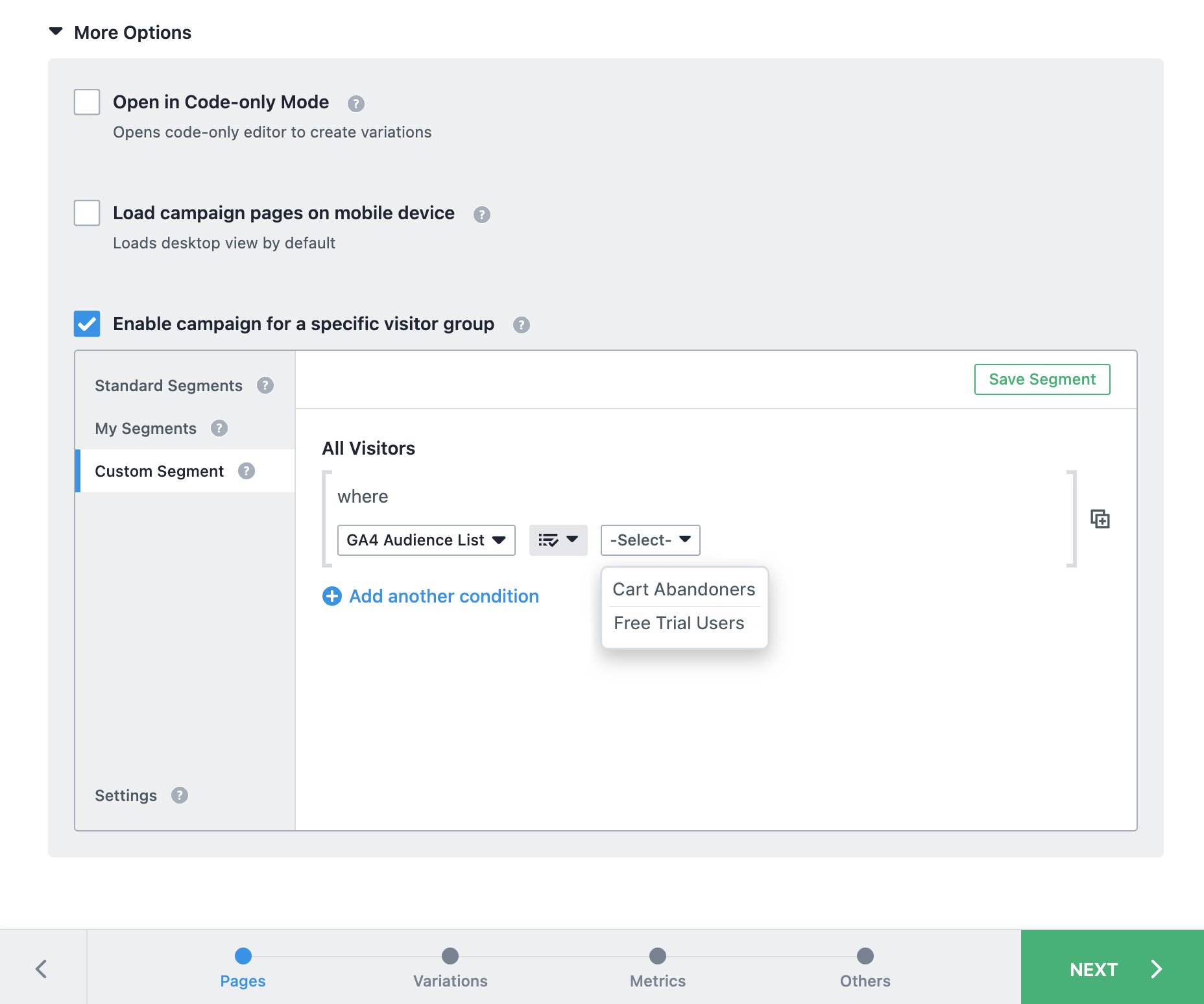 Excited and want to know more?
Our new GA4 integration is available for the pro and enterprise plans of VWO Testing, VWO Personalize, and VWO Web Rollouts. Please check out our knowledge base article to learn more and set it up in your VWO account.
For any questions or concerns, feel free to reach out to support@vwo.com.