We're thrilled to announce that our team built a native Google Analytics 4(GA4) integration with VWO. Previously, integrating the two platforms required custom dimensions in Google Analytics, which had limited use cases and needed manual effort. With the upgraded integration and new GA4 features, VWO's campaign data, such as the variations users see in different experiments, will be available as standard dimensions in GA4 in real time, enhancing the overall richness of data in GA4. The update will facilitate the effortless generation of audiences using VWO's data in GA4. Additionally, it will enable the use of campaign data across various use cases such as AdWords, re-targeting, etc.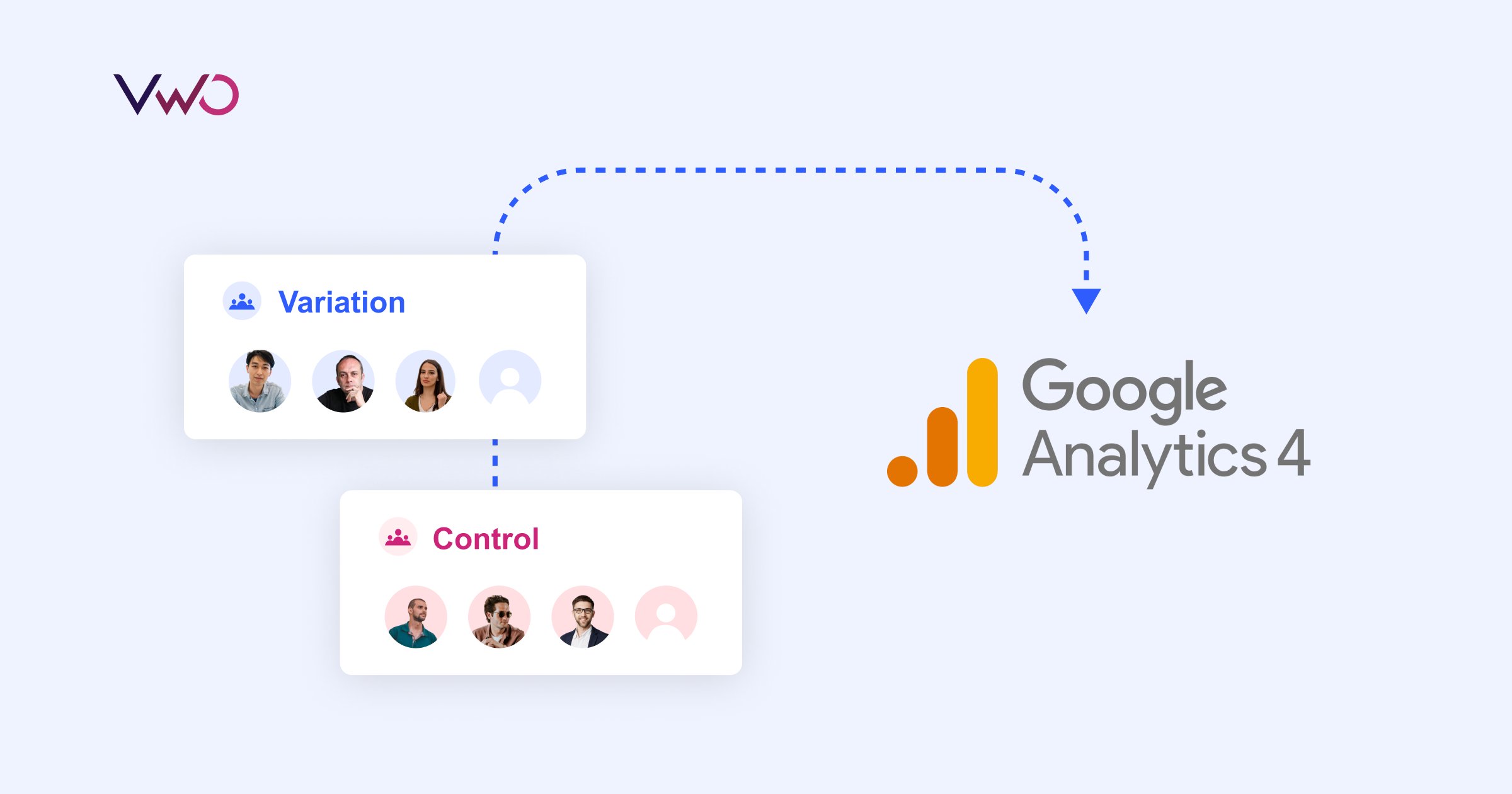 Check out how you can connect GA4 with VWO and set up campaign data as audiences in GA4:
Where can you see campaign data in GA4?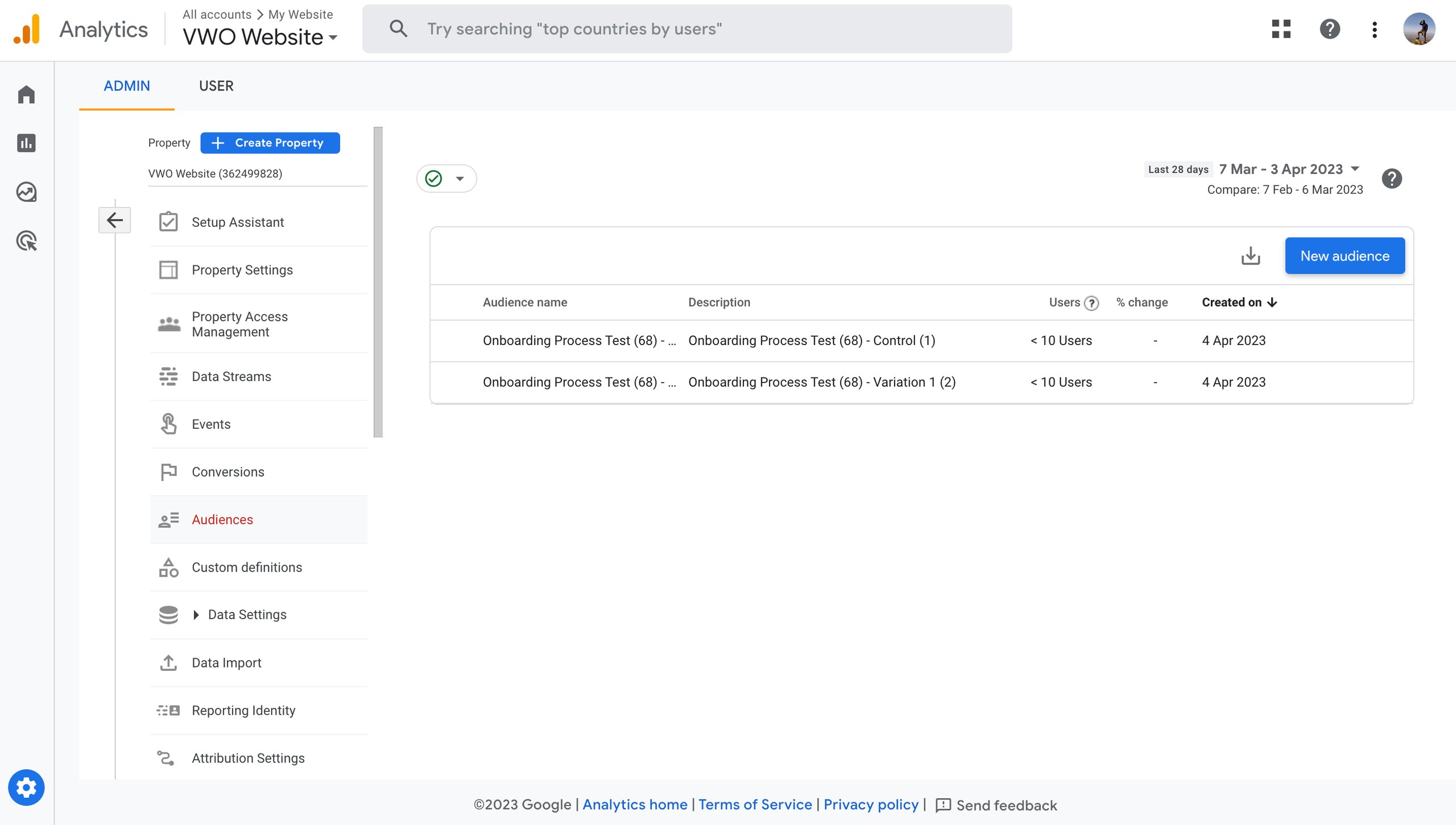 You will find your campaign data in GA4 under Admin>Property>Audience. It is easy to recognize the audience in GA4 with its campaign name and ID.
What to keep in mind when syncing your campaign data?
The new integration helps you push data from your Testing, Personalize, and Deploy campaigns to GA4.
You can choose the campaign data you wish to push. For instance, you could push only the original data in a Deploy campaign.
You can create a maximum of 100 audiences per property in GA4. This is a limit set by GA4.
VWO will push the data from when you activate the integration. Historical data is not pushed to GA4.
Only the account enabled by the integration will push the data, not any other workspaces.
Data pushed from VWO to GA4 represents visitors who have engaged with either the control or variation of a campaign. VWO pushes the data each time a visitor visits the page. It is advisable to make reports at a user level rather than an event level to ensure that the system does not count the user as a separate user.
Let's deep dive into some use cases of this integration
Consider a SaaS platform that is running a personalization campaign with the objective of increasing its subscribers. To motivate their audience to take immediate action by creating a sense of urgency, they could show a personalized message on their landing page like: "Only 3 hours until the offer expires!"
With the GA4 integration, the SaaS brand can create the campaign audience in GA4 and then further act on this in multiple ways, including
Run ads to reinforce the messaging: To take it a step further, the brand can use GA4 to target the VWO campaign audience with a personalized ad campaign reminding users that the offer is about to expire. This may persuade them to purchase before the deadline.
Draw insights from the audience with reports: The brand can delve deeper into audience analysis by segmenting them based on demographic, geographic, traffic source, and other factors.
Excited and want to know more?
Our new GA4 integration is available for all plans of VWO Testing, VWO Personalize, and VWO Deploy. Please check out our knowledge base article to learn more and set it up in your VWO account.
For any questions or concerns, feel free to reach out to support@vwo.com.