"In God we trust. All others must bring data."
This quote by W. Edwards Deming embodies the mantra guiding online businesses – customer data is central to delivering delightful experiences and, in turn, driving online growth.
Why do you need a customer data platform?
Marketers need a full understanding of their visitors to launch any meaningful campaign. But as more data accumulates, managing and fully utilizing it becomes extremely difficult. Additionally, businesses can not afford long response times as visitors today expect relevant communication in real-time.
Businesses, therefore, are facing one question – how to have an actionable, unified view of the visitor?
There are two ways to go about it. First – integrate multiple third-party tools to gather user data in one hub. However, this makes companies depend on their IT teams to build the data infrastructure and takes hundreds of hours that businesses can't afford. Also, it is not agile. Second – have one central hub platform with the in-built data infrastructure to collect and unify the first-party, second-party, and third-party visitor data to give a single view of your customers. Intuitively and practically, the latter feels like a more appropriate and agile choice to manage customer data. If you agree, we have great news for you!
Introducing VWO Data360 – VWO's newly launched SaaS data management platform that will help you get a unified view of your visitors in one platform. View visitor attributes, events data, behavioral data from heatmaps, surveys, session recordings, uploaded data, offline data, third-party data attributes, and more in a single, integrated view to better understand your customer.
How does VWO Data360 help you accelerate your optimization program?
CDPs have become one of the most crucial components in the martech stack not only because they consolidate the increasing visitor digital footprint but because they empower you to build visitor-centric campaigns that help increase revenue. VWO Data360's holistic view of your visitors' entire journey will help you:
1. Create data-backed visitor profiles with a 360° view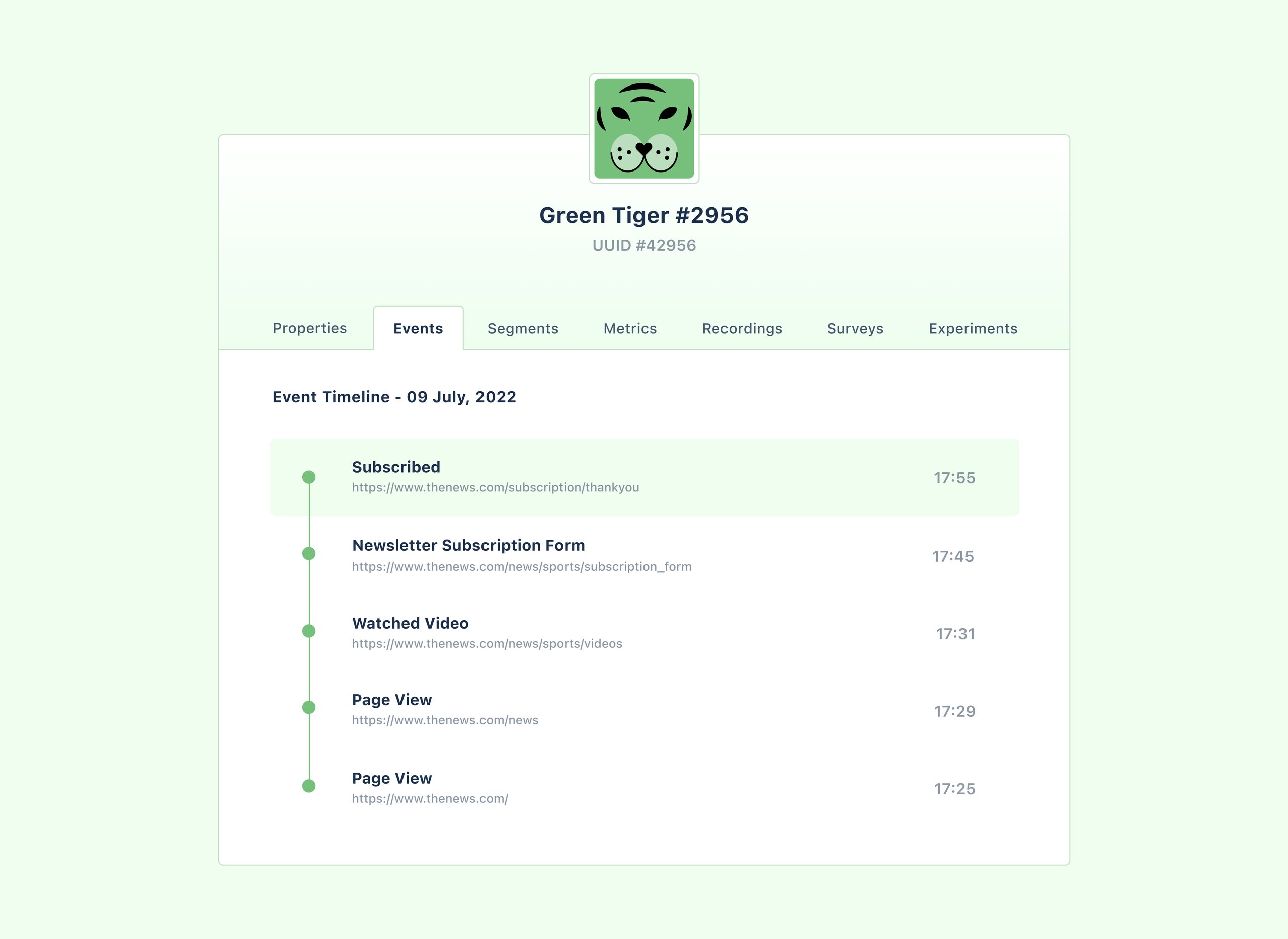 Collate conversion, behavioral, geographic, and psychographic data from any source. Within a single interface, VWO Data360 gives you an all-round view of each visitor and helps create actionable profiles summarizing (but not limited to) the following parameters:
Traffic source
Purchase history, Product affinity, Average Order Value
Lead funnel drop-off stage
Visitor properties (location, language, last seen, etc.)
Browser data (OS, device, etc.)
Website engagement (wishlist to cart, demo/free trial sign up, subscription, etc.)
Segments they are part of like free-trial user or VIP customer
Revenue uplift
2. Power your optimization campaigns with actionable visitor insights
Your optimization program is only as powerful as the data that guides it. VWO Data360 lets you centrally configure & analyze visitor data so you can derive insights, experiment deeper, and optimize experiences. To strengthen your KPI reporting with experimentation data, you can also define and track fine-grained metrics like AOV, LTV, scroll depth, etc.

Let's say you are an online retailer looking to reduce mobile device bounce rates. You can leverage VWO Data360 to track event timelines and metrics like average scroll-depth, AOV, or last purchase of bounced visitors. You can then trigger contextual discounts and widgets for specific segments based on where they dropped off and nudge them to complete checkout, thereby increasing revenue.
3. Deliver hyper-personalized campaigns with micro-segmentation
Create multiple micro-segments and deliver personalized marketing campaigns that resonate with each visitor segment on top of the unified customer data put together by VWO Data360. Use behavior, demographics, and affinities data to nudge them further ahead in the conversion funnel.
For instance, you can leverage events data gathered about visitors' on-site activity and behavior and combine it with other data points like company, industry, geography, etc., to create micro-segments. You can then create and release multiple contextual experiences for each micro-segment and at every touchpoint of their journey to nudge them ahead.
How does VWO Data360 work?
The newly launched VWO Data360 helps you collect and centralize visitor data, including demographics, product affinities, and buying behavior. It gathers data packets from various sources like your website, third-party integrations, mobile app, etc., and helps in creating audience segments, profiles, and metrics. You can now optimize experiments, personalize journeys, and fine-tune marketing campaigns with actionable, wholesome visitor data.
Main components of VWO Data360
Attributes: All standard, imported, custom, and computed attributes of every visitor.
Events: All actions taken by visitors. This includes actions taken offline (via custom) or in other applications (via integrations).
Segments (or Audiences): Powerful segmentation that lets you create cohorts of visitors with similar attributes or behavior.
Metrics: It lets you define and track Goals/KPIs to get a microscopic view of your conversion success. Our metrics module enables you to aggregate standard web-page level goals like form submits, page visits, or clicks on an element to create complex business KPIs which are relevant to you.
Profiles: All data that we have for visitors, including their attributes, events, segments they are part of, their metrics, their behavior data – session replays, form analysis, survey responses, heatmap clicks, etc., all on a single screen. This will enable you to deep dive and understand better why someone is doing what they are doing.
VWO Data360 helps you run data-driven campaigns and release hyper-personalized experiences while ensuring absolute data security. It is designed with a privacy-first approach, complies with global data protection norms, and comes with airtight controls that ensure your visitors' privacy.
Excited and want to know more?
If this product update got you excited, stay tuned for our next leg of incremental releases planned for VWO Data360. Subscribe to VWO Product updates to get every new update in your inbox.
We are rolling out the current release of VWO Data360 to new accounts this week and will be deploying it to existing customers in a phased manner and on request next. If this is something you're looking for and it helps solve your current problems, please contact your Customer Success or Account Manager for more information. You can also show interest by requesting access to try out the product on the platform.