An ever-increasing digital economy has unfortunately led to a spike in cases of cyber attacks. According to an IBM report, hacks, viruses, and data leaks have become increasingly common, costing businesses to the tune of $4.24 million.
Our customers' security is our topmost priority. Therefore, to ensure the sanctity of your VWO account, we have added an extra layer of security in the form of two-factor authentication (2FA) that prevents bad actors from accessing your data, even if they know your password.
What is Two-Factor Authentication(2FA)?
Two-factor authentication(2FA) relies on a combination of two security measures to prevent intruders from gaining access to your VWO account. Once 2FA is enabled, to sign in to your account, you'll need to provide something you know, i.e., your password, and something you have, i.e., a six-digit one-time password sent to your email at the login time.
Why should I use 2FA?
2FA provides valuable protection for your account. With 2FA, you can ensure that your account is not compromised even if a malicious virus exposes your password or if hackers gain access to your password by brute force.
We strongly advise you to enable 2FA and set a strong password for your account. The password should not be apparent or easily guessed. Also, as a best practice, you should never share passwords.
How do I enable 2FA on my account?
There are two methods of 2FA, and both rely on you to enter a secure six-digit code to ensure that the person trying to access your VWO account is indeed you. Here's how to secure your account with a few clicks and a couple of minutes:
1. App-Based Authentication: This is the recommended and most secure authentication method. You can use any mobile or desktop authentication app that relies on TOTP (Time-based One-Time Password) technology to generate a six-digit secure key that is only valid for 30 seconds. To get started, enter the hash key or scan the QR code, enter the security key from the authentication, and you're good to go. Whenever you log in next, you will be prompted to enter the security key that you see on your authentication app.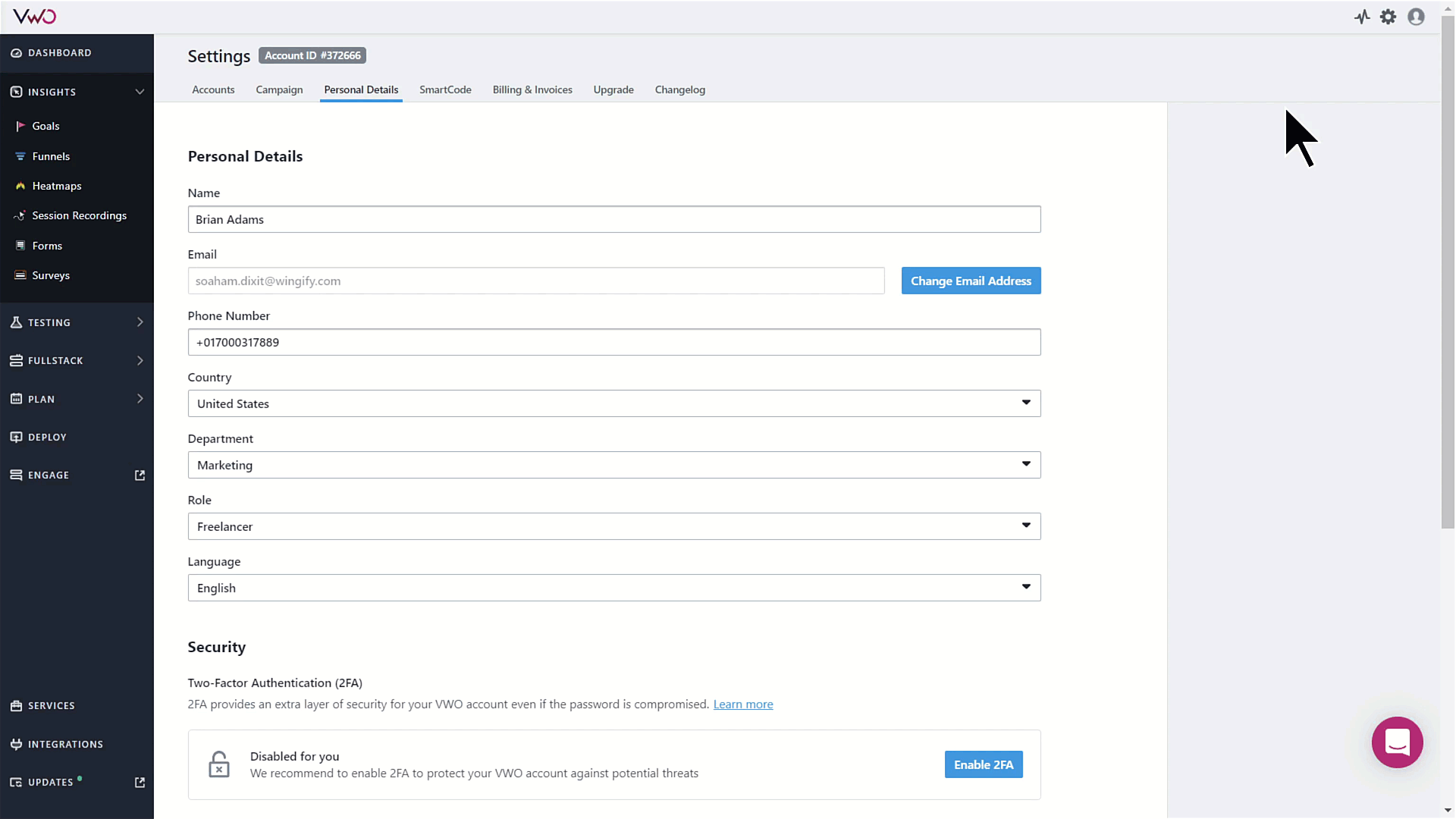 2. Email-based Authentication: When you sign up for email-based authentication, you receive a six-digit security code on your email whenever you try to login into your VWO account. To enable email-based authentication, select that option, enter the security code on your email, and you're done.
You can enable 2FA from the 'Personal Details' tab on your account settings page. Click on the 'Enable 2FA' button, enter the one-time password sent to your email, and that's it.
We strongly recommend that you use app-based authentication, as it ensures that even if cyber-criminals gain access to your email account, they are still unable to log into VWO.
If you have administrator or owner privileges, you can also enable 2FA for all users on your account from the 'Security' menu within the 'Account' tab on the settings page after allowing it for your account. After this change, the platform will prompt any users logging in to enter the one-time password sent to their email.
If you are using Single Sign-On (SSO) to access your account, please get in touch with your SSO provider as they control 2FA, among other security settings for your account.
This feature is available to all our existing customers(VWO All plans). To learn more about configuring and using two-factor authentication with VWO, visit our Knowledge Base. For more questions/concerns, please feel free to reach out to support@vwo.com.