The Preview tab in campaign reports now has improved UX and a fresh new look and feel.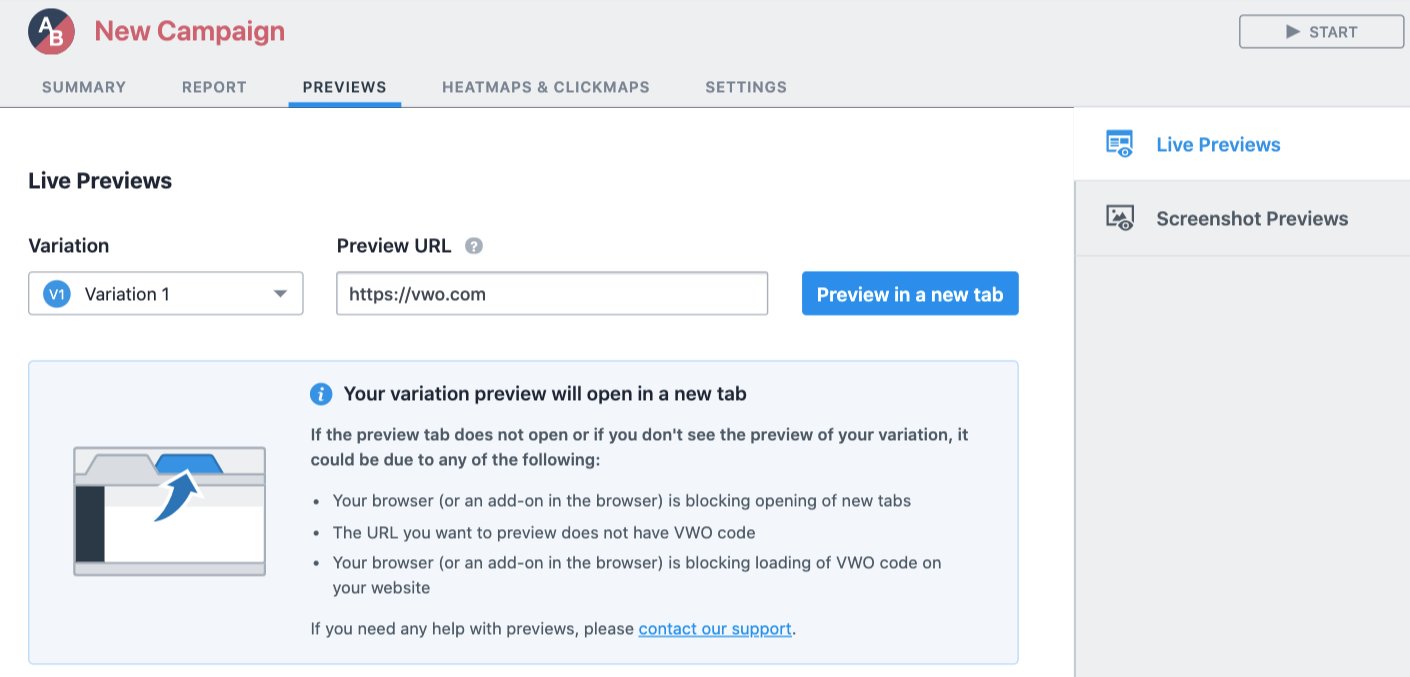 Some of the key improvements are:
Prominent "Preview URL" option


We moved the preview URL option next to the variation selector to make it easy for you to launch previews on different URLs quickly. This option was earlier available under a separate section and was often missed by users. We also improved the CTA to call out that the previews will open in a new tab.


Options to ignore campaign targeting configurations


We added options to ignore targeting conditions (both campaign targeting and variation level targeting) while previewing a variation. Enabling these options (default state is enabled) will allow you to preview a variation even if you do not meet the targeting criteria. For example, if the campaign is targeted to people coming from New York in a Chrome browser, you can still preview its variations from California using a Firefox browser. Disabling these options will let you test the targeting conditions.
Please note that these options will only be available when targeting is configured in the campaign.


Added debug information


You will also notice a section that gives you debug information. This information should help you if the preview tab doesn't open, or if you don't see your variation previews. This information will help you resolve any issues quickly, but if not, please feel free to reach out to our support anytime.


Separate sections for Live Previews and Browser Screenshot Previews


We have given separate dedicated sections to the Live Previews and Screenshot Previews and moved the toggle to the panel on the right. By default, the Live Previews section is selected. Please note that there is no change in the overall functionality of either of the previews.


UI improvements in the screenshots window


We made some UI improvements to make it easy for you to toggle variations and browsers. The interface now gives more intuitive options to ignore a particular browser, in case the variations are not working as expected. There are clear indications when screenshot loads, and keyboard shortcuts (left and right) to toggle between the screenshots quickly.