Innovation is a key facet at VWO. In our quest to make experimentation and optimization simpler for you, we have removed an often encountered roadblock faced by teams experimenting on websites utilizing Web Components: the Shadow DOM.
Over the last few years, the Shadow DOM has become the go-to solution for web developers to build reusable custom elements like widgets. However, it has become a nightmare for experimentation teams to test these elements as they cannot change their Shadow DOM using JavaScript or CSS.
For technical novices, consider the Shadow DOM as a container that can enclose any element on your website. Once inside, the elements are isolated from any changes happening to the rest of your website. This isolated nature of the Shadow DOM made it easier for developers and IT teams to use it across their websites while making it nearly impossible for external tools (like VWO) to manipulate it for A/B Testing.
Fret not, for we have your back. With this update, you will now be able to:
Run experiments by modifying elements inside a Shadow DOM on your website.
Track clicks on elements inside a Shadow DOM in A/B, Multivariate and Split tests.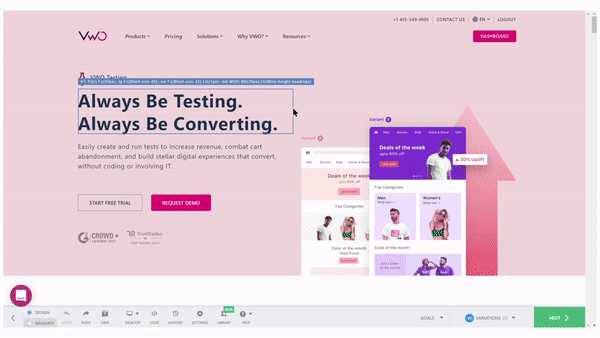 This VWO Visual Editor feature is in early access for all VWO Testing and VWO Deploy customers. To get this enabled for your VWO account, please contact your Customer Success or Account Manager. For any questions around the VWO Visual Editor, check out our Knowledge Base, and for any questions, email us at support@vwo.com.