Announcing four new, hassle-free, native integrations to power your third-party KPI reporting and campaign analysis, visitor segmentation, and marketing campaigns with customer experimentation data.
Any marketing campaign starts with customer data. The more you understand customer behavior, the more meaningful you can make your marketing touchpoints to push customers down the funnel.
But this is not as easy as it sounds. It zeroes down to two questions. One, which marketing platform will serve as your central data hub? Second, specific to your business, what kind of data sets do you need to feed to your data hub to build in-depth segments relevant to you?
Most commonly, a CRM or a CDP platform is the answer to the first question. Some marketers even use marketing automation tools or analytics with in-built data unification capabilities to centralize data. The second one is more tricky and unique to individual business priorities and goals. Say, you are a marketer in an organization setting up an experimentation program, and you are wondering if you could enrich your customer data with experiment data. We have exciting news for you in that case!
We recently enabled four, new third-party integrations – Braze, MoEngage, Contentsquare, and GA4 – to our existing and ever-expanding ecosystem of integrations. And now you can export this data to your central customer data hub and use it in multiple ways as per your business need. We have highlighted some of the ways you can use this data below powered by these latest integrations. Go take a spin and let us know if it resonates with you.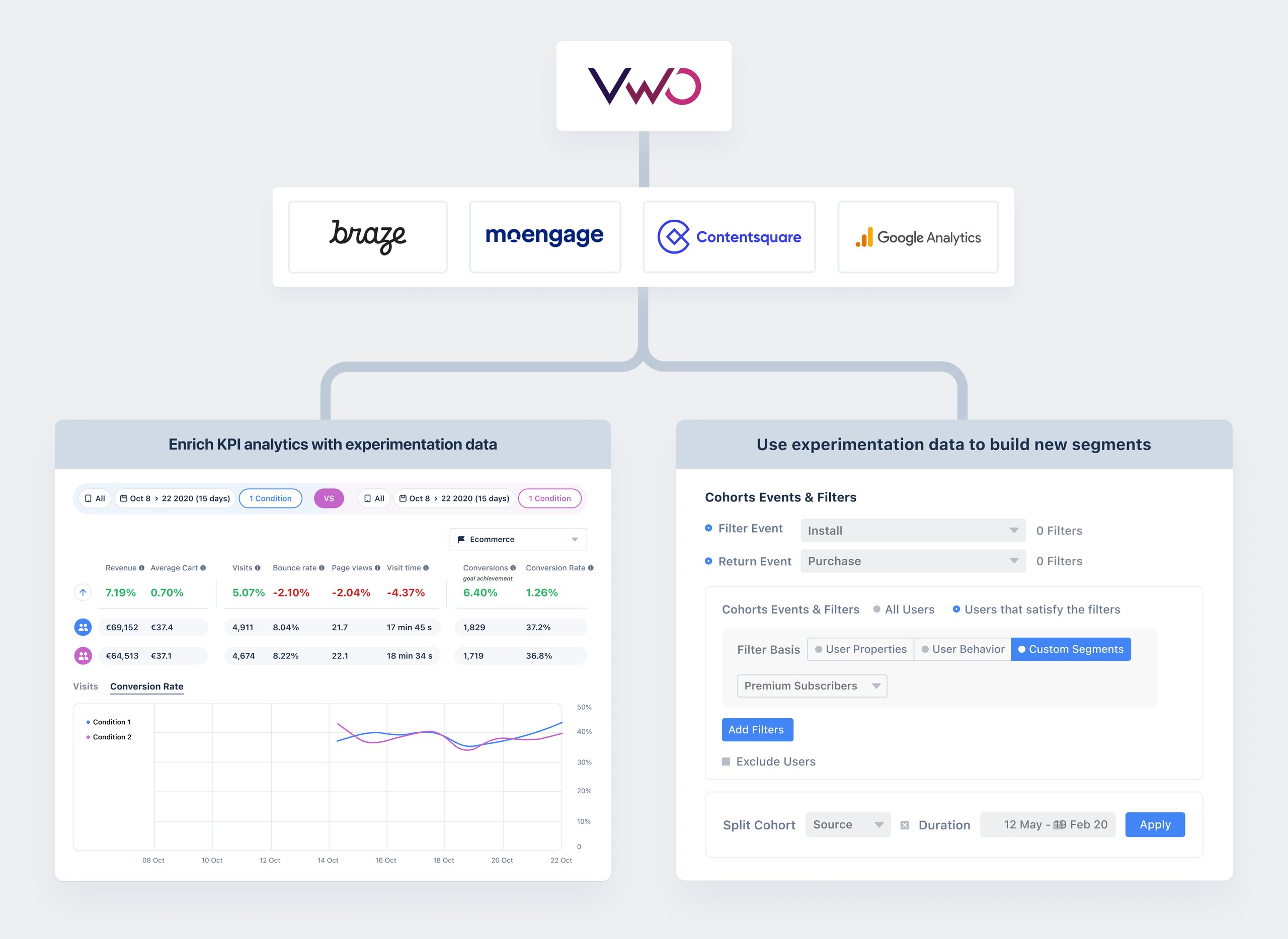 #1 Target downstream marketing campaigns using testing data
Users can now push campaign-specific data directly into Braze, MoEngage, and Contentsquare for further in-depth analysis, and segmentation.
In just a few simple steps, you can now push VWO campaign-specific data to your Braze and MoEngage account and create different segments of visitors based on the variation they visited. These segments can then be used to create targeted, hyper-segmented campaigns for re-engagement within Braze and MoEngage.

Let's say, you are an online retailer and are testing your checkout page to increase conversions. You can push the test data from VWO into MoEngage, create a segment of visitors who viewed your variations of the checkout page, and further engage with them using push notifications to nudge them to purchase. Custom segments can be made based on where visitors dropped off in each variation, visitors who added products to their cart, and more. Using these segments, re-engagement campaigns can be personalized to increase checkouts.
#2 Create & analyze hyper-segmented campaign reports
You can also export experimentation data to your third-party platforms to understand your visitor's journey while comparing it with your business metrics and KPIs to take action.
You can now push visitor test data from VWO to Contentsquare in dynamic variables and filter the reports based on the variations accessed by them. This will help you better understand how each segment contributes to the conversion goals defined in Contentsquare. This integration, however, does not sync VWO metrics to Contentsquare. So if the goal is to optimize VWO metrics in response to experiment results, it is recommended to leverage VWO reporting and experimentation capability for the same.
Similarly, the new GA4 integration enables users to export campaign-specific data into GA to measure experimentation impact across key KPIs. Once enabled, this integration lets you create event-based custom dimensions using VWO campaign data which can then be used to dive deeper into your campaigns' and other key metrics' performance.
These integrations however do not sync VWO metrics to Contentsquare or GA4. So if the goal is to optimize VWO metrics in response to experiment results, it is recommended to leverage VWO reporting and experimentation capability for the same.
Excited and want to know more?
If you found the above use cases relevant, you should definitely try out these integrations. To learn more about installing, configuring, and using the abovementioned VWO third-party integrations, read the following articles:
For more questions/concerns, please feel free to reach out to support@vwo.com