VWO has rolled out an update that would apply A/B testing changes on your web property even faster by prioritizing them over non-critical payload (example: libraries responsible to track visitors' behavior on your site for VWO Insights).
With this update, VWO reduces the Blocking Time as observed on benchmarking websites such as PageSpeed Insights Score (PSI score) by Google when measured for mobile devices (default score shown by PSI). VWO's impact on the desktop has been negligible, and with this update, we reduce the impact even on mobile PSI score. A better PSI score in turn reduces impact of using VWO on SEO for your website
As mentioned earlier, this is done by delaying the non-critical payload until the website is completely loaded. The impact of this improvement on PSI score is highlighted later in the document and you also get a way to try this on your own.
This change shows significant improvement over blocking time analyzed by our internal tests, observations reported by our customers, and analysis done by some people on the web such as this one (this article claimed that average impact of VWO was 158ms at the time of publishing this article, this number should significantly reduce if the author re-runs the tests after we released this enhancement).
The most important resources that are required to be loaded when your website first loads are the A/B testing changes as they have to be applied on the page before the page becomes visible to the visitor. VWO now prioritizes these changes and only loads them after the website is fully loaded. We add a delay of 5 seconds after window.load. If you think a lower delay would work for your website, reach out to support@vwo.com and we will help you configure this. We found that in 99 percent of cases, setting the time at 5 secs resulted in the best performance, and VWO by default does not show recordings less than 5 secs, so we opted for this as a safe default.
After this, the other libraries and files, such as the ones responsible to show a survey on the page or the ones responsible to track heatmap and session recordings are loaded.
This change does not have any impact on how any of these capabilities work on your website but it will slightly delay the loading of these libraries. It means that visitors that land on your website and leave it immediately (bounce off) will not be tracked by VWO Insights.
This change is currently enabled on mobile devices as it ensures that only critical files are loaded alongside the website resources and ensures that low network bandwidth does not hinder your website performance on mobile devices. The impact of loading all files at the same time does not hinder performance on desktop as more bandwidth in terms of computational power as well as network is available on desktop devices.
To summarize:
VWO delays the non-critical payload until all resources of your website have been loaded so that the visitor is able to interact with your website without any blocking time or delays in interactions. Some visitors that leave the website immediately after landing on it might not be tracked by VWO Insights. We add a delay of 5 seconds after window.load right now. (This is configurable on request. Reach out at support@vwo.com)
This significantly improves the experience on mobile devices where the network can be slower and it helps by serving just the critical payload in the initial phase of the website loading and thus delivering a faster website experience by not competing with your website's resources for the network.
The screenshot below shows how the almost perfect score of the page drops without this enhancement enabled. In the screenshots that follow this one, you'll see the impact on the score after the same website is tested again with the feature enabled.
Without VWO: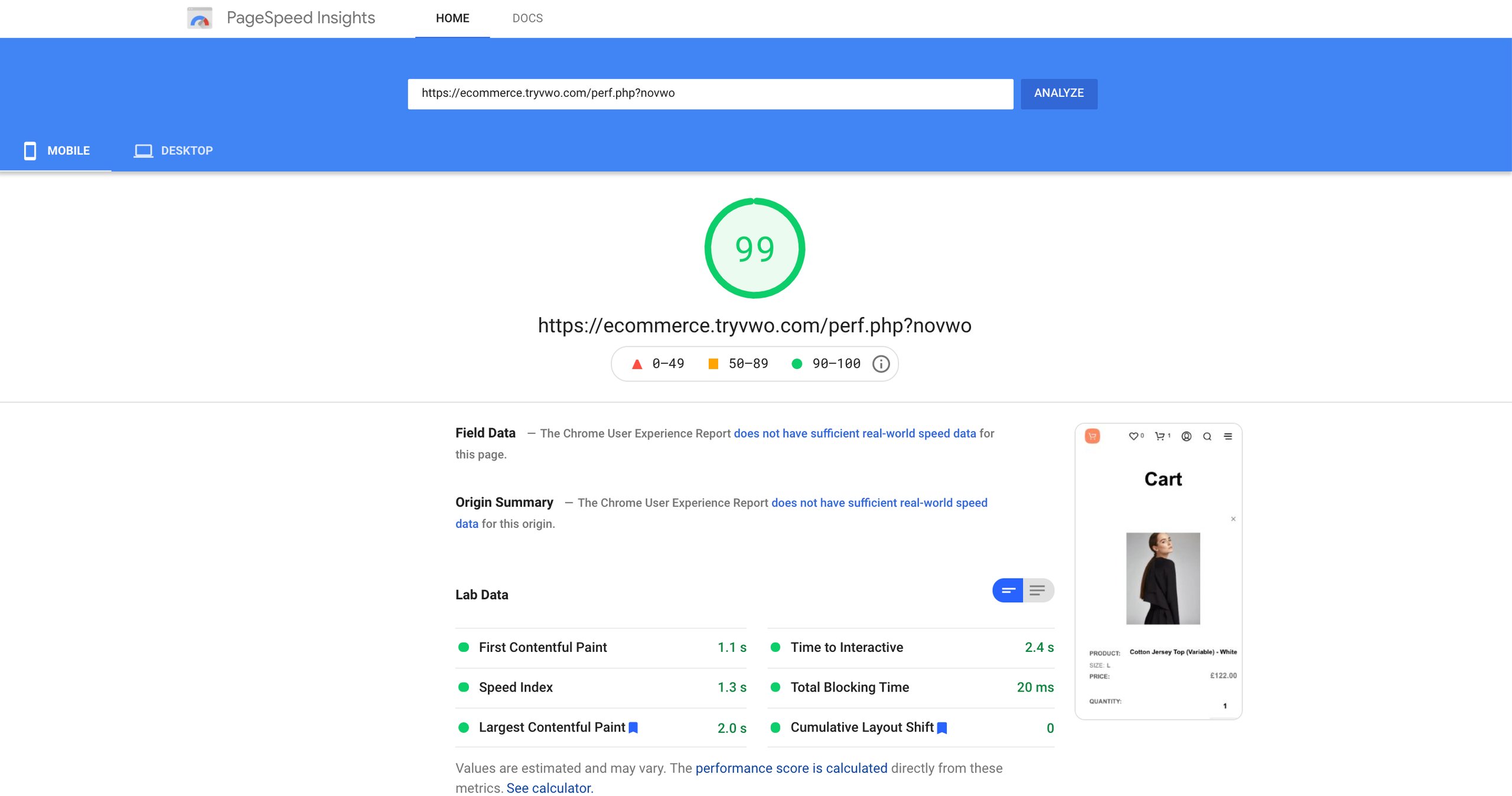 With VWO, before optimization: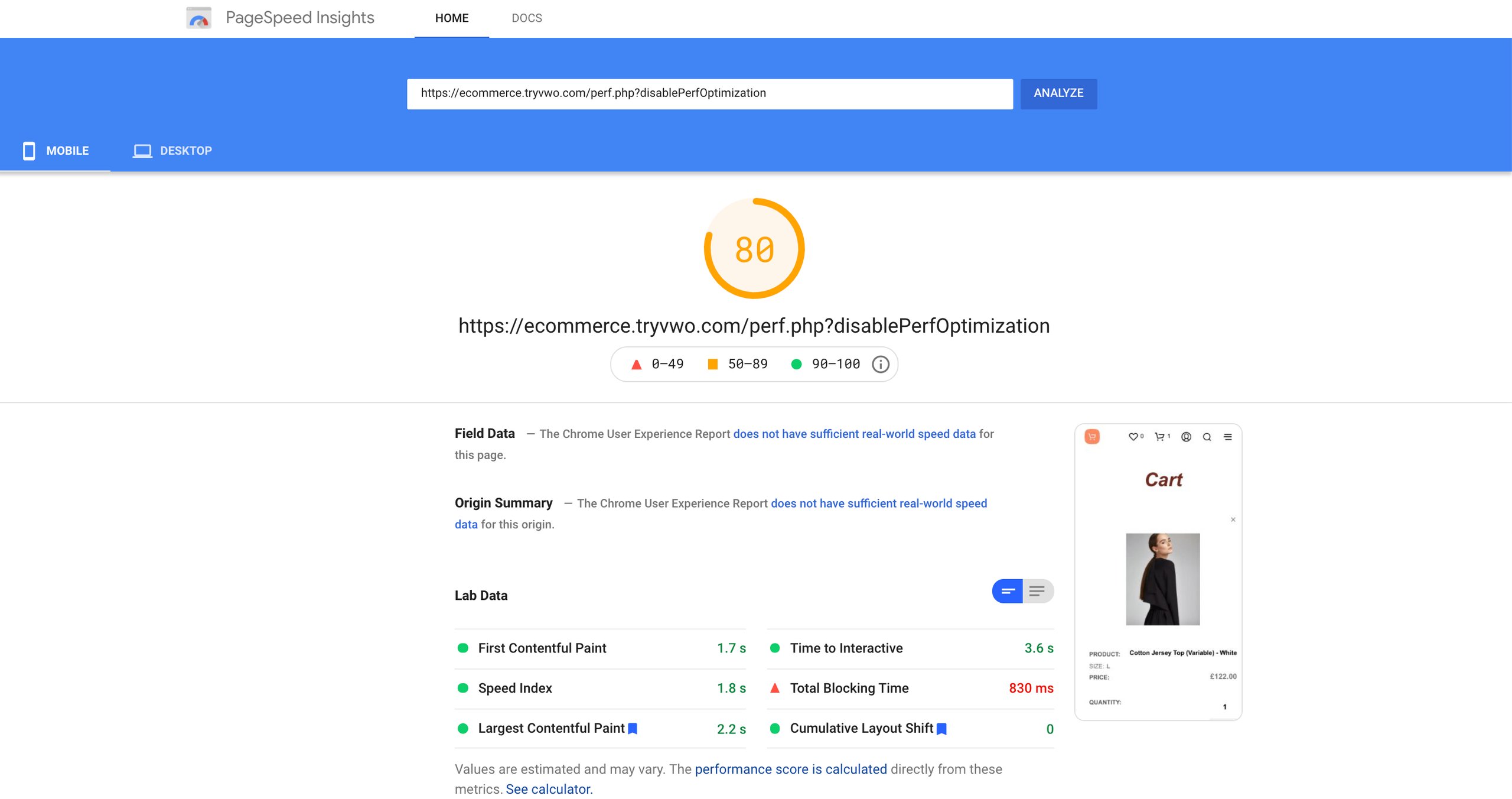 With VWO, after optimization: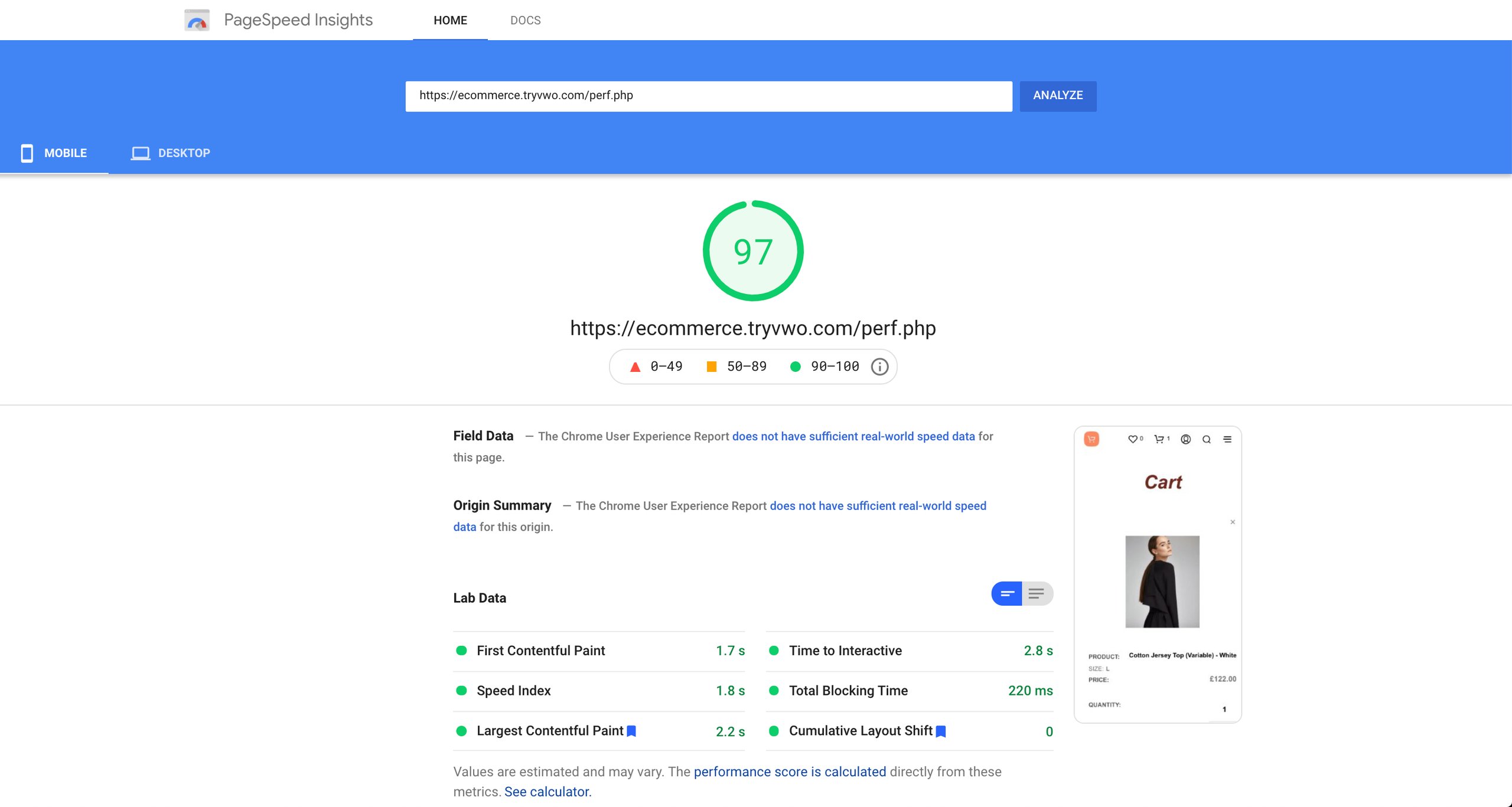 You will see the impact on PSI Score which is a critical factor in Google Search Engine Ranking as it uses mobile devices to measure performance.
If you want to test this on your own, you can use the test website we used in the screenshot above and perform your own tests on PageSpeed Insights:
You can use our test page where VWO is enabled (with performance enhancements done): https://ecommerce.tryvwo.com/perf.php
To disable VWO on the above page, use: https://ecommerce.tryvwo.com/perf.php?novwo
To disable the performance enhancement, you can add '?disablePerfOptimization' at the end of the page URL: https://ecommerce.tryvwo.com/perf.php?disablePerfOptimization
Note: The query params above would work for this test website only.
If you have any queries on this update, reach out to us on support@vwo.com