Every time you refresh the content of your website, you need to deliver different content variations on multiple devices like desktop, tablet, mobile, etc., to either optimize the website experience or offer device-specific unique promotions, content, or menu options to users. For example, you might want to run a mobile-only discount on your website while a different promotion is run for desktop users. In this case, the mobile and desktop versions of the same page will differ.
For multi-device campaigns like these, you would want the flexibility to make modifications only on specific devices rather than applying the same content changes to all devices. Previously, testing content on multiple devices needed a separate campaign targeted to each device.
As you scale your experimentation program, with the increasing volume of A/B tests, this process not only hampers your flexibility but also makes it increasingly challenging for you to manage the program.
How VWO helps run Multi-device Experiments at Scale?
Our newly released VWO Editor feature makes life easier for you. It enables you to experiment on multiple devices as part of one campaign allowing users to define changes for each device's page version individually. And you can enable this with just one change in the Applicability of Modifications settings in VWO Visual Editor.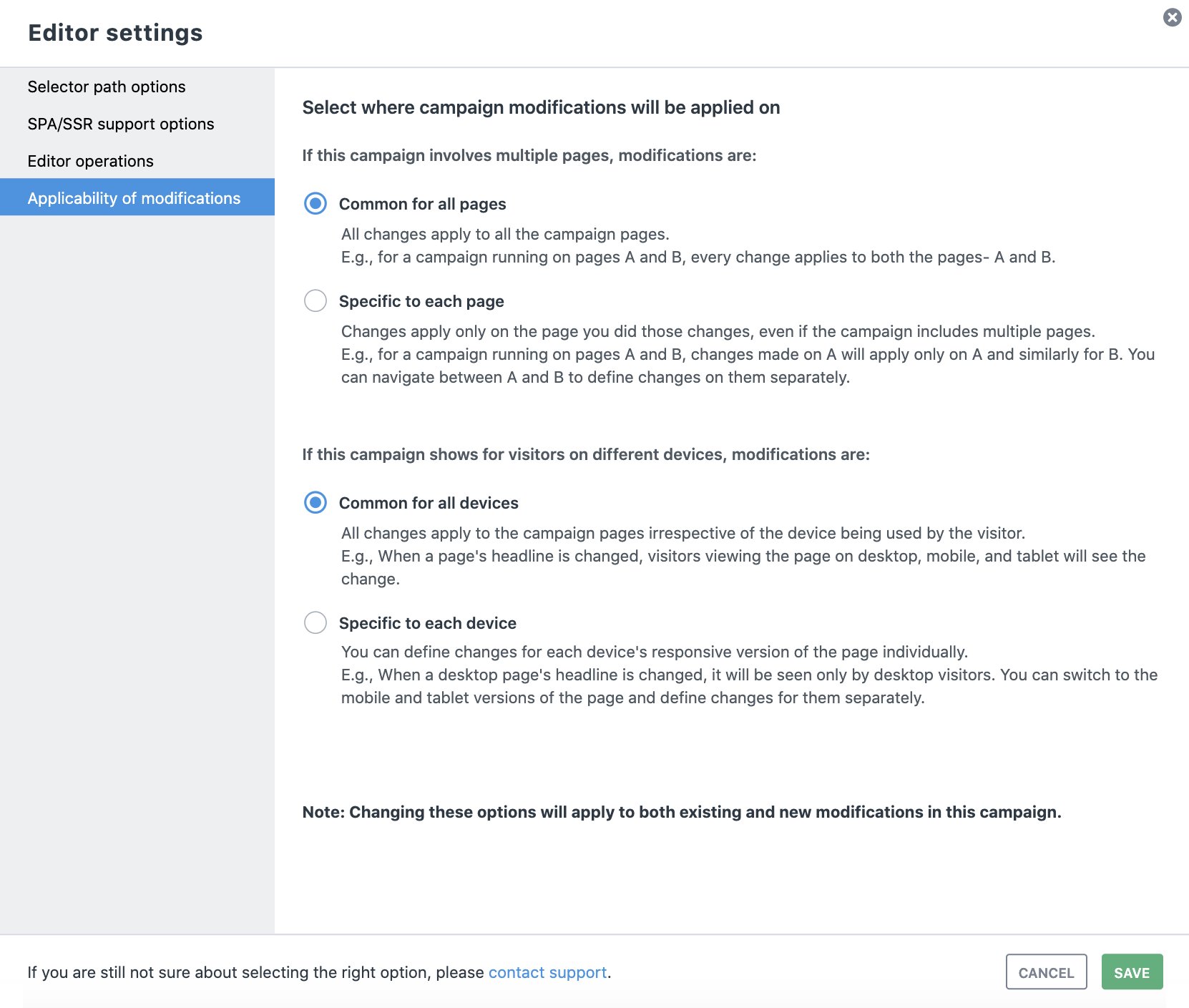 With this new feature of VWO Editor, you will now be able to:
Test and create different optimal user experiences based on user devices. 
Get A/B test metrics on different devices as part of one campaign. This gives you insights into device-level impact and performance comparison. For teams running experiments at scale, this feature helps in managing experiment data better.
This feature is available to all our existing VWO Pro and Enterprise customers for Testing and Web Rollouts products. To learn more about configuring, and how to use the Visual Editor feature, visit our Knowledge Base. For more questions/concerns, please feel free to reach out to support@vwo.com.