Top 10 Mobile App A/B Testing Tools and How To Choose the Right One
In today's mobile-first world, it feels like every other blog post on the internet talks about how you can outdo your mobile app's UI and UX. Continuously optimizing mobile app experiences for improved user engagement and retention is a no-brainer. But, putting in optimization efforts for your mobile apps without having the right tool in your arsenal is like working on the presentation of a dish without understanding which equipment you need to cook it at the right temperature.
Choosing the right A/B testing tools for mobile apps can be overwhelming for product managers, app developers, and app marketers alike. This is largely because zeroing in on the ideal tool or platform for your unique testing requirements depends on a plethora of parameters, some of which tend to get ignored if you make hasty or ill-informed decisions.
In this blog, we have compiled a list of the top 10 Mobile App A/B Testing tools and how to choose a tool to help you save time and avoid any unnecessary hassle.
Top 10 A/B testing tools for mobile apps
Here's a list of popularly known tools for mobile A/B testing tools for app experimentation along with their pros, cons, and pricing.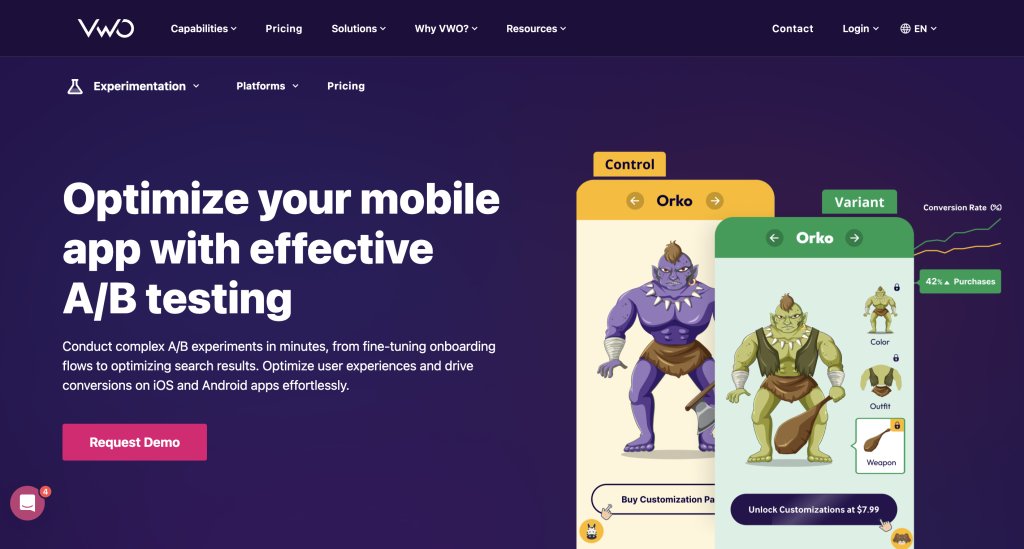 VWO Mobile App Testing is a robust solution for mobile app optimization. From experimenting with multiple variations of in-app user experiences (both user interface and server-side experimentation) to testing key features pre and post-launch, you can do it all with ease.
Whether you wish to test basic UI changes such as CTA or banner copy, color, and placement, or make drastic optimizations to your search engine algorithms, game experiences, and beyond, you're well equipped to steadily grow your app conversion rates, engagement, usage, and retention.
You can also combine the mobile app testing tool with VWO Insights which offers heat mapping, session recording, and form analytics capabilities so you can gather actionable insights on your app's user experience and convert them into optimization opportunities.
Pros:
Advanced options for segmentation and targeting that allow you to segment your users based on their behavioral attributes and target them exclusively.
Integrates with all major analytics platforms so you can capture and analyze the relevant data required to make informed experimentation decisions.
VWO's SDK for mobile app A/B testing is open-source and lightweight (approx 200KB for Android and 285KB for iOS) and only uses about 100KB or 300KB of RAM for the iOS and Android apps.
VWO offers 24*5 (& exceptional response time) with optimization experts assisting you throughout your journey to ensure you yield the desired results from your campaigns. With a CSAT of 98% (as compared to the industry average of 94%), VWO's support team takes complete ownership of resolving all pitfalls you may come across, thus ensuring you make the most of your mobile app optimization program
Cons:
Don't have a forever free plan like other product offerings.
Pricing:
Offers enterprise plan that costs $1,595 per month and is billed annually. This plan includes the ability to track up to 50,000 users each month. Check out more about pricing and plans.
2. Optimizely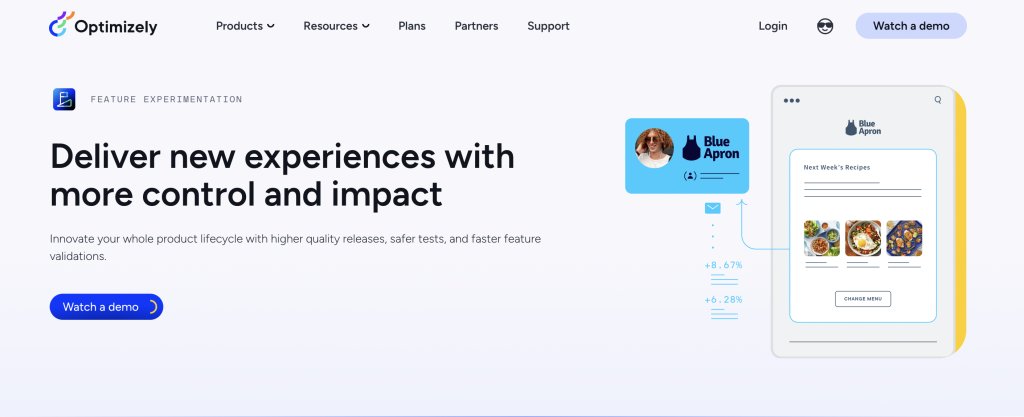 Optimizely offers a cross-platform solution for feature flagging and experimentation that allows you to run UI-based as well as server-side experiments and mitigate risk while launching features. You get access to full-stack and multi-channel experimentation capabilities, phased feature rollouts, the option to make instant app updates, and more with Optimizely's mobile optimization offering.
Pros:
Easy SDK integration that reduces the time to go live with experiments.
An option to integrate with data warehouses such as Snowflake, which can improve data analysis.
Ability to target features based on specific locations, demographics, or any custom attributes.
Cons:
Running software can be costly for small businesses.
Using Optimizely effectively requires technical expertise, which can be a barrier for non-developer teams.
Pricing:
They offer a free rollout plan valid for 7 days that allows you to evaluate their basic capabilities.
3. AB Tasty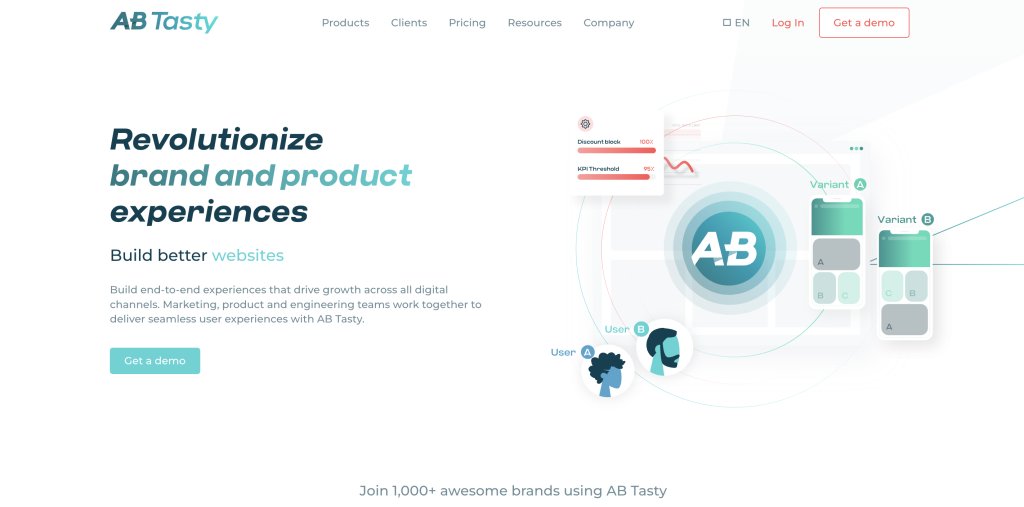 AB Tasty offers UX analytics, experimentation, personalization, and feature flag management capabilities that allow you to optimize end-to-end experiences on your mobile app. Using these, you can create user segments, offer unique experiences for various segments of your user base, and experiment with features before rolling them out.
Pros:
User-friendly dashboard with a variety of features like a dedicated code editor.
Simple one-tag implementation to do the initial setup.
Availability of a variety of targeting options, making it simple to reach diverse customers and segments.
Cons:
The pricing is not transparent.
There are superior options available in the market for recording sessions and creating heatmaps.
Lack of in-depth integration with third-party tools like ContentSquare for intelligence and analysis.
Pricing:
You can avail of a custom quote from their website based on your unique users/month and other requirements.
4. Adobe Target

Target is a testing and personalization platform from the house of Adobe. Target integrates seamlessly with Adobe Analytics and Adobe Audience Manager. It can be used for optimizing your app experiences based on your user behavior to improve engagement.
Pros:
Experiments can be easily set up and deployed.
In-built custom segmentation and audience targeting.
Cons:
Target does not offer feature management capabilities, so you might opt for a different tool.
Lacks post-segmentation capability.
Pricing:
Adobe Target follows a usage-based pricing model that is determined by three key factors: product option, number of monthly visitors, and platform (Web/Server/Mobile).
5. Firebase A/B Testing

From the house of Google Optimize, Firebase A/B Testing provides both experimentation and feature management capabilities. Since it's offered by Google, it integrates seamlessly with all other tools from Google, such as Google Analytics, so sourcing data and drilling insights for your campaigns will not be an issue.
Note: Google has decided to sunset Google Optimize and Google Optimize 360 in September 2023. If you are a user, you can move to VWO with just one click.
Pros:
The app owner can easily roll back any features if they experience issues during testing by monitoring the app's stability.
Setting up and deploying experiments is easy.
Minimal impact on website speed (497 ms), which is significantly less than other available tools.
Cons:
There is a limit of 300 total drafts, running, and completed experiments for A/B Testing.
A/B Testing is restricted to 24 experiments at once, but ending a running test can make room for a new one.
Firebase experiments can have a maximum of 8 variants, including the baseline.
Limited options for targeting an audience for an experiment.
Firebase lacks the facility to schedule testing campaigns.
It doesn't have the option of creating mutually exclusive groups for testing.
Pricing:
The spark plan of Firebase A/B testing is available for free.
6. Leanplum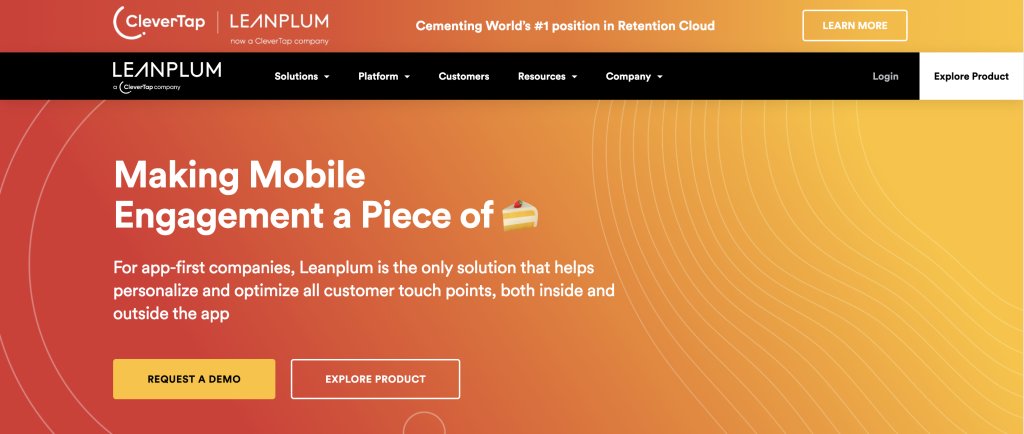 Leanplum, a subsidiary of Clevertap, specializes in web and mobile app A/B testing coupled with multi-channel lifecycle marketing, enabling seamless personalized mobile experiences from start to finish. Its toolkit encompasses mobile app A/B testing facilitated by an intuitive drag-and-drop editor, comprehensive post-experimentation reporting featuring funnel and cohort analysis, as well as retention and revenue monitoring. The platform allows the creation of personalized user experiences within the app.
Pros:
Excellent tool for basic operations like creating visually appealing emails, analyzing basic metrics, and audience filters
Maneuvering tools is difficult without a dev support team.
Ease to create and deploy custom messages as per customer behavior.
Cons:
Missing features such as static audience lists, transparent email performance reports, and conversion attribution.
The cloud version is difficult to operate with a limited interface functionality.
Pricing:
Leanplum is available for demo on request and offers custom pricing.
7. Amplitude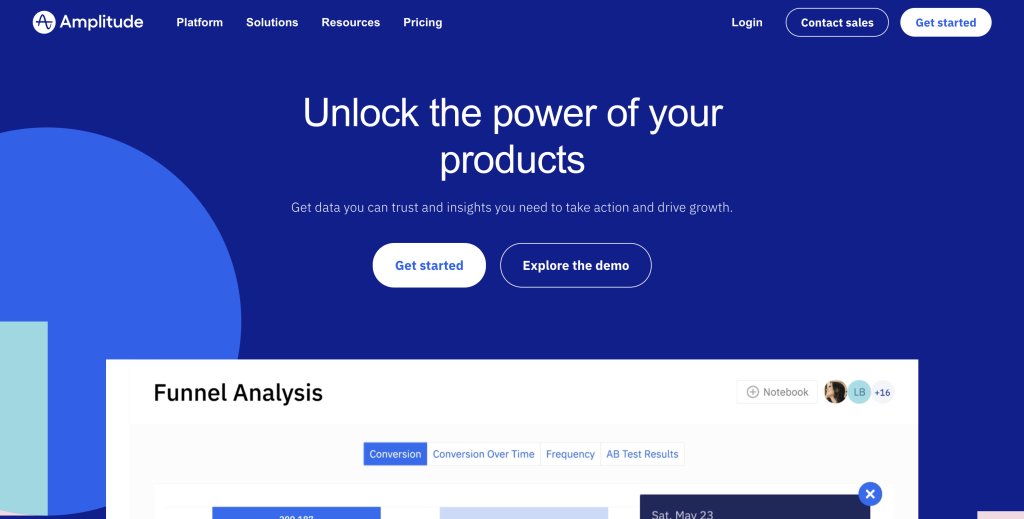 Amplitude is a product analytics platform with various offerings that include data analysis, data management and integration, data unification using CDP, feature management, and experimentation. It allows you to run simple UI/UX-based app experiments as well as feature experiments on search algorithms and product recommendations. The product depends on sequential testing and T-tests for statistical outcomes of experiments like the A/B test.
Pros:
User behavior analysis and app A/B testing analysis from a single platform, which overcomes data silos and gaps.
Elegant data visualization to comprehend customer behavior data from various touchpoints
Cons:
Difficult to migrate data in and out of the platform.
Overwhelming and confusing experience because of too many features packed into a single platform.
Unavoidable tech dependencies to slice and dice data and create customized dashboards.
Pricing:
The pricing is not public, and the experimentation feature is offered at custom prices and in tandem with Amplitudes's growth and enterprise plans.
8. Taplytics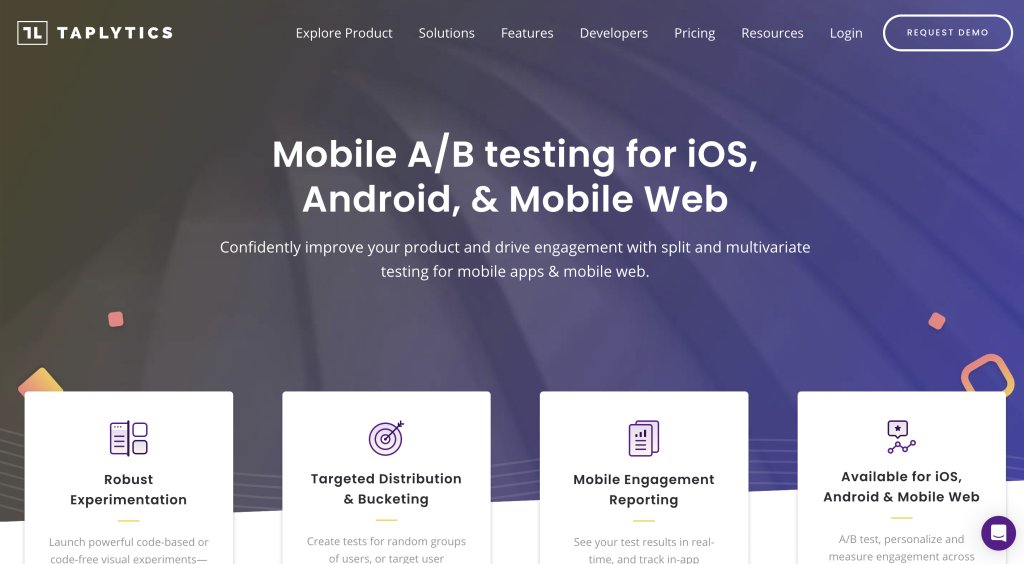 Taplytics is an A/B testing platform that offers feature management, feature rollout, and client-side and server-side testing. You can deploy A/B tests and personalized experiences on iOS, Android, and mobile web with a code-variable library and visual editor. The platform employs Z-Score and Two-Tailed T-Test to assess experiment performance.
Pros:
User-centric workflow to deploy code-free and code-based experiments.
Very specific control over who you're reaching, even down to individual email addresses.
Cons:
Limited third-party integration option, needing workarounds to get things done.
Can't break down reports by individual users; only session-level data is available for analysis.
Pricing:
The pro plan starts at $500/month. While the enterprise plan and custom plan depend on the client's needs.
9. Apptimize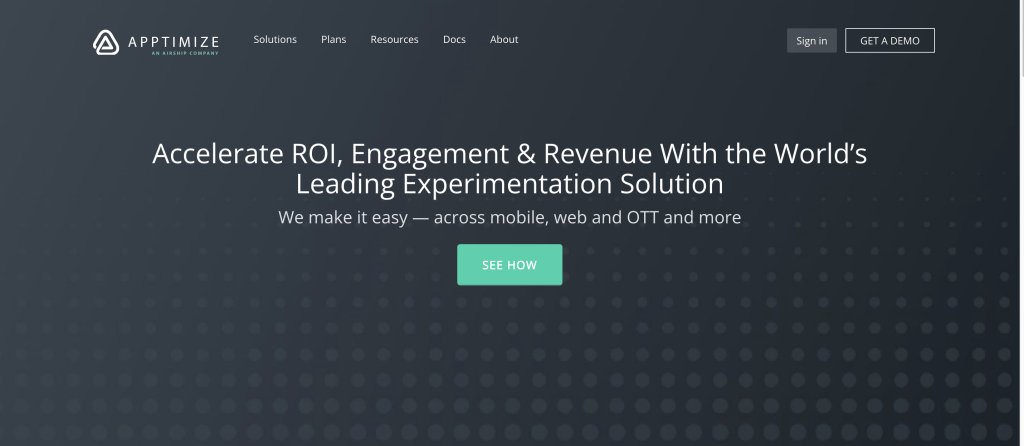 Apptimize serves as a versatile cross-channel A/B testing solution, facilitating experimentation across various platforms including apps, mobile web, web, and OTT. Its main features include creating omnichannel personalized users, and management of feature releases. You can do it all through a single dashboard for comprehensive testing and management.
Pros:
User-friendly dashboard that allows you to manage multiple experiments on different channels with ease.
Assists in anticipating potential feature failures before their release.
Cons:
Apptimize might not be the best choice in terms of pricing, as it could exceed the budget for certain businesses.
Developers require time to understand how the platform operates to deploy tests effectively.
Pricing:
Apptimize provides free feature flagging. For more advanced features like cross-platform A/B experiments, they offer custom pricing and plans.
10. LaunchDarkly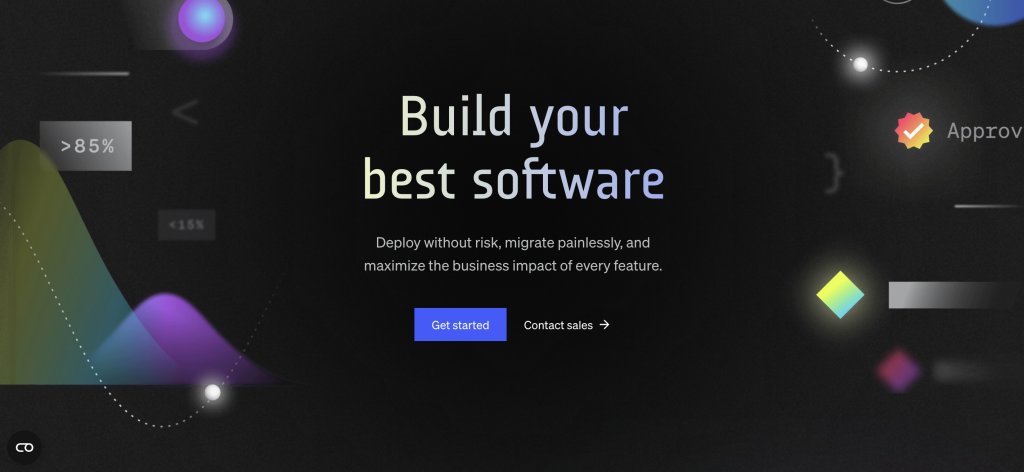 LaunchDarkly focuses on helping you optimize your mobile app with ease. It provides tools for managing feature flags and enhancing mobile app performance on a larger scale. You'll have the power to control every aspect of your app's features, from development and testing to deployment and performance evaluation. This control empowers you to reduce potential risks and confidently launch your features.
Pros:
Ease in the implementation and instant toggling on and off of feature flags.
Ability to directly resolve bugs and issues without needing to resubmit the app or wait for approvals from the app store.
Cons:
User creation and management system exhibits disorderliness, as it inadvertently exposes ongoing tests to every newly registered user.
Overwhelming experience due to the many options available for configuring a target.
Pricing:
You can get started with a free trial or avail yourself of the starter plan at $8.33/month (limited to one member) to try out its basic functionalities. However, this pack does not include experimentation features, for which you will have to upgrade to a higher plan.
Know how high-performance teams launch features
We have a 60-minute recorded webinar about feature rollout that can help your product launch. In this webinar, Sonil Luthra and Rohan Shorey from VWO talk about how to introduce new features effectively. They use some real-life examples and even discuss how a well-known brand did it. They'll also answer any questions you have about getting your new feature accepted and how well it performs. This webinar will give you new ideas and understanding to make your product even better.
Watch: Feature rollout – How high-performance teams launch features
How to choose the right mobile app A/B testing tool?
The ideal Mobile App A/B Testing platform is robust enough to offer extensive testing functionality that allows you to optimize your end-to-end in-app experiences as well as feature management capabilities so you can manage your entire feature lifecycle. Ultimately, the aim is to figure out the right variation of in-app experiences and features in order to optimize your app for improved engagement and conversions.
To select the tool best suited for your CRO roadmap, consider the following parameters.
1. Use case at hand
Mobile App A/B Testing has a myriad of use cases similar to the A/B testing of the mobile web version. For you to be able to select the right tool for your business, you need to first have a clear understanding of the use cases you want to tackle (at least the ones you wish to begin with). Once you are clear about that, you are automatically a step closer to narrowing down on the tool that offers maximum capabilities that cater to your requirements.
Some of the most common use cases of mobile app A/B testing include:
a. eCommerce
i. Eliminating friction in key user flows
For today's on-the-go buyer who demands seamless shopping experiences, friction in user interactions and flows, especially one as critical as checkout, can lead to frustration and loss of interest, which ultimately increases your abandonment rate. In fact, did you know that mobile has the highest cart abandonment rate (beating tablets and desktops) of 85.65%? A/B testing your eCommerce app's user flows can help you radically reduce drop-offs and abandonment rate, by paving the way for a delightful user experience.
Mobile app A/B testing tools allow you to create two or more variants of your user flows so you can pit them against each other and deploy the one that leads to the maximum improvement in your key user engagement metrics. Furthermore, your tool must also enable you to segment your users based on their purchase and browsing behavior, and other demographic attributes so you can target them with the most relevant variation and figure out what works for which group.
ii. Optimizing for the efficacy of search and product recommendation algorithms
Should your product recommendation algorithm be based on shoppers' purchase history, trending items, or the most popular products from a particular category? How should your search algorithm categorize products, decide their relevance to a specific search query, and on what criteria should they be ranked on the search results page?
With mobile app A/B testing, you shouldn't have to rely on guesswork or best practices to find the answers to the above questions. While testing UI-based changes is one use case that a robust tool caters to, it also allows you to experiment with your critical algorithms, including product recommendation and search, so you can strategically improve their efficacy. By testing multiple versions of your algorithms, you can figure out which one proves to be the most effective for your store, whether it is in driving upsell/cross-sell or fetching the most relevant search results.
b. Gaming
i. Experimenting with in-app features before deploying universally
Universally deploying a new feature in your game can be quite tricky. You could either hit the jackpot and instantly watch your app usage and engagement levels jump up, or, on a more realistic note, it may or may not drive the results you thought it would. Therefore, mobile app A/B testing tools allow you to reduce the risk associated with launching in-game changes and updates by experimenting with them and rolling them out in stages to one or more of your user segments. If it performs well, you can go ahead and deploy it for all users; if not, you can always collect feedback, incorporate it, improve it, and relaunch the enhanced app version with confidence.
Mobile app A/B testing tools also offer extensive feature lifecycle management capabilities wherein you can roll out features in stages, test them out on a particular user segment, and even use feature flags to manage them at runtime and control and/or modify who gets access to it.
ii. Streamlining in-app pricing strategy
To maximize engagement on your gaming app as well as revenue, you might have to experiment with multiple pricing strategies, for different user segments as the same model might not work for both disengaged and loyal gamers. Therefore, choose a mobile app A/B testing tool that allows you to test your dynamic pricing algorithm to figure out which one drives the best results for which segment.
iii. Offer personalized gaming experiences
In today's day and age, mobile app gaming experiences demand hyper-personalization, and rightfully so. To create an enticing gaming environment that keeps gamers hooked, you cannot possibly rely on a single strategy. Using a mobile app A/B testing tool, you can test all dynamic elements of your gaming app and deliver personalized experiences based on each gamer's level in the game, engagement score, and other attributes. This way, you can constantly discover and deliver what your users expect from you to keep them engaged.
The bottom line is that whichever use case you want to achieve with mobile app A/B testing, you want to be sure of it beforehand so you can make a strategic decision of choosing the right one based on your requirements.
Also, listen to our conversation with Talia Wolf on the VWO Podcast to learn how to run meaningful AB tests that deliver scalable results.
2. Integrations and plugins offered by the tool
You want to make sure that whichever tool you opt for is the right addition to your tech stack, meaning that it integrates seamlessly with your other analytics, marketing, and sales platforms, so you don't have a hard time accessing the required data and feeding it into your app optimization pipeline. For example, the most important one would be your analytics platform, so you can use it to generate insights about your website traffic and target audience, which will then form the basis for crafting hypotheses.
For this, create a list of tools you currently use and look for the ones supported by the experimentation platform you are evaluating. If you own an eCommerce business, you might also want to ensure that whichever eCommerce platform your store is built on (such as Shopify or WooCommerce) is also supported.
VWO, for instance, integrates with all major web analytics tools, eCommerce platforms, CSM platforms, sales, and ABM platforms.
3. Size, RAM usage, and performance of the SDK
The SDK supported by the platform deserves your attention as well as it can impact your app's performance. Here are the parameters that you must evaluate it for:
The SDK must be lightweight, so it does not have any significant impact on the size of your app.
Should not use a lot of RAM as mobile devices anyway have scarce RAM availability.
Must perform well and be easily available at all times. VWO's SDK for mobile app A/B testing is available even without an active internet connection and is tested extensively to get rid of all bugs that might negatively impact your app's performance.
4. Reporting capabilities
It's important to pay heed to understanding the computation of A/B test results and generation of reports as it determines the impact of your experimentation. Statistics is the backbone of A/B testing, which is based on the calculation of probabilities. However, there are multiple approaches to interpreting probabilities in A/B testing – the most common ones being Frequentist and Bayesian models.
Make sure you find out whether the tool you have shortlisted uses the Frequentist or Bayesian statistical model. Traditionally, most tools used the Frequentist model wherein test results are based solely on the data from the current mobile app experiments and do not take into account any previous data. The Frequentist model is based on running a particular test for a specific period of time and until statistical significance is reached so enough data can be collected to rightfully calculate the probability of one variation beating the other. However, it does not quantify the difference between the two variations keeping in account the uncertainty involved with the amount of data you obtained in a test.
The Bayesian statistical model, on the other hand, provides a natural way of learning by allowing you to feed in your beliefs from similar previous experiments into the model as prior, combine it with data from the current one, and then compute the test results. The probability of your hypothesis being correct is computed based on evolving data and informed by what's happened up to that point.
VWO's Bayesian-powered statistics engine, SmartStats, helps you make smarter conversion rate optimization decisions by not only giving you the probability of one variation beating the other but also the potential loss associated with its deployment. With SmartStats, you can move away from relying solely on reaching statistical significance or running tests for a set period of time and can conclude tests faster and expect more accurate results. SmartStats helps you make intelligent business decisions, faster and gain a competitive edge over your competitors.
Imagine a scenario where you are not sure whether providing an add-on offer with your service can lead to more sales. You planned to do an A/B test to test this hypothesis by allocating one-half of traffic to service with add-on (Variation A) and the other half without add-on (Variation B).
A traditional Frequentist test would only provide a yes/no answer if variation A is different from variation B. Also, the test results are valid only after you have obtained a sufficient number of visitors in your test.
However, VWO's Bayesian powered statistics engine, SmartStats, provides you the odds of one variation beating the other and also the underlying potential loss in sales associated with each variation. Both metrics remain valid throughout the duration of the test.
With SmartStats, you can move away from binary outputs to more interpretable metrics.
5. Your budget
Needless to say, your budget is a huge factor to consider in choosing a tool. Based on the specific use cases you want to tackle and the features you require, you will have to look for a tool that fits the bill as well as fits well into your budget so you can drive significant ROI from your experimentation program.
Especially if you are just starting out with mobile app optimization, opting for a comparatively expensive tool might not yield you a significant ROI. Instead, start with a tool that offers a free trial, so you can assess all its features comprehensively and decide whether it meets your requirements. VWO, for instance, offers a free trial that your team can utilize to run a few campaigns and figure out if your unique needs are met.
6. Support and assistance offered by the platform
When evaluating a tool, people often overlook the level and quality of support that the platform offers. However, it is a critical factor that plays a major role in determining the testing velocity and scale of your optimization program. If you receive dedicated, expert assistance throughout your journey, you will be able to achieve your goals more efficiently and grow your efforts with time.
Moreover, if you're new to mobile app A/B testing, you might need some help in setting up the first few campaigns and generating ideas to do an A/B test So, make sure you opt for a tool that offers the best-in-class support (quick response time, maximum availability, sufficient self-help resources, omni-channel support, CSAT, and so on) so you can not only get up to speed but also drive the intended results effectively.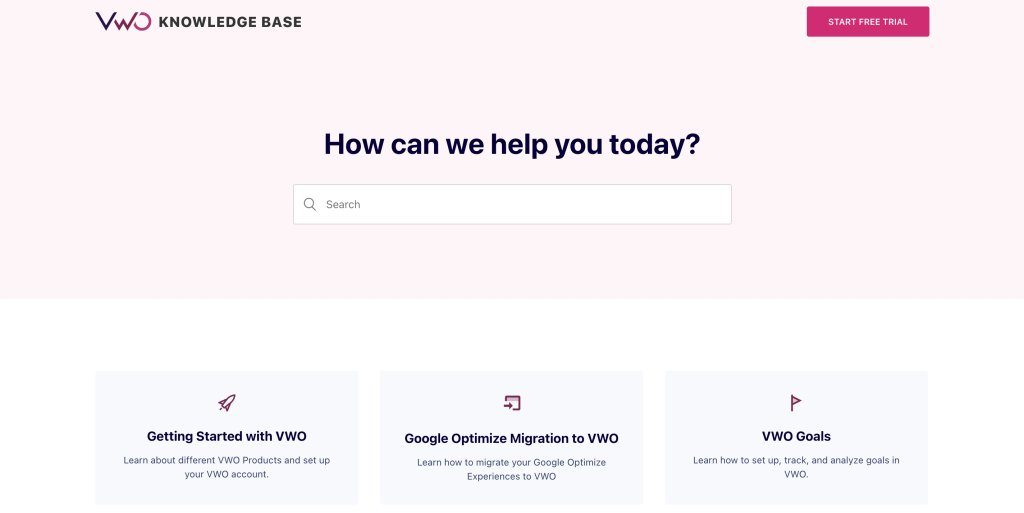 Even if you are somewhat experienced and well-versed with A/B testing your mobile app experiences, you might need extensive support immediately after signing up for a new tool. To that end, make sure you opt for a tool that offers dedicated support, quick TATs, and effective resolution to help you troubleshoot all your experimentation roadblocks.
Truth be told – you need a tool that's all-encompassing. There isn't one factor mentioned above that's less important and you shouldn't have to compromise on the quality of testing or your requirements.
Conclusion
Choosing the right tool that best aligns with your experimentation goals is only the first (although extremely crucial) step towards improving your app's key metrics. Leveraging the tool successfully means closing the optimization loop by investing time and effort in everything from benchmarking your KPIs to documenting your learnings and feeding them back into your testing roadmap. Sign up for a free trial with VWO to do this with ease.
Frequently asked questions