How to Leverage Experimentation During Recession
History has shown that cutting down on the marketing budget during a recession is never a good idea. Businesses that slash marketing spending fail to stay on top of audiences' minds when the market bounces back from the downturn.
The key is to strategically spend on marketing to maximize your return on investment during these challenging times.
Table of Contents
If your next plan is to audit your marketing strategy to adjust spending, ensure experimentation sits at the top of your list of priorities. Anyone who says you can forsake experimentation is probably taking you for a ride.
In fact, experimentation is hands down the best way to convert all that traffic into customers by allowing you to ship the best-performing experiences to audiences. Instead of spending on acquiring new customers right now, it makes a lot more sense to focus on converting what is already on your website.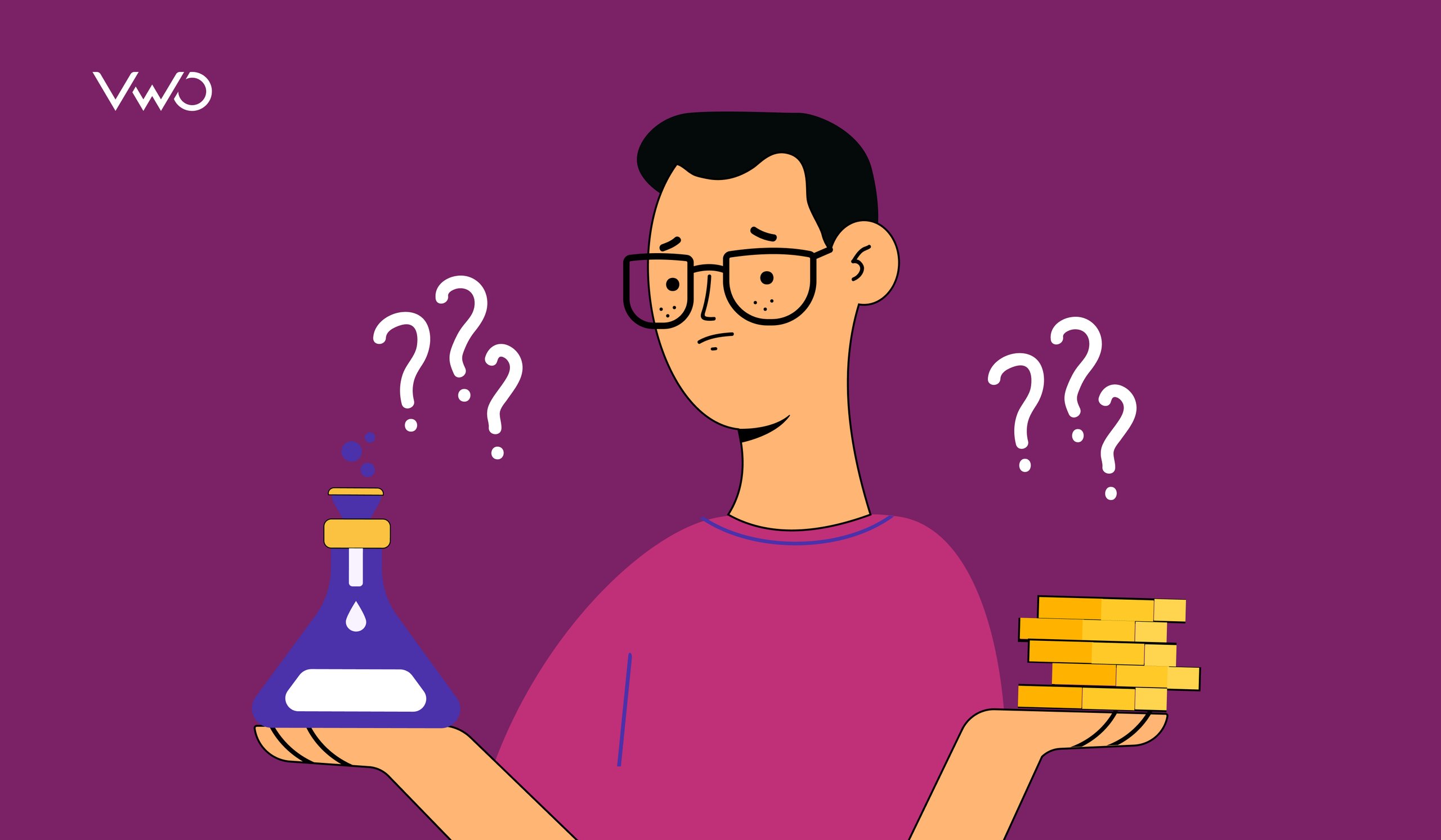 But yes, experimentation during a recession might require you to pivot your strategy. So, if you've been wondering how to harness the power of experimentation during testing times like this, we've got some tips to share with you.
Get the right team by your side
If you decide to start with experimentation now, building an exclusive team for this exercise will consume a lot of your resources in an already cash-strapped market. At the same time, without skilled people by your side, you'll be remote from getting the best result out of the testing platform.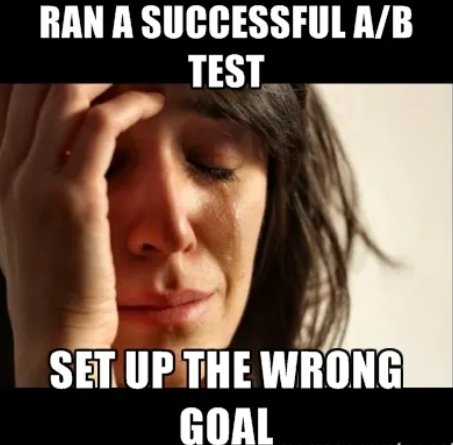 This is where the VWO customer success team can lend you a hand! Our dedicated success managers plan and support your journey with VWO, training your team to get the best out of our product. Throughout your optimization process, they are your true friend, guiding you to early successes and monitoring your progress. Further, they keep you informed about the latest developments in VWO and the industry, all while helping you achieve the highest possible ROI from using VWO.
Accelerate the testing speed
During an economic downturn, businesses shift into high gear and take all the necessary steps to keep their business surviving and even thriving. The approach should remain the same when it comes to your experimentation. The faster you test, the quicker you will know what can work and what cannot to protect your business from the effects of the recession. If you have an experimentation program laid down already, audit it and see if it's possible to increase the velocity of testing with high-impact tests first.
For example, Dorado Fashion, a US-based fashion website, added a bundle offer in the mini-cart on all devices to improve the Average Order Value (AOV). An A/B test was run only for 26 days where the variation emerged as the winner with a 14.14% increase in clicks to the Thank You page. Explore other small tests that led to impressive results in our Small Tests. Big Wins. eBook.
Further, VWO's A/B Test Duration Calculator can be of great help in this regard. Enter details like existing conversion rate, minimum improvement expected, number of variations, average visitors every day, and percentage of visitors included in the test – and you will get the duration for which you must run the test to achieve a statistically significant result. Prioritize tests that can be run quickly and contribute to conversion uplift.
The more you reduce your dependencies on the developing and engineering team, the faster you can set experiments and get results. Not only can you make all types of changes to your web pages through VWO's Visual Editor, but you can also make these changes go live without involving the IT team with VWO Deploy. Plus, you can release a change only to a particular set of visitors, whom you can segment in more than 1000 ways.
So, let's understand with an example. Consider you want to show a 10% discount to new visitors on your hotel booking website against the control without a discount offer. Using the VWO editor, you can add a standard widget template to let's say the homepage of your website. Next, you decide that you want to direct this offer to new visitors using mobile and in the age group of 25-40 from Connecticut, where you've just started your operations. You then combine multiple parameters together to target a very specific segment for this test. This is just one example; you can target visitors in various ways using custom segments on VWO. Run the test for a set time and see if the variation wins. If successful, launch it with VWO Deploy.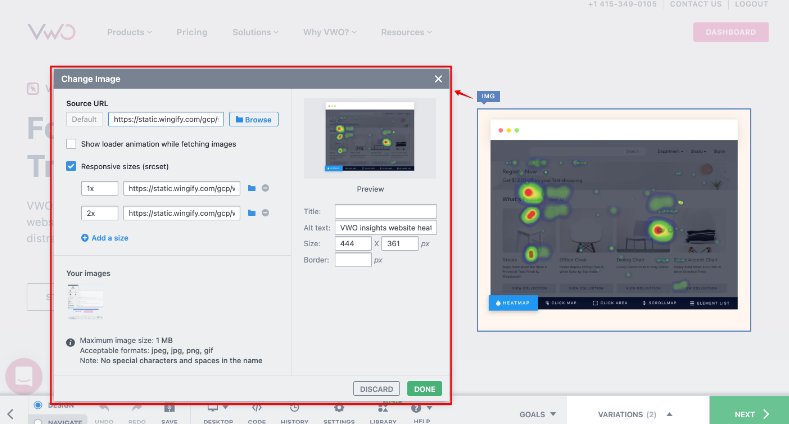 Set your focus on lifetime value
Acquiring new customers is 5 to 25 times more expensive than retaining existing ones. This makes maximizing the Lifetime Value (LTV) of existing customers all the more crucial, especially in a tight financial market.
Of course, you should test every piece of content on your website before shipping them, but prioritize the ones that may have a greater impact on your LTV. For example, changing the color of a CTA button may increase the click-through rate but there is no guarantee that it would contribute to the business metric.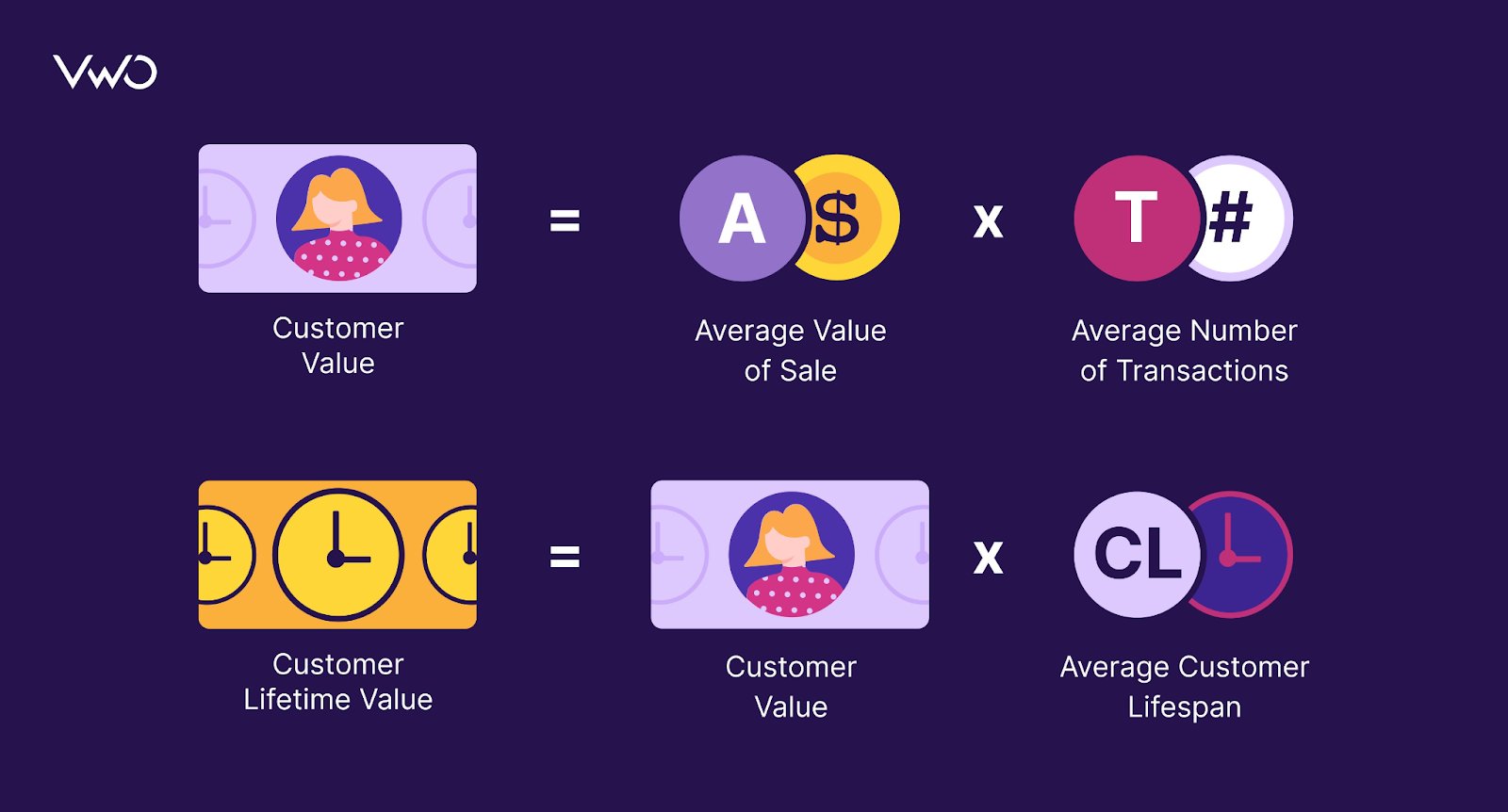 Test loyalty programs, up-selling/cross-selling, free shipping, or any idea that delights your customers and encourages them to continue purchasing from you. Remember, there is no one test against another. It all comes down to prioritizing when times are tough.
Let's see how Bear Mattress, a bed mattress-selling brand, increased the number of purchases by improving cross-sell flow on its mattress product page. They partnered with the VWO team who observed that user interaction with cross-sell items was minimal, images for cross-sell products were not present, and the copy was not customer-friendly on the product page.
For the variation, they implemented a number of changes, including making the copy more customer-centric and adding thumbnail images if cross-selling items.
This test was run for 19 days and led to a 16% increase in revenue. Drawing inspiration from this case study, you can run cross-sell tests on your website, provided your research shows the scope of implementation of such a test.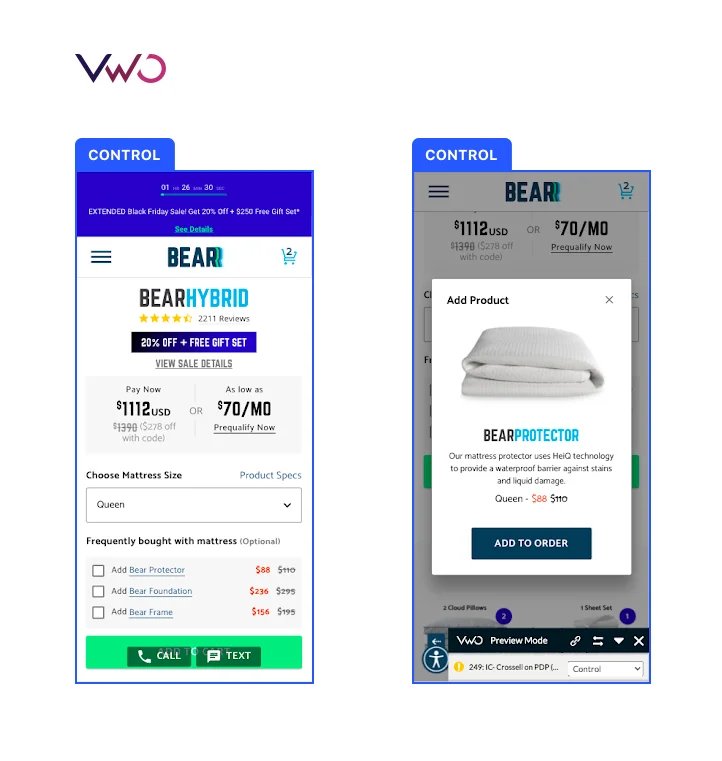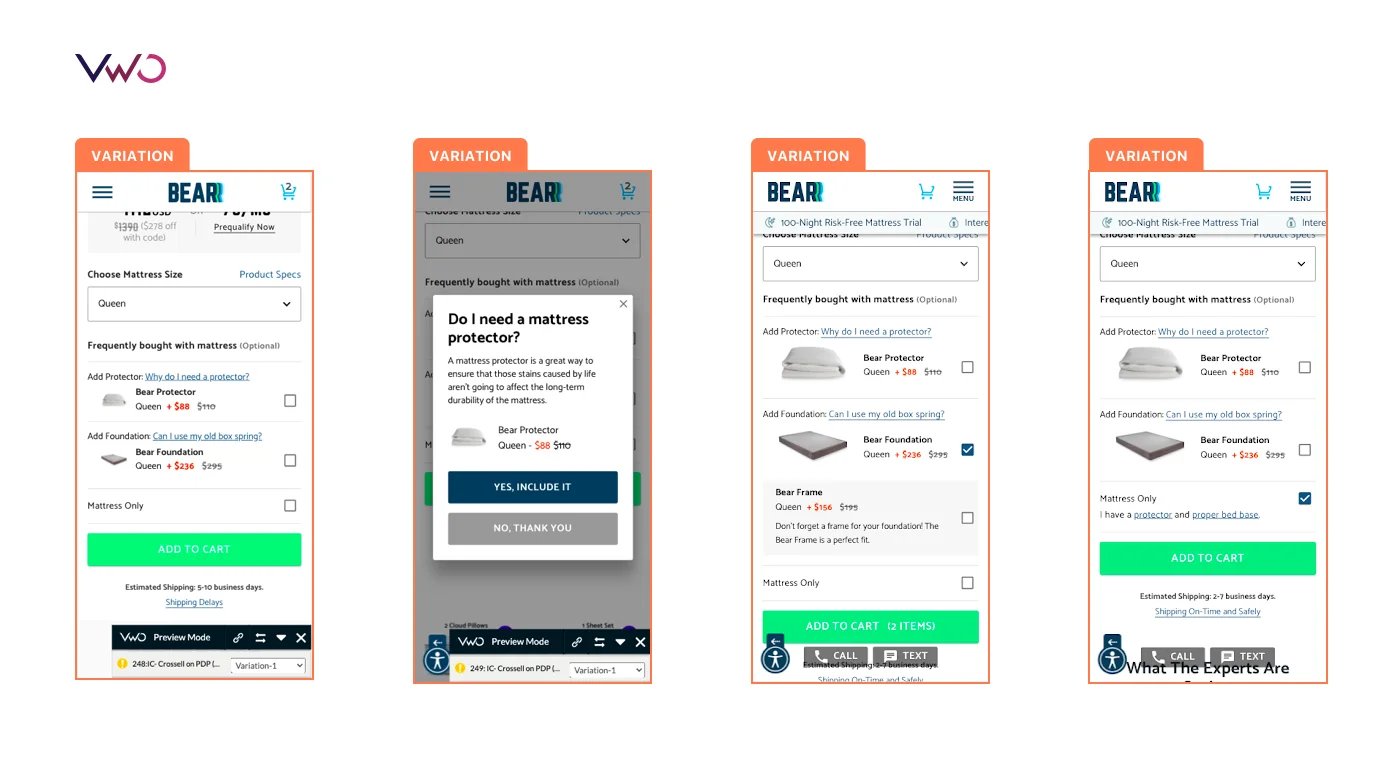 What we must mention here is that VWO Data360, our customer data platform, lets you create and track complex business metrics like LTV by considering customers' page-level engagement. Using this capability, you can roll out an experience that can help you retain customers, repeat purchases, and drive revenue. Want to discover what this experimentation platform can do to sharpen customer experience other than this? Sign up for a free trial today!
Inform experiments with user research
Don't sacrifice research at the altar of faster implementation. When we suggest that you should increase the velocity of the test, we don't mean you can pick any random tests that you 'think' can improve conversions. Rely less on your convictions and more on how visitors behave on your website.
For example, if you see users dropping off from the checkout, you can implement a guest checkout hoping to increase revenue through this test. This is where VWO Insights helps you big time with its user behavior analytical prowess. While heatmaps show you the visual representation of users' activities on your website, session recordings give you a walk-through of their journey on your website from landing on the website to exiting or converting.
When you plan experiments that are in line with what users expect to experience on your website, they are more likely to emerge as winners and impact conversions positively. Hence, combining the power of VWO Insights and VWO Testing empowers you to turn user insights into data-focused testing strategies.
The Australia-based IMB bank has been using our experimentation platform since 2017 to optimize its website. Funnel analysis using VWO Insights showed that users dropped off from the first page of the loan application form. For the first campaign, the team introduced a number of elements like awards, USPs, and total time to complete the steps in the hope of arresting drop-offs from the page.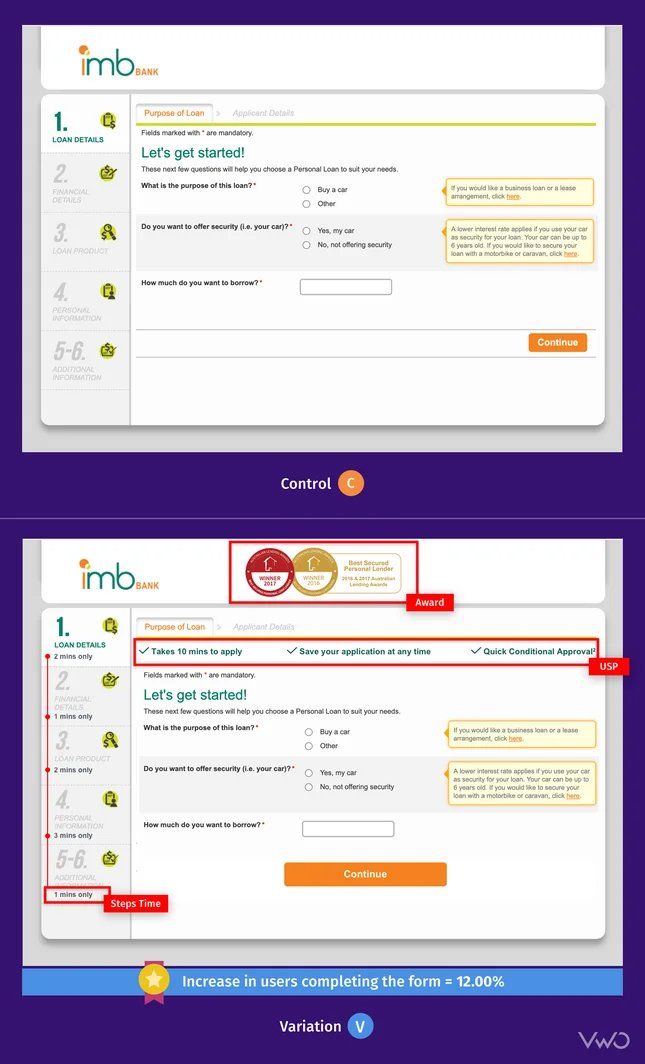 For the second one, an exit pop-up was added that asked visitors to save the application form and continue according to their convenience. The two campaigns saw an increase of 52% in form completion and 85% in completed saved form respectively. To know more, read the case study.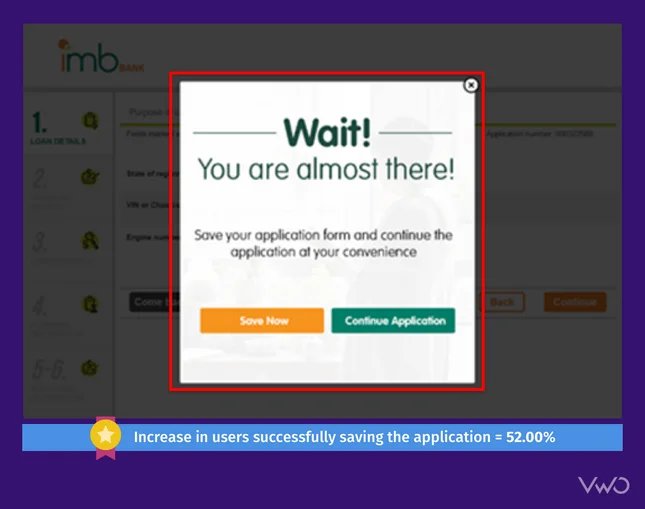 Make the most of user segmentation
Running tests that are targeted to specific user segments gives you more impactful results. Loyalty programs work great during economic tough times. They helped several businesses entice returning customers during the recessions of the 1990s, 2008, and COVID-19 times. Taking inspiration from this, you can segment returning customers and run a personalized campaign where you show a loyalty program sign-up option in a website pop-up.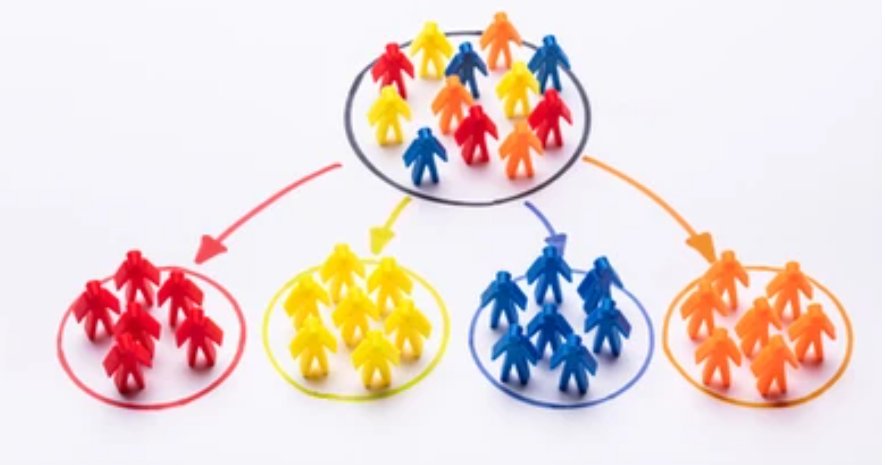 Since you're targeting this campaign to returning customers, the chances are high that your variation will outperform the control. On the other hand, had you run this test without segmentation, everyone, including new visitors, would have become a part of this campaign. Because new visitors are less likely to sign up for a loyalty program as they haven't tried your products/services yet, including them would have skewed the result of this campaign.
Now let's say you sell luxury cosmetics online. To attract new customers, you can offer 15% off on the first purchase and build a test based on it. Along the same lines, you can create tests by segmenting users based on shared geographies, age, gender, and so on. But that said, remember, over-segmentation can reduce the sample size you need to divert to your variations and prevent you from arriving at a statistically significant result. So, create segments based on the traffic your website gets and the number of variants you're testing in an experiment.
Here's a case study proving how businesses can pull off a test using custom segmentation – OneClick is a US-based eyewear retailer that has been using VWO Testing and Insights for conversion optimization on their website.
One of their experiments using VWO aimed to increase conversions by personalizing the checkout page for One Click's customers based on their country. The hypothesis was that, as a global brand, tailoring the experience to each user's location would make it more engaging and relevant.
The personalization was achieved using VWO's custom segmentation, which dynamically altered the content on the checkout page to include localized information such as shipping rates, delivery time, and currency. This was done in order to enhance the customer's shopping experience. For example, customers visiting the website from Canada would see relevant information such as Canadian shipping rates, estimated delivery time, and Canadian currency on the checkout page.
The variation outperformed the control and increased the conversion rate by 30%. You can read here how VWO helped One Click conduct other winning tests.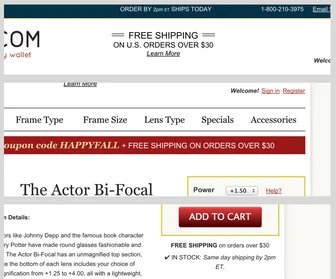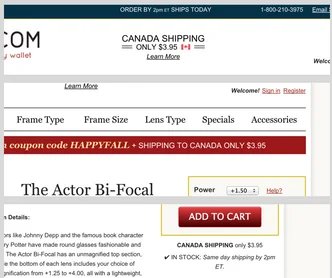 Recession-proof your business with experimentation
Experimentation allows businesses to make data-driven decisions, rather than relying on intuition and assumptions. This is especially important during a recession when resources are limited and every dollar counts.
And to come through all of these challenges with flying colors, arm yourself with VWO. From user behavioral analytics and testing to personalization and customer data platform – VWO will help you navigate the woes of recession with its multifarious capabilities.
To use all of its capabilities to your advantage, sign up for a free trial now. Don't let the recession hold you back, start experimenting with VWO and see the difference it can make for your business.