How to Use VWO in Times of Uncertainty
We recently published our advice on what businesses should be optimizing during the COVID-19 pandemic. The crux of our advice was to focus on maximizing trust in your customers and showing them that you care for them during these difficult times.This post focuses more on specifics of how various VWO products and capabilities can be utilized towards that end.
Experimentation becomes a mission-critical activity during uncertain times
When it's business as usual, common sense and all sorts of best practices are available for guidance. Because business contexts are highly variable, we always recommend A/B testing and experimentation to double-check "best-practice" assumptions. But in the face of uncertainty, all such best practices become inapplicable because of such big shifts in consumer behavior, some of them for the first time. The biggest challenge thus is – where do you begin?
Your customers today are likely to be experiencing a myriad of emotions. At one moment, they may be feeling in despair. At other moments, they may be feeling hopeful and optimistic. Such volatility is evident because the same thing is happening in stock markets—they're more volatile now than any other time in recent history.
I'm sure you'll also be seeing unprecedented customer behavior. This means you need to assume that you don't know much about how and what your customers are thinking right now. And the only way to find that out is by paying close attention to what they say, what they do and more importantly how they react to your announcements. But how can you do this?
Use VWO Insights to study and contrast your customers' behavior
VWO Insights helps you quickly understand what your customers are saying and what they're doing. Specifically, for the uncertain times of the COVID-19 pandemic, here's how we recommend using its different capabilities:
1. Run an on-site survey asking your visitors what can you do to help them during COVID-19 pandemic
Use VWO on-page surveys to directly ask your visitors how you can be of help. They might be seeking "contactless" delivery from your online store, or if you're a travel site, they might be looking for your cancellation policy. Ask them a simple but open-ended question such as "What can we do to help you during this COVID-19 pandemic" to get deep insights about what your business should be doing next.

2. See recent visitor session recordings from places that are most impacted by the pandemic
VWO lets you view recordings of visitors as they interact with your website. One of the ways you can gain insight into rapidly changing customer behavior is to view recordings of visitors from places that are most impacted. By contrasting such recordings with other recordings from relatively unaffected places, you can form a confident hypothesis of what your severely affected customers want and how you can be of help to them.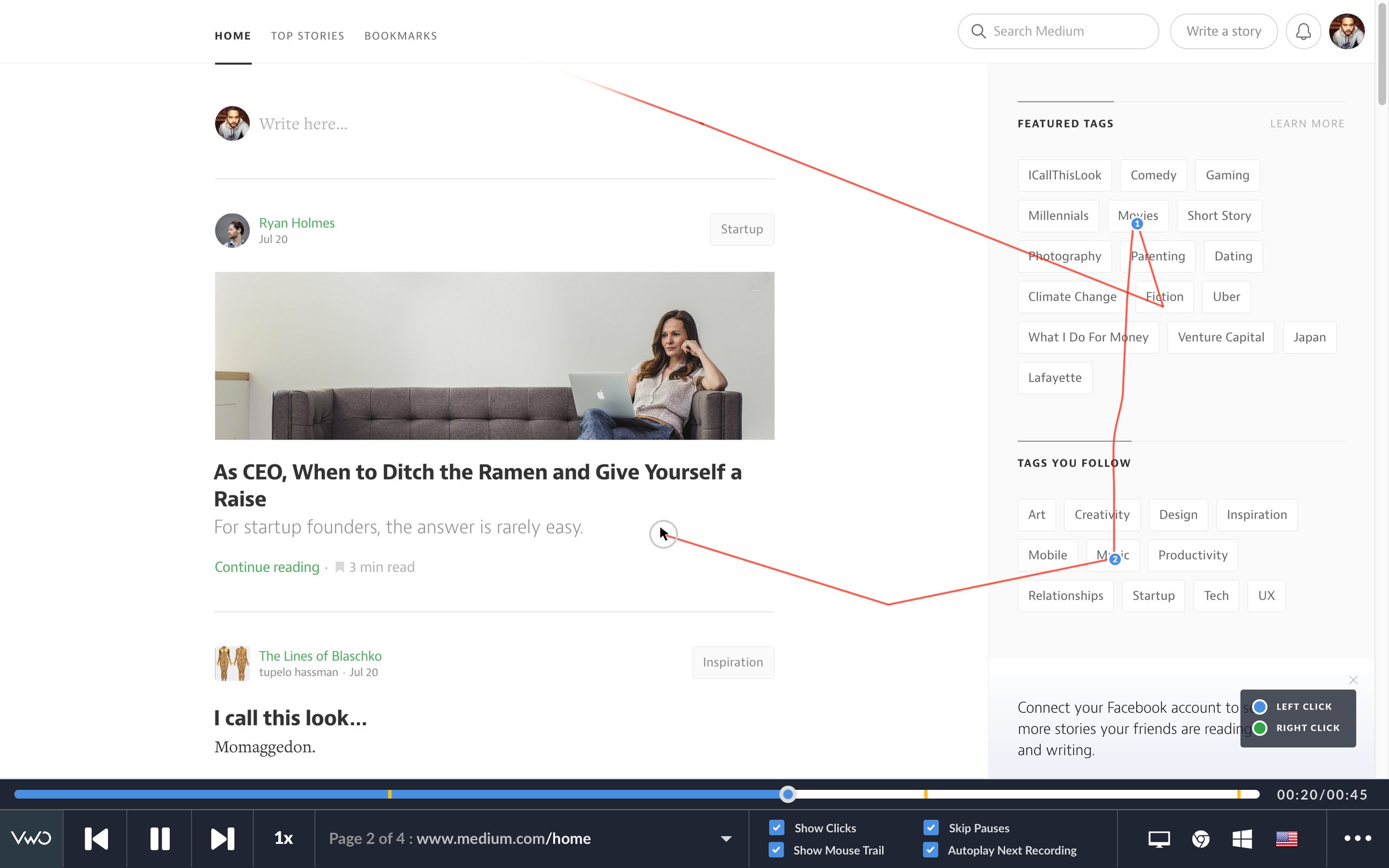 3. Compare heatmaps created before COVID-19 with those during the COVID-19 time period
You can see heatmaps of your top pages and contrast them with earlier, less turbulent times to see what your customers are seeking now. Ask yourself: which areas on your website are seeing an increased or reduced click activity and why that might be happening?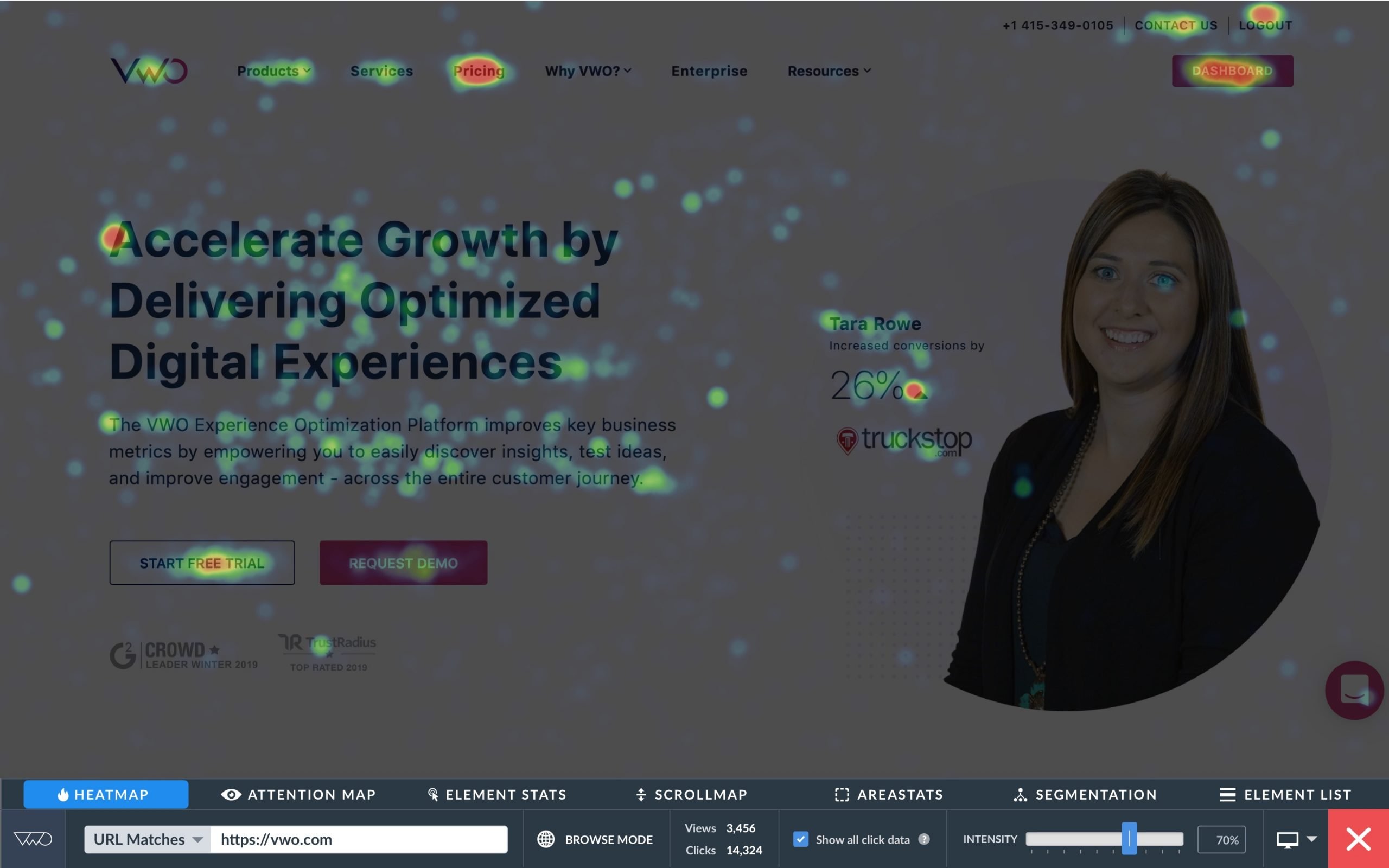 By combining different capabilities of VWO Insights, you will form a rich understanding of rapidly evolving customer expectations and behavior. Be sure to continuously keep revisiting them, because as the pandemic and economy evolve, these expectations can change as well.
Make real-time announcements to your customers via VWO Engage
VWO Engage allows you to make real-time announcements to your visitors and customers via browser push notifications. Unlike email which lands in the user's inbox, these messages reach people instantly.

Because of the rapid evolution of the situation, time is of the essence and we're sure your business reaction would be quick too. So, this makes real-time announcements to your customers even more important. If you are closing certain stores, or a new critical item has been restocked, or you have a new policy that customers can benefit from, it's best to continuously keep communicating. Such rapid and relevant communication will go a long way in giving your customers confidence that you're taking swift and necessary actions to help them.
Put important announcements on your website without needing your developers, using VWO website widgets
If your development team is working from home, there could be possible lags in getting important announcements implemented on your website. This year, we launched VWO website widgets that allow marketers to push different announcements (in terms of hello bar, modal boxes, popup messages) without requiring their developers. This saves critical time, effort and resources, allowing your developers to focus on their tasks while improving the customer experience.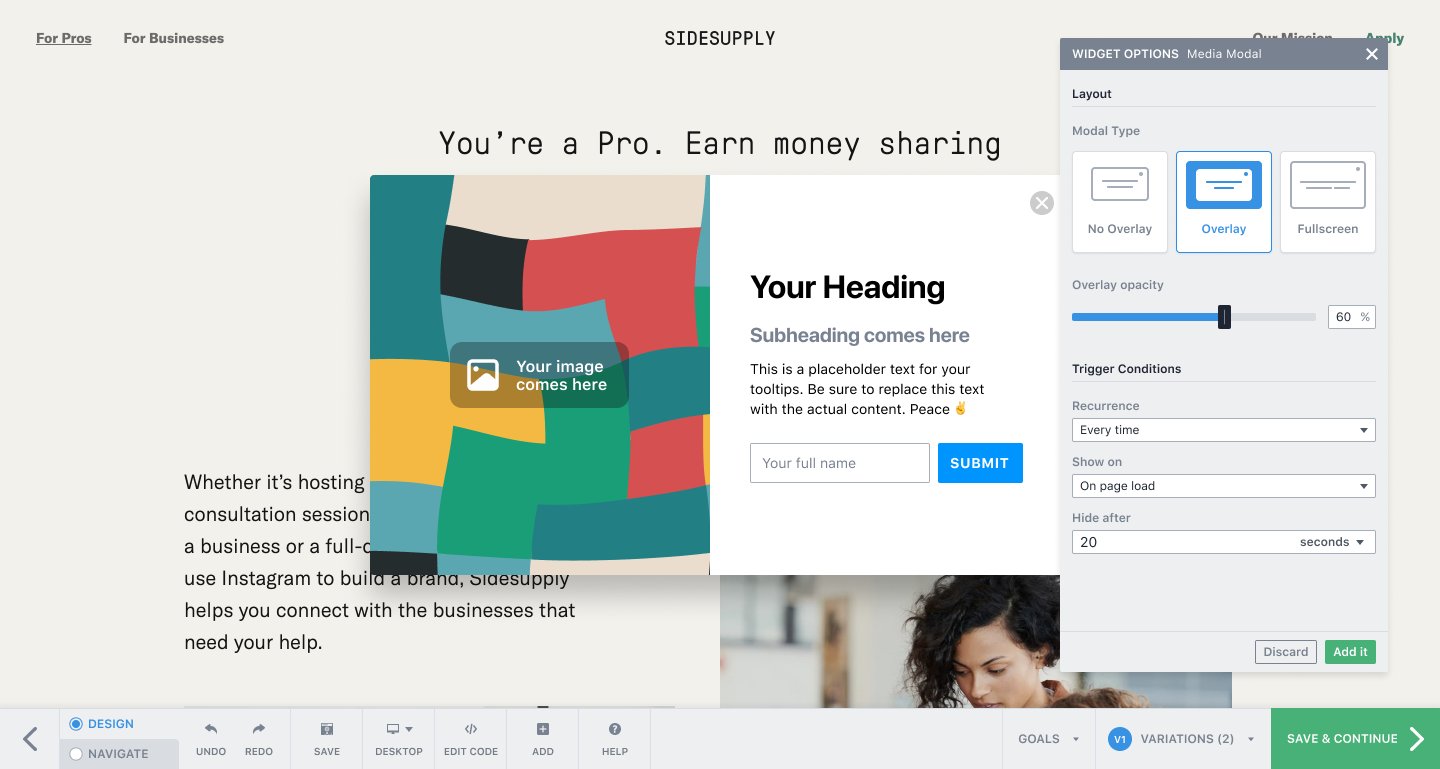 Some of our customers have started using this to inform their visitors about how their business is responding to COVID-19.
Personalize communication depending on the visitor's region
COVID-19 has impacted some regions a lot more than other regions. If your business is contemplating a response that depends on where the visitor is located, you may want to personalize communication. You can narrow down the affected cities and countries and announce what your business can do to help your customers there.

Some of our customers are contemplating waiving delivery fees or penalties for affected regions while others are displaying the updated status of their physical stores in the affected regions.
If your online traffic is dropping, use VWO Plan to increase your testing velocity and VWO Testing to improve conversion rate of the remaining traffic
Some of our customers are seeing a drop in their online traffic, while others are seeing an increase. This is a consequence of increased volatility in customer behavior. If online traffic is increasing, businesses would be focused on enhancing their service or supply capacity. However, if online traffic is decreasing, given the same conversion rate, conversions will drop. If there's no easy way to get traffic levels back to normal, the only alternative is to focus on improving conversion rates.
1. Make a CRO war-room and collaborate to record your team's ideas in VWO Plan
VWO Plan allows teams to collaborate on ideas and hypotheses for improving conversion rates. Anyone in your team who has access to VWO (we offer unlimited users for all our accounts) can record their idea. We have a Google Chrome plugin that makes generating and recording such ideas super-simple. While recording the ideas, ensure that you tag them with a distinctive identifier because such ideas are likely to be tactical in nature and only relevant to the current COVID-19 situation.

2. Focus on high-velocity testing by prioritizing low-effort, high-impact changes
Once you have many ideas on the table, your team can start prioritizing high-impact, low-effort concepts. At this point, you cannot afford to test few, big changes. So we recommend focusing entirely on testing velocity. VWO test editor is built for such rapid testing by letting marketers customize their website with minimal IT/developer help.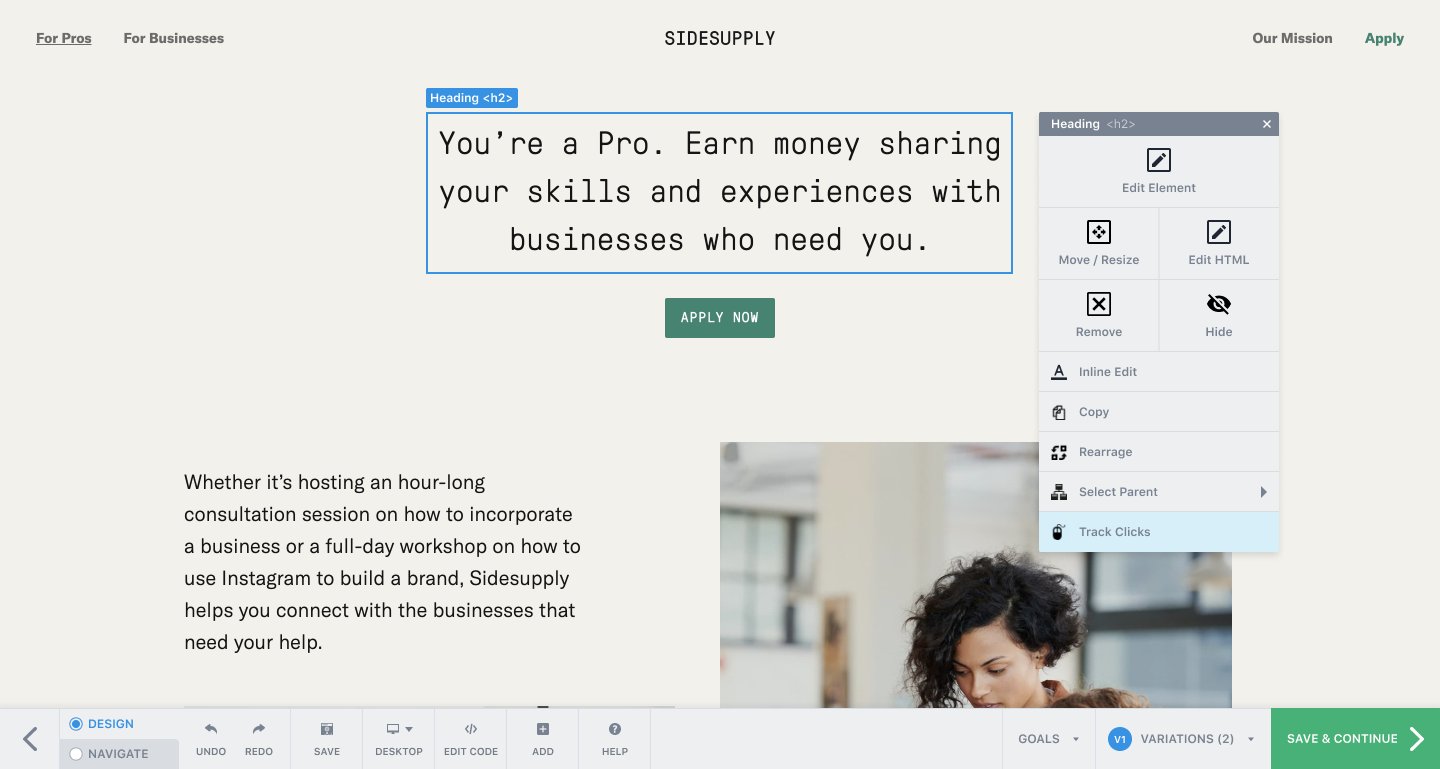 The faster and more in volume you're able to push testing campaigns live, the more likely it is that you'll improve your conversion rate.
Summing it up
I hope you got some fresh ideas from this quick walkthrough of how to use VWO during the turbulent times of the COVID-19 pandemic. These are difficult times for businesses, but history shows that the most agile businesses are able to survive (and sometimes even thrive) by continuously learning about how the world is changing and trying out various experiments to stay afloat.
Uncertain times do lead to normal times and things will eventually get better. Should you need us for anything, the VWO team is with you. If you're facing a resource crunch at your end to do some of the suggested actions above, let us know and we will jump in immediately to expand your team's bandwidth.
Good luck!