The Nielson Company regularly releases data for conversion rate of different websites via its MegaView Retail service. The data (as of March 2010) for top 10 online retails by conversion rate is analyzed in this post. The objective of this list is to give you an idea about to what extent these retailers have been able to optimize their conversion rates.
Top 10 Websites with Highest Conversion Rate
Note the eligibility criteria for this list: To be considered, e-commerce sites must have had a minimum of 500K unique visitors during the month. Conversion-rate data is based on visitor conversion rates, not session conversion rates: i.e., No. of unique customers/No. of unique visitors.
Schwan's: 40.6% conversion rate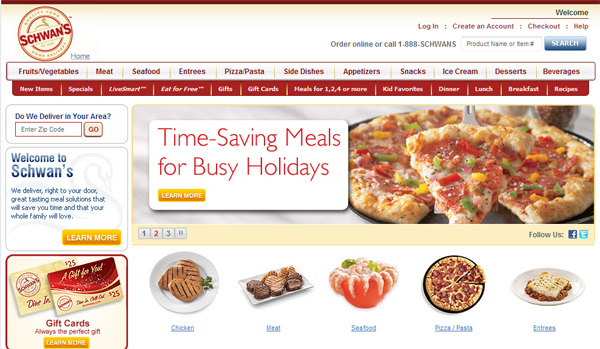 Schwans.com is an online grocery store and food delivery business. A conversion rate of 40.6% sounds too good to be real but Schwan's is an old company which started home deliveries of food in 1952. So, it has a good brand name as far as food delivery is concerned and now most of its customers are simply visiting the website to order the food they want. No wonder, conversion rate is so high!
Woman Within: 25.3% conversion rate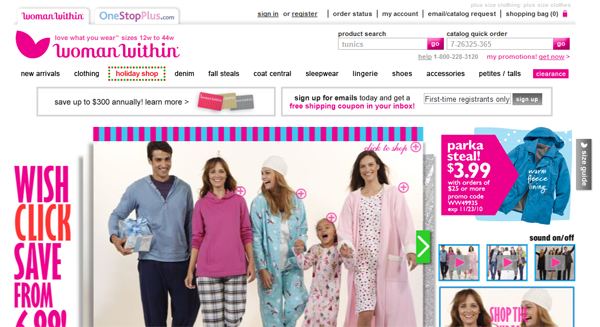 Woman Within offers Plus Sized clothing for women. Note their laser-sharp focus: "plus sized clothing for women" which (combined with large collection and clean site design) is probably the reason for high conversion rate.
Blair.com: 20.4% conversion rate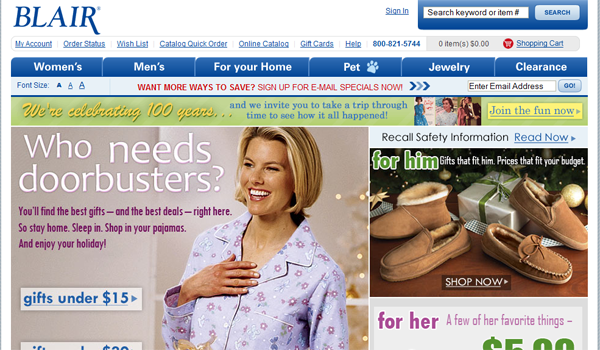 Blair.com sells clothing online. Just like Schwan's, Blair.com is also a very old business (started in 1910!). So it has brand and customer base already established and the website serves as a channel for ordering.
1800petmeds.com: 17.7% conversion rate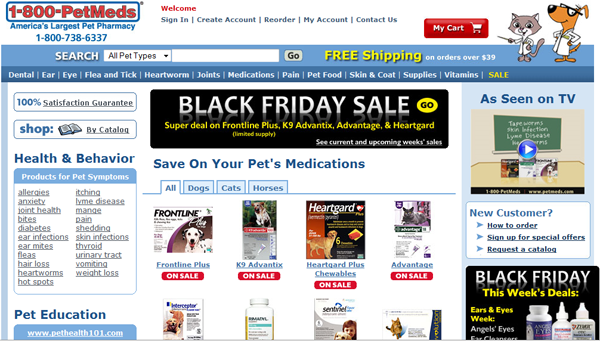 As its name says, 1800petmeds.com sells pet medication. This eCommerce store is a perfect example of focusing on a niche. I bet they would never see such high conversion rate, if they attempted to sell everything related to pets (food, clothes, grooming products, etc.) The focus of store is pet medication and that's the reason conversion rate is high. Also note that they have an extensive mini-site on Pet Health education, which probably drives them numerous targeted prospective customers.
Vitacost.com: 16.4% conversion rate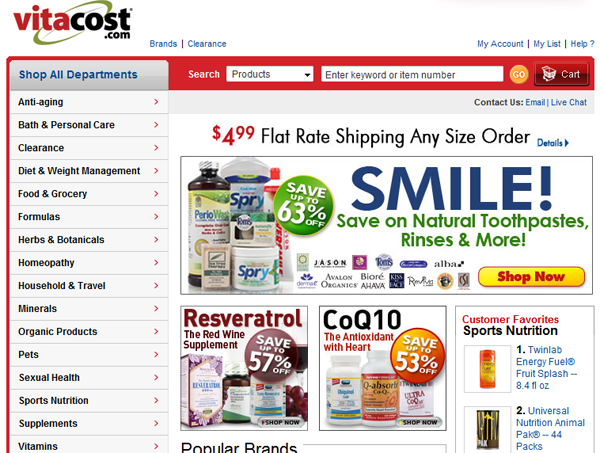 Online store selling vitamin supplies. I love the clean sidebar on the left. The website is bit old-schooled and is optimized for IE (that too for a lower screen resolution). They probably get a lot of non-tech savvy visitors so the sidebar would be very helpful for product selection. This shows how focusing on the customer (and not on the design) can help increase your conversion rates.
The rest 5 ecommerce sites (by conversion rate)
Secret of high conversion rates
Of course, there is no secret for such high conversion rates. These companies have been doing conversion rate optimization for years now and one cannot hope to replicate the same overnight. However, looking at the websites above, I can imagine a few general trends on why they have such high conversion rate:
Brand Name: many of the websites above are actually an offshoot of already established offline business. And the sites simply serve as a channel to place orders (much like telephone or brick-and-mortar store).
Laser-focus on a niche: be it pet-medication, plus sized clothing for women or flower deliveries, high conversion rate is possible if the focus of your site is clear and you are attracting the right kind of prospects.
Interested Visitors: a website or a landing page only does half the job in converting a visitor. The other half of job is done by the traffic source. Theoretically, if you send interested visitors who are ready to make a purchase, a website only has show a purchase form. Most of the websites above has a proven formula for getting interested visitors. (e.g. PPC ads, microsites, display ads or partnerships).
Hope you liked the examples and my analysis. Please leave a comment below if you have any other examples of high converting websites.