Dynamic Heatmaps — The New E-commerce Data Gathering Tool
E-commerce is a pure service business that demands utmost precision, patience, and persistence to survive the industry's ever growing competition. The goal is not just to help shoppers find good products, but also provide an exceptional customer experience that converts them into repeat buyers.

Also, customer actions serve as a valuable source of data at every stage of an e-commerce's funnel. What you do with these customer insights to improve the overall shopping experience and conversion rate, is typically what makes or breaks a deal for your business.

Most marketers suggest using multiple qualitative and quantitative analytical tools to do so. But, not all of them have the prowess to give you the kind of information you would need to study user experience.

This is where heatmaps come into play.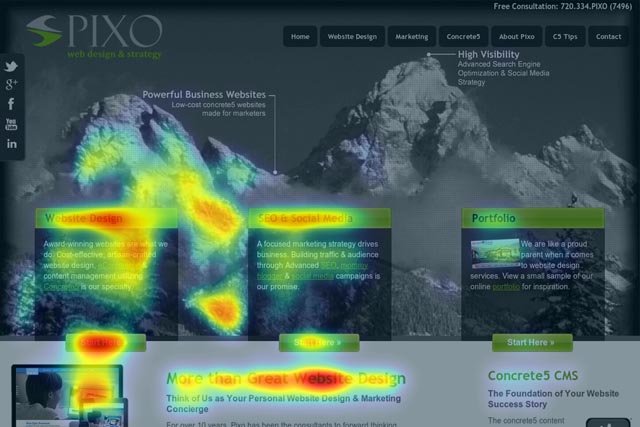 What are heatmaps?
Heatmaps serve as one of the best qualitative tools to collect relevant customer data, especially in terms of understanding their actual behavior across your web platform.

Think of heatmaps as X-Ray films. They show a detailed picture (in the form of graphical representation) of how users interact with your site or store. You can observe how far users scroll, where they click the most, and the products or pages they like or dislike.
Such data is precisely what you need to make your platform more user-friendly, drive more traffic and improve your conversion optimization strategies.

But, if you think that any heatmap would work wonders for your e-commerce site, you're absolutely wrong!

E-commerce websites are highly dynamic in nature. They have more interactive elements and "behind login page" elements like orders, cart page, etc. than any other site. Such pages shed visitor interaction and information, which typically serves as the primary data for businesses to use to draw page performance conclusions, find elemental distractions, and improve overall customer experience.

This is where Dynamic Heatmaps save the day!
What are dynamic heatmaps?
Unlike static heatmaps which can only be plotted on static web pages such as the Home Page, Product Pages, Landing Pages, Category Pages, etc., dynamic heatmaps give you the leverage of studying real time customer behavior on pages which are beyond the scope of static heatmaps. In other words, dynamic heatmaps can be easily plotted on live websites with dynamic URLs such as My Profile, Orders, Cart, Account Settings, etc. to gather in-depth customer activity data.

In general, a typical dynamic heatmap offers four primary features, namely, click maps, scroll maps, click areas, and element list. Each of these allow you to look at a web page's hot spot areas in a detailed manner.

Let's now understand the scope of dynamic heatmaps for e-commmerce using some examples!
Example of Dynamic Heatmaps on Different Ecommerce Pages
Studying Cart Page Insights Using Dynamic Heatmaps
The image below gives us an insight a dynamic heatmap plotted on an e-commerce site's Cart page. It shows that in general, most people, after adding products to their cart, click on the product image, cancel button, postcode section, 'Go To Checkout' icon and discount codes.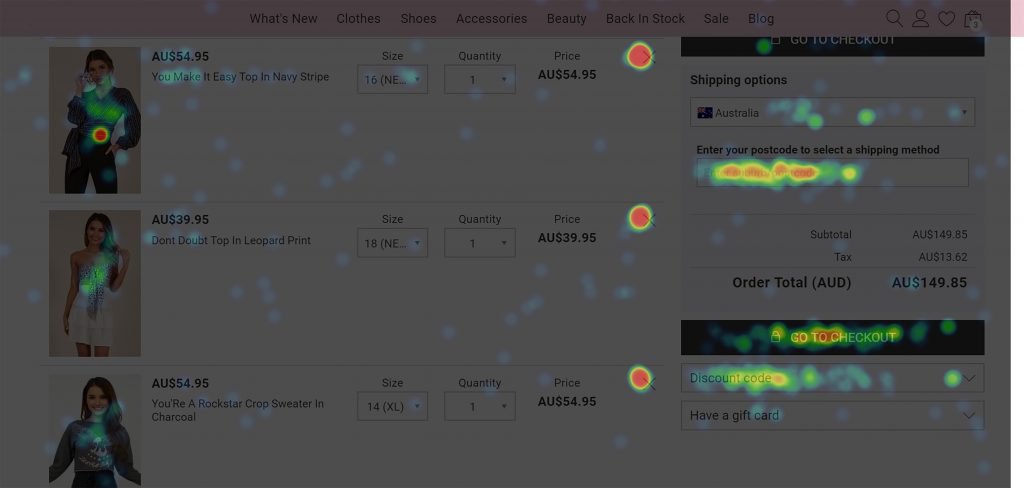 Such information helps you draw multiple conclusions. Some of which are as follows:

Customers might want to see the product images once more before proceeding to final payment gateway.
They may not like their chosen product(s) and hence, remove the item(s) from the cart. Or, since they're not able to view the product image (in zoom) on the cart page, they abandon their cart.
They're most interested in availing discounts. Therefore, the area is hotter than other page elements.
Furthermore, such information also serves helpful in drawing hypothesis on how to improve the performance of various page elements with dynamic URLs, meanwhile find the right means and ways to enhance customer experience and increase your conversions.

"VWO's dynamic heatmaps allow you to access information of those web pages which are, in general, very difficult to access using regular heatmaps."

Studying Order Page Insights Using Dynamic Heatmaps
The "My Orders" page of an e-commerce site is an important page that is lesser explored in terms of gathering customer behavior data.
The page allows users to look at their current and previous orders, check delivery status, seek assistance, and even browse through their history. As an e-commerce company, plotting heatmaps on such pages and mapping number of clicks can significantly help you study which page elements are fetching you maximum customer attention.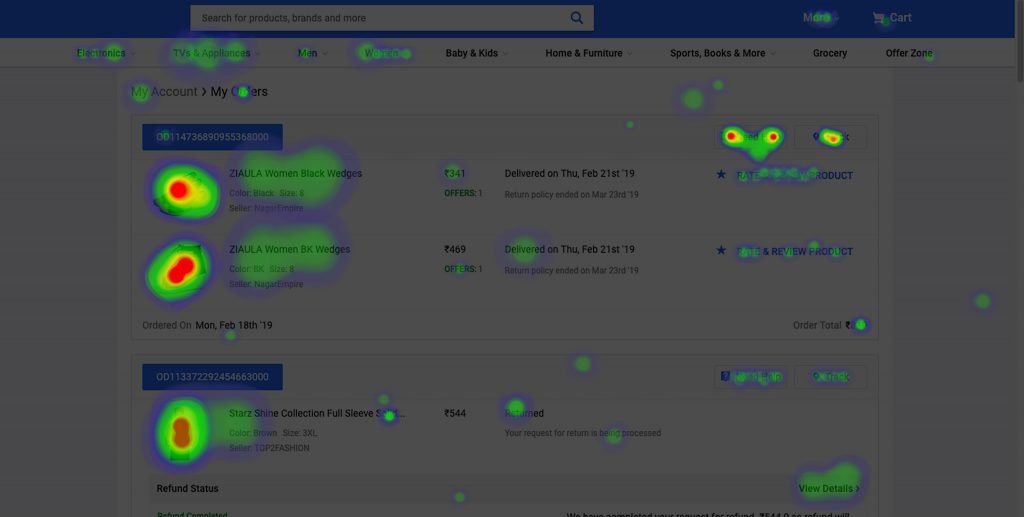 For example, the above plotted heatmap shows that most clicks are observed on the "Track" icon followed by "Need Help" and product images. They're hardly clicking on the "Rate & Review Product" icon, which, according to your platform, can be an important form page to seek product reviews and other essential information. You can further use such qualitative data to make necessary amendments and compel customers to fill the form, like adding product review pop-ups or call-to-action buttons on the Order page, making the section omnipresent, giving rewards for adding reviews, and so forth.
Dynamic heatmaps can give you much more qualitative, in-page data which typically other analytical tools fail to match. Every page, every click tells a story, and there's something to learn from every story, if you listen carefully!
So now that you know what your static heatmap tools are lacking, it's time to upgrade your e-commerce platform with VWO's dynamic heatmaps and make the most of them.
FAQs on Dynamic Heatmaps
What are dynamic heatmaps?
Dynamic heatmaps are heatmaps that are plotted on live websites with dynamically generated URLs such as Profile, Orders, Cart, Account Settings, etc. to gather in-depth visitor activity data.
How do eCommerce stores use dynamic heatmaps?
eCommerce stores use dynamic heatmaps to gather insights from the interaction of the visitors on their dynamic content web pages such as the order page or the checkout page, to identify common patterns.