Announcing The New Version Of VWO: World's First And Only Platform For Conversion Optimization
I'm proud to announce the launch of next evolution of VWO. This version has been a long time coming, so the details of what we are launching are going to be long but exciting.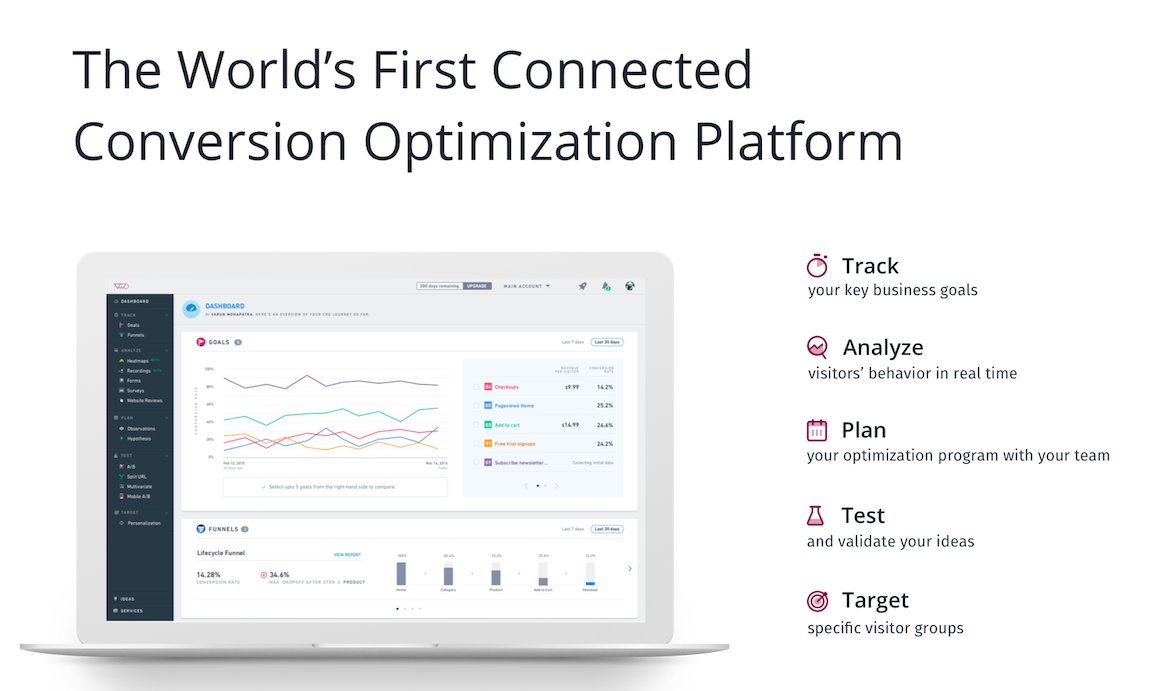 When VWO was launched 7 years ago, we changed the way marketers did A/B testing by making it stupidly simple to set up and launch A/B tests. We cut down on the time and effort required to launch a test, from weeks to minutes. Since then, more than a hundred thousand A/B testing campaigns have been launched in VWO by thousands of customers. We have numerous success stories where our customers have seen double-digit improvements in metrics that matter to their businesses (average order value, signup rate, and so on). The success of web testing (A/B, split-URL, and multivariate testing) for a range of brands has established that it works and any brand not doing testing is a dinosaur still stuck in subjective debates where the highest-paid person's opinion (HiPPO) usually wins.
While A/B testing works, the mystery of which A/B tests to do still remains unsolved. Yes, you can throw darts on the board randomly and some may strike at the center, giving you a significant improvement in your funnel metrics. But it's a fact that successful A/B testing is still a dark art. Over the last 7 years, we've customers across the entire spectrum of maturity.
A/B Testing Maturity
Stage I – No A/B Tests
Stage II – Occasional A/B Testing
Stage III – Process-oriented A/B Testing
Stage IV – A/B Testing is a part of the company culture
VWO, when it first came out in 2010, caused online marketers to move from Stage I to Stage II. What we're launching now will lead marketers to move from Stage II to Stage III. (Stage IV refers to companies which live and breathe A/B testing not only in web functioning but also in every other thing they do.)
What Is Process-Oriented A/B Testing, and Why Should You Care?
As the name says, process-oriented A/B testing means that A/B testing is no longer "let's try to change button colors and see what happens." Many companies new to A/B tests start by testing all low-hanging fruits and get quick wins. These early wins may seem great because these show the potential of A/B testing. However, many of these companies then hit a roadblock—what to do next? At this stage, either they abandon A/B testing completely or realize, through trial-and-error, that their next step should be to approach A/B testing in a process-oriented way.
Running your A/B testing program like a process means taking the following steps:
Set a target to increase the conversion rate by a specific percentage and time, and select the tests that are most likely to deliver.

Generate web testing ideas by doing a thorough research on your audience's behavior and determining the causes of funnel drop-offs or abandonment.

Implement a proper prioritization framework to select tests that have best trade-offs of effort versus results.

Ensure that your testing velocity remains intact (or increases) week after week. (After all,

most tests fail

, so more testing equals more chances of success.)
The process-oriented A/B testing platform looks something like this: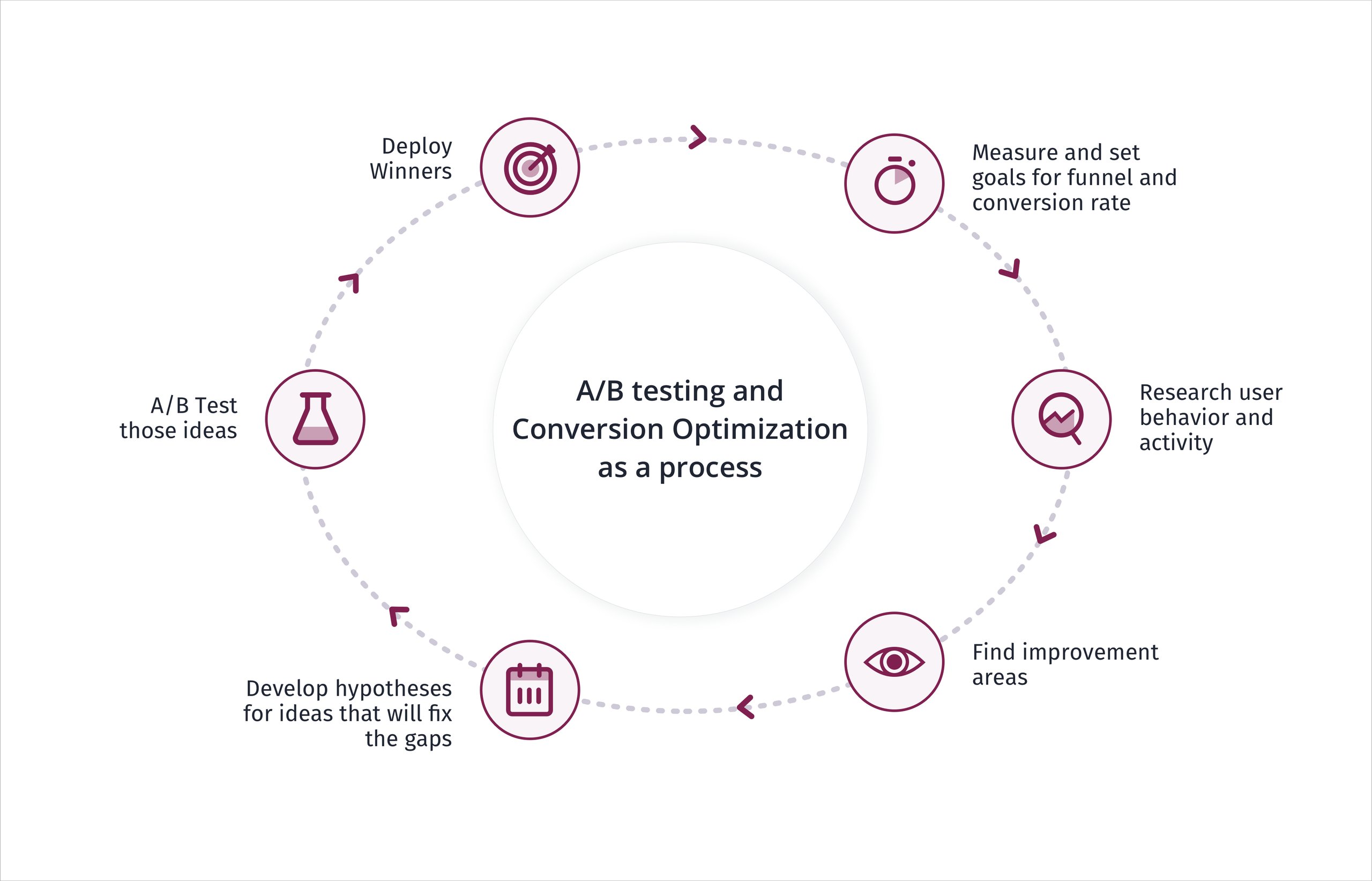 This is a process that our most successful customers use. We observed that customers who followed a process for their A/B testing and conversion optimization efforts were 2x more likely to increase their conversion rate, compared to the ones who did only tactical testing.
When we compared why some customers approach A/B testing and conversion optimization as a process while others did on-and-off testing, we noted that:
Our customers cited lack of resources for doing tests frequently.

Many customers were bogged down by using multiple tools needed to support the entire process (for tracking funnels, spreadsheets or docs for managing test ideas, session recordings, surveys, and of course VWO for testing).

Many customers said that they weren't aware that A/B testing

could

be approached in a process-oriented way. Except for a few digital agencies, nobody was showing them a better way.
After numerous conversations about what we had to do, it was clear. We had to build a platform that would empower our customers to run A/B tests efficiently, all at one place and through one integrated platform. The same platform will now provide a foundation for Stage II companies—that do A/B testing occasionally—to approach conversion optimization in a process-driven manner.
The New VWO: From a Web Testing Tool to an Experimentation Platform
Here's what we're launching: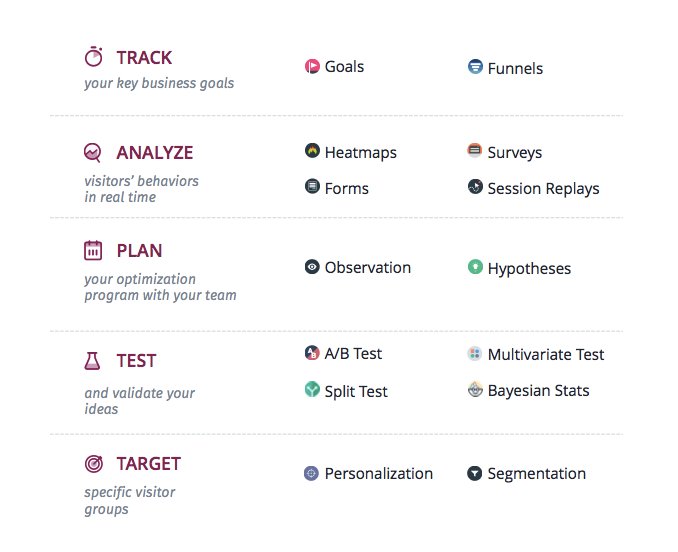 As you'd notice, it's a pretty big leap from what we were earlier (web testing tool) to an experimentation platform. Let me unpack the capabilities of the new VWO and what it would mean for you.
The VWO experimentation platform brings everything you need to run conversion optimization in your organization on one platform. It does this by providing the following capabilities in an integrated fashion:
TRACK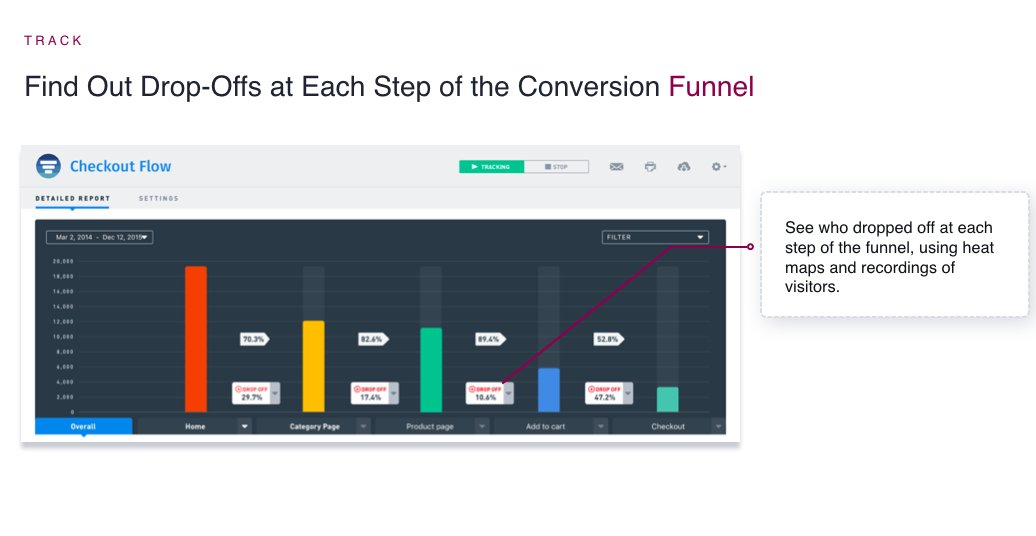 This capability allows you to measure funnels and goals on your (desktop and mobile) website, right there in the VWO dashboard.

This capability provides a single source of truth for your funnel conversion rate so that you can easily decide which part of the funnel you should "fix" next and for which segment of visitors should you be fixing the funnel.
ANALYZE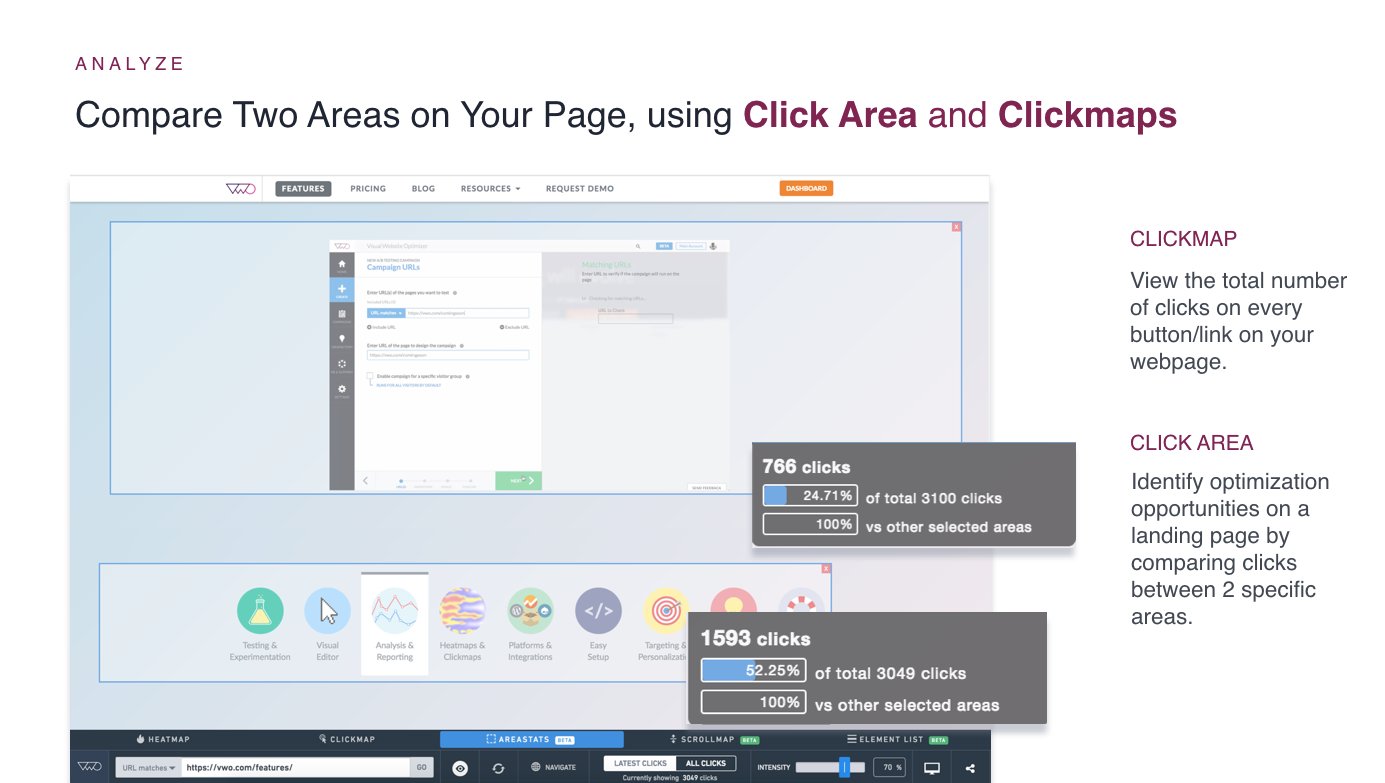 This capability includes tools such as session recordings (see playback of visitors interacting with your website), on-site surveys, heatmaps, clickmaps, scrollmaps, and form analytics.
This capability lets you dig deeper into visitor behavior (from multiple angles) and find out what's causing some visitors to abandon your website or landing pages.
PLAN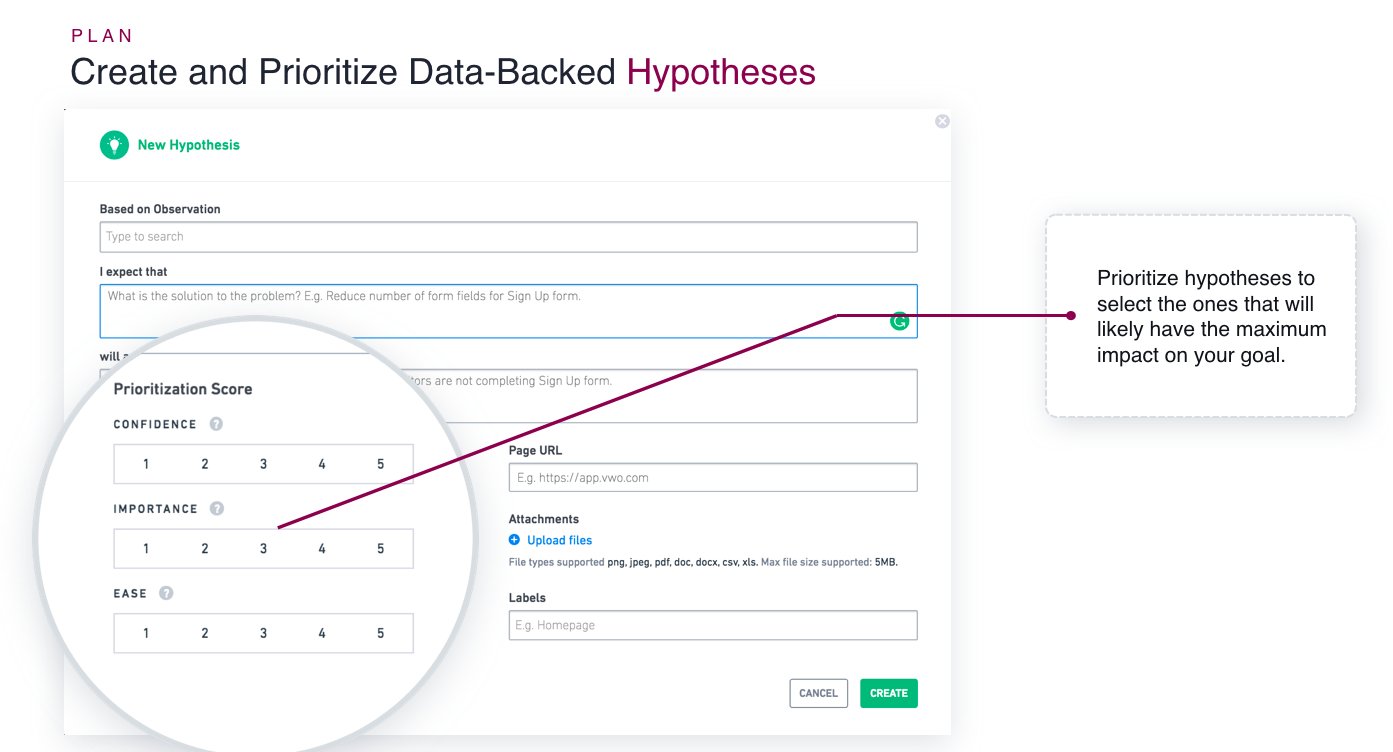 This capability provides you and your team one dashboard to record and prioritize your observations, ideas, and hypotheses; and help you select ideas for your next web tests.
Imagine this to be like

Trello

or Jira for your conversion optimization.
TEST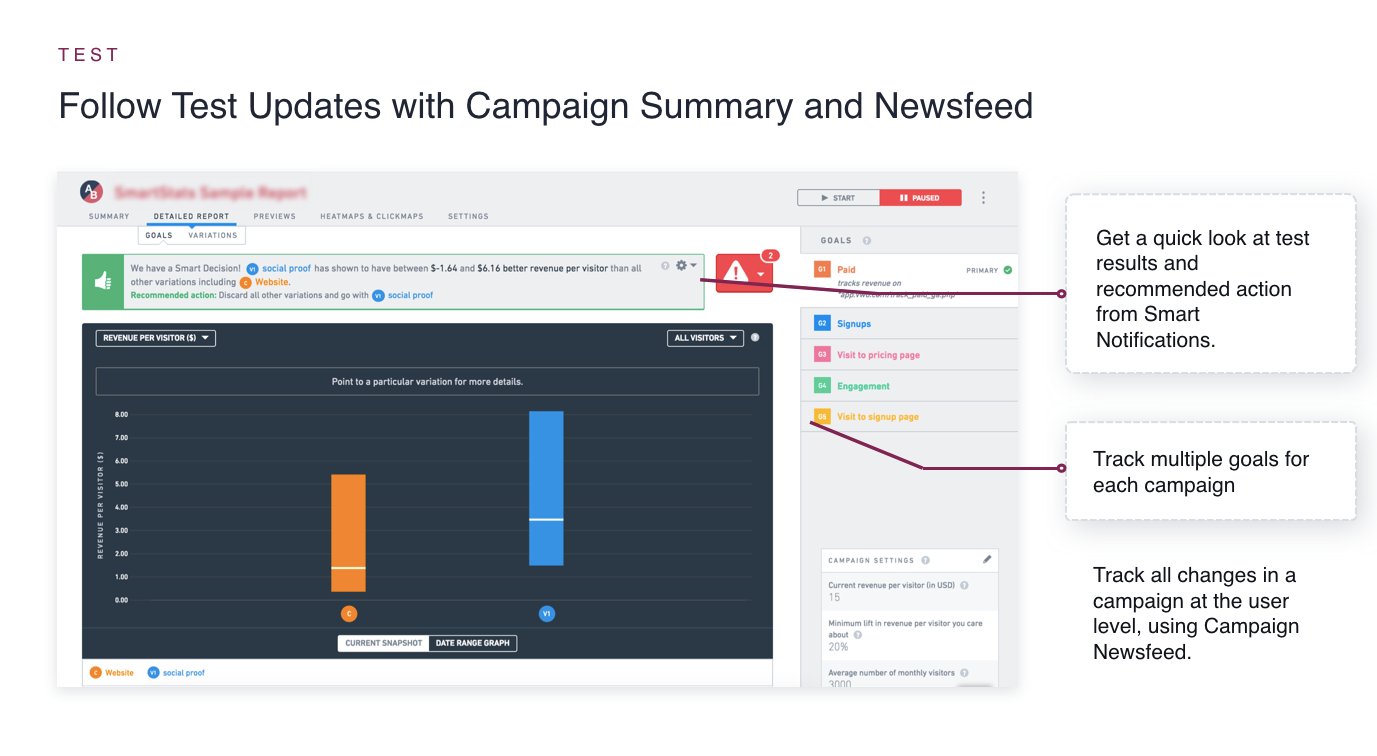 This capability lets you test and experiment through multiple ways, such as visual A/B tests that do not require coding, multivariate tests, and complex tests that can be set up by using JavaScript and split traffic tests.

This capability has been our forte, and we have enhanced it in numerous ways with this release.
TARGET
This capability lets you deploy your winning tests or provide a specific experience to your target segment.

This capability also allows you to slice-and-dice your user segments and improve the conversion rate, for different segments by targeting a specific experience to them.
You would imagine that building all this technology would have been hard. Well, "hard is an understatement," as I can imagine VWO's engineering team saying. Some of the technology we got from our acquisition of Navilytics in 2015, but most of it is built in-house. All VWO teams worked hard for many months, because we have a deep conviction that one integrated platform has more advantages for marketers than juggling with different tools.
The value of an integrated platform is a bet we are taking and we are confident of demonstrating that value to marketers all over the world. When you take the new VWO for a test drive (see below, on how to get access), you will see the power of integration first hand but if you need a few examples of what this integration can do, see the following use cases:
You set up the funnel in the VWO Track capability and discover that for a specific segment, your checkout rate is much below average. What's causing that drop?
You immediately use the VWO Analyze capability to look at session recordings for that segment, look at form analytics, and fire up an on-site survey to ask why that specific user segment is abandoning sign-up.
While looking at the form analytics in VWO Analyze, you realize that the checkout form accepts a US phone number only and the segment from UK has a low conversion rate. But then you see that you received a few responses from the survey that you ran by using VWO Analyze. The most common response is that your UK visitors are not sure whether you ship to UK or not. Now you have another insight here.
But now your problem is which one to test. Plus, you also have many other such ideas from your last week's idea brainstorm with your team. You are flooded with ideas, but don't want to lose these 2 observations. You then remember the VWO Plan capability and use the form tool and survey to record the 2 observations in VWO Plan. (This is in addition to your team continuously using the VWO Chrome plug-in to record ideas from your and your competitors' websites.)
You fire up VWO Plan and prioritize your ideas by attaching the expected effort versus expected results. When you are done, you realize that "Lack of shipping-to-UK information while we look like the US website" is the best among other ideas to test.
From that observation, you get into the VWO's Test capability where you set up a quick test that takes you 10 minutes. All you need to do is to mention "We ship to UK free of cost" when the visitor is from UK. (An added advantage of this link is that all your observations and notes regarding "Lack of shipping-to-UK information while we look like a US website" get attached to this test so that you can revisit this anytime in future. Your hypothesis was wrong. It will be great to have this context while looking at results, wouldn't it?)
Your VWO test concludes, and you have a winner. You know that your IT team takes time to implement it at the back end, so you use VWO Target to make the winning version live for all UK visitors.
After a week or so, you go back to VWO Track and see an increase in the checkout rate for UK visitors. You are happy, tell your colleagues and boss, and they are happy too.
You repeat this process over months and accumulate your wins, losses, and insights at one place, that is, the VWO CRO. As a result, your success rate increases with each passing month.
Early Feedback on the VWO Experimentation Platform
We did not develop the new version of VWO in isolation. Various components of the VWO platform were co-developed and tested with customers. Their feedback was instrumental in developing the entire platform in an integrated fashion. Here's some early feedback: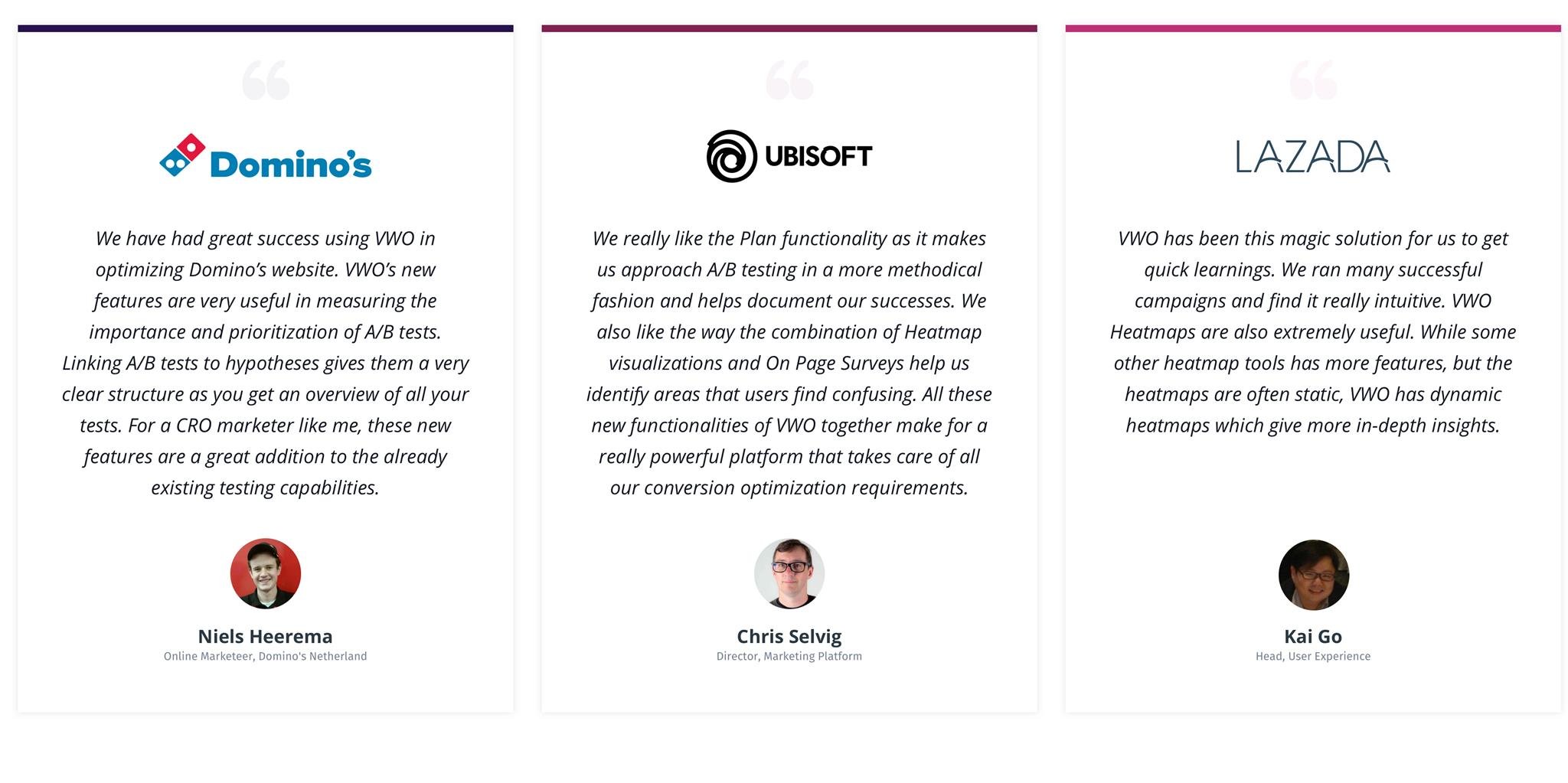 Wait, There's More: VWO Services
For our customers who do not have sufficient resources for implementing and using the VWO platform, we have agency partners and an internal team who supplement the efforts of our customers' teams. We provide design, development, and CRO consultants through our newest offering—VWO Services. So, you can depend on us from software to services for managing your conversion optimization and testing program end to end. Learn more about VWO Services.
Update: VWO Services are deprecated now. We offer similar help to clients through customer support.
Get Started with VWO Conversion Optimization now
The best way to get started with VWO Conversion Optimization is to explore our new website and take a tour of the platform here: VWO After you are convinced that VWO will help your team move faster with funnel and conversion optimization efforts, sign up for a free trial or give our sales team a shout-out.
For feedback, comments, or questions, you can also reach out to me (the CEO) at paras@wingify.com.