3 Key Metrics of Conversion Rate Optimization
This is a guest post from Jeremy Reeves, who is a freelance copywriter obsessed with split testing everything from emails, to landing pages, salesletters and upsell processes. You can find more information about Jeremy's split-testing services.
Conversion rates are great. They're easy to track and can give you a lot of data. If your conversion rates are going up, that's a good thing. If they're doing down, that's a bad thing.
But here's a conversion secret you've probably never heard.
If you're focusing solely on increasing your conversion rates to grow your business…
… you're leaving at least 50% of your money on the table.
Let me explain.
Conversion rates are a fantastic number to keep track of. I personally watch mine like a hawk and write down the results of every single test I do (for myself and my clients). The mistake most people make is only keeping tracking of conversion rates though.
So in today's article, we're NOT going to focus on conversion rates.
We're going to talk about the top THREE key metrics you should also be keeping track of.
Now before we jump in, let me say something.
I realize that when it comes to "knowing your numbers", there are a lot of different metrics you should know.
However, every business is different and should rely on different numbers to help them determine which traffic source is best, which media to enter next, etc…. so this article is only going to talk about the top THREE which I feel will apply to every entrepreneur reading this article.
With that out of the way, let's jump right in 🙂
Metric #1: Value Per Visitor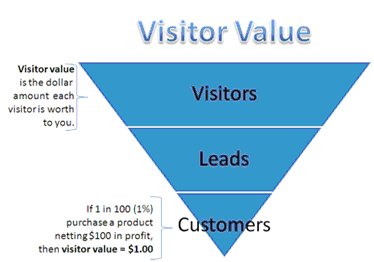 The first metric is one that very few people ever consider. They take a look at conversion rates, CTR's and other numbers but don't ever consider value per visitor.
To figure out how much each visitor is worth to your business, simply divide the number of visitors you had over the past month/year/ or week… by the amount of money you made in that exact same time period.
For example if your site had 20,000 visitors last month and you made $20,000 net profit… that's an average of $1 per visitor.
You can also break it down into segments such as traffic source, page, gender, age, etc.
This number is important because when you know how much an average visitor is worth to your business, you know EXACTLY how much you can afford to spend on marketing. This is also the best number to track if you're doing any kind of price testing. Plus… you can also project future growth, which is a very fun exercise to do.
Quick Tip: Use the "revenue tracking" feature in VWO. It makes this process very easy 🙂
Metric #2: Customer Lifetime Value

When it comes to this number, there are TWO very important factors to consider.
First, you want to know how long it takes for the average person to complete his or her buying cycle.
Then you figure out how much they spent during that time period.
The result is your customer lifetime value.
For example, let's say you're selling a piece of software for $50 per month and your average customer stays with you for 6 months. That's a customer lifetime value of $300 over 6 months.
Second, you figure out how to use this information. The point of knowing it is so you know how much you can spend to acquire a new customer.
For example if you have a very long customer life cycle (like a restaurant)… you should look at how long you want to extend your money before you make a profit. This is basically your risk level.
In the restaurant example, let's say an average customer makes the owner $100 in profit in the first three months… and $500 in profit over two years.
Since the point of most businesses should be to break-even on the first sale, followed by a robust back-end to make up those profits, you'll want to figure out how long you can afford to break-even on that customer.
(Note: The above paragraph is something VERY few people really "get", and doesn't apply to all businesses. But it does apply to 90%+)
If you're not very risk tolerant, simply CAN'T have a back-end for some reason, or aren't looking to build a long-term business, you may want to profit immediately. This is good in the short-term but bad in the long-term because it will limit the amount of customers you can buy through paid traffic.
If you're risk tolerant and looking at your business more long-term… you might be comfortable not breaking for a month… 3 months… or even a full year. This is bad short-term, but will lead to fantastic growth long-term because you can afford to spend more money on advertising. In the example above, 5x more.
(Note that none of these strategies are "bad" or "good". It all depends on your business and your goals with the business)
To break it down… you have to look at THREE criteria when figuring out your customer lifetime value.
1. How much you can spend for a new customer.
2. How much of a margin you want to have.
3. How quickly you want that investment returned.
This is going to vary from business to business… ranging from 1-2 months to several years.
Metric #3: Cost Per Conversion
This number is crucial because after breaking it down by traffic source, you can tell which traffic channels are profitable, and which aren't!
For example if you find out that your customer value after 6 months is $100… but you're spending an average of $95 to acquire that customer… you might want to change something.
Sure, you're profitable… but hardly. On the other hand, you may have one traffic source giving you a cost per conversion of $20, while another is at $90.
Which would you choose to focus your attention on?
Obviously, you want the traffic source with the lowest cost per conversion. Then you analyze those visitors in-depth, and try to seek out similar traffic sources.
The bottom line is this.
The more you pay attention to these numbers, and not only conversion rates, the more successful your business is going to be. When you know exactly what's going on in your business at all times… it's so easy to out-market your competitors it's almost not fair.
So don't take this article lightly. Read it a few times if you need to. And then get to work in finding out what these numbers are and putting strategies in place to to dominate your market!