Top 4 Methods for Finding Test Ideas for Your eCommerce Store
Are you looking to continuously improve your eCommerce store? If so, you've probably wondered whether changes you want to make to your store will help, hurt, or make any difference at all in your store's performance. In fact, not even the most experienced marketers and designers can perfectly predict if a particular change will improve your conversion rate.
This is where A/B testing comes in. It's an amazing method that makes it possible to prove—with data—if a particular change has an impact and whether it's positive or negative. In an A/B test, you can split your traffic between your page or element versions, and even define the audience that gets to view the variation. The version that gets the best results is the winner.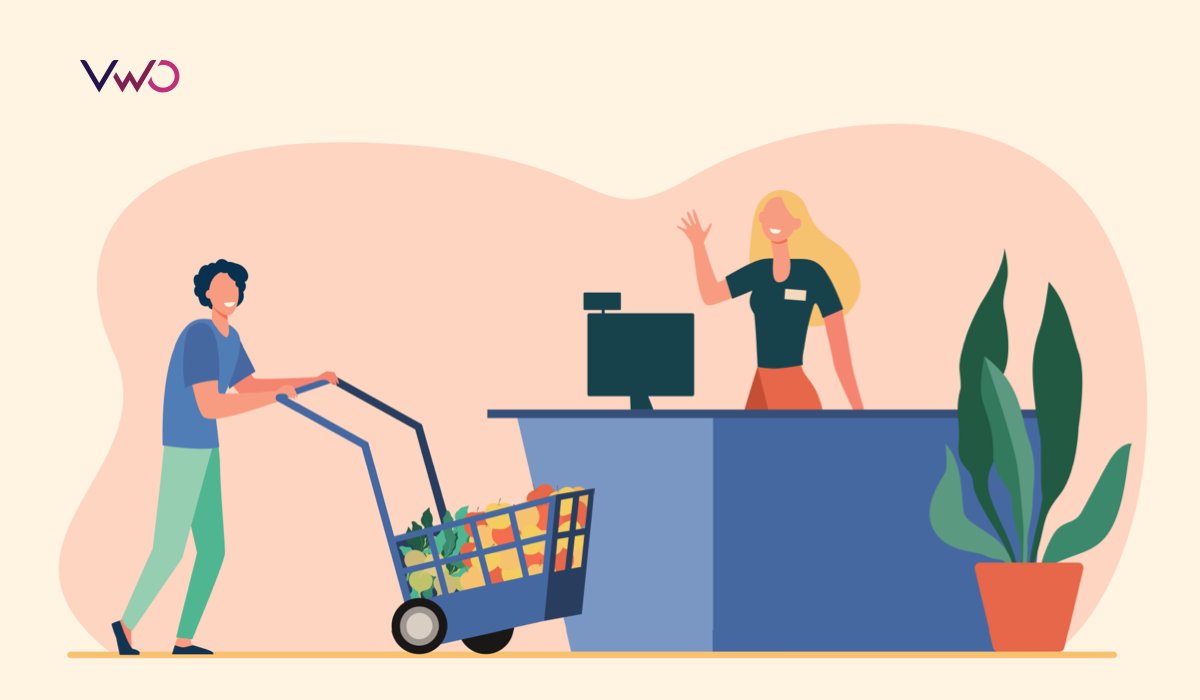 Once you know that you can test changes on your store before making a decision, it seems like a no-brainer to use that method moving forward.
Getting started
So where should you start testing? How do you come up with ideas to test?
You may have some ideas—probably even a document full of possible changes based on your opinions and experience. But that may not be the best way to come up with your tests.

We will show you a better approach—where to focus your attention and how to find tests that will increase your chances of getting meaningful, positive results.
The following process removes the guesswork and moves you closer to those great results you're looking for.
Where to focus your attention
Google Analytics won't tell you what to test, but it does indicate where you should focus your efforts, that is, which part of the funnel to test. Google Analytics provides a Funnel Visualization Report that shows how many visitors are dropping off your store at each stage of the funnel.
Every eCommerce store is different depending on the industry it's in and other factors. But a funnel visualization combined with some benchmarking lets any eCommerce store owner know which part of the funnel is the weakest link. Once you know the most problematic step, you can improve it by performing tests aimed at it.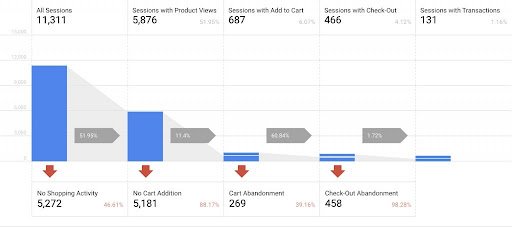 For example, in the image above, you can see that a lot of people abandoned the checkout. From 466 people that started the checkout process, only 131 people completed it. This indicates that you may have to work on your checkout. And because that's a step where a lot of people abandon your store, improving it could yield the biggest results.
In the Dorado Fashion case, VWO found that there was a high drop-off on the checkout page. To address this and increase the Average Order Value, the VWO team tested a cart page variation that incentivized additional purchases for users who already had an item in their cart. This variation had a notice that said – "You are 1 product away to get Extra 30% Off". The test ran for 26 days and the variation won with a 14.14% increase in clicks to the Thank You page. You can read the full case study here.
On the other hand, if you already have a very good checkout conversion rate, it's harder to get significant improvements there.
Visualize your funnel as a leaking bucket. The more water you can keep in the bucket, the more money you get. By fixing the weakest steps of the funnel, you are effectively fixing the biggest holes in the bucket.
After fixing the big holes, concentrate your efforts on the medium holes and so on. To apply this to your online store, you want to find out which is the biggest hole and work on it.
Google Analytics helps you find the "what"—the step of the funnel that isn't working—but it won't tell you why it's not working. You can determine why by using heatmaps, session recordings, on-page surveys, user testing, and other methods to help develop solutions to the problem.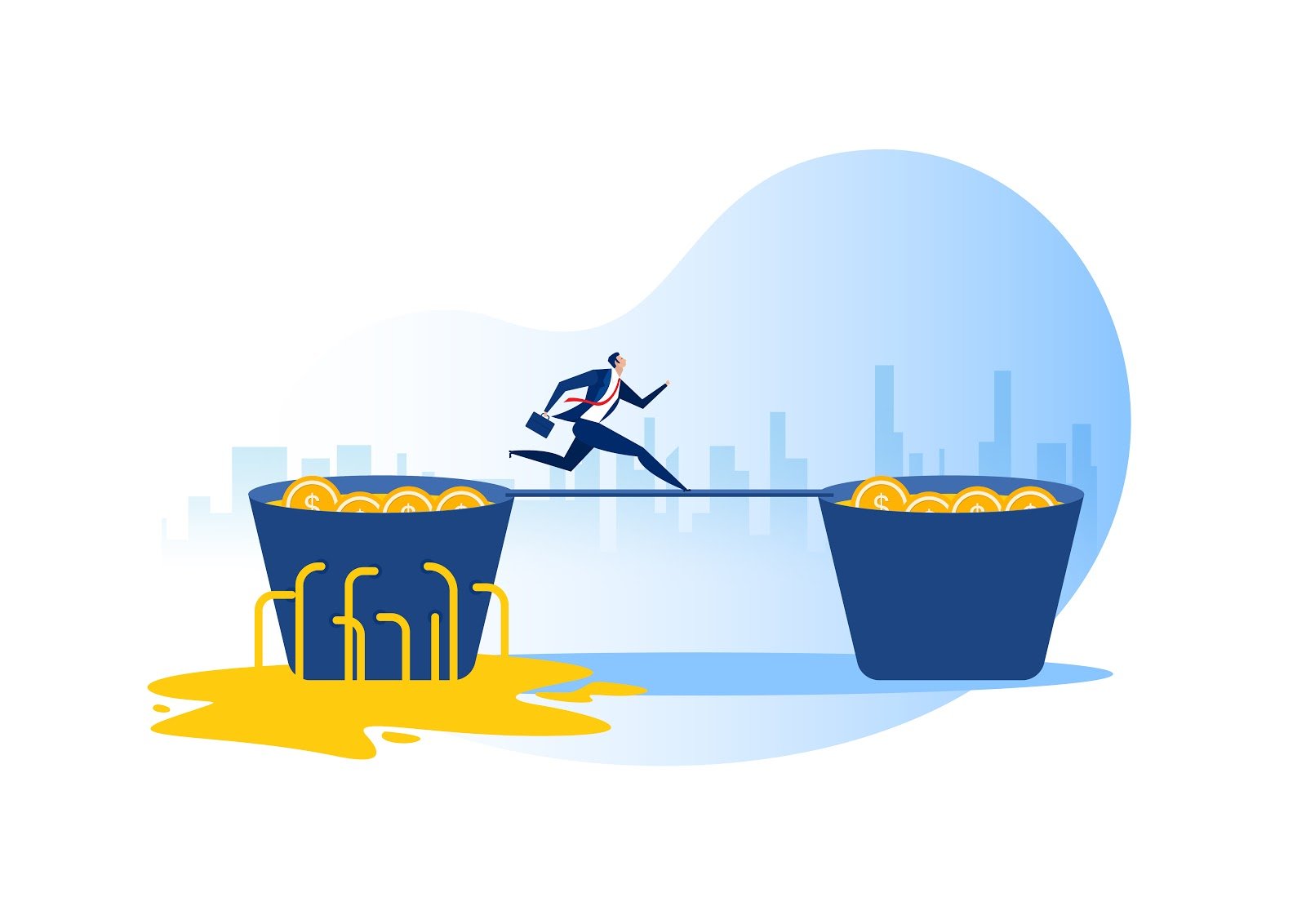 What to test
Choosing what to A/B test is one of the most important decisions you can make:
You can avoid wasting time you would otherwise spend testing things that make no difference.
You can gain valuable insights that can then become test ideas.
Methods
We suggest you use a mix of methods to get the best results possible. Typically, the findings from one method overlap those from others. That's a clear signal that you're on the right track.
You can use the following four methods that employ these tools:
Surveys and polls
User testing
Competitors and other big eCommerce stores
Customer service logs
Surveys and polls
Asking questions that uncover concerns is one of the best ways to identify what you need to address on your eCommerce store. Posting surveys and polls on your store is a very effective method for gathering those insights. By asking your current and potential buyers multiple questions, you can collect very valuable responses. The value comes because these users are experiencing the store as would any real customer, so their insights are very pertinent.
There are multiple places to conduct surveys and polls. You can place a poll on your product page or homepage. You can also send surveys via email to people who've already bought from you. You can add an incentive to encourage them to answer.
My preferred method is to place a poll on the thank-you page. This placement is very powerful because users have just gone through the entire buying process just seconds before, so, if they have any questions or concerns, those will be fresh in their minds.
Each location in which you place a survey or poll can give you insights about different parts of the funnel.
Questions to ask
The best questions are those that uncover fears, uncertainty, and doubts (FUDs). Technical issues are relatively easy to find in your store. However, FUDs are the main factor in people opting not to buy from your eCommerce store. Here are a few examples:
They may fear that your product isn't of a high enough quality (for example, they're looking for a specific grade of aluminum, but you don't list which grade you use).
They may be uncertain about a specific characteristic of your product (for example, they wonder if it's waterproof, but there's no mention of this on the website).
They may have doubts about your warranty and returns policies.
Addressing FUDs is one of the most effective ways to increase your conversion rate. After discovering which FUDs aren't addressed on your website, create tests that aim to solve those FUDs.
In the Moho case, for example, VWO improved Moho's revenue by communicating their offer of a 2-year guarantee on the product. The primary web store of Moho is Horloges.nl, which they use to sell watches from various manufacturers. This guarantee increased user trust and improved the Average Order Value by 6%. You can read the full case study here.

Examples
You can place a very simple poll—even a single question—on just about any page:
"Do you have any questions you can't find the answer to?" Place this on a product page to tell you which information users feel is missing (doubts) or don't find clear or detailed enough (uncertainty).
"Was there something that almost stopped you from buying from us?" This poll question on the thank-you page has produced amazing insights. By definition, everyone who answers this is your target customer because they just bought from you, so their opinion matters.
Another way you can gain useful insights is to ask your customers why they bought from you. You may think you know your unique value proposition (the quality or qualities that set you apart from your competitors), but your customers usually know exactly why they bought from you.
If you can find out why people buy from you instead of the competition, you'll have good content to apply to your store. Sometimes you'll even discover unique value propositions you didn't know you had (e.g., your product is of a higher quality than the competition's or maybe you have the best prices overall)! Use these valuable insights to develop test ideas that better articulate your value proposition and increase your conversions.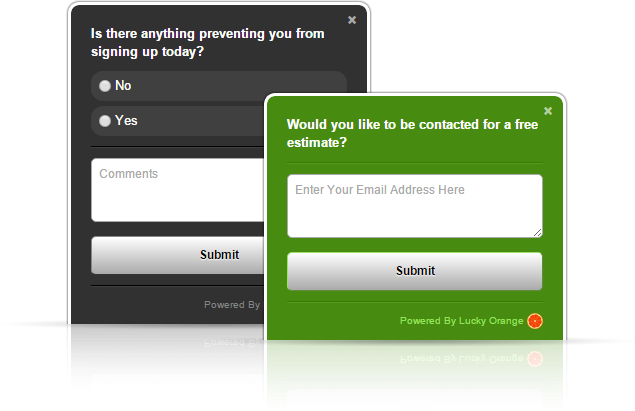 User testing
User testing shows you how visitors perform particular tasks in your store. It's especially useful because you get to see, first hand, how users navigate your store, revealing friction points in the user journey as well as store usability issues. Use these friction points and usability issues to develop solutions you can try in an A/B test.
User testers are often asked to navigate a site and add a product they like to the cart. Observing this process, you'll see what path the user takes: maybe they use the filters, the search functionality, and/or the collections. It opens a whole new world because you are navigating an online store through the eyes of someone else. User tests can help you identify biases.
For example, your cart page may be confusing enough that some people don't know how to continue to checkout. However, because you browse your site daily, you know how to take that step, so you think it is easy. The new perspective you gain from a user test can show you the barriers your users may encounter and help you brainstorm test ideas to address those barriers (e.g., you can A/B test a simplified cart layout that makes it evident to users how to continue to checkout).
Competitors and other big eCommerce stores
This one is controversial because you don't know if your competitor's store is performing better than yours, but I like looking at competitors' sites. Look for interesting things you could bring to your store, like fit finders, money-back guarantees, comparison charts, wizards, and the list goes on and on depending on what you sell!
You don't know if these have been tested by your competitors or if the concept will work on your store, so you get to test it on yours. Sometimes competitors find ways to solve customers' problems, and you lose nothing by trying those out in your store. I'm not suggesting you copy your competitors' websites. I am suggesting that you look for potential issues that your competitors have addressed that you have not.
What's important here is that you do your research and find improvement opportunities for your store. Approach your research the way a customer does: they often compare products in multiple stores before buying. As a business owner, you should do the same and always assess how your eCommerce store stacks up against your competitors'.
You can also look at the big eCommerce websites like Amazon. Because almost everyone uses those websites, chances are good that your customers are already comfortable with that format and functionality, so something similar might work for your store. For example, trying out high-level changes (such as updating product page layouts, offering swatches, etc.) could be beneficial.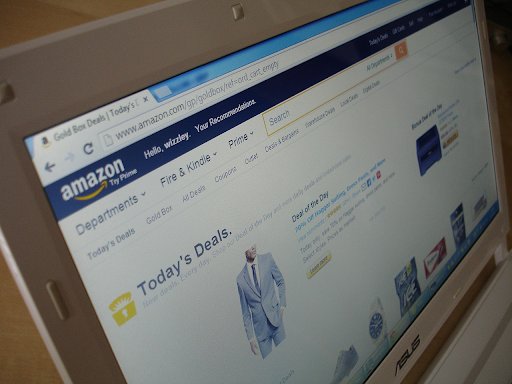 But, of course, not everything that Amazon does will work on your eCommerce store. Make sure your approach takes into account the unique context and particulars of your store. For example, Amazon can't talk about the unique value proposition of a particular product or brand on the homepage because it offers so many brands. But, on your homepage, you probably should talk about your unique value proposition.
As always, these are all just ideas to test. You will know for sure if it works after you test it!

Customer service logs
Customer service logs are one of the best places to find FUDs to address. They're very valuable because these are your customers directly reaching out to you and telling you their FUDs. This is one of the most direct and honest forms of feedback you can get.
There are multiple methods for collecting, organizing, and getting insight from your customer service data:
Gather all customer service interactions and put them in one format.
Categorize every interaction by topic.
Determine which issues come up more often than others.
Address those issues in your A/B tests.
Sometimes the main concern for potential customers is the warranty. If that comes up for you, that's a strong sign that making your warranty more prominent or revising it in some other way would be a good thing to test, something that will yield results you can use.
On the other hand, if nobody is asking or complaining about the warranty, then maybe you shouldn't focus your efforts on that area.
Conclusion
Good tests that yield useful results come from good ideas backed up by research and data. Start a 30-day free trial with VWO to focus on the weakest links of your funnel and the biggest points of friction in your user's journey.
The methods described above can help you find those weak links and provide great insights so that you can develop meaningful tests to improve your metrics.