I Spent 12 Years Optimizing Google Search Ads Worth $30M. Here's What Works.
Digital marketers are always looking to optimize advertising budgets, to get the best results across all channels. But after reaching a certain level of optimization campaigns, your pace of growth may slow down or stagnate. At this stage, it becomes imperative to look outside your ads interface and explore new ideas to maximize return on your marketing investment.
In this article, I share my experience and insights in generating innovative ideas for ad campaigns and improving productivity. It is possible to experiment with higher-order ideas without expanding team size or budget. Many of these insights apply to Google Ads campaigns, but the same thought process can be extended to any campaign you run.
Automation of routine tasks
High-performing teams prioritize their daily work. Automating your regular tasks, such as reporting, search term optimization, and bid optimization,can help you free up ample time to strategize and innovate. This is where the role of in-built rules and scripts comes into the picture.
You can access the same from the 'Bulk Actions' tab in your Google Ads account, as shown in the screenshot below: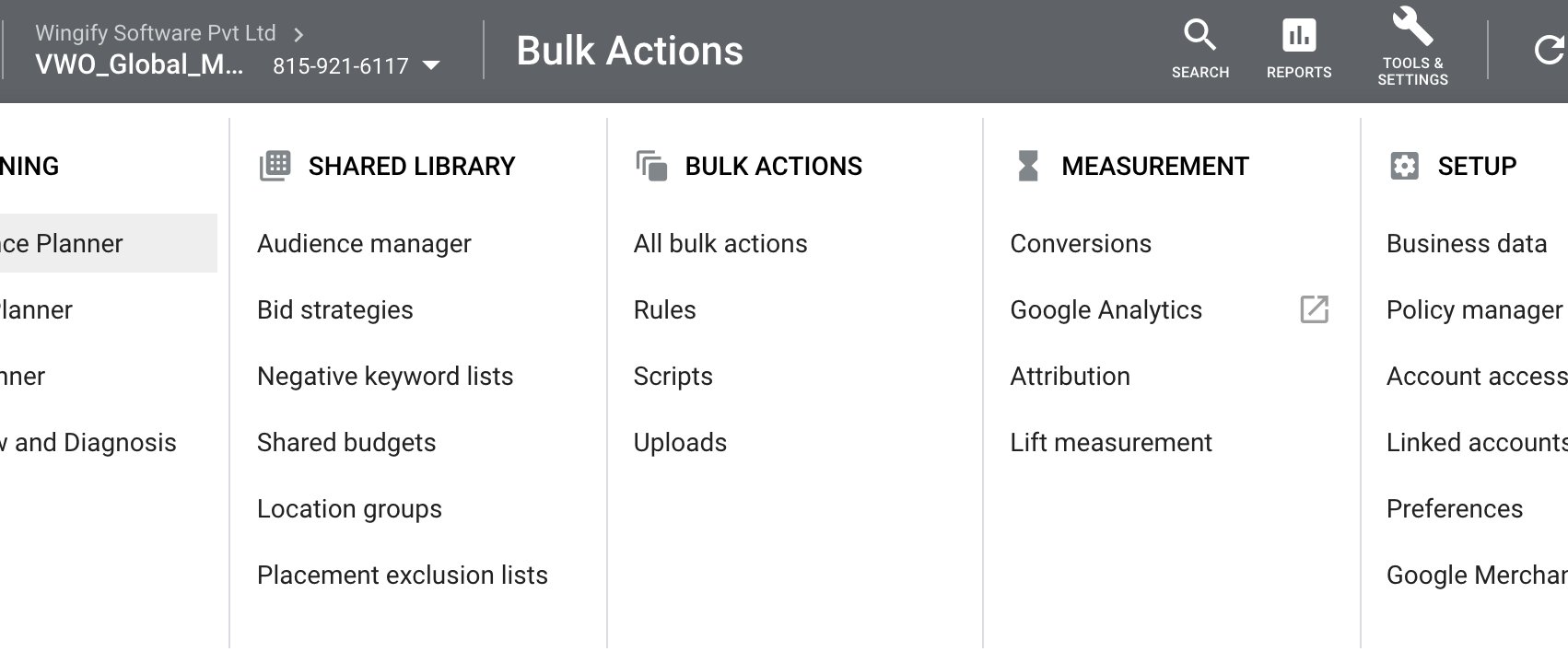 And it's not that difficult. Convene a meeting with your team and ask them to make a list of their daily tasks. Combine the insights with the tasks that are both time intensive and repetitive. There are plenty of scripts available to help automate these tasks. For accuracy, regular monitoring of the changes made is highly recommended.
See below an example of a rule we had implemented to automatically reduce bids of keywords. We first put in the condition to filter out all keywords which spent more than a certain threshold (in this case INR 1000) and did not yield any conversions (leads <1) in the last 1 week. We applied the rule to reduce bids by 10% every week over their current bid for these keywords. This helped us automatically reduce our spend on non-performing keywords.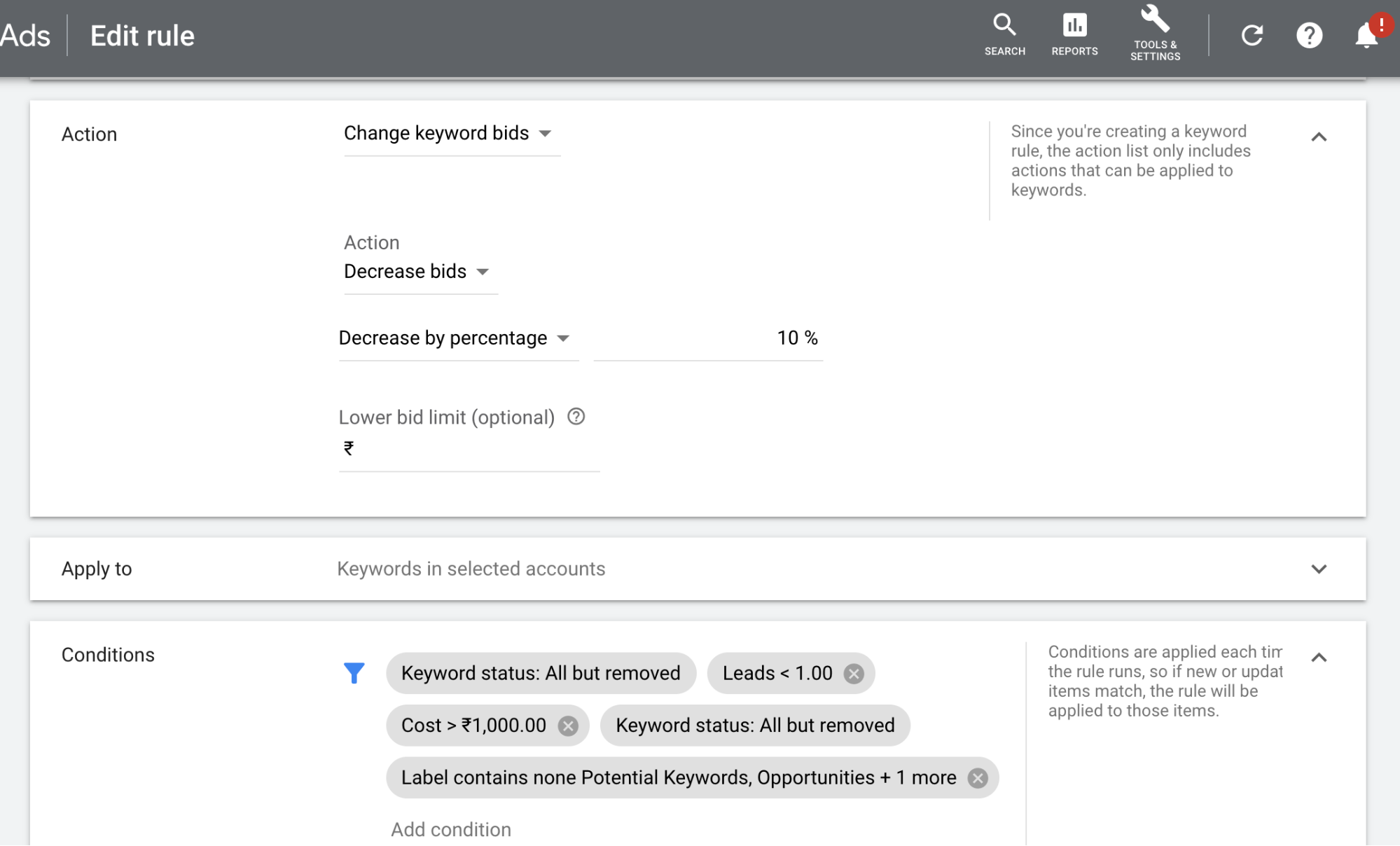 Here's a script we implemented to periodically analyze our ad copy performance using Google Ads API: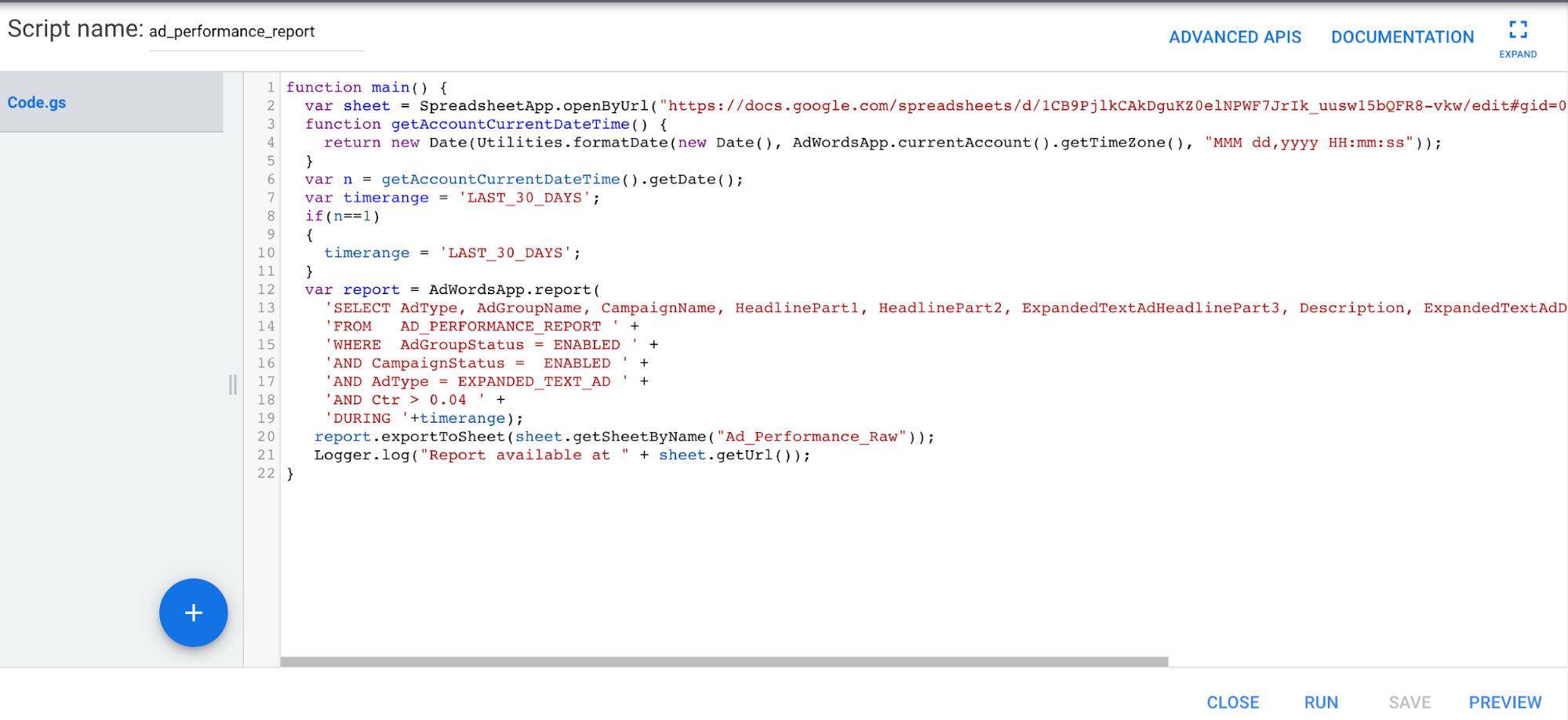 CRO and personalization
Getting traffic onto the landing page is one task; converting it is an entirely different one. So, there is a huge room for growth when it comes to making the most of your existing traffic, and remarketing is very useful but can probably tackle only a fraction of it. CRO helps you to address those gaps methodically and optimize your landing pages for maximum conversions.
Start by figuring out the behavior of your site visitors through heatmaps or session recording analysis. Furthermore, website surveys can also be utilized to gather qualitative and first-hand feedback from visitors to improve site performance.
Here's an example from the GA report of VWO's homepage, where we use Clearbit integration to figure out the audience mix (SMB, Mid-Market, Enterprise) to then think about our personalization and CRO ideas.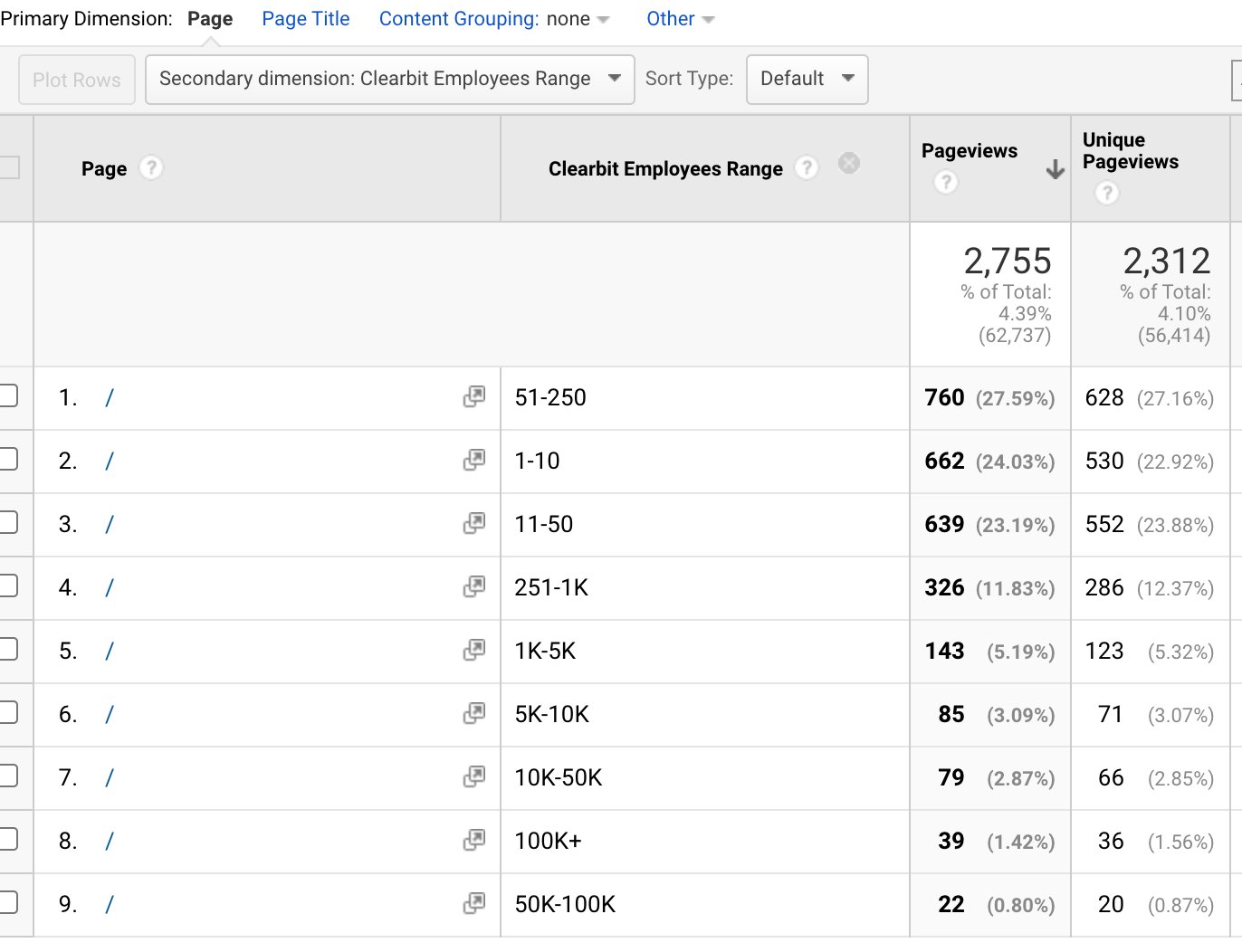 The insights created from these analyses will help you generate ideas to experiment on your landing pages. The most important things to test on a landing page are:
Messaging (headline/page copy/social proof)
Form length and CTA
Design and page navigation
Value proposition
We used sign-up numbers from the previous week on our landing page form as social proof. Along with it, we made the form a single field to make it as easy as possible for the user. All remaining fields were shifted to the second step in our progressive form.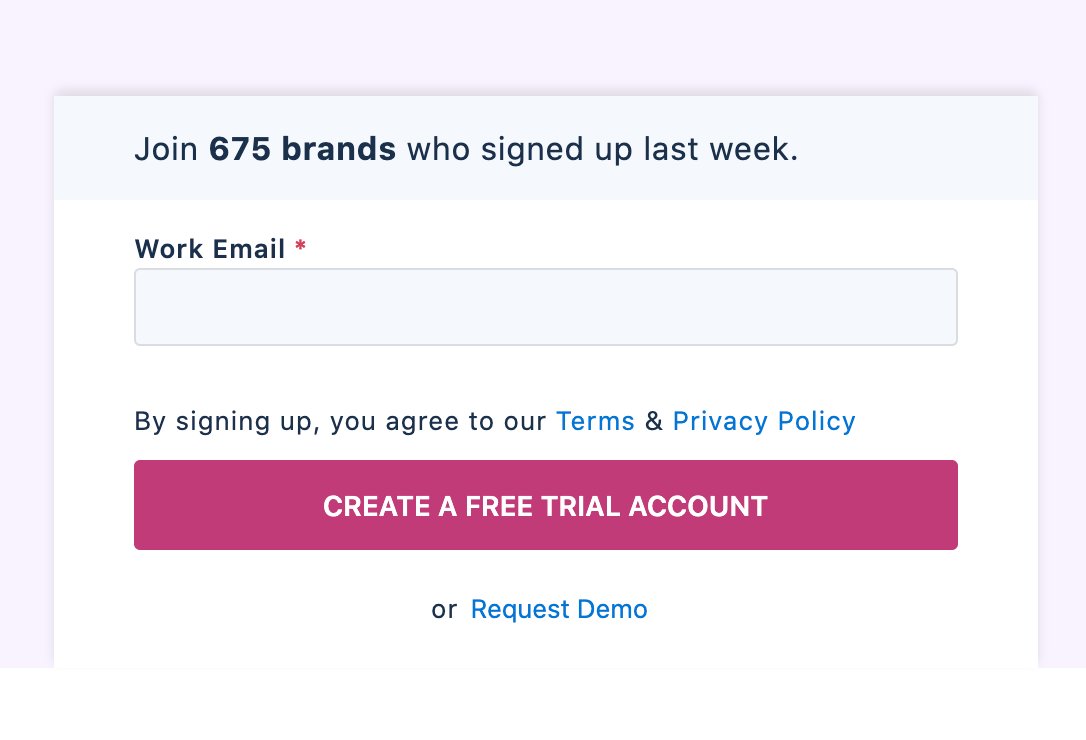 Personalization is becoming increasingly important with time. Amazon, with their fast, relevant recommendations can seem like they're reading our minds, and now consumers expect this in all aspects of digital life. Who wouldn't like a personalized experience on their landing page?
Here's a very simple example of industry-based personalization (eLearning) on our landing page.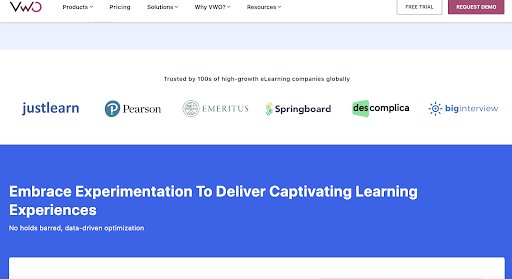 As a business, you can't undermine the importance of personalizing your landing page copy and design, given that you're equipped with data around your visitors' language, nationality, industry, and past browsing history. Personalization pays back its dividend in conversion rate increases and can do wonders for your business if done well. Even if it doesn't impact conversions immediately, it enriches the visitor experience and makes the user more likely to remember their good experience and return later.
Alignment with sales and customer success teams
Your sales team is a treasure of qualitative insights about your target prospects and leads—good and bad ones, favorable geographies, and whatnot. In my experience, I've seen some of the best ideas coming from regular discussions with the sales team. If your company has such a culture and system in place, the CRM notes and initial calls for the leads generated carry tons of value. Actively collaborate with other teams to understand the customers and use those insights to improve your search advertising.
Here's a screenshot of our raw lead data from our Tableau interface, which we use to gain objective feedback from the individual sales owners on the quality of different leads and use that to incorporate insights into our Google Ads strategy.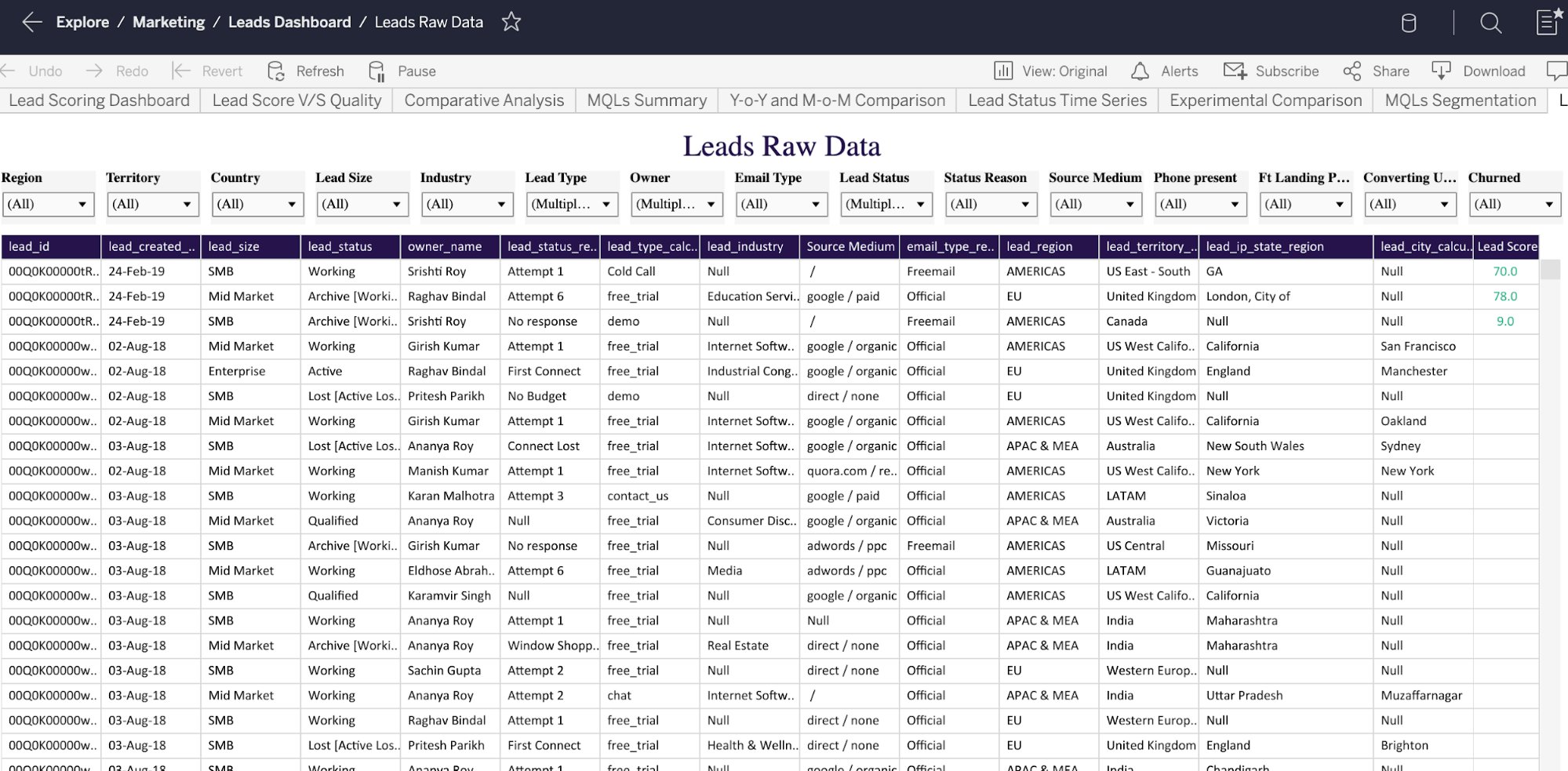 Unclear keyword intent or a confusing ad copy is another reason for poor conversions. It can also undermine keyword opportunities where conversion rates could be high, but you end up wasting money attracting low-quality prospects. Sales teams can also guide you about new competitors in the domain from their conversations with clients and also any new potential pain points or needs that customers are looking to solve through your product. All of this can add value in expanding your keyword set and in making your ad copy and landing pages more convincing and relevant.
Attribution modeling
Attribution is the bane of performance marketing. It is the only thing that is ever elusive from many high-performance marketing teams, even today. Performance marketing has brought with it the ability to measure everything from impression to revenue. However, no performance marketing campaign is ever run in isolation as there is always some marketing activity or factor running in parallel.
For example, someone may have heard about your brand in an event and then searched you online, or perhaps somebody recommended you on social media to their friend, and they clicked from that site to your website. This chain doesn't stop there. This makes completely accurate attribution difficult, or even impossible, to achieve.
An average lead from impression to conversion and even post-conversion can have several points of contact with the brand (both offline and online) before it finally converts. So, which channel should be attributed to the conversion? To solve this conundrum, marketers have come up with a complex system of UTMs and models (about seven) which assign fractional value to different channels and help calculate true channel-specific ROI. The process continues on the sales side of things, for example, which email cadence was sent to the prospect, which sales rep followed up with them, which account manager negotiated the deal, and everything that can affect the end outcome.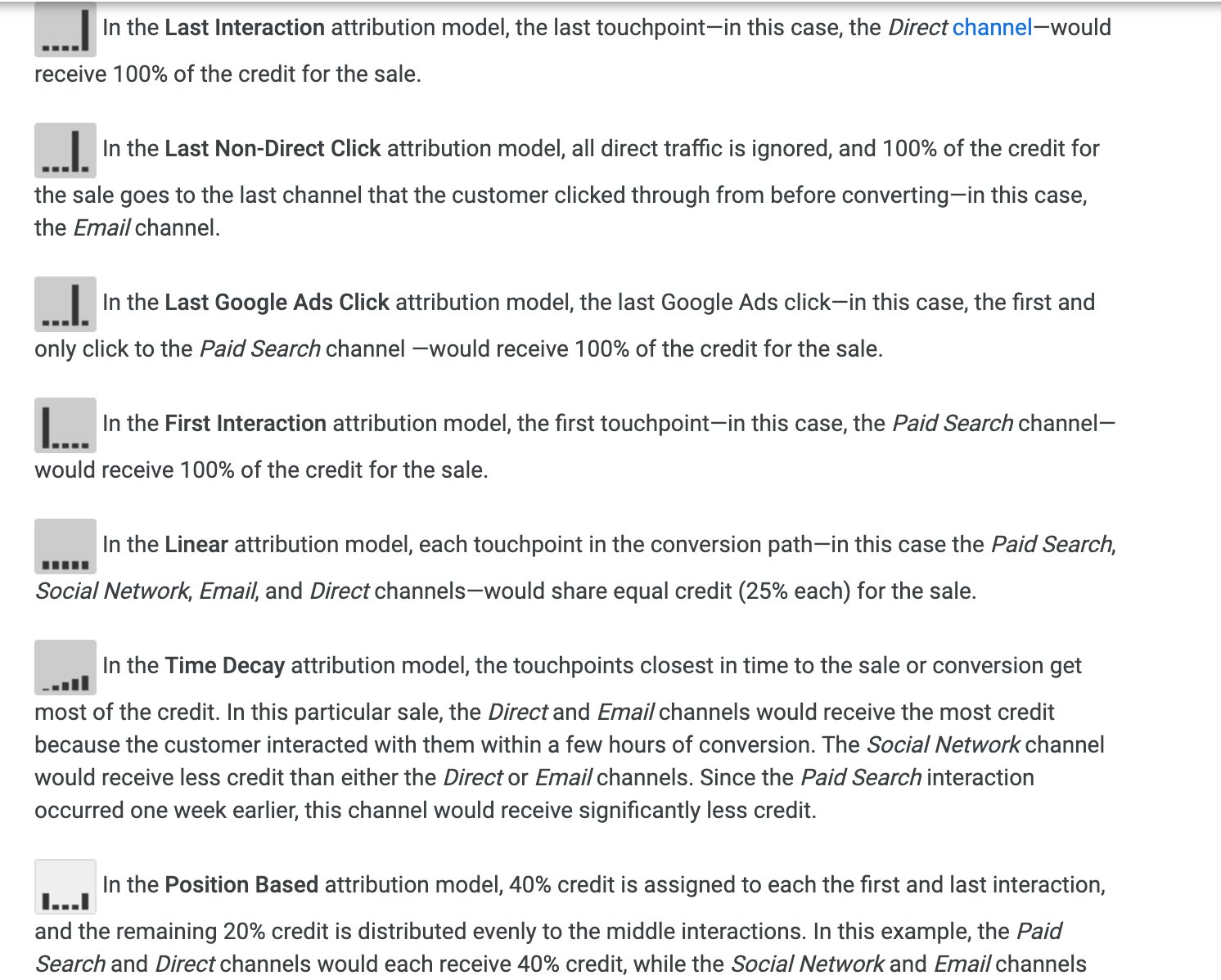 In my experience, it always pays off to go through the process of attribution slow and steady. Ensure that you involve cross-functional teams in deciding what factors are essential in your cross-channel attribution modeling before starting to optimize your campaign budgets.
Improving quality score
It is a quest that continually haunts performance marketers. Most of the time, Google does not disclose what actually impacts quality scores and what all one can do to improve it. The purpose is to discourage people from "gaming the system".
This has resulted in several theories around what does and doesn't impact the quality score. In my experience of working on campaigns all these years, I believe that Google decides to favor user experience over everything else. Some of the metrics you can track internally for quality score, including ad relevance, landing page experience, and expected CTR, are closely linked to user experience.
Sometimes the performance of the keywords is not directly proportional to their quality score.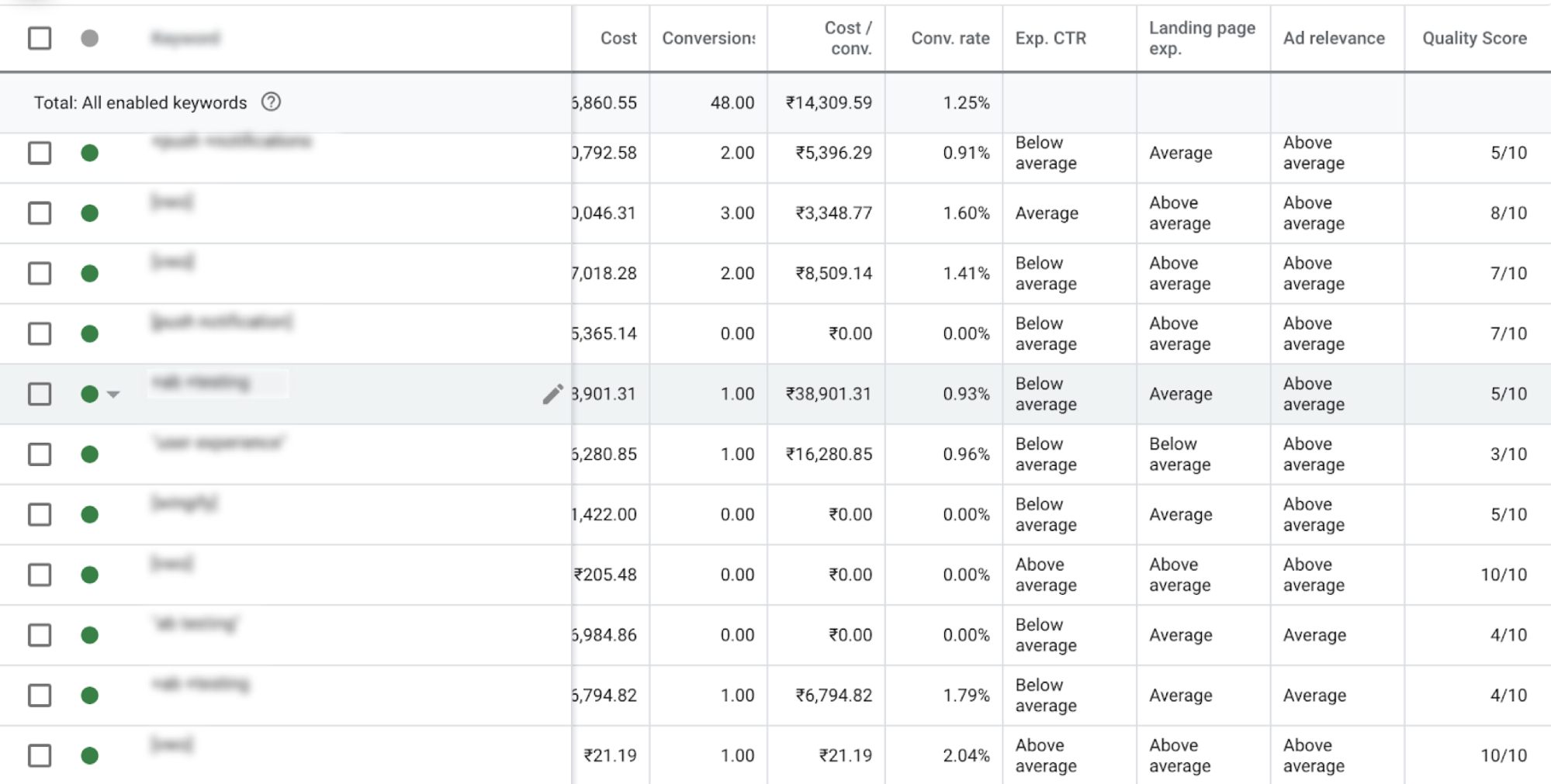 Some of the most effective things you can do to improve your quality score are:
Ensure the majority of the clicks that are generated in your account are generated from exact match keywords. This will tell you how well you know your keywords and can craft custom ad copy perfectly suited to those keywords.
Ensure that the majority of triggered ads take users to a single specific landing page. For this step to go right, you need to sync your keyword to ad copy. Cramming the keyword into the H1 or H2 does not help. Instead, use parts of the keyword contextually in your copy to align users' intent to take an interest in your business. Ensure that your landing page is an extension of the message in your ad copy. This is called destination match. Think of it this way, your keyword is analogous to a question that users ask, to which your ad copy makes a promise of an answer, and your landing page serves as a destination where they finally get that answer.
Ensure that you have relevant and useful content that closely matches the intent of searchers. Also, make sure that your landing page is great from a usability and technical perspective as well. This includes ensuring that it has easy navigation, intuitive page structure, clear CTAs, fast page loading speed, and responsive experience on different browsers and devices.
Conclusion
You can catapult your ad campaigns to another level through an innovative approach by following the above strategies. Always focus on the main goals of the campaigns, such as ROI, leads, pipeline created, and continually try new ideas such as ad betas, new scripts, new messaging, etc., to see their impact on your end goal. All you then need to do is stick to and build on what you find works.