10 Must-Try Lead Nurturing Campaigns for SaaS
Vaishali Jain
Majored in English literature and currently working with content at VWO. Loves her coffee, books and movies.
You got a good amount of people to signup the landing page of your SaaS product — great! But the more daunting task is to convert these leads into paying and loyal customers.
According to intercom.io, 40-60% of users who signup for your software or SaaS application never come back.
One of the top approaches to deal with such high dropout rates is to nurture your leads via email amongst other tactics like telemarketing, retargeting, live chat and web optimization (depending on your product type).
Email lead nurturing is customarily used to engage with your not-so-sales-ready leads in the early stages of their buying process. For most SaaS companies, the nurturing continues even after the visitor has signed up for a trial version because of the subscription based model and a potentially high churn rate.
According to a Lead Nurturing Benchmark study by Demand Gen Report (DGR), 71% of B2B marketers use lead nurturing as part of their demand generation initiatives and another 10% of them plan to use it in the coming 12 months.
If you already have a strategy in place, or are thinking of initiating it, this post will help you understand the different types of nurturing campaigns and when to use them.
There can be a number of campaigns that you can run depending on the function they perform i.e. to educate, close or retain the users.
When the Goal is to Engage/Educate
Welcome Campaign
Welcome emails perform best when they are structurally crafted. You could begin with a personalized greeting.
Tell them what to do next and what they should expect from your emails in the future. You may want to add a clearly defined CTA as well. If the campaign is geared towards, say, blog subscribers, here are a few things to do:
Thank the user for subscribing and provide a freebie, like an eBook, maybe.
Clearly state what content they can expect from you in the future and how frequently it will be delivered.
Provide a way for them to revise their preferred delivery frequency such as "weekly digest''  or "daily blog posts''.
To engage subscribers right away, recommend your best articles and ask them if they like it (if you can personalize these recommendations, nothing like it.)
To ensure cross-channel engagement, suggest subscribers to follow your primary social handles.
If you have a publishing calendar in place, give them a teaser about your next post and when it'll be delivered.
Always, always, provide an unsubscribe link.
For free trial users, you can use the welcome mail to nudge them to  start using your software right away. So give them a clear idea of how to get started. That might mean a getting started guide. Or you could kick it up a notch with an explainer video.
WordPress delivers this crisp and quick welcome email describing their key features once you sign-up on their web portal.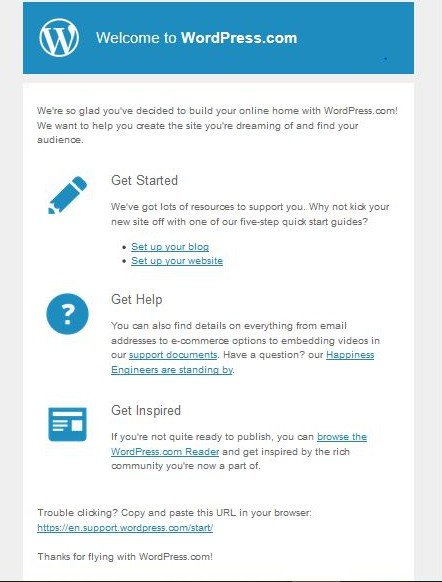 You can also attach a confirmation link to the welcome process. That can act as a qualification process to ensure only really interested users become part of your subscriber base and prevent spam.
Newsletter Campaign
The fundamental rule for creating an email newsletter campaign is to provide interesting, relevant and up-to-date information at regular intervals of time. The great thing about newsletters is that it is a legitimate channel to provide your users with content that isn't necessarily created by you.
Some great content to consider for this type of email nurturing campaign would be blog posts, white papers, videos, webinars, infographics, and popular industry news.
This not only helps you maintain communication but also positions you as an organization that keeps up with the latest trends/news in the industry.
However, your regular newsletters or engagement campaigns don't always have to be academic. You could also leverage contemporary news and happenings to maintain contact on a lighter note.
See Hitesh Shah's SaaS weekly newsletter wherein he provides rich curated content around the industry.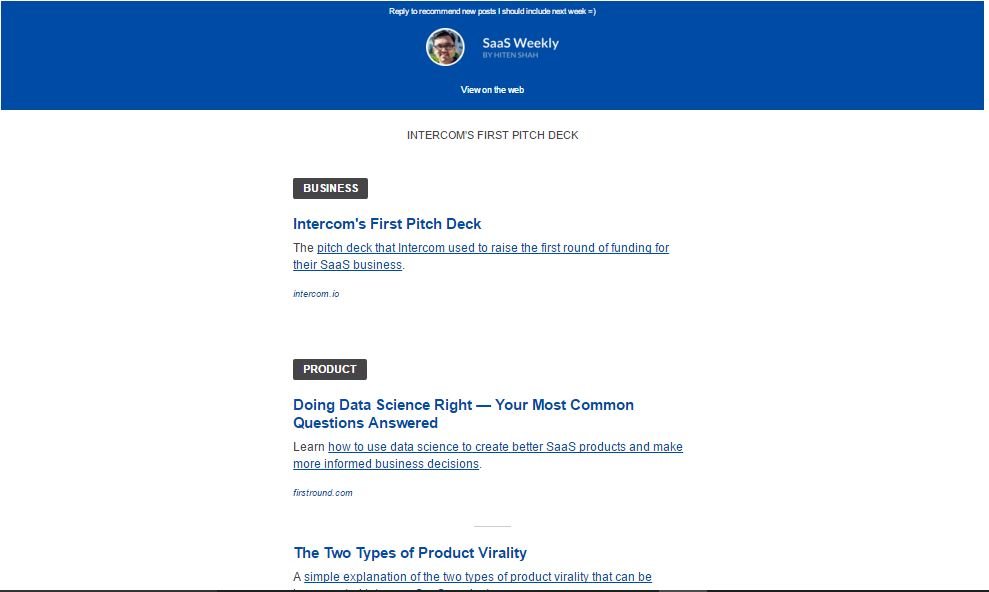 Event Campaign
You may also engage your leads with various live or online events related to your product or the problem that it solves. Make sure you provide a smooth process for subscription with clear agenda points.
Leads engaging to these email campaigns will be highly qualified and could be segmented and nurtured further.
See Formstack's  on point webinar invite on A/B testing a landing page.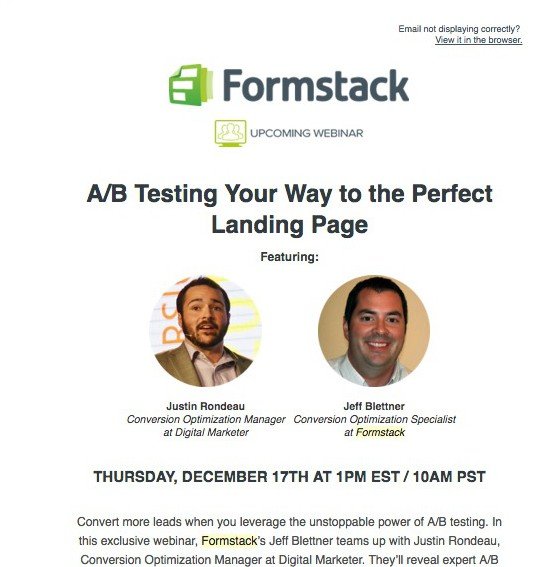 Product/Feature focused Campaign
Goes without saying, your users are the immediate beneficiaries of your product/service and hence should be notified about any feature or product enhancement first hand.
Focus on their pain points, how your product can address those, and the key features that differentiate your offerings. You could use a series of emails to educate users on the new features and do some handholding to help them get started.
Getvero introduces its features in five individual emails sent over a period of 10 days. Each email focuses on a specific problem with email marketing and a tip to solve it with their product.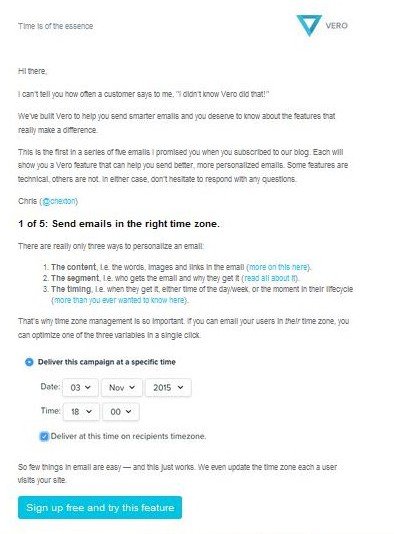 When the Goal is to Close
Onboarding Campaign
As a SaaS product, your onboarding campaign plays a crucial role. Break down the process granularly and make it as smooth as possible.
If your product or service requires training or understanding on the customer's part, make sure you are proactive in offering help. Introduce training materials, videos, articles, podcasts, FAQs via email to aid them in understanding your product.
See this precise onboarding email by Tumblr.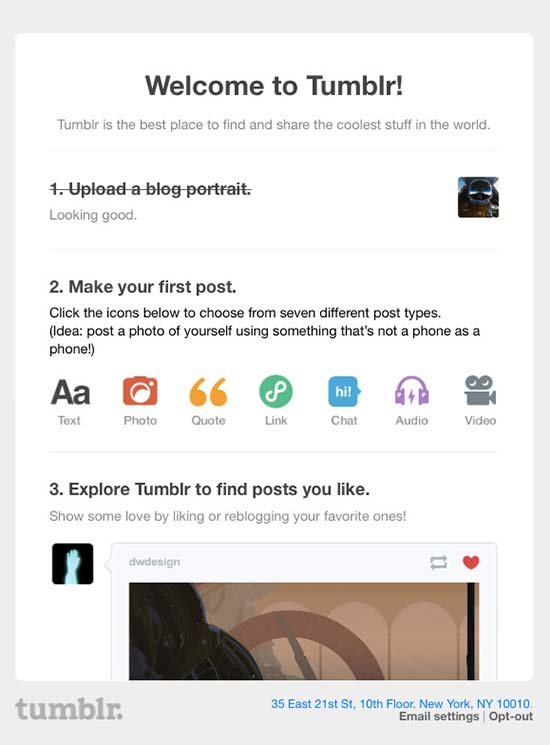 Promotional/Discount Campaign
A discount offer can be just the right trigger for the leads to make a purchase. Apart from special discounts and coupons, you can even start a referral campaign for your users.
However, also make sure you are not sending in the discount offers too frequently or it may dilute the exclusivity of your product.
Notice how Dropbox offers extra space in exchange for referring it to a friend.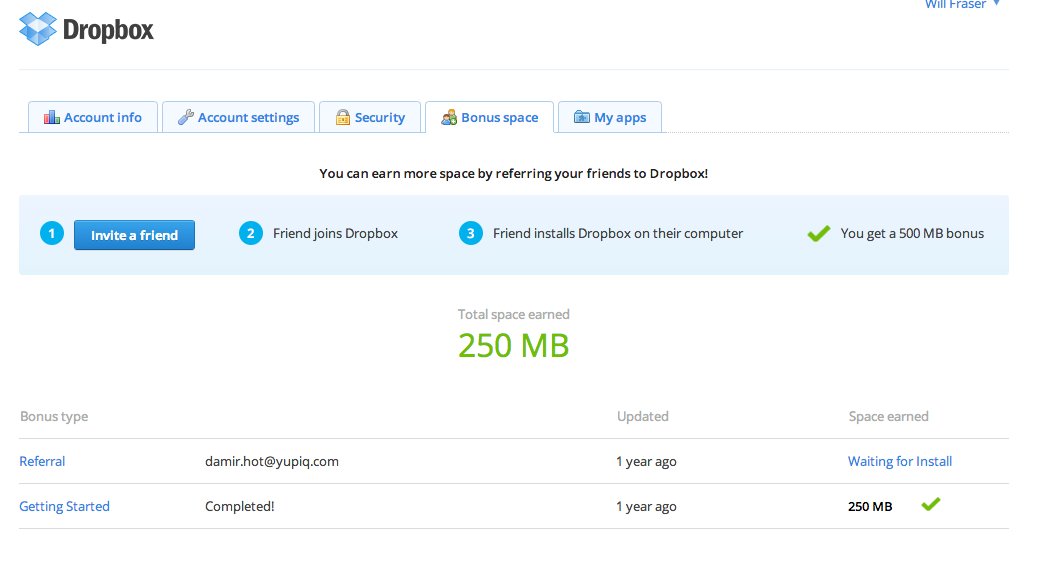 Testimonial Campaign
As the users move closer to the middle and bottom of the funnel, it becomes important to reinforce that your company is the right choice.
At this point, it would be a great idea to share your accomplishments or rewards with them. Pass on any helpful press releases, industry reports, or high-traffic content as part of this campaign. A social proof goes a long way in helping them in their buying process. Here's a helpful infographic on different kinds of content that you could use for users in different stages of the funnel.
This MarketingProfsPRO email is a great example on how to use testimonial marketing for your emails.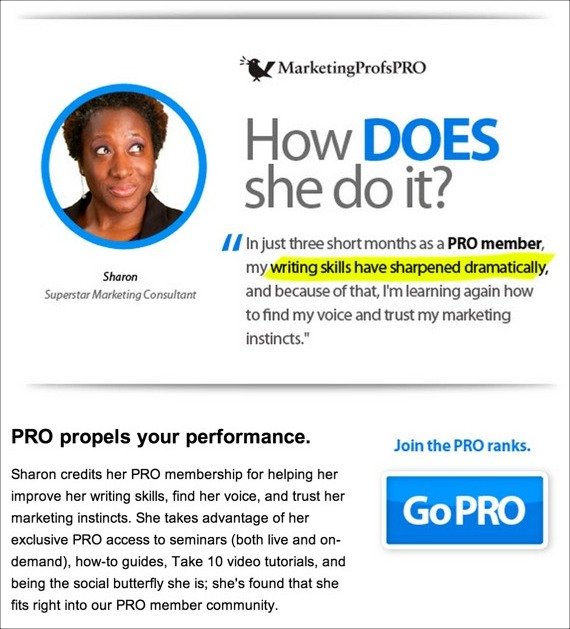 When the Goal is to Retain
Re-engagement Campaign
For your least interactive subscribers, you can send a proactive re-engagement email. You could have multiple trigger points (e.g. of users who haven't clicked on an email in three months, six months, one year) where you send different emails to re-engage these prospects.
For example, after three months, send a reminder to update their email preferences. After six months, ask them if the content is irrelevant and offer them to unsubscribe. And finally, after one year, tell them you will not email them anymore unless they respond.
See how buffer slips in a re-engagement email right during the early stages of inactivity.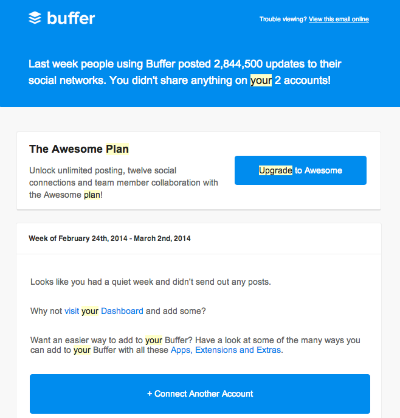 Follow-up Campaign
Out of sight is certainly out of mind. A lead may be interested in your product and willing to buy too, but perhaps has forgotten about you.
It would be a great idea to give them a light nudge reminding of their long absence or expiring subscription. You can set triggered emails during the different time period of subscription expiry.
See Squarespaces' crisp reminder email before trial expiry.

Feedback Campaign
A feedback campaign goes a long way in gathering valuable insights.
Now a happy user (on trial or otherwise) may not always press the button to give you a feedback, but a discontented customer most probably will.
If not anything else, you'll have some valuable feedback that you can work upon to improve your conversion rates in the future.
Check how neatly Perfect Audience, a platform for retargeting, seeks for a user experience feedback.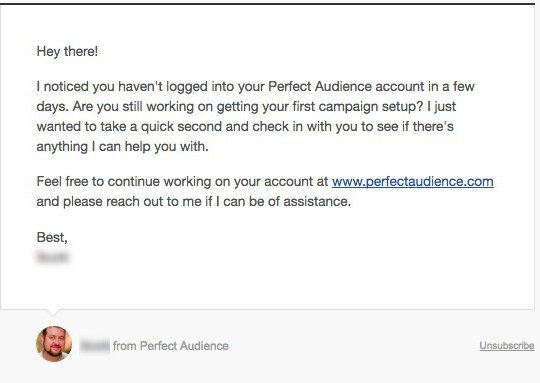 Wrapping Up
With quality data and experimenting, lead nurturing campaign can provide higher revenues without huge investments. It's not without its challenges though. In a follow up post, we talk about best practices and tips for implementing lead nurturing campaigns successfully.
If there's a particular challenge you face with lead nurturing, share it in the comments below and we'll address them.
Have we missed any nurturing campaign type? Write to us at marketing@vwo.com !