Lead Enrichment for SaaS: Are You Missing Out on Critical Information?
Snehal Samant
Head of Growth at VWO and is responsible for optimizing the marketing and sales funnels.
Imagine you are an inside-sales rep working at the latest hip SaaS startup. Being a hip, customer-focused business, your company also employs super smart marketers and designers, who decide that no one likes to fill-in long forms. They have also A/B tested this to prove that just having an email field when signing up for free trial has the best conversion rate.
That's super, except you need a whole lot more information to figure out if you should even try talking to a lead. Well, because you really don't want to waste time on those who won't even have the budget to afford your hip product.
But when you look at a lead in your CRM, you have tons of information. You find that the person is a VP and that his company has raised 50 mil. You recognize that his company belongs to one of your top 5 target industries, and their tech stack is just the one used by your best customers.
And there is the person's direct number as well. Time to go to work.
---
Which sales guy would say no to more information on leads, right? But how does this awesomeness happen? Enter Lead Enrichment Services (LES). If your sales team is spending (wasting) time hunting for information which could be delivered right into your CRM, then you should start using LES right away.
What are Lead Enrichment Services?
LES fall in the category of "API as a service." They typically work in the background of your CRM or marketing automation tool and return information on email addresses. Most started off as prospecting tools for finding contacts at companies, or finding companies based on different parameters like the technology they use. LES collate data from different sources, and in their earliest days this was actually done manually. (Back then, teams of workers would enter information from directories and other physical sources into a database.)
LES are now used by sales and marketing teams to enrich their lead information discretely and improve operations. Some LES focus purely on one type of information like BuiltWith for a website's technology stack.
For example, here's what BuiltWith returns for the query "Intercom.io."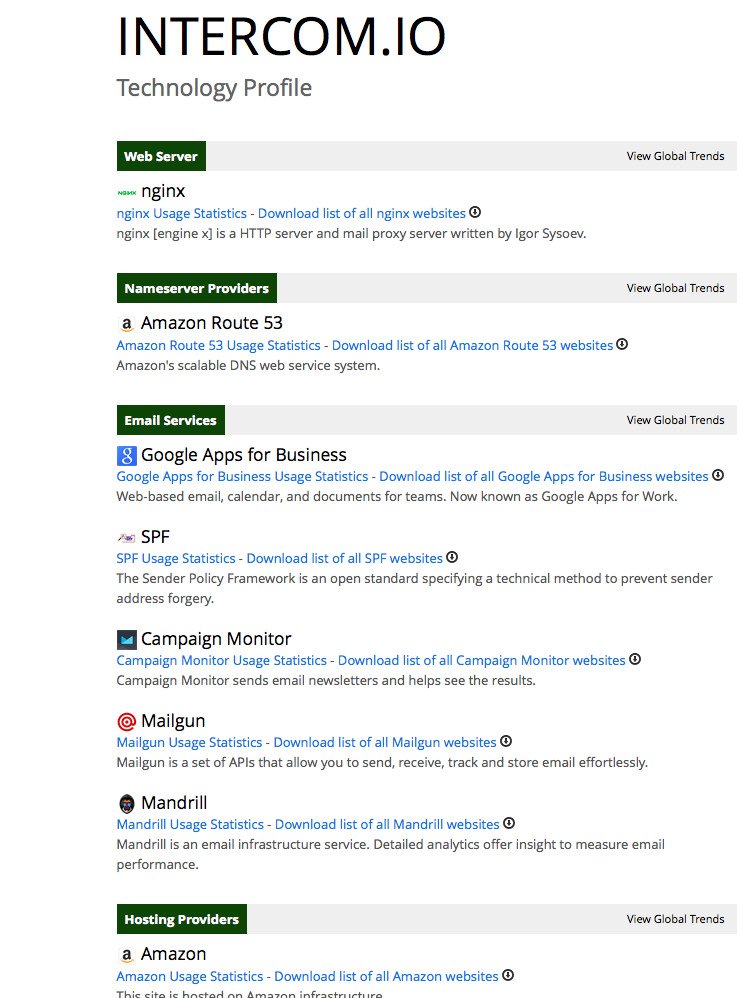 Why Use Lead Enrichment Services?
No. 1 Reason: Sales Reps Shouldn't be Wasting Time Looking for Information
Basic attributes like title and description of a lead's website or the URL to their Linkedin profile can be surfaced automatically. LES can even provide you with technology tags used by your leads.
This kind of automation drastically reduces the time spent in research and gets your sales reps focused on what they do best — calling and emailing, trying to connect. LES also return phone numbers, designations, twitter handles and much more.
Qualify Leads Faster, and Have More Intelligent Conversations with Prospects
Nothing cools an opportunity faster than having to answer a bunch of qualifying questions when they are actually excited to talk about a product. I find it slightly insulting and a huge waste of my time when I have to answer some slack rep's scripted questions about my need, authority and budget, when in fact I want to talk about their product's awesome ability to connect with my analytics platform.
Using LES, you can automate your qualifying process and focus on talking about solutions and benefits that are relevant to your leads. You can easily size the opportunity based on details of the company: Is it private or public? What is the number of employees? The amount of money raised? The strength of their marketing team?
Based on their technology stack you can discuss how easily your tool works seamlessly with the ones they already have.
Build Your Own Lead Scoring Model
Got a data analyst on your team who has experience with predictive modelling? Using LES you can back-fill your old leads and customer data. Using this rich info you can build models to predict the probability of qualification or conversion with a lead.
Got some time and want to try it yourself? Here's an excellent tutorial by Datacamp to get you started with Machine Learning.
Make Your Lead Nurturing Emails More Intelligent
Even marketing teams are leveraging the power of LES. Email campaigns at any stage can benefit from extra information. LES provide industry, role and seniority information that can help you bucket users into broad personas and send them super relevant emails.
Spot competition or complementary software tags on their website? Proactively send them comparison-sheets or fact-sheets.
Combined with behavioral actions from your app, these extra attributes can help you infer the lead's status in the sales funnel quite accurately.
Target Users for A/B Tests
If you can identify users (legally) then you can pass a javascript variable or drop a cookie and use VWO to target these users for specific A/B tests.
This works great for testing new features before rolling them out to all. Imagine that you have to roll out a feature which will be specifically used by developers instead of marketers. But, within your team, there is a difference of opinion on a particular UI functionality of the feature and how it might impact the ease of use. You could A/B test the feature on a particular user persona: users who work in an engineering role. Because your LES can provide the role category of most users, you can pass this as a variable when the user logs in to your app and use VWO to split test the UI options targeting this user segment. Say no to endless classroom debates — just test it!
Prospecting for Outbound Sales
Once you have identified some parameters which describe your high-potential leads, then you can start building lists through LES. You can find companies who have dropped your competitor's technology tag or by their location, size or any other parameters. LES also surface contacts at the companies along with their email addresses, numbers and social information.
Some of the More Popular LES:
Works seamlessly with Salesforce and Close.io. Returns 85 data points. Kicks ass.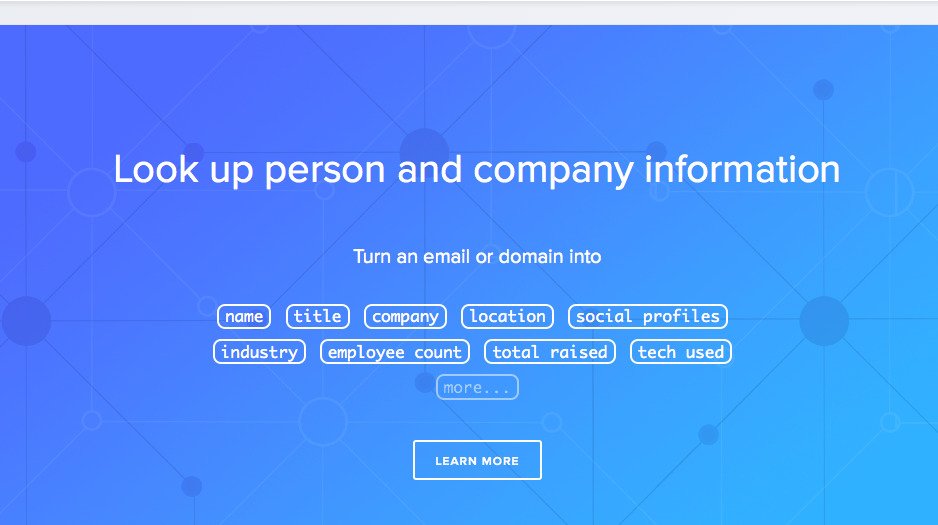 Pricing Info: Free for 50 leads per month. Paid plans start from $50 per month for 2,500 leads. Extra $$$ for salesforce and close.io integrations and if you also want tech tags.
Salesforce's data enrichment service. It's lagging behind others now.
Pricing Info: Free plan of add 1 new contact and get 1 free. Paid plans start from $250 per year for 350 contacts.
Been around for awhile and has a bunch of products for prospecting, enrichment and much more.
Pricing Info: Free standalone plan for up to 10 companies or contacts on a watchlist. Paid plans start off from $29 per month per seat.
Tailored for B2B marketers, it also has landing page form solutions.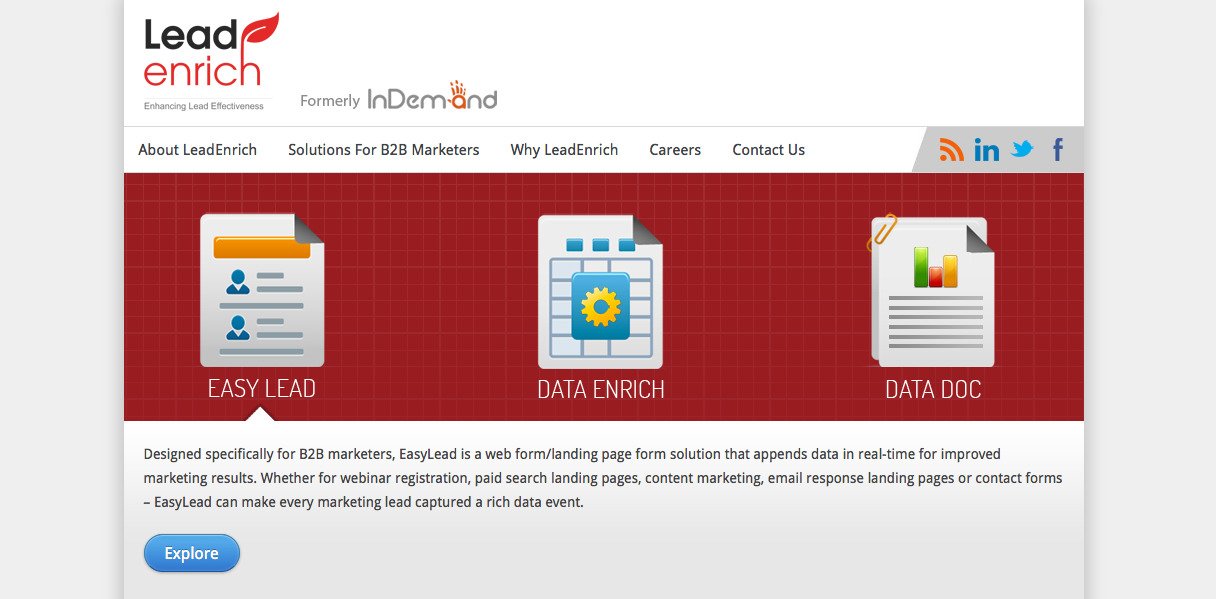 Pricing Info: Users need to personally contact them for pricing.
All the tech tags on any website. Tells you when they were installed, when they were dropped and when new ones appear. If tech is important to you then you need BuiltWith.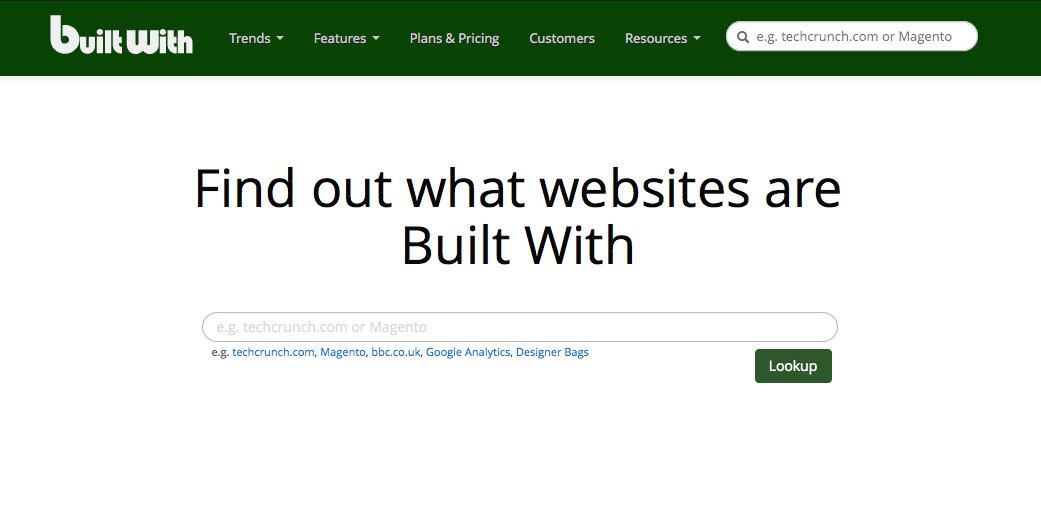 Pricing Info: Paid plans start from $295 per month for a single login.
Got a question?
Go ahead and leave a comment if you want to discuss something or would like to add to our list.