Consolidated clickmaps and heatmaps: a new method for analyzing visitor activity
We had launched clickmaps and heatmaps for A/B tests recently in VWO. Since then it has become the most popular feature amongst our users. We aren't surprised by the success of this new feature because it gives a new angle to A/B test results. While you can always get information about conversion rate, bounce rate and other hard metrics from standard reports, visualizing "hotspots" on a page has a charm of its own.
Based on feedback from a user, we rolled out a new minor feature: consolidated clickmaps. Unlike traditional clickmaps, which show results only for a particular page, this new feature will aggregate click activity on ALL your website pages to show which parts get most clicks. This is useful if you have a website that has common template/theme across different pages (e.g. header, footer, sidebar, product box, etc.). Using consolidated clickmaps, you will be able to see statistics for elements common to your website.
This feature came handy when I analyzed visitor activity on my personal blog. All I had to do was to enter a URL pattern (*//https://www.paraschopra.com/blog\\*) which instructed VWO to generate a consolidated heatmap for all blog posts (technical detail: VWO combined heatmap data for all pages matching the URL pattern; * matches anything and that's why the entered URL pattern matched all blog posts).
Here is the consolidated heatmap for all my blog posts: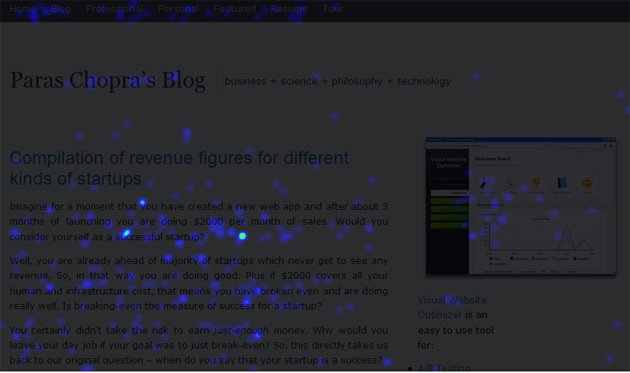 Contrast this with a heatmap only for a single post: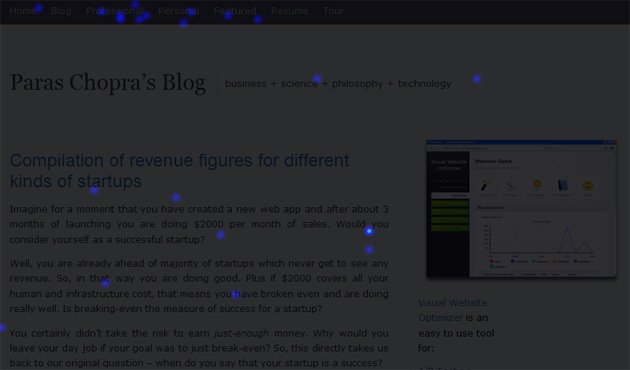 As you can see, the consolidated heatmap has much more information than a single blog post heatmap. That is the real utility; you get to observe patterns of visitor behavior across your website which you may have otherwise missed or would require you browsing through tens of different heatmaps and then stitching patterns in your head.
Using this feature, you also get to see consolidated clickmaps. Here is a screenshot:
The consolidated clickmap clearly shows that 10% of all clicks on the page occur on VWO banner on my blog. Some more statistics from the clickmap:
Only 5% of all clicks are made to navigate to main blog from a specific blog post (that is why blogs have high bounce rate; visitors are rarely interested in other content on the blog)
Only 1% of all clicks are made on RSS subscribe links
From VWO test reports (not shown):

80% of visitors leave the website without making any click
Only 0.2% of visitors subscribe to blog updates
1.5% of visitors click on the large VWO banner in the sidebar
The stats are bit on the lower side but if you observe consolidated heatmap, you will see a lot of click activity on post text. This means that even though visitors aren't clicking on links, they are still interacting with the post and reading it!
I hope you like the new feature! If you'd like to give it a spin simply login to your account (it is enabled by default for all accounts). Or, if you aren't an existing user, signup for a free trial here.
PS: Technical details. If you are wondering how we are able to generate consolidated heatmap, here is the trick: we don't store absolute X and Y positions of visitor clicks. Rather we store xpath of the element being clicked. Common elements on the website have same xpath across different pages, hence we are easily able to aggregate that data.