This was a part of the
blog earlier which is now
VWO Engage
Learn more here
.
6 Powerful Customer Retention Strategies For eCommerce Stores (Plus Examples You Can Steal)
It costs 7x more to acquire a new customer than to retain an existing one.
Yes, you read that right!
Growing your eCommerce business isn't just about attracting and acquiring new customers; retaining your customers is just as important. It can't be reiterated enough how essential it is to maintain a balance between the two.
Growth for most eCommerce businesses depends on these 3 key metrics:
1) Increase in average order value (AOV)
2) Increase in repeat purchase frequency
3) Increase in the total number of customers
Getting The Basics Right
Typically, newer businesses mainly focus on the third metric, i.e. customer acquisition by driving more traffic to their website. And truthfully, for newly launched businesses that makes sense.
However, 8 out of 10 established eCommerce stores also solely emphasize on the third metric, by and large neglecting to focus on:
#1. Increasing their average order value and
#2. Increasing repeat purchase, thereby losing out on significant growth opportunities.
A good way to analyze whether you should focus on customer retention is by checking your store revenues.
If you're generating an average of over $50,000 annually, you already have your customers! You've spent your time and money to acquire them. Instead, make the most out of these customers and generate more revenues from your existing asset!
So, for all the growing stores that should be focusing on customer retention, here are 6 impactful strategies on what you can do to retain your customers, build thriving brand loyalty and increase sales.
1) Get Your Customers To Make Their Second Purchase, Faster!

The eCommerce industry has a popular 80/20 rule, which means 80% of your revenues come from 20% of your customers. For most of you, these 20% buyers are your repeat customers.
One of the best ways to improve your customer retention rate is by converting your one-time shoppers into 'multi-buyers'. Here's how you do it.
Customers mostly have a standard purchase behavior. Meaning, they make their second purchase from your website at a standard average time after the initial purchase. This is popularly known as the 'Second Purchase Latency'.
a) First, closely analyse the behavior of your repeat customers.
b) Next, find out when most of your multi-buyers come back to your website to make their second/next purchase.
c) Then, create levers to fasten this process.
Let's say if your typical multi-buyer makes their second purchase after 30 days of the first purchase. In such a scenario this is what you should be doing:
No Discounts for 30 Days: Do not share any promotional offers or discounts for the second purchase, since this customer is very likely to come back and shop from you within the 30-day time frame, without any incentives. Instead, create an automated email sequence and cross-sell to them by showing other products that can be bought.
Offer Exciting Discounts & Offers: If the same customer has still not made their second purchase, it's time for you to go promotional! Start sharing exciting offers and discounts to encourage them to come back to your store and buy from you. You can also use the discount ladder approach, wherein you offer increasing discounts over time.
For instance, after 45 days offer a 10% discount on their next purchase, if they still don't buy from you, after 60 days offer 30% off on their next purchase and at 90 days, offer 50% discount on their next purchase, thus building a discount ladder approach to convert the customer.
If you're not too keen on giving discounts, no problem. You can easily replace discounts with bundled products, free gifts, instant delivery, free shipping, etc.
You can easily create these sequences using email marketing tools such as Drip and Intercom.
2) Give A Personalised Shopping Experience
I cannot stress enough about how important this is for your store.
Nowadays, simply offering quality products isn't good enough. Customers expect more.
They demand an individualized shopping experience that aligns with their values. Especially repeat customers.
One of the best ways to increase repeat customers and grow your average order value is by optimizing your website and offering personalization.
82% of shoppers state that they would buy more from brands that personalize the communication that they send out!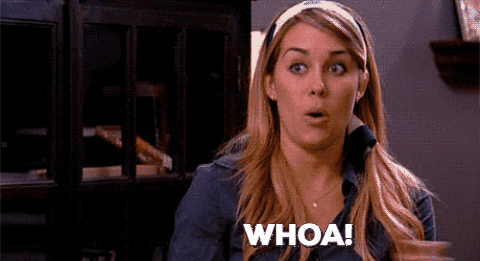 For starters, try and get to know your customers better, understand what kind of customer is looking at your website, check the product pages that they visit, what piece of content do they consume, what device do they use to shop from you, what acquisition channel got them to your website, and so on. Once you understand these details, you can start building audience segments and give your users a personalized shopping experience when they come back to your website.
Companies that deliver a personalized shopping experience, often double conversions off their existing traffic. You can use tools such as VWO to understand user behavior on your website and tools such as Drip or Klaviyo to send out personalized drip campaigns to win back these customers.
Here's a glimpse of how Sephora provides personalized communication and product recommendations on both their website and emails; based on user behavior.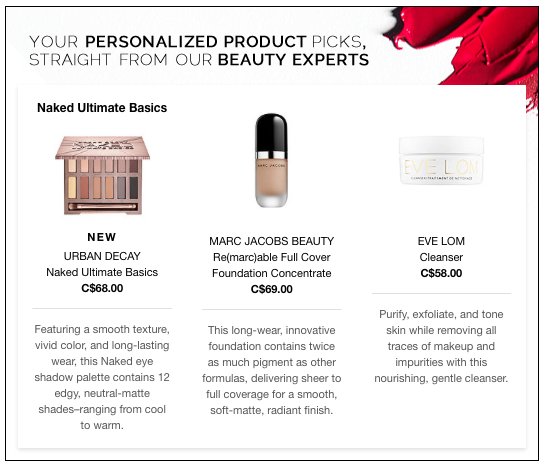 3) Use Targeted Web Push Notifications
With paid acquisition tools getting more and more expensive, retaining customers has never been more important.
Most eCommerce store owners think of push notifications as an app-only feature and are largely unaware of the concept of web push notifications. Since the release of Chrome 42, Google allows businesses to send push notifications on the web, which serve as a great tool to increase customer retention in eCommerce.
What are web push notifications?
Simply put, web push notifications are instant, clickable messages that can be sent to your users' desktop or mobile devices. You can send them either in 'real-time' or they can be pre-scheduled.
How do they work?
When a visitor comes to your website for the first time, an opt-in box appears, asking for permission to send them Push Notifications. When the visitor clicks 'Allow', they are added to your subscriber list.
How will web push notifications help my business?
The great part is, your users don't have to share their email id or any other personal information while subscribing to your web push notifications, which makes opt-in extremely hassle-free. Moreover, once they opt-in, you can connect with them whenever they're online, they don't necessarily have to be on your website to receive your push notifications. More so, sending push notifications helps engage customers at different stages of their purchase journey.
Quick tip: You can use tools such as PushCrew, to further segment your subscribers and send out targeted push notifications for better engagement.
Here are some interesting push notification ideas that you can steal for your eCommerce store:
New Products Announcements: Tell your customers about newly added products/collections to your store.
For example, if you're a clothing store and you've recently added a floral collection, you can send a notification to your customers that looks something like this: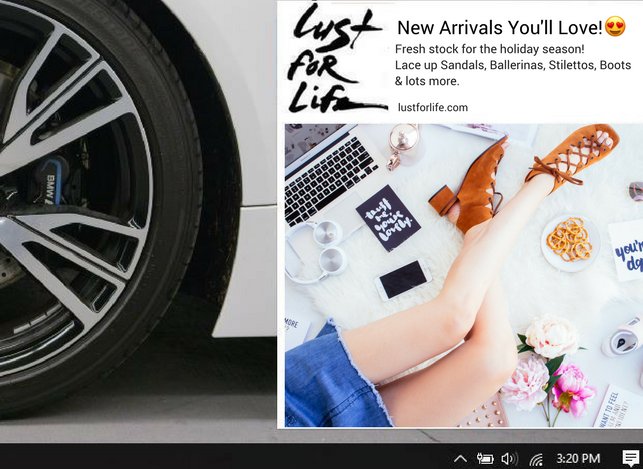 Sale & Discounts: Prompt your customers whenever you run flash sales or discounts. This can also be extremely personalized based on your customers' last interaction or browsing behavior on your website.
For instance, if a user usually visits the 'Home Decor' section of your website, you can send them a personalized push notification which looks something like this: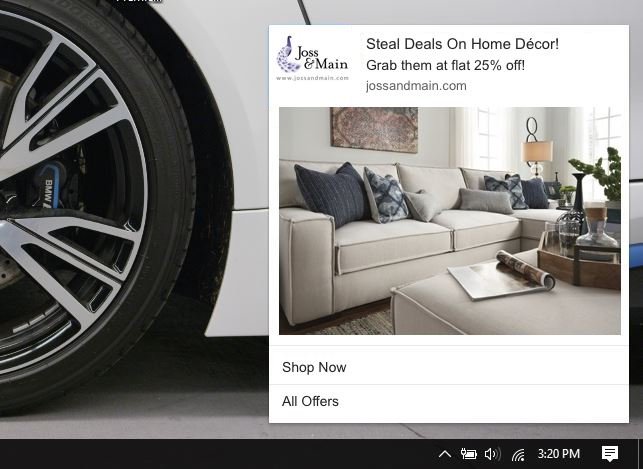 Increase Signups: Get authentication and signups from anonymous users.
Not everybody who comes to your website would want to shop from you instantly. But you can surely engage with them and move them ahead in the buyer's funnel by sharing targeted and useful content.
Let's say you're a travel eCommerce company, you can send out notifications about new blog posts that you publish to get customers back to your website.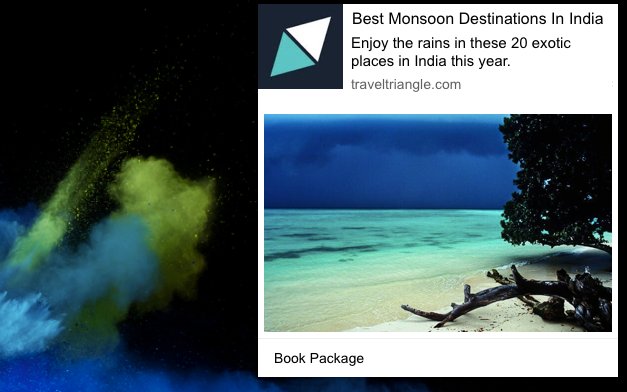 Offers & Promotions: Share personalized offers based on their browsing behavior/purchase. For instance, if your visitor is looking for places to stay at Prague, you can show them a notification like this:
Web Push Notifications work on a simple formula; context = better conversions.
Keep your push notifications exciting and contextual, the more contextual they are, the better the conversions.
4) Start Loyalty Programs & Provide Special Offers
Like I mentioned earlier, 80% of your business revenues come from 20% of your customers, which essentially are your repeat customers.
In fact, repeat customers spend 67% more than new customers.
Loyalty programs are a great retention tool to keep your customers coming back to your store and to convert them into brand loyalists. There are several types of customer loyalty programs that you can use for your store, however picking one can get difficult.
To make things simpler, I've listed top 3 loyalty programs that you can opt for along with examples of how you can use them to your brand's advantage.
1) The Points Based Program
This is one of the easiest reward programs of all times.
The math is simple: spend more to earn more!
Every time a customer makes a purchase from your website or your offline store, they earn reward points based on the size of their purchase.
It's normally advised to keep the points system extremely easy for your customers to understand so that they can see what's in it for them (the real value) right away without having to spend too much time calculating.
Shein.com runs a very interesting 'SHEIN Bonus Point Program'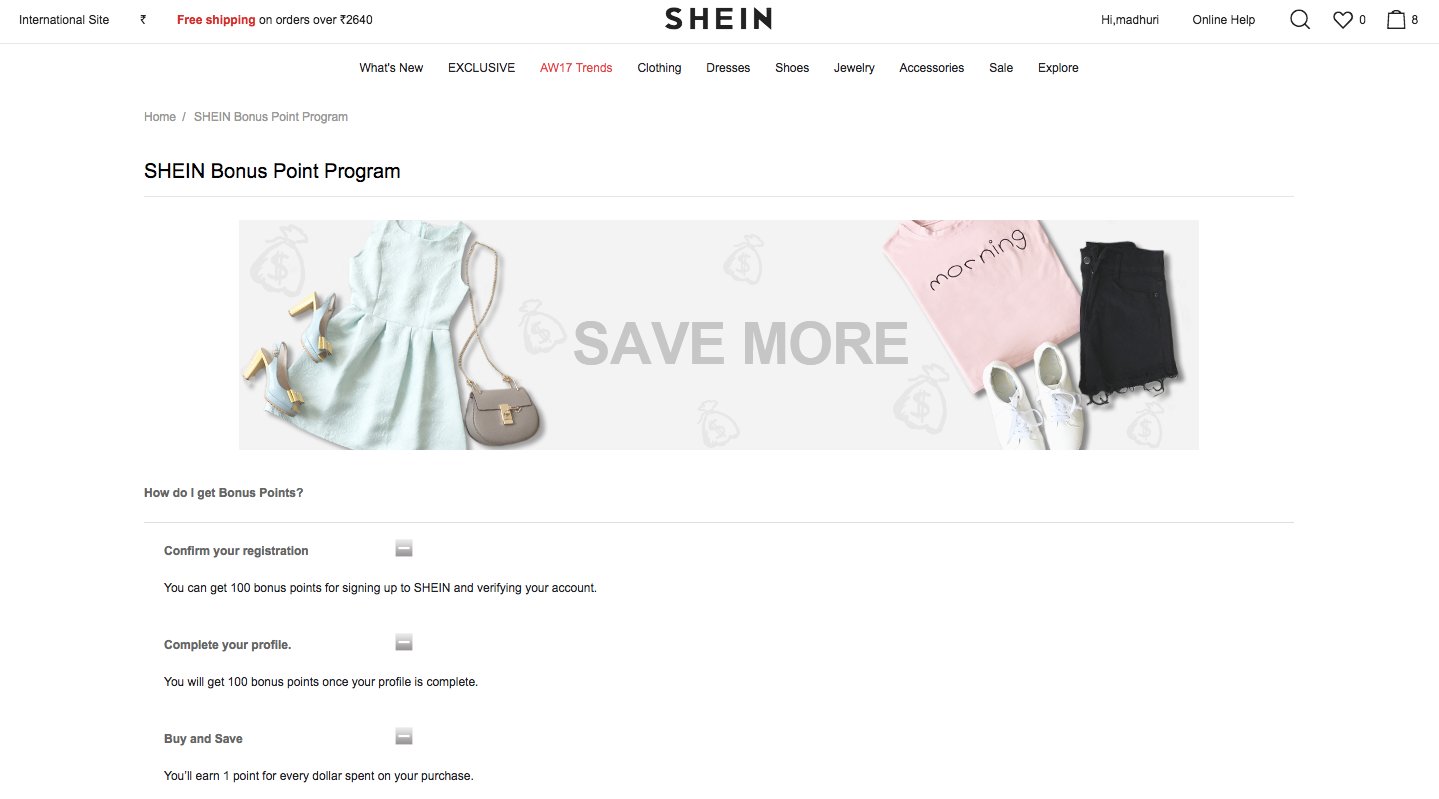 The SheIn Bonus Points Program has multiple activities listed down for customers to perform and each activity is associated with bonus points ranging from 1-100.
Every 100 points=$1. Customers get to earn these bonus points once they fulfill these activities.
For instance, as soon as a customer completes their registration, they earn 100 bonus points.
On SheIn, several activities can help customers earn bonus points such as completing user profile, buying products from the website/app, reviewing products, sharing products on social networks and lots more! The cool part is you can pay for up to 70% of your purchase with the bonus points that you earn, at checkout.
Now honestly, as a consumer-facing business, you can't really control how customers interact with your brand. But with such loyalty programs, you not only increase your average order value but also encourage customers to invest in your brand, reducing their chances of going to your competitors.
Remember to keep it simple so it's easy for your customers to opt into your program and determine the value of their bonus points.
2) VIP Memberships
As the name suggests, in this program your customers can buy a quarterly or annual subscription to join your VIP member club. You must give exclusive discounts and benefits to your VIP members to create brand stickiness and improve loyalty.
Note: For this program to work well, you need to have a strong customer base.
Here's an example from Amazon Prime.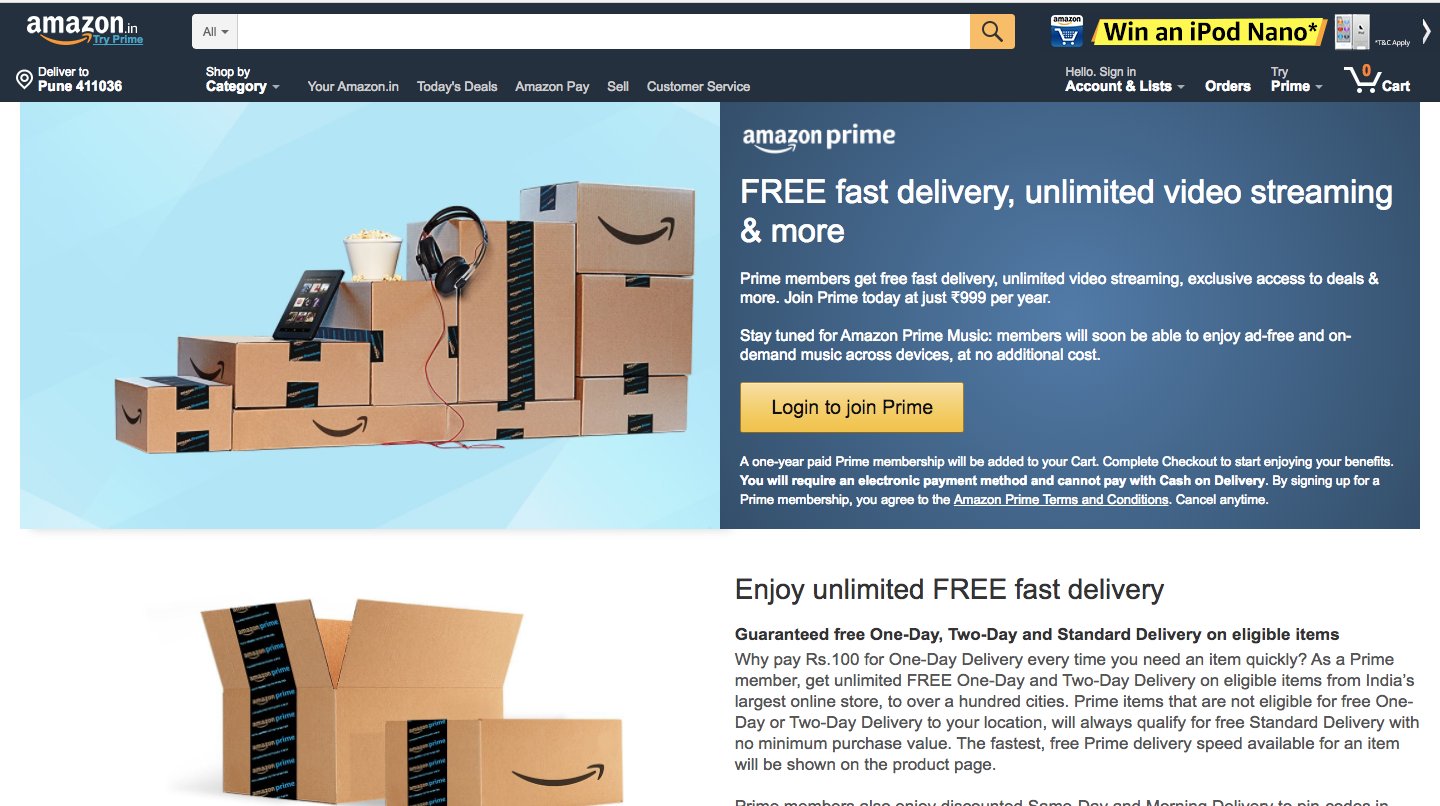 Amazon's Prime membership has transformed customer loyalty and the way people look at eCommerce, forever. For just $99 per year, customers get access to fast, free shipping on thousands of products along with unlimited video streaming and exclusive early access to flash sales and deals.
According to ITG, Prime members generated 57% of Amazon's North American revenue in 2016.
Additionally, research firm Millward Brown suggests that Prime members spend more than double than those not paying for the privilege to be enrolled in Amazon's loyalty program.
Now that's a super win! Remember the secret is to ensure that the rewards that your customers get; outweigh the money that your customers put in. This is what makes it compelling for customers to sign up for your membership.
3) Gamification
Everyone loves games!
By gamifying your loyalty program, you can increase customer loyalty, improve sales plus entertain your customers, all at once.
My personal favorite is MasterCard's – Scan, Spin & Win program and it's pretty simple.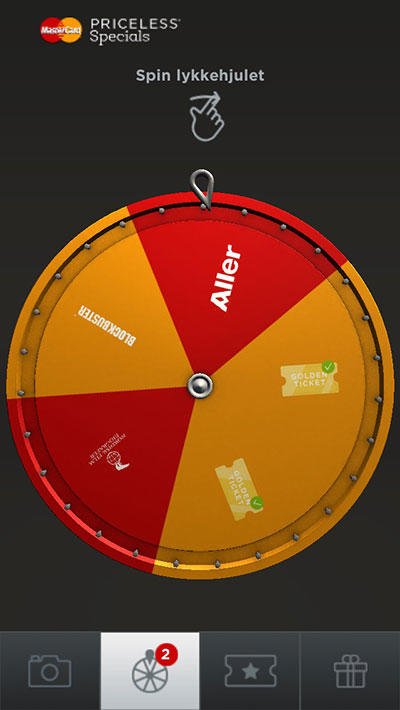 Every time a customer makes a purchase using their MasterCard, they can scan their receipt and spin the wheel to win exciting prizes. The giveaways range from discounts on movie tickets, free magazine subscriptions, travel gift vouchers and lots more!
Gamification is a great way to engage your best customers and drive customer loyalty. In fact, 60% of millennials like loyalty programs that are 'fun'.
If you're looking to know more about the best loyalty programs around the world, read this: Smile.io- Best Loyalty Programs
5) Redefine Customer Support
Jason Fried, CEO of Basecamp once said,
"If you take care of your existing customers, they will take care of your new customers."
Providing exceptional customer support is critical for both acquiring and retaining customers. In fact, stats suggest that a customer is 4 times more likely to go to a competitor if customer support isn't up to the mark.
Here's how you can truly engage and make an effort to keep your customers coming back to your store through customer support:
1. Offer Multi-channel Support: Today, customers use multiple support channels to communicate with brands. In fact, 9 out of 10 customers expect brands to provide consistent customer support across all channels, such as email, telephone, social media, text messages and more.
2. Keep A Close Watch On Social Media: Whenever customers face an issue, they crave human interaction. Stats suggest that 88% customers refrain from buying from a brand that leaves complaints on social media unanswered. So, keep a close watch on all your Social Media pages and closely monitor every social media channel to ensure that no complaint/issue goes unresolved.
Quick tip: There are a bunch of free social media monitoring tools that you can use such as HootSuite, TweetReach, Mention, BuzzSumo, SproutSocial and lots more.
3. Track All Customer Interactions: Whether a customer reaches out for support via your Contact Us form or through your support telephone number, make sure you account all customer interactions. This reduces confusion for the customer support team and improves their rapport with the customers.
4. Create A Dedicated Support Centre For Your Customers: 90% customers visit a brand's website for support before calling or emailing them. Create a robust support ticketing system to help customers with after-sales issues.
Here's an example of how Shein.com does it.

5. Provide Online Chat Support: While shopping, may it be online or offline, we all need a little help or have a quick question. With live chat, 8 out of 10 times you won't have to follow up with a customer. According to Forrester research, "44% of online consumers say that having questions answered by a live agent while shopping on a website is one of the most important features a brand can offer."
You can use tools like Olark, Zendesk, Intercom, and Drift which provide near-zero wait times and personalized responses to customer queries.
6. Focus On Prompt Customer Service: Lastly, when your business has customers, as all growing businesses do, there will be an endless stream of questions, issues, complaints, queries, and compliments and when customers reach out to you, they expect you to address them immediately. Be prompt with your responses and try and resolve queries within 1-5 hours, from the time they've been raised.
Always remember, timely responses help build customer trust and loyalty, which in turn will improve customer retention for your business.
6) Surprise & Delight Your Customers
"You can't have a million-dollar dream with a minimum-wage work ethic." — Stephen C. Hogan.
Likewise, you can't have a strong customer retention rate unless you work hard, really hard.
Walk that extra mile to make your customers feel special. Here are a few things you can do to surprise and delight your customers without having to break the bank.
1) Thank You Note: One of the oldest yet simplest ways to make a customer happy is by sending a Thank You note. You might feel that Thank You notes have lost their charm considering that it's such a tried and tested tactic. But in this age of automation, a personalized, handwritten thank you note can have a much larger impact than you can imagine.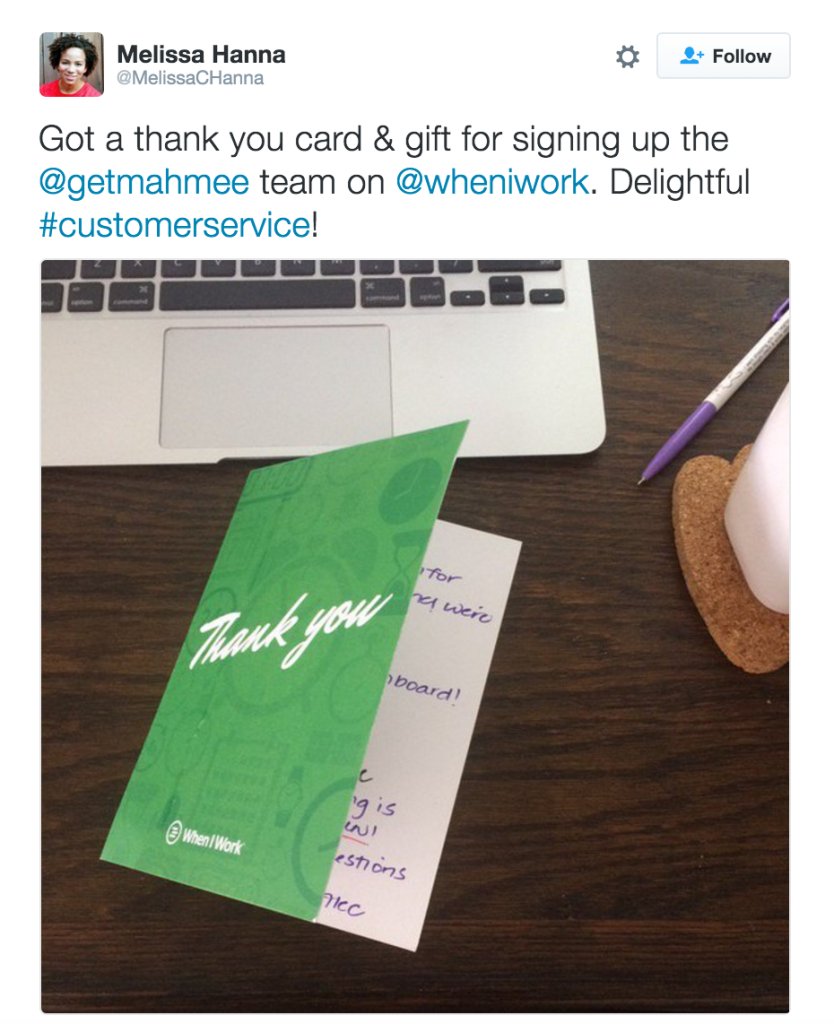 This is a fairly simple idea, every time a customer buys from you for the first time, you can show some love by sending them a personalized Thank You note. This will not only make your customers feel special but will also help you leave a great first impression on your newest customers.
Quick tip: If you're a small team and don't really have people to write Thank You notes, you can always use tools such as FeltApp, Bond, Handwrytten and Thankyoubot.
You can also read this to get ideas for writing the perfect copy for a thank you note: 7 Sample Thank You Notes for Business
2) Make Their Day By Sending Free Giveaways And Goodies:
Who doesn't like freebies?
A great way to delight your customers is by sending them free stuff.
Research reveals that 65% of free gift receivers share their experiences with others online.
Make sure your gifts have your company's logo and branding which will build brand recall and also increase brand awareness when customers share the gifts on social media.
You can choose who you want to send free gifts to, it could be your newest customers or it could be your brand loyalists, you can set a milestone for which customer you'd like to send free gifts to.
Here's an example of EE– UK's biggest internet provider who sent a free gift to one of their customers and how the customer proactively tweeted about it.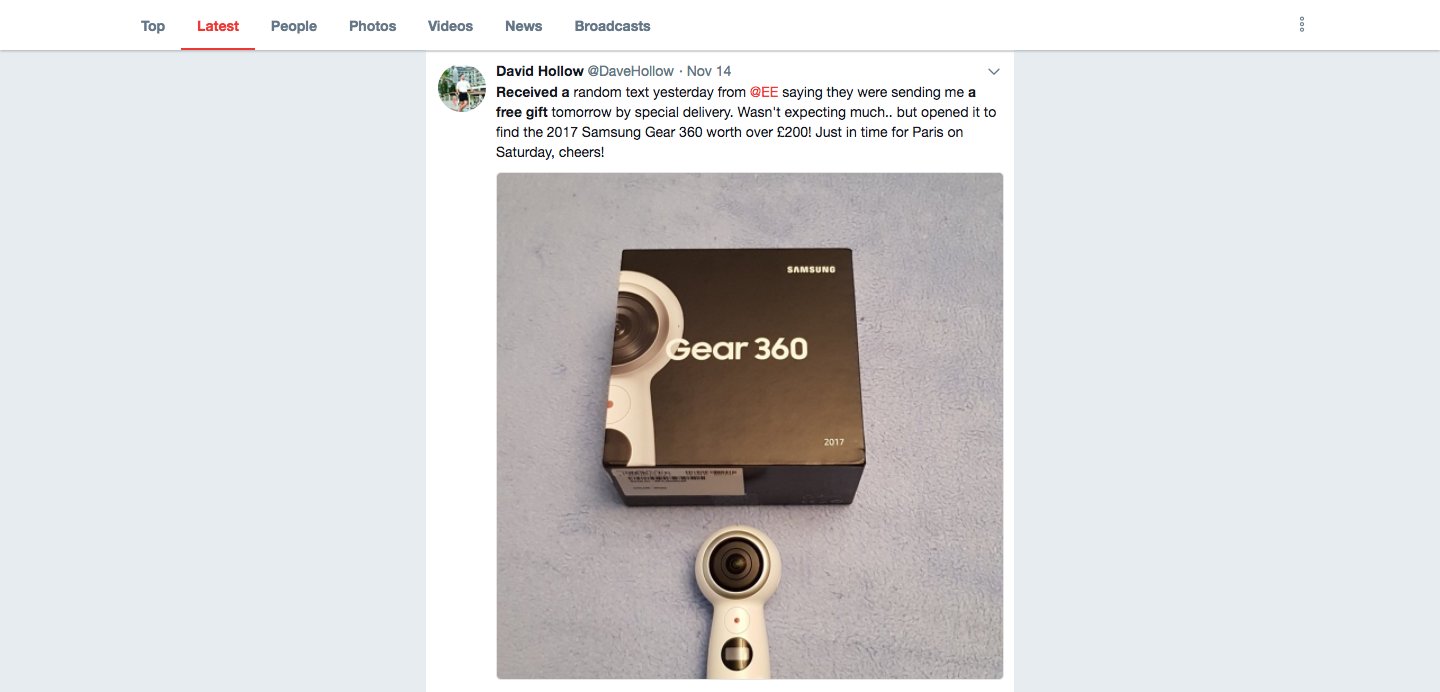 3) Follow Your Customers On Social Media: This one's again a small but important gesture. Whenever a customer signs up with your brand/makes a purchase, you can immediately follow them on social media, showing them that you care and you value the fact that they've subscribed or made a purchase from you.
You can also go a little further and use social media tools such as the ones mentioned above to understand what your customers are tweeting about and if you see an opportunity to send a freebie/goodie based on something they've been wanting to do/have, just go for it!
4) Check in With Your Customers Every Once In awhile: Most businesses look at customer support as a reactionary task and honestly, that's not necessarily what it's 'supposed' to be. You can take the lead, and be extremely proactive about reaching out to your customers every once in awhile. This will not only help you build a strong customer rapport but also remind your customers that you actually care.
Always remember, the little things you do to give your customers a 'wow' shopping experience are worth the investment, several times over.
In Conclusion
While eCommerce retailers are obsessively focusing on gaining new customers, entering new markets and increasing sales, I hope the strategies mentioned above have convinced you to also focus your time and resources on retaining the customers you already have.