Why Is CRO a Value Center?
Consider an organization with an outbound sales team. Say this team regularly engages with potential leads, participates in events, and conducts product demonstrations. Each month, the team finalizes deals that generate revenue for the organization, resulting in a favorable cash flow. In this scenario, the outbound sales team becomes a value center for this organization.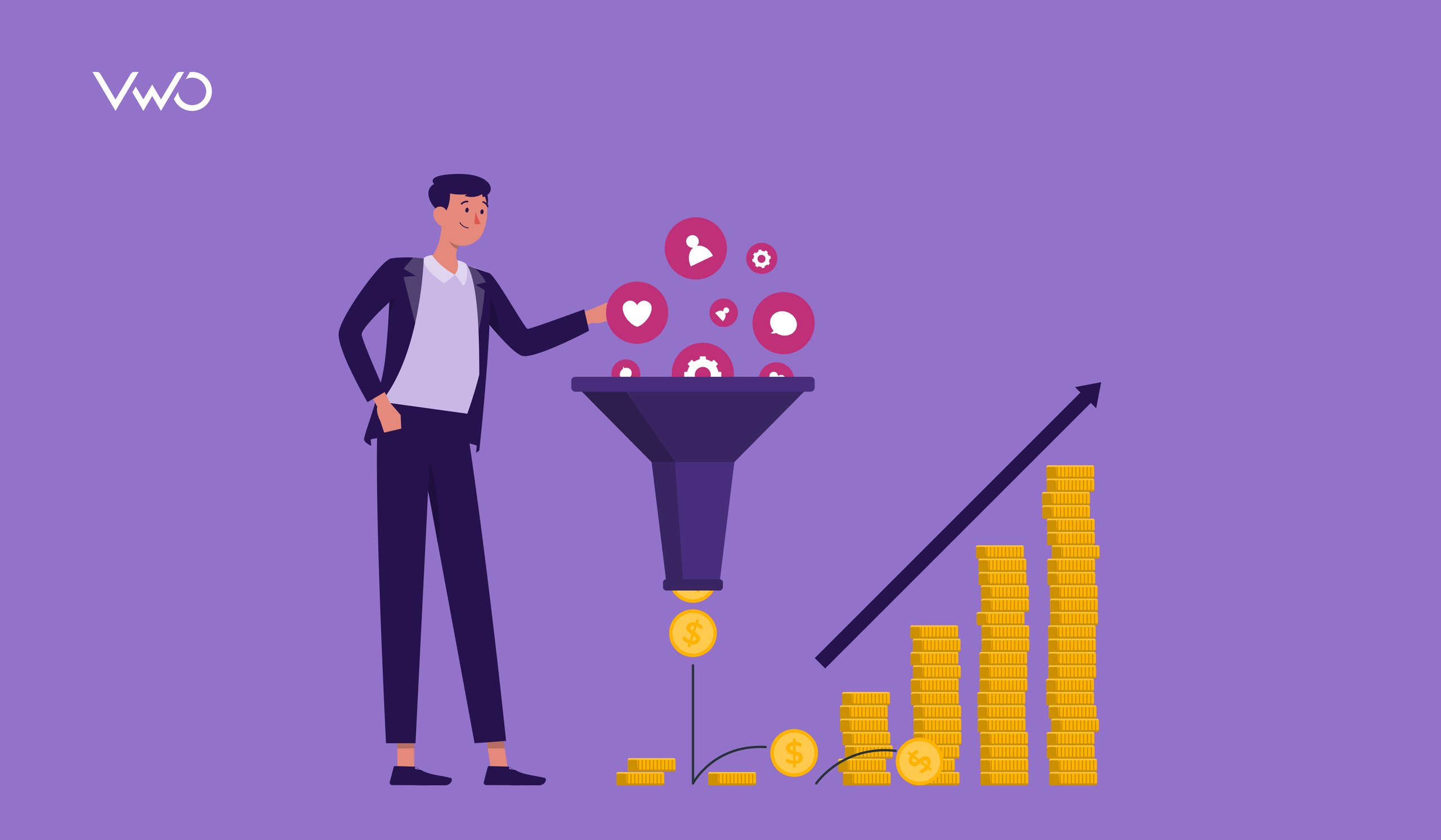 What is a value center?
A value center is a crucial component of a business. It is a function, a team, or a department that plays a vital role in boosting the company's profit. A value center brings tangible benefits to the organization by optimizing costs, generating revenue, or even doing both at the same time. Moreover, a value center identifies new revenue-generating prospects by exploring new markets, and innovating products and services.
Is CRO a value center?
A cost center refers to a department or unit that does not directly contribute to the company's profit. In some cases, Conversion Rate Optimization (CRO) is perceived as a cost center since its outcomes may not always yield tangible results in a short period and give occasional failures.
While CRO initiatives can encounter challenges, it is crucial to recognize the long-term value they bring to the organization. CRO can be turned into a value center by leveraging continuous experimenting and optimization of strategies to improve conversion rates and enhance overall organizational performance. Even failures in CRO experiments can serve as a valuable foundation for future success, as they provide invaluable insights and learnings that contribute to creating an experimentation loop.
Moreover, CRO acts as an enabler of efficiency within the business. By testing and refining different elements of a customer's journey, CRO helps identify and eliminate bottlenecks, streamline processes, and enhance the overall user experience. This, in turn, accelerates growth by maximizing the conversion of visitors into customers and maximizing the value derived from each interaction.
How to make CRO a value center
Let's understand how to make conversion rate optimization (CRO) a profitable investment (value center) with some real-life examples.
a. Create a CRO cycle to increase revenue
Revenue is the fruit of an optimized visitor journey that starts via landing pages on different devices. Many organizations need to avoid expecting results with few tests. CRO is not a magic wand that will uplift revenue in a single campaign or a few days. It requires constant efforts to optimize each stage of the visitor journey, from the landing page to the checkout page.
For instance, GRENE, an agriculture wholesaler, utilized VWO to optimize the conversion funnel. The company ran a series of experiments for the 2018-19 financial year. The experiments included the A/B testing homepage, checkout page, product section, etc. This whole optimization exercise resulted in a whopping 59.9% increase in revenue. Such a staggering growth in revenue makes CRO the value center of GRENE.
CRO can become a value center when you create a strong hypothesis and identify revenue-affecting elements at each conversion funnel stage. Then, with a constant CRO cycle of testing-learning-optimizing, you craft an optimized conversion funnel that increases revenue. CRO reaps rewards with consistency and not with one-time initiatives.
b. Turn failures into information goldmines
Many companies give up on CRO because of failing to achieve desired goals. However, a failure in CRO is a goldmine of information that can be a foundation for future optimization. Here is one great example of the same.
Uncommon Knowledge, an online education portal, tested its lead generation page to see an uplift in leads. The team at the company created a variation of the lead generation page with new design trends, while the original version had a traditional magazine layout.
At the end of the test, the team found that the old page beat the new one by a 19.55% conversion rate. The optimization efforts were unsuccessful, but the insight from it was a goldmine for the team. It came to their notice that the majority of their target audience is aged 45+.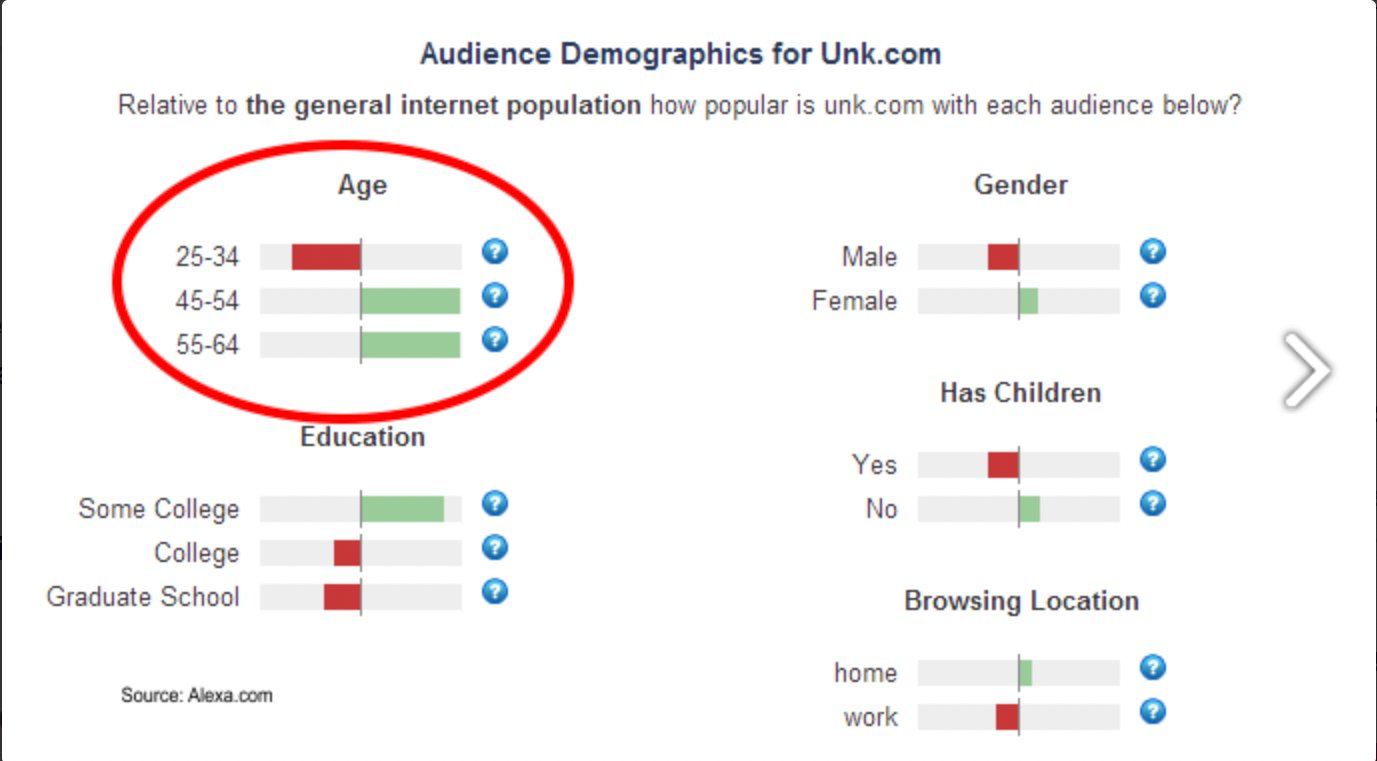 The new design trend was not relevant to the target group, and the failed test validated that relevance is the key to conversion, not the trend. Thus, even a failed experiment can become a foundation for the next optimization effort. So, CRO is a value center, even if you face failures.
c. Run experiments to retain customers
You can increase your website value by constantly acquiring new visitors or retaining returning visitors. But, it's always easy and more affordable to retain a returning visitor than a new one. That's why every business is in a race to increase the visitor's lifetime value, which is the monetary benefit that a single visitor delivers to a company. CRO is a value center because it increases the visitor's lifetime value.
One example of this is Tele2, a leading Dutch mobile subscription service. They were facing a decreasing subscription rate and wanted to make necessary amendments to uplift it. The team at Tele2 did a detailed analysis and found that adding a filter of mobile brands in the product section can create convenience in the visitor flow. Thus, they ran an A/B with the original page without the filter and variations with it. Here is how it looked: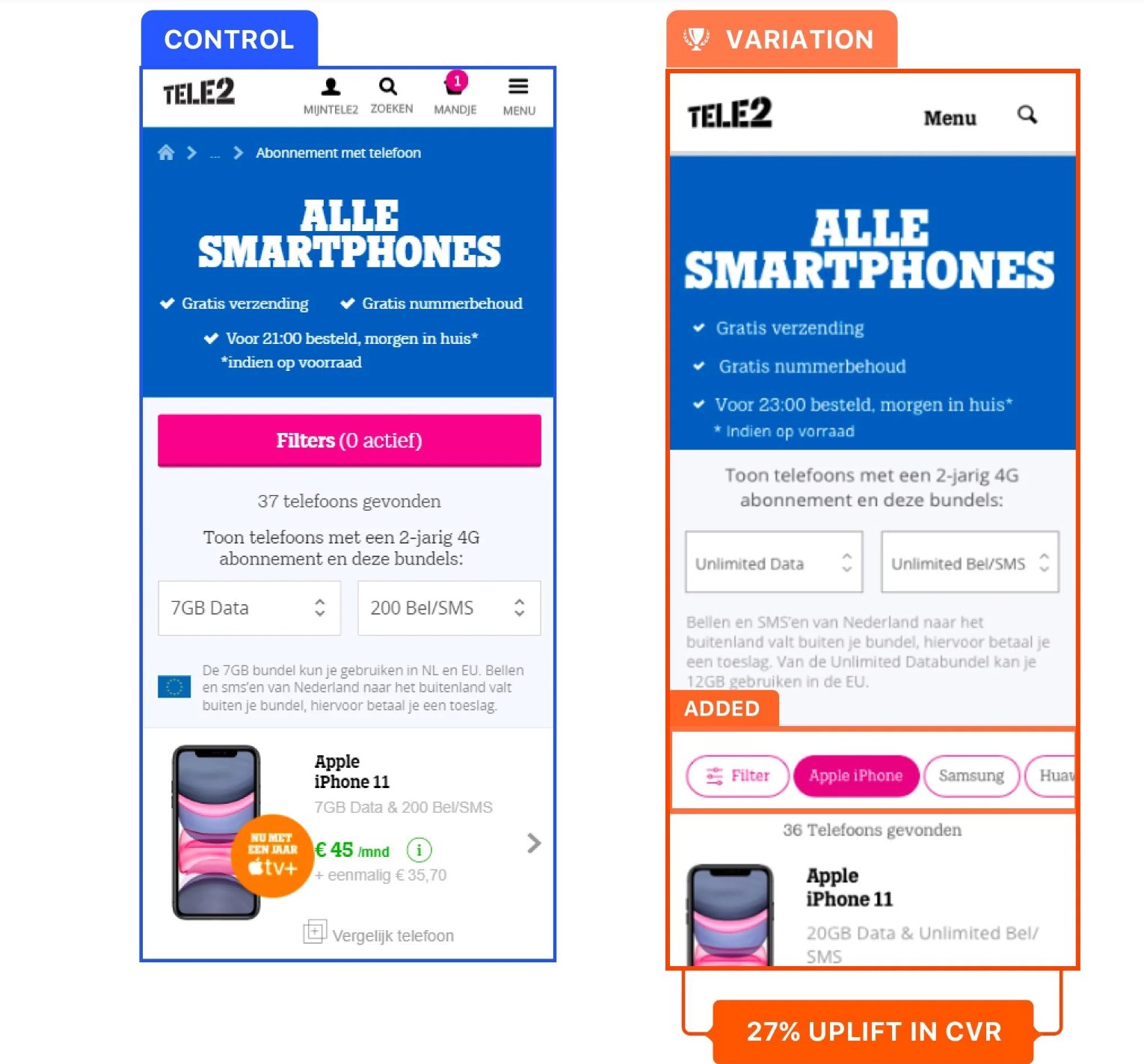 The test ran for 28 days and registered a 27% increase in subscriptions from existing customers. For Tele2, CRO campaigns ensured a positive cash flow from the existing customers. What is more important is that they didn't stop after one campaign and kept analyzing behavior and experimentation to engage their customers.
In addition, you can run CRO campaigns such as personalized experiences based on past behavior and experiment with cross-selling and upselling tactics to better customer retention rates. Improved retention rates, in turn, result in increased revenue while keeping customer acquisition costs low since fewer resources are needed to onboard new visitors to maintain revenue.
d. Aggregate customer data for hyper-personalized experiences
CRO is now moving towards unifying data from various sources and profiling customers based on it through customer data platforms (CDP). The customer profile can be segmented and targeted for a hyper-personalized experience.
One real-life case study is of Yves Rocher, a global cosmetic brand. Yves Rocher wanted to personalized product recommendations section. The team utilized a CDP to recommend personalized products to new and existing customers. The existing customer got recommendations based on past behavior data, and for new customers, the recommendation algorithm worked on the recent activity.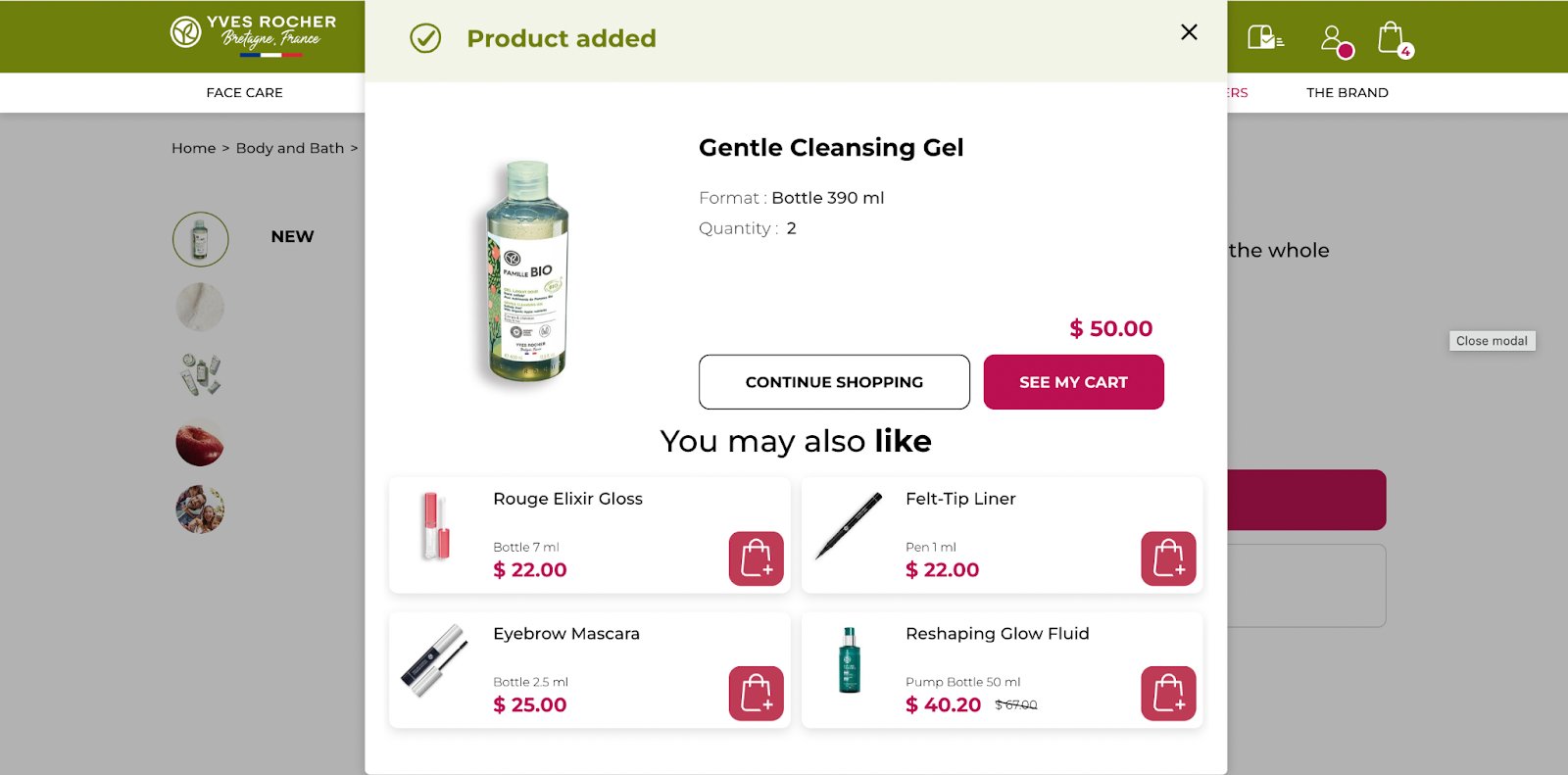 The optimization efforts led to a 17.5x increase in clicks on the recommendation section and an 11x increase in the purchase rate. Thus, CRO efforts get a boost from technological advancement like CDP and become a value center for an organization. So you must leverage this advancement in your favor and move towards creating hyper-personalized experiences to drive more revenue.
Conversion rate optimization with VWO
Over a decade, 2500+ customers have found their value center with VWO.
VWO allows you to understand visitor behavior, experiment with user experience for multiple devices, personalize experiences, and aggregate visitor data for segmentation and targeting. As per G2 Summer 2022 reports, VWO has been named a leader across five categories winning 20 badges.
Once you partner with VWO, you don't have to go anywhere else for your optimization needs. Here is what one of our clients says:
VWO has been the most comprehensive testing tool I've used, and they have the support and services to back it up.

Product manager, Micro Focus
So, multiply your gains with VWO. Get a comprehensive VWO free trial of its complete range of features. VWO also offers a free starter pack for web testing that supports 50,000 monthly traffic. Visit VWO's plans and pricing to find more information.
Conclusion
CRO (Conversion Rate Optimization) is a value center because it benefits an organization in terms of revenue and directly affects its growth and cash flow.
CRO increases revenue by optimizing each stage of the visitor journey, from the landing page to the checkout page. It also turns failures into information that can be used to improve future optimization efforts. With constant CRO efforts, an organization can increase its revenue, keep customer acquisition costs low, and create a positive cash flow from its existing customers.
Therefore, CRO should be considered an essential investment, and organizations should engage in constant CRO efforts to reap long-term benefits.