What Are Micro Conversions And Why You Should Monitor them
Typically, when we talk about conversions in the eCommerce vertical, we focus on the number of sales generated. Generating more sales is the primary goal for eCommerce businesses.
Converting visitors into buyers is the key to success for your business.
The main objective of purchase always accompanies smaller goals. Conversion experts call these small goals micro conversions.
Micro conversions are the low-hanging fruits, precisely, actions that lead visitors to the end goal, that is, macro conversions.
This blog focuses on improving micro conversions that can boost the overall conversions of your online stores.
What are micro conversions?
Micro conversions are activities that lead your customers towards the larger goal, that is, macro conversion.
Micro Conversion is an action or a set of actions that strongly indicate a user progressing towards profitable action on your website. For example, if you are an eCommerce brand, a new user registration would be called a micro conversion.
Common micro conversions might be:
A newsletter sign up
Adding products to a cart
Downloading an eBook or white paper
Subscription to RSS feed
Visiting specific pages, for example, the product page, category page, features page, and so on
Why should you monitor your micro conversions?
Few visitors would buy a product on your website during their initial visit.
Every visitor converts after sizable activities—a combination of micro conversions leads to a purchase.
Following are the key reasons that depict the importance of a micro conversion and its impact on your overall conversion rate.
Understanding your visitor behavior
Micro conversions help you paint a picture of your store's visitors and their activities. You can view the visitors in 2 ways:
The tricky part here is to figure out a way to segment your visitors. When you have a diverse pool of visitors, it's imperative to understand your targeted traffic. People can be flooding your website for a variety of reasons, as displayed here.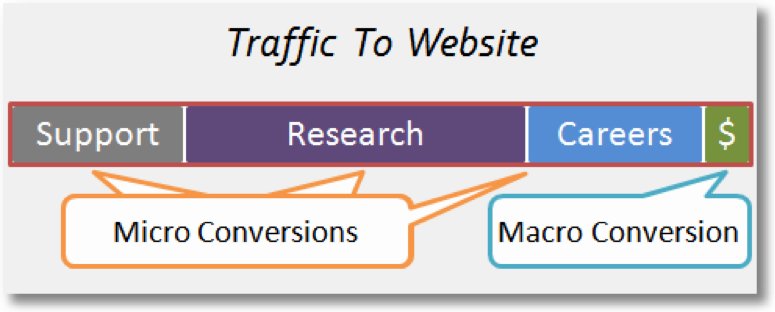 For example, you can now figure out who is most likely drifting toward a macro conversion. A visitor checking out your career page might never buy from you. They are just checking out your website for career prospects.
Such insights help you identify the perfect pool of visitors you should turn your focus towards, all thanks to micro conversions.
Analyzing the key areas to focus on conversion optimization
When you categorize visitor actions on your website as micro conversions, you gain the opportunity to collect a lot of information about your visitors.
Micro conversion provides you with the opportunity to diagnose the essential areas on your website and optimize these as separate entities.
For instance, as one of the stages of your conversion funnel, a sign-up form is crucial. If there is a discrepancy here, your immediate action is to improve sign-ups—which itself is a micro conversion—a critical area that needs rectification.
Tom's Planner is web-based project planning software that allows visitors to create and share Gantt Charts and projects. Individuals and businesses can sign up for a free account on their websites and begin using the planner right away.
Their original homepage: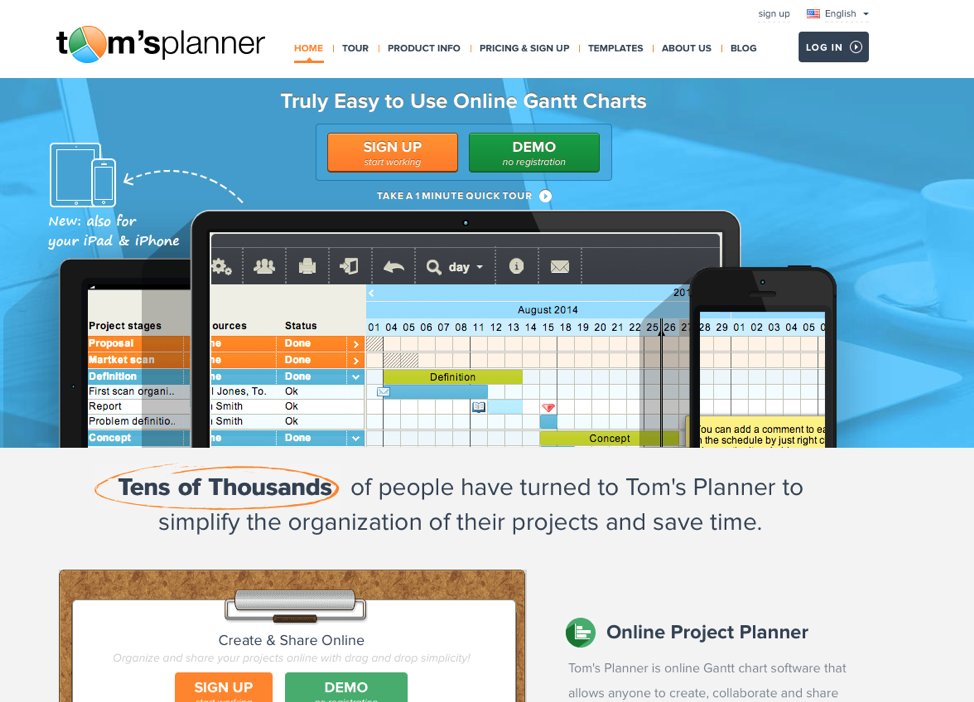 Tom's Planner wanted to improve its conversion rate. A free trial is a crucial area of focus for Tom's Planner. With the help of VWO, Tom's Planner implemented a test version of its homepage that included a sign-up form on the first fold of the website.
Its test homepage: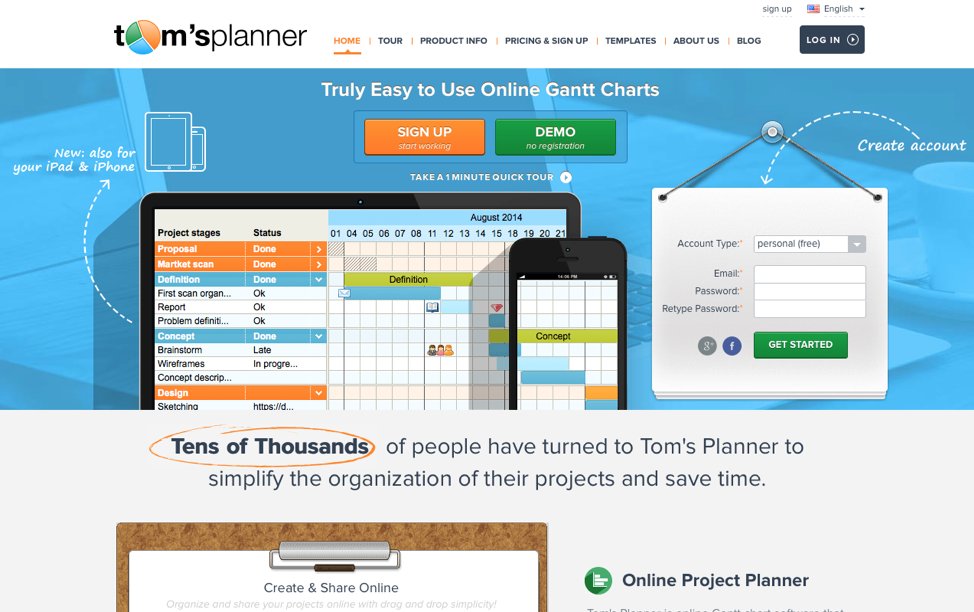 This modification helped it improve the visitor-to-free conversion ratio by 43% percent. It is just one of the many examples that showcase how optimizing micro-conversions can lead to better overall conversions.
Allowing you to nurture your leads
When you figure out your ideal set of visitors, it's fundamental that you benefit from it by nurturing them.
Maybe, start with people who sign up for your monthly newsletter on your website. Such micro-conversions provide the perfect "foot-in-the-door" moment to nurture these leads.
Another way is to offer an initial discount in exchange for a sign up or email. This discount might also lead to a transaction, or it might allow an online store to communicate with the visitor through email, thus improving the chance for a conversion.
Many online stores use this micro-conversion strategy. For example, Myntra uses a similar approach to encourage first-time visitors to sign up by offering a discount.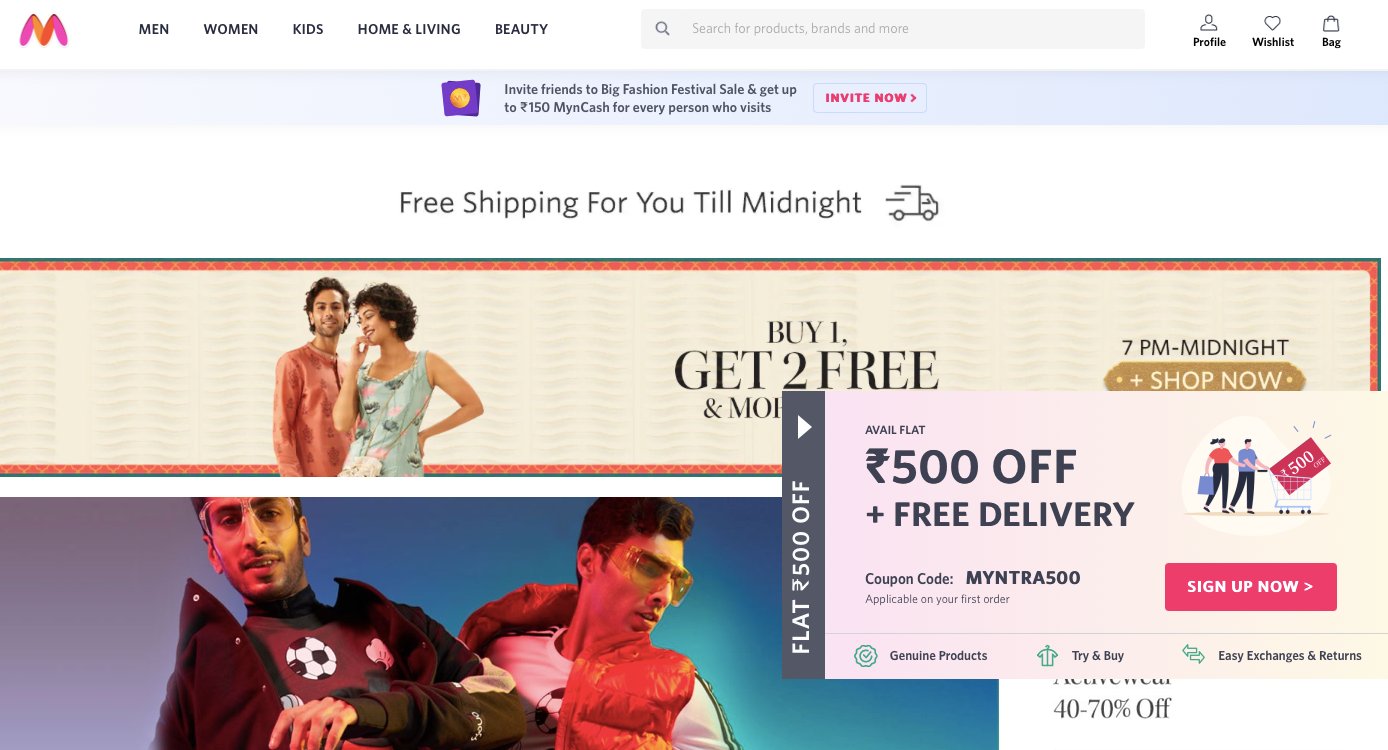 This micro-conversion strategy has been used by a lot of online stores. For example, HauteLook uses a similar approach to encourage its first-time visitors to sign up for their email newsletter.

Also read: How a simple tweak increased The Social Man's newsletter signups by 28%?
Measuring the effectiveness of a communication channel
One of the main categories that fall under micro conversions is customers enrolling for services to maintain a relationship with your business. These could include:
Signing up for your email newsletter
Allowing push notifications
Subscribing to your YouTube channel, Facebook, or Twitter feed
A higher conversion rate for these instances means that your audience is on track for the bigger picture. But what you should instead focus on post the sign-ups is the interaction through these channels.
These micro-conversions are a good indicator of all these channels and the ones most effective among these. A higher engagement on these channels or sign ups portrays a strong connection and how your content is relevant to your audience.
Building the right conversion funnels
It might have crossed your mind by now. Micro conversions are the perfect way to devise various conversion funnels for your online business.
For a second, think about what we spoke about at the start of this article. These are the actions that lead people towards a larger goal.
By analyzing the right set of micro conversions in your business, you can figure out the journey your ideal customer takes.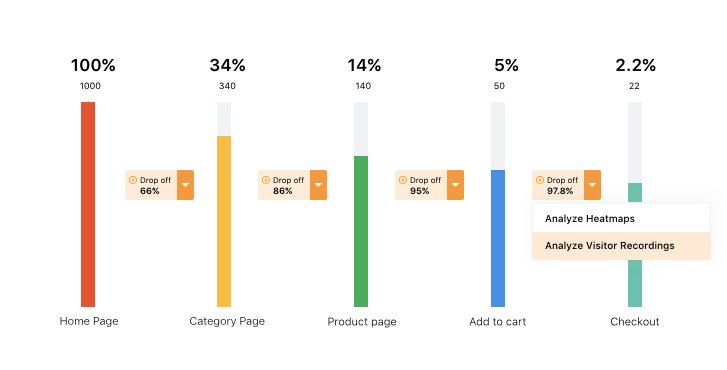 For example, consider an eCommerce funnel. It is a series of an eCommerce micro-conversion:
Land on the home page.
Search for the preferred product (Micro).
Land on the product page (Micro).
Add the product to your cart (Micro).
Sign up or log in (Micro).
Check out (Macro).
Here, the customer journey for eCommerce consists of a series of micro conversions. By stringing together these micro conversions, you can come out with the conversion funnel for an eCommerce business.
Conclusion
A customer's journey is far from linear. When you bifurcate the customer journey into various micro-goals, you can concentrate on improving each aspect and indirectly improving your bigger goals.
Micro conversions can and should play a vital role in your marketing efforts. They help you track the efficiency of each marketing channel that you are utilizing. Using micro conversions, you can convert big!