Learn The Subtle Art of Video Marketing for Business
From the very first television commercial aired in 1941 to today's innovative personalized video messages, ephemeral stories, and professional company culture videos, it's no surprise that videos have always been the mighty marketing tool for marketers. Its ingrained ability to attract, retain, and convert a defined audience of viewers is far more than text or image as they appeal to multiple human senses at the same time.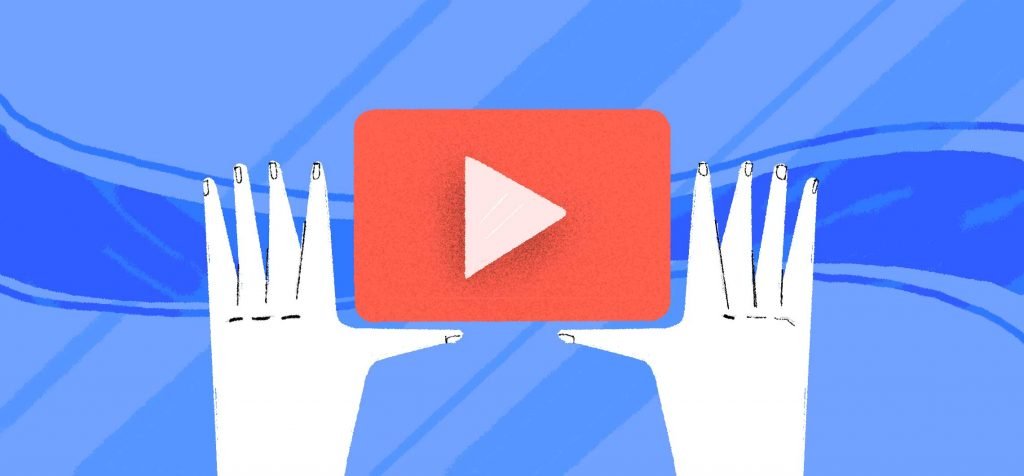 It has been proven that 54% of consumers wish to see more video content than reading text or skimming through images. Meanwhile, online shoppers who see videos are 1.6x more likely to buy a product or service, and including a video on a landing page can increase conversions by almost 80%. So, if video marketing is still off your list, it's time to rethink and reiterate your strategies.
Before we explore different types of video marketing, it's important to realize the marketing goals that business videos can help to achieve. Below mentioned are some basic principles to set smart goals.
Video Marketing Goals
Be Specific: Setting specific goals, such as generating awareness, gathering new leads or educating prospects, should always be your first goal.
Measure all Pros & Cons: Define how you'll measure the success of your videos including both quantitative and qualitative benchmarks.
Check Achievability: Consider all the obstacles that might affect your goals, and proceed or pivot accordingly.
Relevant or Not: Think about how your video marketing strategy will align with your current business goals and add to your conversions.
Time-related: Set realistic and concrete deadlines to ensure your video marketing efforts don't go in vain.
Once you've enlisted your video marketing goals, it now becomes easy to narrow down your focus on what type of content you should create to serve your business goals.
Types of Video Marketing
Primarily, there are seven types of social videos that you can use to inform and educate your visitors or customers while creating brand awareness and achieving your means. These are follows:
1. Product Videos:
Static images or blobs of text fail to make visitors visualize how a product will look in actuality. Meanwhile, when shown in the form of a video, covering each and every aspect of the product, it gives visitors a better idea of whether or not the product is suitable for their needs. Product videos not only alleviate anxieties but help make quick decisions and increase conversions as well.
2. Animations Videos:
Animation helps you explore new and different dimensions of your brand. These not only provide visual stimulation but add a tint of emotional feel as well along with the "wow" factor that makes animation video content a memorable one. This amazing animation video by Puma titled "Fatal Attraction" is just a great example of animation videos.
3. Educational Videos:
Quite similar to product videos, yet education videos are quite different. They typically provide real value to your target audience that they can put to practical use in their daily lives. Such videos make learning faster, quicker, and more fun-filled.
For example, this educational video on "SEO for Startups in Under 10 Minutes" by Google Webmasters serves as a learning guide for every content marketer. Take a look.
4. Video Documentaries:
A comparatively older form of video content yet a very effective one, video documentaries are quite catchy and a great alternative to explaining lengthy topics. Similar to educational videos, these help teach your target audience something real, meaningful, and valuable. They also act as a crossbay between a full-fledged brand film and a educational video. They're comparatively comprehensive, stylist, and more story-driven – much needed in today's day and age.
5. Video Emails:
The newest addition to the arena of digital marketing, video emails have proven to be much better than native, text-driven emails sent to prospects and customers in terms of email open rate and click through rate. What makes them better is the addition of catchy videos that grab the attention of the receivers giving them something interesting to explore.
This video embedded e-newsletter by jewelry retailer Alex and Ani is one of the best examples to list here. Check it out!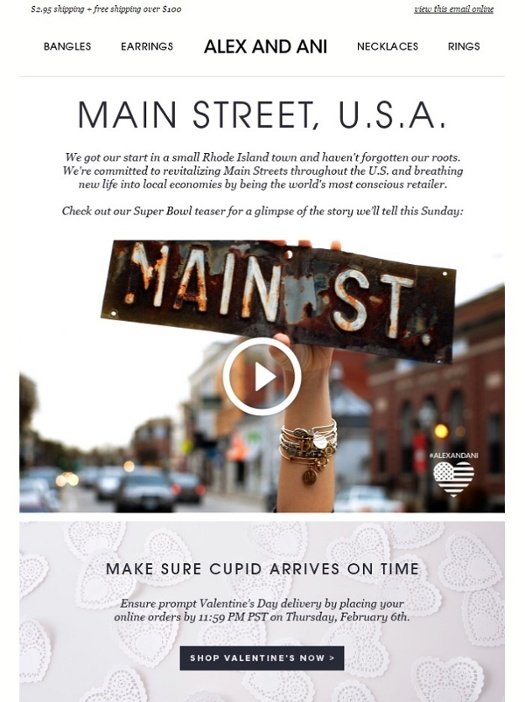 6. Testimonial Videos:
These serve as versatile tools. Meaning, in addition creating brand awareness and building trust, testimonial videos can help showcase the features of your products or services. Run them during a seminar, an in-store event, at a tradeshow, on social channels, or use them as brand videos to advertise your business online. For example, take a look at this testimonial video production effort by VWO.

7. Narrative + Slideshare Videos:
Cost-effective in nature, these involve recording a narrator's introduction and explanations in a studio and then combining them with existing slideshow marketing material and photos. No matter which online video type you prefer to adopt, a kick-ass script forms the basis of a killer video. If you want to go the DIY way, you can read this article by Neil Patel that explains how you can write a good script for a video.
Impact of Videos on Conversion Rates
Given the growing popularity of videos amid the masses, it comes as no surprise that by 2022, more than 80% of global traffic will come from video streaming and downloads. That's approximately an 88% increase in traffic share from the 72.3% as recorded in 2017. According to ReelSEO, an online resource that combines search, video, and social media marketing, visitors who do not even watch the video but still have an option to watch convert at a higher rate than those who don't have an option. It's probably the trust factor that plays a major role here.

This fact is based on multivariate testing conducted by Treepodia (mentioned in the ReelSEO report) for two of their eCommerce clients, where 46.22% and 27.05% conversion increase was recorded for visitors who had an option to watch the video (irrespective of whether they watched it or not) than those who had no option to watch it.
Should You Include the Video as a Link? "Watch the Video" Icon? Or, Embed it Directly on the Page?
Yes, you can embed a video on a website in any manner you feel fit. But which way will it convert better? The Social Man, one of the leading companies that aims to help men become better with women socially, and in life, saw a 28% increase in their newsletter signups as they changed their direct "Get Instant Access" call-to-action button to "Watch the Video" icon.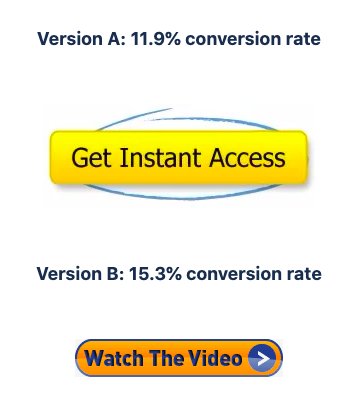 The ReelSEO report above also suggests that while the view rate of your video can be anywhere between 5% and 15% when you add it as a link, it rises to 10-35% when you embed the video directly on the product page.
Innovative Ways to Use Videos for Higher Conversions
Stacks and Stacks does a brilliant job of adding videos on many of their product pages. Their tests reveal that visitors who watch their videos have 144% higher probability of buying the product than those who don't.

And why only the product pages? You can even display videos on your homepage or landing page to estimate their conversion potential. Vidyard displays a great video on their homepage that increased their conversions by 100%.

Apart from using videos on the homepage and product pages, video testimonials and video-only landing pages are some other dimensions you can explore to increase conversion rates of your website.
11 Tips to Produce High-Converting Videos for Your Business
Below mentioned are 11 tips you should keep in mind before and after you take the plunge:
1) Impersonate your Target Audience
Start by drawing up a picture of your target audience. Find out their demographics such as their age group, ethnicity, gender and factor all this intelligence when getting the script ready. Figure out how your target audience talks, their aspirations, are they even into videos? If the answer is no, you might want to rethink the very idea of producing a marketing video as it might not give you the returns.
BrookdaleLiving, which provides senior living solutions, A/B tested two versions of their landing page. One version had an image of an elderly woman while the other had a video. They expected the video version to outperform the image version but the results turned out to be the opposite. One of the analysis for the video not doing that great was that the majority of Brookdale's visitors were elderly females who are not patient enough to sit through videos.
2) Dig out Browser, Operating System and Device Data
Go to Google Analytics to find what browsers, operating system, and devices your visitors are using and make sure your video format is supported on them.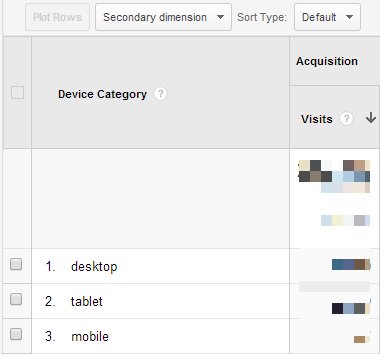 There's no point in investing a bomb on an awesome video if it is not supported on the browser used by the majority of your visitors. One of the best-supported video formats on the internet is MP4. Here's a little video compatibility chart that might be useful for you.
Another metric to keep in mind is the average internet speed of your visitors. If it's on the lower side, then you could compress your video size so that it streams faster on your website, especially blog posts.
3) Don't Stuff it with Too Many Details
You are shelling out some serious money on that video so you want to maximize every microinch of frame. Right? Wrong! Don't try to oversell your product in the video. This especially holds true for SaaS explainer videos. If your product has 50 features, show only the most important 5 or 10. Research has proven that too many choices can actually work against you as it leads to indecision.
4) Follow the KISS Rule — Keep it Simple Silly!
According to a Wistia report, more people will complete watching a 1 minute video than a 2 minute video. In another experiment, two videos were shown to two sets of users. Both videos were identical except for the fact that the second one was 10 seconds longer. On average, viewers watched the shorter one 72% of the way through while the longer one was watched 50% of the way through. And we rest the case here!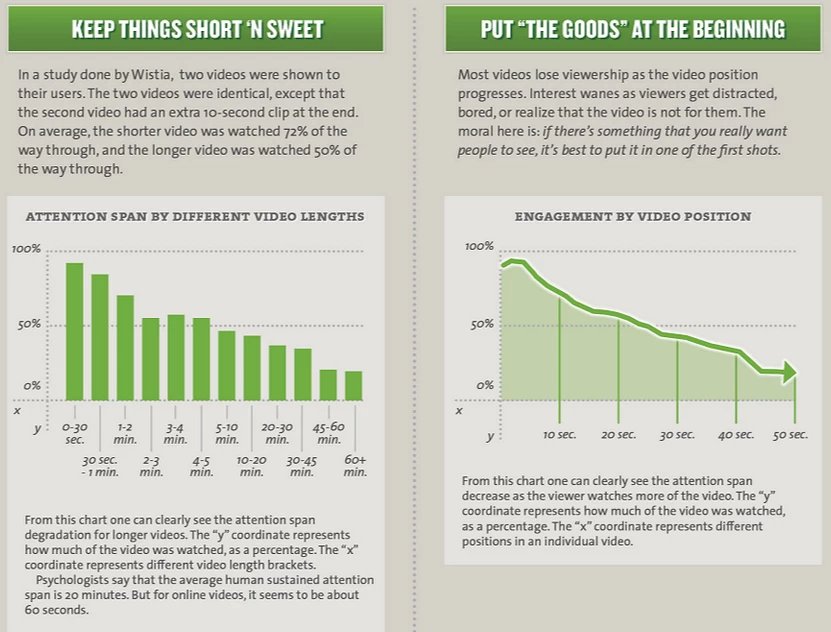 5) Show Visual Proof
If you are making a tall claim or breaking some myth in the video to market your product, then back up your statement with a proof — preferably a visual one.
Take the case of Mr. Muscle that saw a 46% increase in conversions after adding a video on its sales page. In the video, personal trainer Carl Juneau goes about breaking the myth that you can get well-defined abs by just doing crunches and sit-ups. He cites the example of a record holder who trained his abs for six hours a day and still didn't have six-pack abs. Carl then shows the image of the guy working out to back up his claim. Here's a screenshot of the video: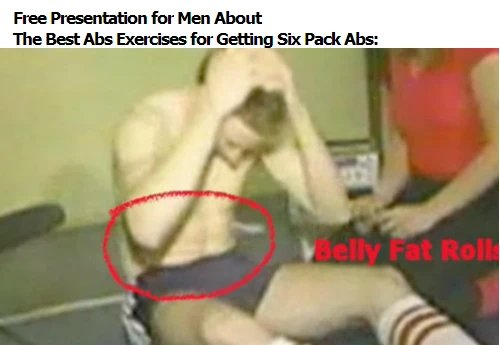 6) Quality Matters But…
Though it's a given fact that your marketing campaign video ought to be well executed in order to instill trust in the mind of the viewers, there are many examples of low-budget videos going viral on YouTube. These are typically shot on shoe-string budgets, have the staff as the talent and are not that high on production values. But what works in their favor is a smart script and an unconventional approach. Take the case of the epic Dollar Shave Club video. It was shot in just $4500. So, focus on the quality but don't let it be a constraint if you can't afford it.
7) Have a prominent CTA
Now that you have done the hard work of creating videos and got the visitors to see them, put in a clickable call to action button urging them to buy your product or sign up for your free trial or whatever your goal is. See how Moz does it in its video: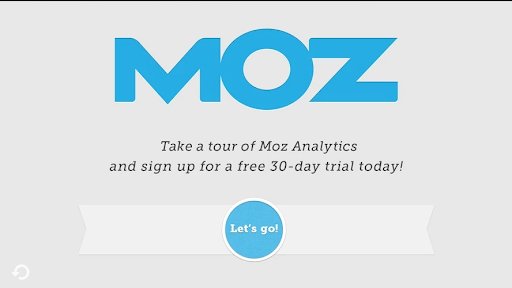 To add the CTA, simply overlay your video with an image once the video has stopped playing. Or you can use a tool like ViewBix which allows you to add CTAs, integrate e-mail links and social share buttons on the page.
8) Keep Segmentation in Mind
If you have customers sitting around the globe, you could get the voiceover of the video recorded in multiple languages so that a person sitting in Spain can watch the video in Spanish. There are various personalization tools that help you show targeted messages based on geo-location data of the visitors.
You could also create shorter and longer versions of the video and target them accordingly. You might want to show the shorter version to a new visitor and a longer, detailed version to a returning visitor or a visitor who reaches a certain 'engagement threshold' you have set. You could test to see which version works by using VWO which allows you to segment your data.
9) Get the SEO Right
There's no way for Google to read videos so you have to get the title, description, tags, and categories right. These are the things through which Google will be able to identify your video. Make sure the tags clearly identify who, where and what is featured in the video.
10) Don't Put it up on Crucial Conversion Pages
Now that the video has come out all nicely and you are eager to put it up on your website for the world to see, spend some time on analyzing the heatmap and deciding what will be the best page to place it on. The purpose of the video is to give information and convince the visitors. So, the homepage or a page where the visitors go for extra information will be good choices.
If we take the AIDA marketing model, this is what you can do:
Awareness: This is when the visitors are just getting to know you. It's safe to put the video here.
Interest: This is when they are getting curious so they might be checking your Feature page. Thumbs up for a video.
Desire: These are your key convincing pages of your website. A video will help.
Action: This is when the visitor is making a purchase. Putting a video here is a strict no-no. There might be situations where a video is required on the purchase process but most of us will probably never come across that situation.
11) Use the Video at Multiple Places
You don't have to restrict the video to just one lonely corner of the website, place it on your newsletter or see how WebEngage cleverly uses it in its pop-up box.
Mobile Video Optimization is Equally Important
Mobile video optimization isn't only about making videos play smoothly on smartphones of different screen sizes. Popular video hosting sites can help you to that end. Vimeo and Wistia even offer responsive embedded code so that you can upload videos on your landing pages or blogs without worrying about the container size.
Even if your website is responsive, embedded videos with fixed width can give your visitors an unpleasant experience. And studies say that half of your users are less likely to engage with you if you give them a bad mobile experience. So, the next time you are planning to embed a video, go for responsive instead of "fixed width."
Optimizing videos for mobile phones can be tricky. To help you sustain the heat, here are some live video optimization hacks you must know and follow:
Optimization Tip 1: A/B Test Vertical Video Ads
Most videos are designed to play in the landscape orientation. But let's face it—we hold our phones vertically 94% of the time. So, it can be a hassle to flip your phone just to watch a video and then flip it back. Sounds like a waste of time, right? Many marketers thought so and are now A/B testing their ads with vertical videos.
Vertical videos are popping up as in-app ads too. So far, we have heard a lot of success stories about use of vertical videos.
Chartboost adopted the vertical video ad format, and reported that their advertisers saw up to 20% lift in install per thousand impressions (IPM). That's great, right?
Even a study from Facebook saw people preferring vertical video content:
79% of the novice vertical video consumers were in favor of the vertical video format.
65% of respondents applauded brands that are using vertical video for their advertising as "more innovative."
So, prepare to contribute to this brave new world of vertical video content.
Optimization Tip 2: Use Native Video Uploads to Get More Views
Natively uploaded videos play automatically while you need to click to play videos that have been linked with other platforms. Facebook reports imply that you can achieve as much as 1055.41% higher average share rate with native videos compared to YouTube third-party video links.
So, don't be a stranger to this native video tactic.
In one of the expert interviews, Matthew Vazquez also asserted the importance of uploading your video separately on YouTube, Vimeo, and Facebook each, and to use modified descriptions with strategic keyword density for all 3 uploads. Matthew says that "this is powerful when done right because now you've 3X your SEO potential."
Optimization Tip 3: Ensure That Your Landing Page Video Is Mobile-Compatible
Conversion prophets have revealed that adding an explainer video on your landing page can significantly boost conversion rate.
One of the best landing pages using an explainer video as the conversion bait was that of Dropbox. They had kept their landing page simple with one engaging video and a download button. Visitors watched the video, saw the benefit of using Dropbox, and proceeded to download it. It was a simple funnel, and the conversion rate was high. Reports say that Dropbox earned a million users and bagged a revenue of $48 million.
There are a few problems when it comes to adding a video to your landing page:
To begin with, ensure that your landing page video is responsive. As we shared in the beginning, you can use Wistia or Vimeo's responsive embedded code to get this done. These video-hosting platforms offer incredible analytics to help you monitor your video performance. You will get cool insights, such as at which point your viewers are dropping off, and will be able to use these to optimize the playback accordingly.
Use a thumbnail that prompts visitors to play the video. Never put your landing page video on autoplay. That's a no-no.
Keep your video short; 60 to 90 seconds is the best. (Stats say 59% of viewers will watch your video to the end if it's under a minute.) The idea is to ensure that your video isn't too heavy and that it shouldn't lag.
Position the Call to Action (CTA) button next to the video. Also, ensure that the narrator ends the video with a verbal CTA message, or use text to highlight CTA on the end screen. Try doing both as well.
Try user testing to see how your target audience interacts with the video. Check if they click the video right away or if they are distracted by some other elements on your landing page.
Select these probable issues before spending on PPC campaigns and ads. After that's done, you will have a landing page with a video that can get you the ROI.
Optimization Tip 4: Ensure that your video has a call to action at the end
Remember those "Please subscribe to our channel." requests that video makers leave with at the end of the video? These work.
If you watch a video till the end, that means you already like it. So when the creator politely asks you to subscribe, there's a good chance you would do it.
Call to actions are, therefore, important.
These instruct your users on the next course of action—what they should do after watching the video. So, don't just put up your CTA message or link in the video description. Say it. Have the narrator of the video conclude your video with the call to action message.
You can also use the actor in the video to point to the CTA button at the end. (If it's an animation video, use a hand illustration or directional cues.) You will notice that many YouTube video creators use this tactic to request the viewers to subscribe.
There's another CTA hack. If you are using YouTube, it is its annotation and card features. You can also use these to pop up your CTA link on the screen itself. For mobile users, that makes navigation easier.
Optimization Tip 5: Use typography or subtitles to get a reaction
Your videos should make sense even when muted. With platforms like Facebook and Twitter having the muted autoplay feature, you are bound to have viewers who will look at your video for a few seconds to determine if it's worth watching. This means that you can't afford to have videos that rely only on audio and narration.
Bottom line, your video should make sense even without the audio or at least provide a context of what's being presented. Mute your video and see if the idea is being conveyed even without the audio, or if the visual is powerful enough to make the viewers turn the volume up or put on their earphones (if they are at a public place).
Best way—try adding captions or subtitles or use typography animation. Either will help you grab viewer attention, engage them even with a muted video, and get a reaction.
To conclude, once you've implemented your video marketing campaign, ensure to periodically evaluate their performance. Look for smart ways to improve their performance (one way is to look at the heatmap of the videos themselves!) and create compelling videos every now and then to keep your prospects and customers engaged with your brand. Lastly, don't fret! Just remember, visitors prefer watching videos anyday that are raw and authentic than reading professionally crafted long textual content or images as a matter of fact.