Video Heatmap: How To Use Them To Understand Your Users
What is a Video Heatmap?
Videos made an entry into the marketing game not very long ago, but it is rapidly becoming an integral part of the marketing strategies of almost every online business. In fact, did you know that according to a report by Forbes, the average user spends 88% more time on a website with videos? And, 87% of marketers now use videos as a marketing tool.
Given it's growing popularity, the need to understand how viewers react to the videos and how they engage with the video content also grew. And video heatmaps emerged as the go-to analytics tools to understand viewer behavior with respect to videos.

Download Free: Website Heatmap Guide
So, what is a video heatmap and what do these heatmaps show?
What does a Video Heatmap Show?
Video heatmap is an analytics tool used to track and understand viewer behavior while they watch videos hosted by you. Like the mainstream website heatmap that tracks visitor behavior on every element of a website, video heatmap records how viewers engage with the videos you produce by identifying parts of a video that they rewatch, pause, skip, track where on the video most viewers are dropping-off, and so on.
Unearthing such insights on viewer behavior can help you spot parts in your video that viewers find confusing, identify the most optimal length for your videos, segment between viewers who are actually interested in watching your videos so you can optimize them to suit the requirement of those who are truly interested, and so on.

Given the pace at which video marketing is growing now, uncovering such insights in the early stages of your video marketing strategy can help you progress with it faster, and can also give you an edge when facing a competitor.
Video Heatmap – the Ace of Your Analytics Deck.
Every video heatmap tool has its own process of setting up heatmaps on the videos you host and want to gather data on. These tools also have many differentiating qualities that either level the playing field or gives one an edge over the other. Nonetheless, there are common pain points that each tool tries to solve with the capabilities that it offers. In this blog, we will touch upon 2 such instances of many, where having a video heatmap tool in your corner can turn things around for your business, for the better.

Firstly, video heatmap can help you track, understand, and improve viewer engagement – the three key elements of video marketing. For instance, one of the most popular and widely used video heatmapping tools is hosted by Wistia.com. Wistia analytics assigns a heatmap for every viewer watching a video hosted on its platform and helps track how viewers interact and engage with a video, frame-by-frame.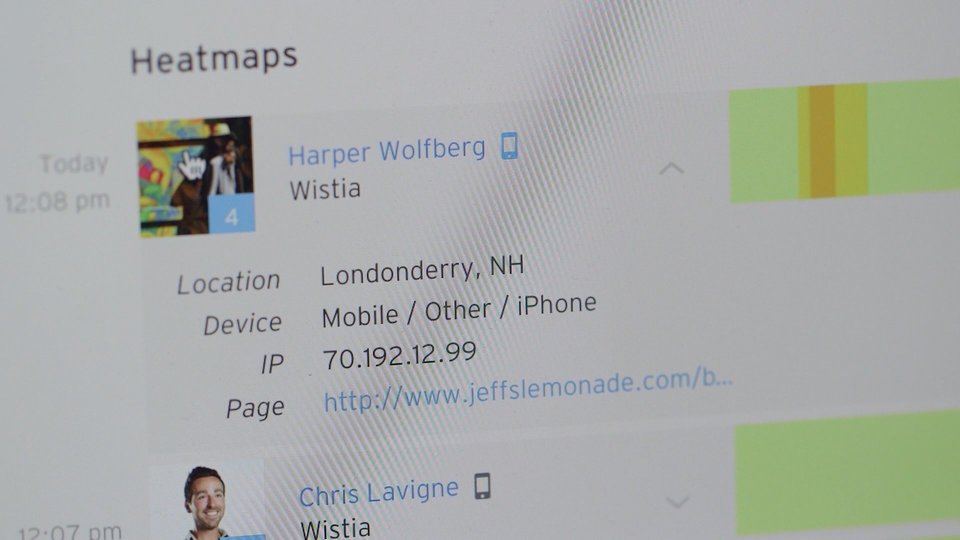 It presents a viewer's interaction with the video using a color scheme with each color denoting a unique event, and provides context on when and where the video was watched by a viewer, the percentage of the video a viewer watched, the device used, the browser through with the video was watched, the viewer's IP address, and more.
All this data is visually represented using a color-coded timeline.

If you know the types of videos that drive higher engagement, what is making viewers lose interest in the video, what content in your videos viewers keep coming back to, and more, you can identify the weak links in your videos, optimize those weak links, your message, your hooks and make sure that viewers do not drop off and keep coming back for more. All of this detailed information about each individual viewer can help you craft marketing strategies that not only improve viewer engagement but also increases conversions.
Download Free: Website Heatmap Guide
And secondly, video heatmap provides insights that can help you segment your viewers better, and as marketers, we know how important segmentation is for any marketing campaign to be fruitful.

Again, taking Wistia video heatmap as a point of reference, if you look at the screenshot above, you will notice that the heatmap reports every minute detail of your viewer's persona. It provides information on your audience's precise viewing habits so you can segment viewers based on how they engaged with your videos. For instance, the Wistia video heatmap has a 'waypoint' reporting feature (right corner in the above image).

The dot in the center is a waypoint.

What is a waypoint?

It is nothing but an indicator that the viewer took a certain action while watching your video. This action may range from clicking on the CTA, a link, etc. When hovered over the dot, data on the exact action that was taken is displayed and provides context for it.

Gather data on the waypoints of each viewer, compare the behavior of those who took an action with those who didn't, those who took an action and converted against those who didn't, and so on. Create many such segments using the insights plotted on a video's heatmap, compare each segment's viewing behavior, and deliver the most optimized version of your videos for each viewer segment.

The waypoint is only one example of the features that video heatmapping tools can offer to help you move your north star metric.
Conclusion
During my research for this blog post and when penning it down, one question kept coming back to me: what does the future look for video heatmaps and how can it be leveraged by every team in an organization for understanding viewers and prospect customers better?
The answer is simple: we won't know until we see it at work. And this is exactly what I want to convey through this blog. Marketing teams are already witnessing the difference it can make in video content ideation, storyboarding, production and distribution. Marketers who are leveraging video heatmaps to produce videos that resonate more with the viewers and their pain points have an added armor to their analytics toolkit. It is only a matter of a few years before it becomes clear that other teams in an organization like the sales team, the support team, product development team, and more can all benefit from using video heatmaps and unearthing insights that are often invisible to plain eyes.

Here are some video marketing stats from the last few years to give you an overview of the growing popularity of videos, thereby warranting increased, in-depth video analytics:

85%

of internet users in the US watched online video content monthly

.

As of 2018,

88% of video marketers were satisfied with the ROI of their social media video marketing spends.
68% of consumers reported that they would prefer videos as a means to learn about new products or services rather than ebooks and manuals (3%), presentations and pitches (4%), infographics (4%), or text-based articles (15%).
FAQs on Video Heatmap
What is a video heatmap?
Video heatmap is a type of qualitative analytics tool that helps an online business track and understand viewer behavior while they watch videos hosted by that business.
How do video heatmaps help?
A video heatmap helps in finding insights in visitor viewing pattern by helping to identify the segment of audience that are actually interested in the video, the most apt length for that video, and find out the lesser engaging parts within the video.