This was a part of the
blog earlier which is now
VWO Engage
Learn more here
.
The Magic Of Power Words In Push Notifications
"Words are, in my not so-humble opinion, our most inexhaustible source of magic." – Dumbledore
True, isn't it? Words are merely alphabets put together, yet have such immense power. They are capable of invoking emotions. Remember the last time you read something beautiful; or heard words that cut like knives? Words are almost magic, but only if you know how to use them because some words work better than others.
All words are equal, but some are more equal than others. These are called 'Power words' (also known as magic words, trigger words, magnet words, and more). They are called so because power words can trigger an emotional response.
What are Power Words?
We skim through content because we need to know that the content is worth our time. We live in a fast-paced age, where everything is available at the tip of our fingers. Giving anybody your precious time means a lot. And, if you are still reading this article, then I would like to give power words due credit.
Since the beginning of this article, I have been using power words to try to keep you here.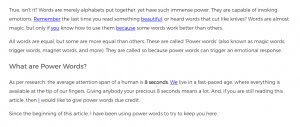 Power words are words that marketers use to make either an emotional or psychological impact, and they fit naturally into writing. They aren't inherently different or more special than the words you use in regular conversation but are more effective in communication.
Push Notifications with Power Words
When you have limited words to convey emotions, you should use power words. They work incredibly well to prompt an action using just 150 characters via push notifications. Every push notification has a title of maximum 48 characters, a copy limit of 100 characters, and a call-to-action button. The task at hand is to convince a subscriber using just what we have.
To understand power words better, we can break down power words into 5 categories based on –
1. URGENCY – words that create a sense of urgency. In this case, words like important, instantly, reminder, tick-tock, today, wait, fast, immediately, alert, breaking, quickly, etc. encourage immediate actions.
2. VALUE – It is all about words giving value to the reader/subscriber. For instance, power words like – offer, buy, free, deal, discount, save, sale, money, etc. can be used to convince the reader.
3. EXCLUSIVITY – People like feeling special. If they feel like they are being treated specially, they are more likely to click on the notification. Words like – invitation, limited, member, exclusively, especially for you, pass, reward, gift, and more, help achieve the same.
4. EMOTIONS – You need to induce emotions. There are so many words that can singlehandedly make you feel different about a sentence. For example, words like Imagine, Believe, Dream, Improve, Love, Happy, Indulge, Wish, Avoid, Warning, Epic, etc. could kindle emotions.
5. PERSONALIZATION – We live in the age of hyper-personalization. You should use words which make it seem like one-on-one conversations, like – you, we, our, us, I, etc. Using names, purchase history, and previous metrics can be helpful too.
Tip: Don't go overboard with stuffing power words in your content. Overloading sentences with power words is like a teenage boy spraying on large amounts of scent in the hope of attracting more girls.
But there is no guarantee that power words will work unless you know precisely how to use them. They vary from industry to industry. If you are a publisher, the words would be slightly different than if you were an eCommerce player.
Which Power Words work better for your Industry?
Well, the basic idea remains the same. You need to understand your audience and write what they want to read, answer the questions they are asking, and persuade them into clicking.
E-COMMERCE / RETAIL INDUSTRY
We can buy products from all over the world via smartphones and computers. Around 71% shoppers believe that they will get a better deal online as compared to physical stores. There are hundreds of E-commerce players in the market. And in this intense competition, it is imperative for you to be more clear and precise to be heard better.
Create a sense of urgency by using words like – Limited period, last-minute, fast, quick, etc., and give value with deal, offer, discount, bargain, free, sale, save, and more.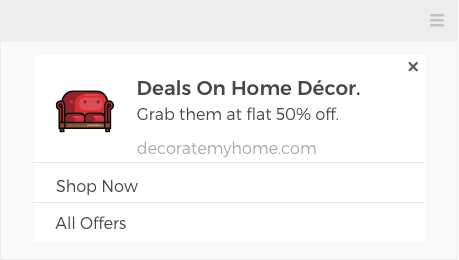 Be exclusive by using best, for you, exclusive, VIP, invitation, gift, reward, and more. Add a bit of emotion with words like amazing, happy, incredible, popular, sweet, right, love, etc. And most importantly, make it relevant and personalized by using the user name, product name, electronics (like iPhone, MacBook, etc.), use information from their purchase history, etc.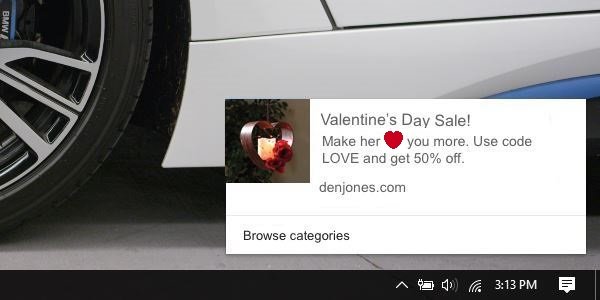 TRAVEL INDUSTRY
Time is critical in this particular industry. Days and months are good power words, and so are seasons. You can use popular locations as well. Updates are always essential in push notifications, like flight status, destination information, and reminders.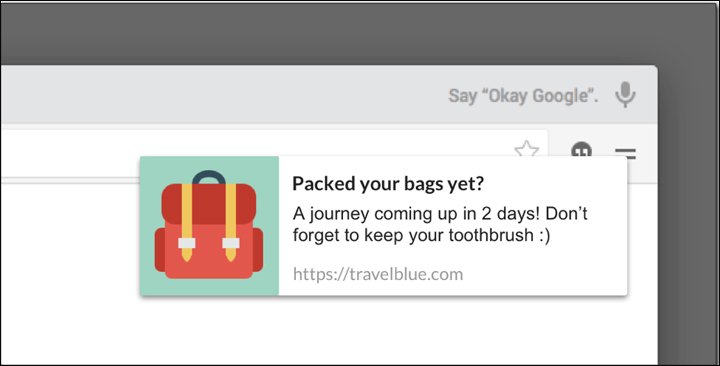 Related: An Uncomplicated Guide to Push Notifications for Online Travel Companies
You can persuade people into more bookings if you know just what they want to read. If someone has booked a flight, it's perfect timing to send them a list of hotels in the area. If a person has searched for something in the past, then send them a push notification whenever there is a deal on flights/hotels. Evoke some emotions using words like – dream, memories, escape, express, indulge, timeless, etc.
ONLINE PUBLISHING INDUSTRY
The industry not only includes bloggers, but also the media and news publishing websites, as well as company blogs. It's all about updating the reader. You either make the reader curious about the latest political scandal, or another topic using push notifications. While publishing a new blog post, you should push out something attention-grabbing, using emotion invoking power words.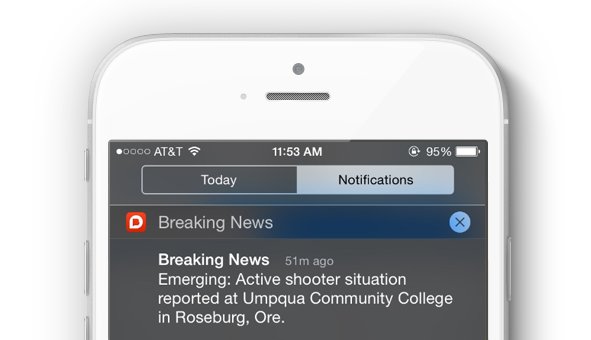 Emojis are the new Power words – just better.
With limited characters to convey a message, an emoji is the best way to save space and express emotions. They are practically words, but better. Scientists have discovered that whenever a person looks at an emoji, the same part of the brain gets activated as when he/she looks at a human emotion.
In fact, the 'smiling face with tears of joy' emoji [ 😂 ] was even selected as the Oxford Dictionary word of the year in 2015.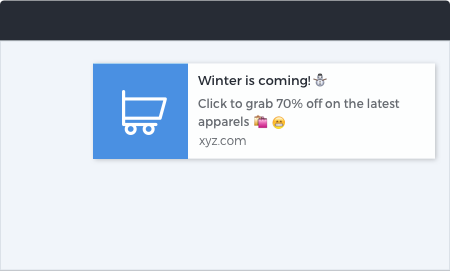 Using power words is an art. There is no ultimate list of words that are guaranteed to work. The psychology behind using power words in different situations is what makes all the difference. You can find hundreds of statistics-based articles about power words that work, but if you don't understand how, a list is barely helpful.
3 Steps to find the Right Power Word
You can experiment with multiple words, but you can be foolproof with these three steps.
Step 1: Deduce the desired action that you want to trigger with the push notification
Think about the action that you want your reader to take. What would happen when they click on the CTA button? Do you want them to read something or purchase an item?
Step 2: Determine the emotional state that will drive the required action
Certain emotions drive us to take actions. What is the emotion that your reader will be in before taking action? Will they be happy, or excited, or feel terrible?
Step 3: Choose words to trigger that particular emotion, and write content accordingly.
Now that you know how to make a subscriber feel, make a list of relevant words and use them in your content.
It's all a game of words, so choose your words wisely.
Make every word count!