We have been working silently and regularly releasing lots of new features. Some Visual Website Optimizer users and customers may have noticed these features already. This post is an official announcement of all the new features which have been released in past few months. What made us wait so long to announce?
Brand new website design!
Yes, we were waiting for an overhaul of our website before announcing the new features. Working with the most excellent Jesse (of 31Three.com), we came up with a new color scheme, jazzed up the logo and gave different pages an uplift (especially, homepage, case studies and features pages). Here's how our homepage looks now: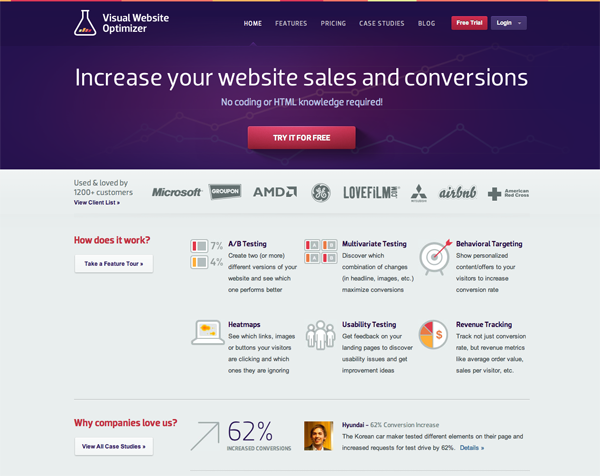 Do you like our new design? Any improvement ideas or comments?
New test designer with tons of features
We released this update long back, but haven't formally announced it. To make creation of variations even easier for marketers, we made test designer much more intuitive and enhanced its functionality.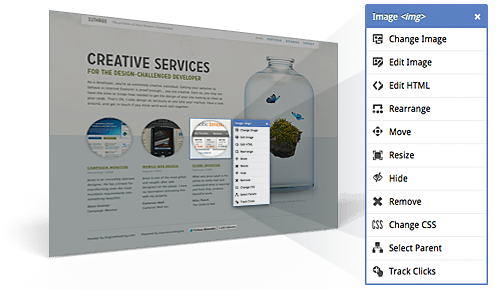 These are the new features in test designer:
More options to change elements (move, resize, rearrange, hide, remove, change link, change text, etc.)
Better image uploader and inbuilt image editor (crop, rotate, resize, color images within VWO)
Unlimited undo and redo (make mistakes, and then simply undo those mistakes!)
Save test as draft (you can work on the same test in multiple shifts)
List of modifications (if you want to remove one of the changes in an A/B test, you can do that from list of modifications)
Our features page has a short video that shows new editor in action. Do take a look to see just how much the editor has improved recently!
Geo-behavioral targeting
This is a feature that has got us most excited! In A/B test, you create two versions of your website and then any incoming visitor will see one of those two versions. Finally, you measure which version produced more sales and conversions. So far, so good. However, what if different types of visitors react differently to different versions? Probably visitors from New York who came to your site via Facebook respond better to version A, but visitors from London respond better to version B? How can you personalize your website and landing pages so different visitors see a version that maximizes conversion rate for them?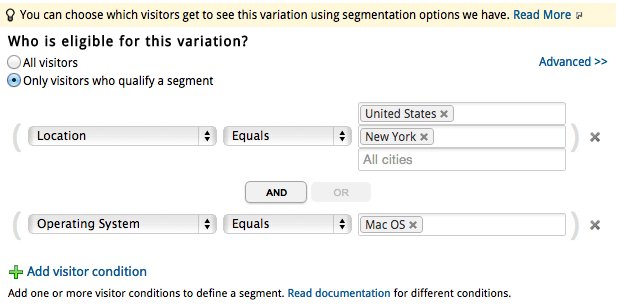 This geo-behavioral targeting feature lets you create multiple variations/offers/content and then target specific variations to specific segment of visitors. So, if you have 5 variations, you can target each one of them to be only shown to a particular kind of visitor. Cool, right?
We have multiple targeting options: country, city, browser, mobile device (iPad, iPhone, Android, etc.), referring website, returning or new visitor, cookie value, ad campaign, etc. You can combine these targeting options to create a very complex kind of segment.
Usability testing
So you have decided to A/B test your website, but how do you know what you could be testing? You can either get ideas from A/B testing case studies, or read posts such as 23 A/B testing ideas. But if you need personalized suggestions about what to test on your website, you are on your own (unless you hire a conversion rate optimization agency).
For benefit of our users, we have come up with a usability testing feature called What to Test. What this feature allows you is to ask our panel of users (sourced from Amazon's Mechanical Turk) what they think about your website or landing page, and thereby get A/B testing and usability improvement ideas. You can ask any question you want (for example "Do you think our headline is simple and effective?"), or you could choose questions from our pre-defined list (we have collated best usability testing questions). Upon starting the process, within a few days, you will get a report with feedback from users. See an example below: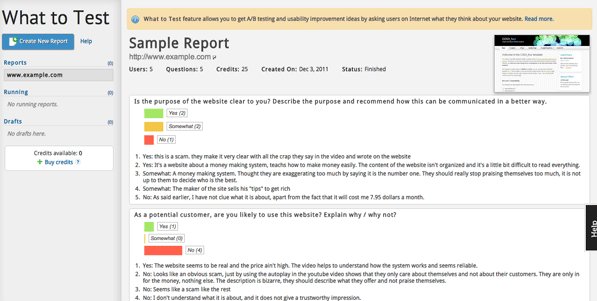 We hope you use this feature and get lots of new A/B testing ideas!
Other improvements in Visual Website Optimizer
This is not all! We have made many other improvements in Visual Website Optimizer:
Google Analytics integration is codeless now (no need to change any code. Simply select the integration option while making a test, see details here)
Treat variation as a base for calculations (as a default, control is the base for calculating percentage improvement, chance to beat original and other metrics in report. Now you can select any variation as the base, and see calculations relative to it)
Asynchronous code (huge page load speed improvements now possible by switching to new asynchronous code snippet, see details here)
Business and team updates!
We have our very own team blog where we keep announcing what Wingify Boys are up to! Here are the salient points on what's happening in the company:
We're a team of 10 people now
We crossed 1200 paying customers within first 2 years of incorporation
We moved to a larger and better equipped office
Yep, we're still bootstrapped 😉
If you think we're a fun company and would like to be our part, we're hiring (all the time!)
Phew! What's next?
We have already started working on next big set of features. In case you have any specific feature requests, suggestions or comments, you are always welcome to email them to us at info@wingify.com
We're very excited about the future of testing and optimization, and hope you are too..