If you love A B testing, eCommerce sites should be your favorite playground. These sites have so much happening at every level that you can never test too much.
Amazon, the market leader, is well known for its habit to test everything. Following its footsteps, when you run short of ideas, here is a checklist for 15 eCommerce A/B testing ideas you can save for reference:
Homepage Test Ideas
1. Add Trust/Award Badges
Many sites have started adding the Trust Pilot customer reviews widget or badge on different steps of the funnel. Express Watches used it on their homepage which increased their sales by 58.29%. You can see how Webtogs display the Trust Pilot Badge on their homepage with other award badges: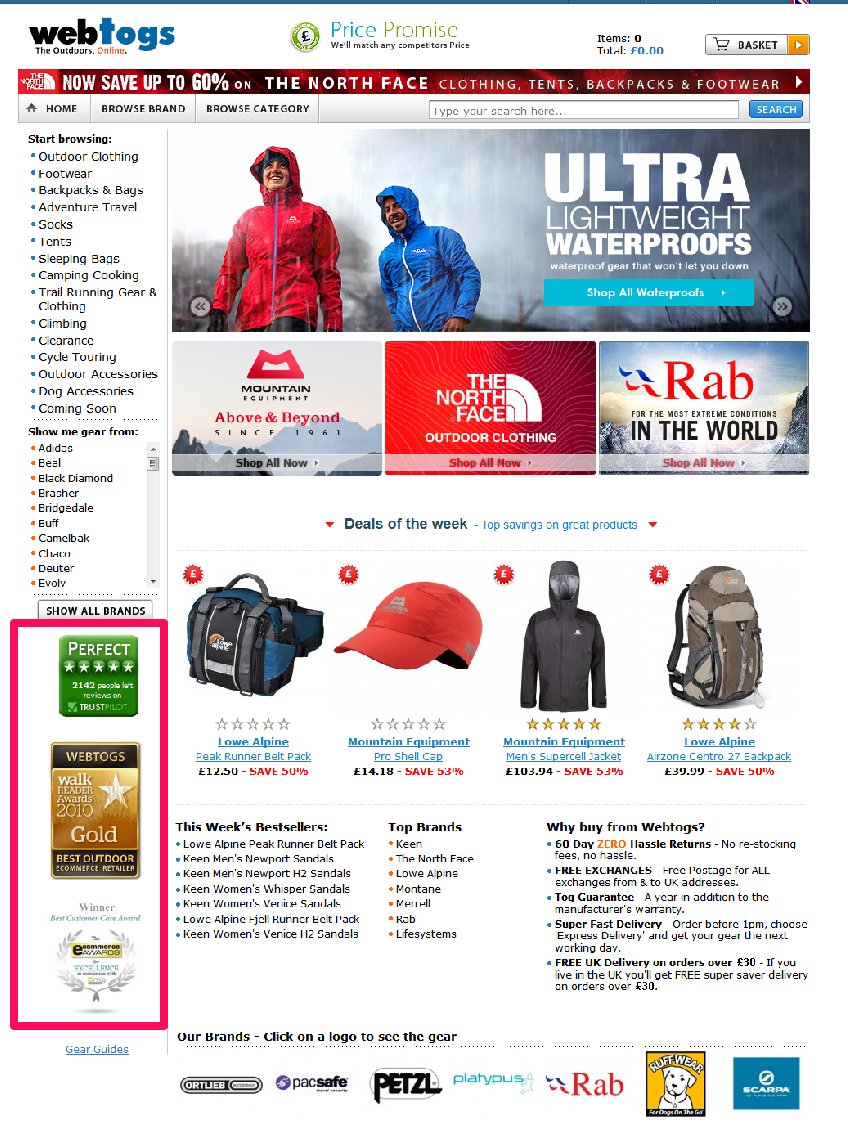 Although this looks great, I think a more prominent position of these badges might help improve conversions for Webtogs.
Our customer, Bag Servant, also increased their conversion rate by 72.05% when they added the esteemed "WOW Winner" badge, won by them, in the header of their homepage.
2. Test Your Drop-down Menus
One of our clients replaced its drop-down menu with an elaborate product category page for better usability. Result? Their revenue increased by 56.43%. Read the complete case study here.
Eye tracking studies have also shown that drop-down menus can annoy users. You should especially consider this option if your target audience is from older age group or users with disabilities.
3. Tell Them If You Ship to Their Location
I came across this website named, Threadless.com, while randomly surfing the Internet. I would have never explored it any further if their message "Yep, we ship to India" hadn't been displayed. I would have thought that it's probably a US/UK based site that doesn't have any shipment policy for India (like most websites).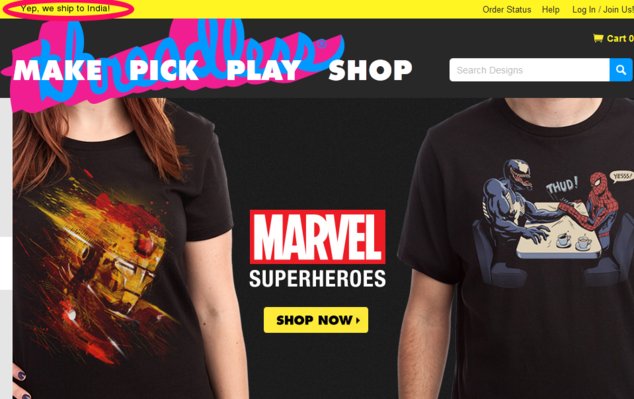 As a Visual Website Customer, you probably know that setting up this test in our tool wouldn't take more than a few minutes with our Behavioral & Geo-targeting Feature.
4. Remove Your Image Carousels
Image sliders may seem attractive on a homepage, but their reputation in the conversion optimization industry was tainted long ago. Let's hope you listened and removed those distracting rotating banners. But what next? Check out this post for three ideas you can use to replace your carousels and improve conversions.
5. Give Them Live Chat Assistance
A Forrester Research study found that 44% online consumers want live chat assistance when they are in the middle of a purchase. Practical Commerce reports a case study where live chat boosted conversions by 17% for SupplyGeeks.com. To know more about how you can use live chat better, you can read this awesome article by Kissmetrics.
Product Page Testing Ideas
6. Create Urgency
The time is running out. See how the timer is used by Express Watches on their product page to create urgency: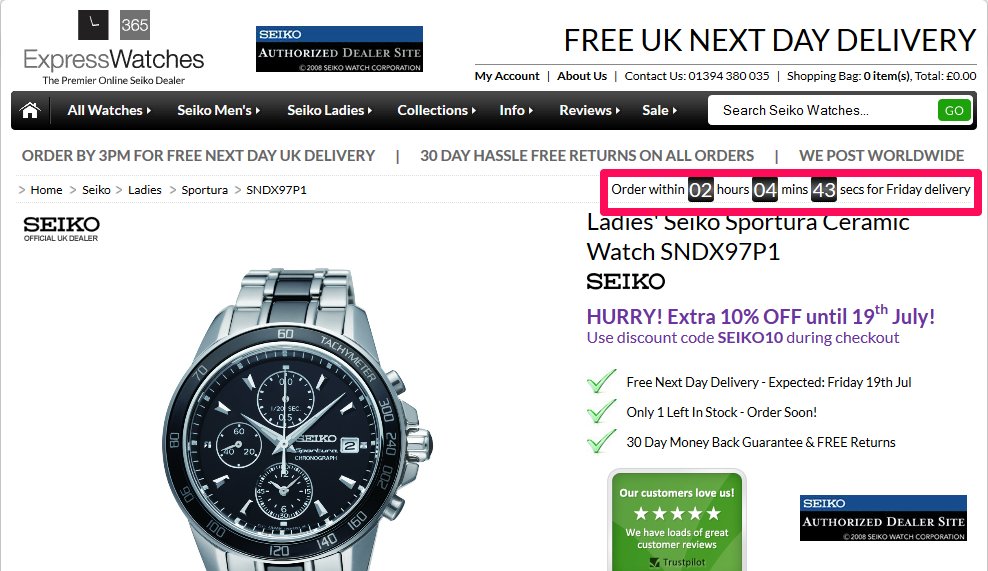 7. Add Product Videos (At Least for the Popular Products)
Videos are the closest experience users can get online to buy a product. They help people imagine how they will feel when they have the product in their hands. Simply Hike has videos for every product: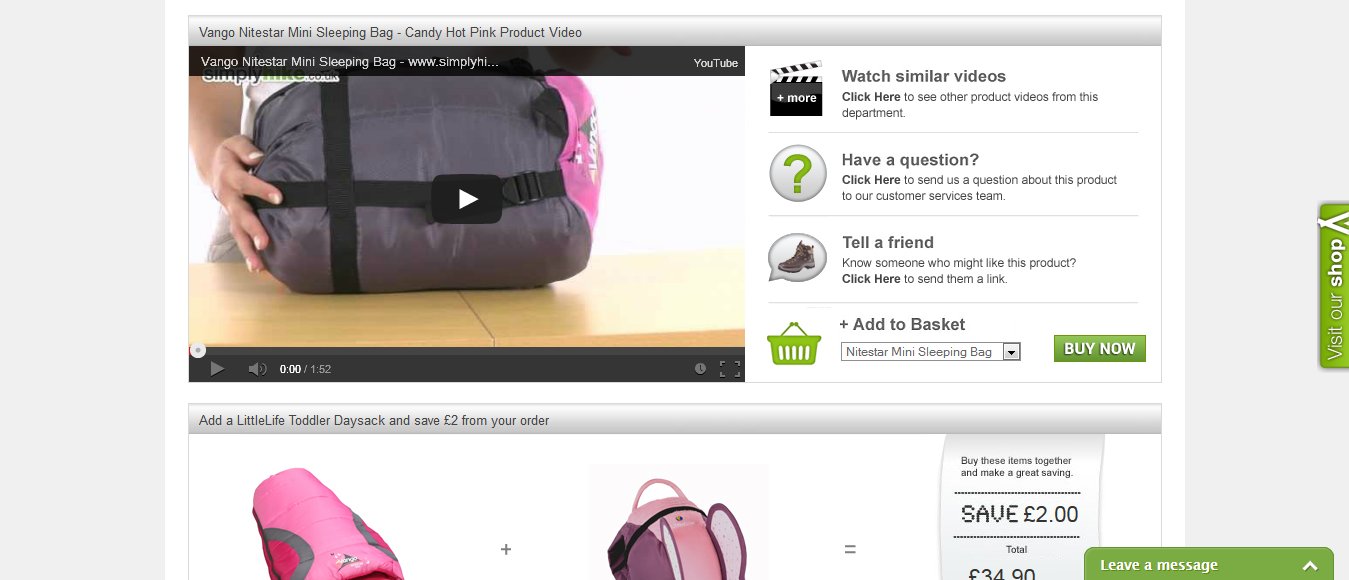 According to this report by Reel SEO, visitors who do not watch the video but still have the option to watch them, convert at a higher rate than those who don't have the option. An article on Smart Insights quotes Matt Lawson, the conversion expert for Appliances Online, where he mentions:
"We have tested and proven that when someone watches our video reviews they're 120.5% more likely to buy, spend 157.2% longer on the site and spend 9.1% more per order."
You got the gist. Read my post on how to use videos to boost sales.
8. Price Match Guarantee
See how Webtogs display their guarantee seals and even explains (below the seal in the header) the value of that guarantee to win trust of visitors in an instant.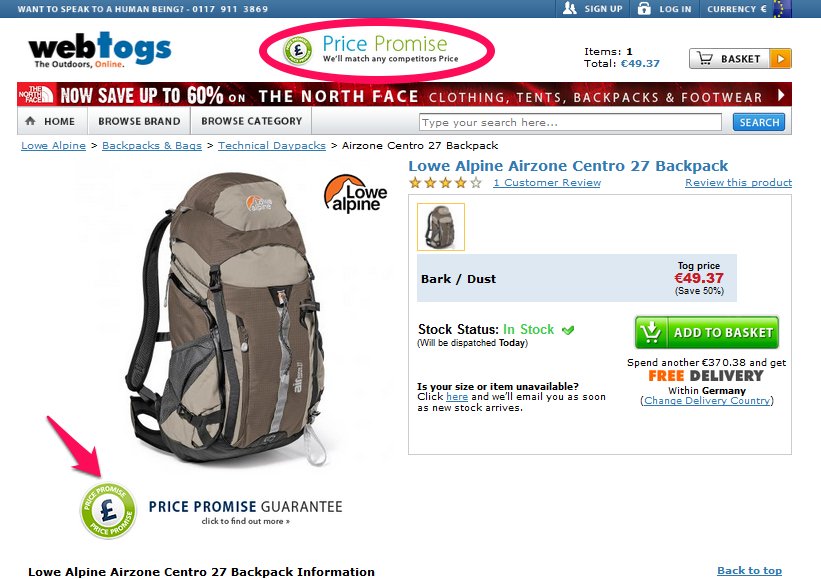 Bonus points to this site for providing the option to convert prices in different currencies on the product page. Below is the pop up that shows up when you click the option to change country on the product page.

9. Provide 360° View of Products
Larger product images increase conversions. But you probably know that already. Go one step ahead and provide 360 view of your products. Let your customers have no doubts. Give them a closer real life experience with 360° view of products. This will give them the confidence to buy products.
Due Maternity added the 360-spin to their images which increased their conversions by 27%.
Jabong puts this into action pretty well:
10. If You Do Not Provide Free Shipping, Reveal Shipping Fee on the Product Page
We all know charging for shipping is a big conversion killer. But we all have our financial constraints. If you charge for shipping, mention that cost upfront. Ozscopes goes a step ahead and provides a shipping calculator on their product page: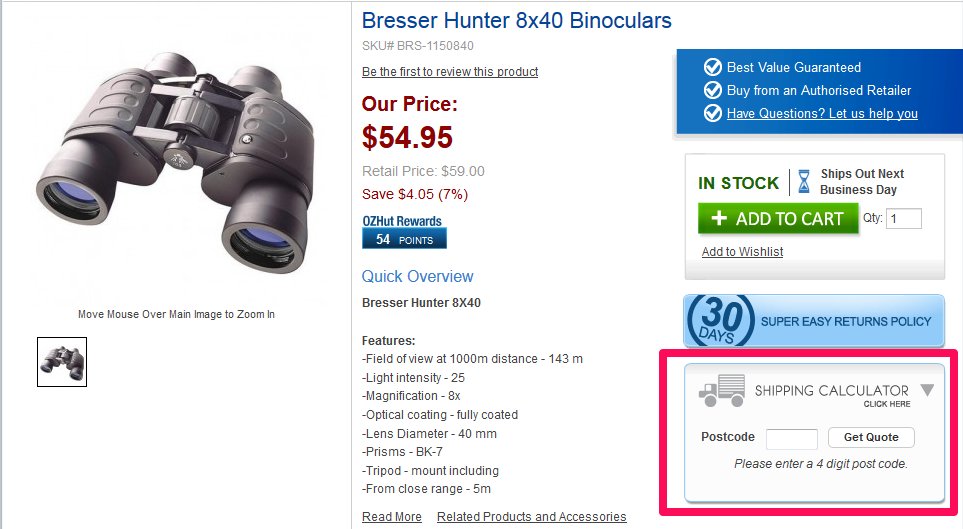 A comScore study revealed that 47% of customers will abandon the cart if they saw that they are being charged for shipping during the checkout.
Sometimes the revenue difference between cheap shipping and free shipping can be huge. There's no way you can beat the charm of "free shipping." So if at all you can consider offering free shipping, it can increase your average order value too, in case you haven't realized it. You can read this article for more information on this.
Checkout Testing Ideas
11. Use Recognizable Security Seals
A survey was conducted to know the security seals that are most effective. The responders were asked which single logo gave them maximum assurance. And these names stood out to be clear winners:
PayPal (29%)
Verisign (25%)
McAfee (23%)
BBB (7%)
TRUSTe (3%)
Having security logos that are not recognized or trusted by customers are almost like having no logos at all.
12. Use Reassurance Text
If you do not want to pay for pricey security seals, you can also try adding some reassurance text. Like you can see how Wiltshirefarmfoods.com pulls this off perfectly in the image below (and pass out on any security seals whatsoever):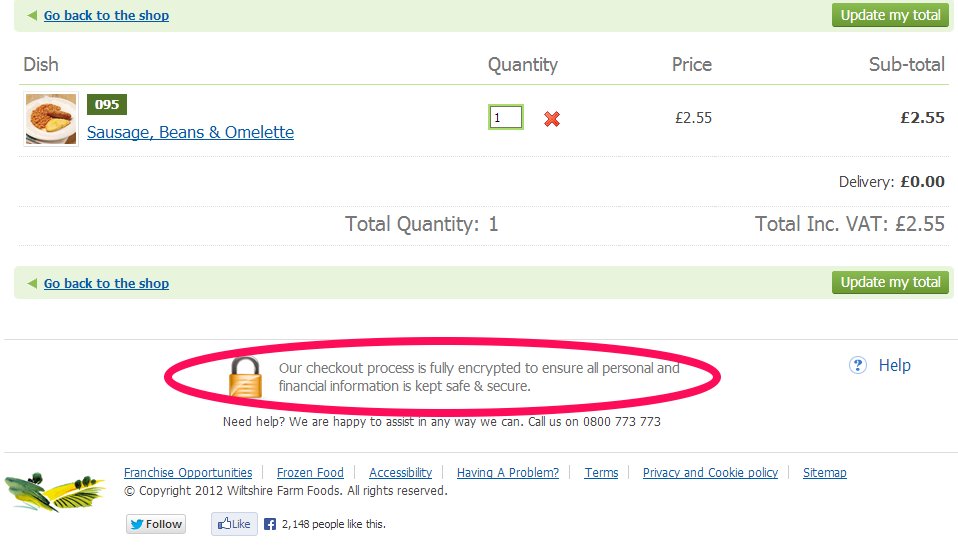 But one thing you must take note here is, your website's usability and design should be exceptionally brilliant for this to work.
The text version can sometimes work even better than security seals if your target audience is from an older age group, who do not understand or recognize these security badges.
13. Make Them Generate Promo Codes
All credits to the conversion expert, Craig Sullivan, for this one. The trend is, you ask customers if they have a promo code in the checkout process. And give them a blank box to enter this code if they have it. There are SO many sites who do this to increase sales. But this one can often backfire. Majority of customers leave the site to google for active coupons. Often they get distracted with other stuff they find and never come back to complete their checkout.
Here's what Craig suggested you can do about it:
Step 1 – Create a link that says "Got a promo code?" instead of a blank box that asks you to enter the promo code.
Step 2 – Once the customer clicks on that link, open a collapsible div that shows two options:
a. Enter the promo code (for those who have it)
b. Generate promo code (for those who do not have it)
You can see this in the image below: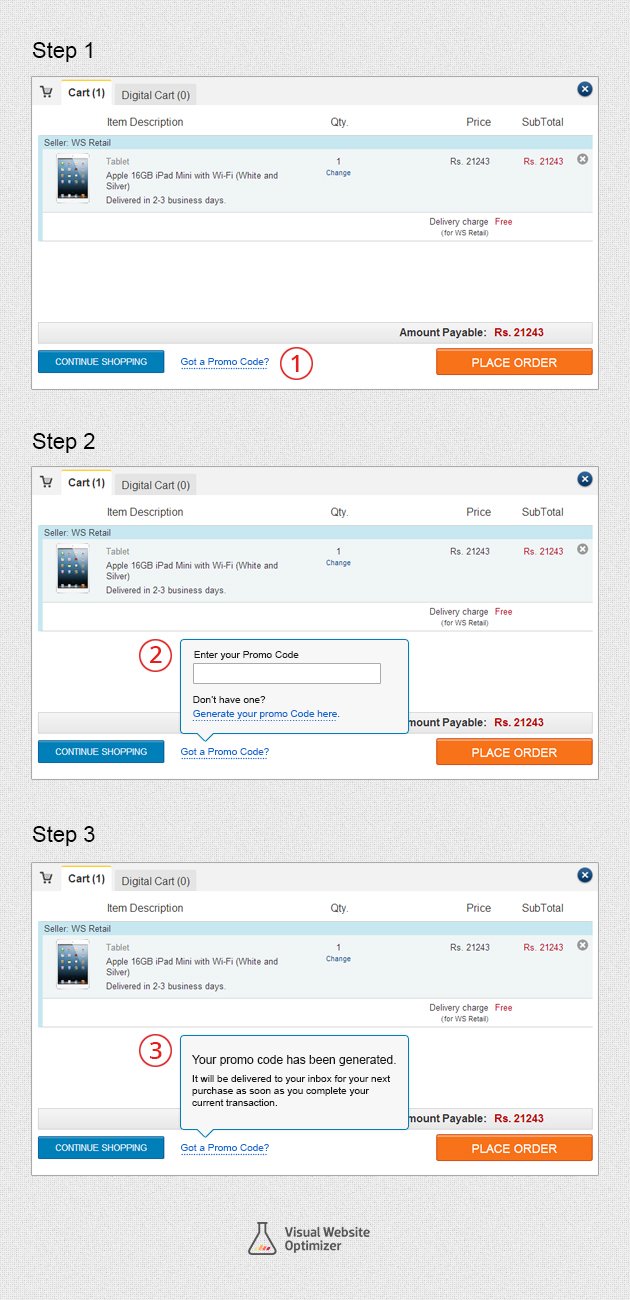 Like it is mentioned in the above image, the promo code generated by customers will only be delivered when they complete their current transaction. This will avoid people leaving the site to find the coupon code if they do not have it. Plus, it will also motivate them to complete their current order, which should reduce your cart abandonment rate.
Thank You Page Testing Ideas
14. Post-Purchase Social Share
Thank you pages are often ignored when people talk about increasing the conversion rate of a website. But not optimizing your thank you page is like asking people to leave from your home (or, website in this case). Sure, they have just bought something and might not be ready to buy something immediately.
But this is where you can tell them what you want them to do. Amazon provides their customers social media options to share the stuff that they have just ordered: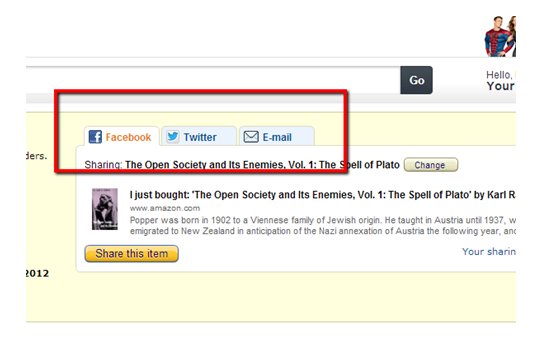 This is great because chances are people in the same network often have similar interests or age group. And if something appealed to one person, it might be liked by other people in their circle too.
15. Ask Them If They Would Like to Participate in a Survey
Knowing your customers always pay off in future. Ask them if they would like to participate in a short survey and get some useful insights from them.
For more ideas on how you can optimize your thank you page, you can read my article here.
Finally, don't take my word for it. AB test them to see which of these ideas work for you.
Image credit: Search Engine Watch