15+ Most Helpful A/B Split Testing Tools & Resources in 2021 [including Free ones]
*Note: This post has been recently updated.
Please find the links to the resources listed, in the 'Sources' section at the end of the post.
A/B testing is not what it used to be in the past when businesses only focused on sustaining themselves in the market. This trend has changed in the last few years and the focus has shifted from merely sustaining to improving conversions through testing. Every business that has an online presence is either already A/B testing or planning to do it in the future.
Owing to this popularity, the demand for A/B testing tools and resources has also increased. This post lists the best and free A/B testing, split URL testing, and multivariate testing tools, as well as some resources that can help you find testing solutions to improve user experience thereby increase conversions.
Research Tools for Testing
Landing Page Analyzer: Test how effective your landing page is and get an actionable report on your landing page's problem areas and recommendations on how to improve them. This free Landing Page Analyzer gives you comprehensive reports of your landing pages after measuring them on 5 parameters: Relevance, Propensity to take action, Persuasiveness, Motivation, and Focus on the goal.
Google Analytics (GA)[1]: A free web analytics tool offered by Google, Google Analytics tracks your website traffic and enables you to get statistically significant insights on their behavior. Once set up, it automatically collects data on your website visitors and creates reports on them so you can use the insights to plan the success strategy for your business. Because of the ease of integration, you can integrate GA with other tools (like Google AdWords) to make them work together.
Significance Calculator: Use VWO's A/B Significance Calculator test to calculate the statistical significance of your test results based on the number of visitors and conversion rates of both control and variation(s).
Evan's Awesome A/B tools[2]: A collection of intuitive, visual and easy to use A/B testing tools to help you with statistical calculations for any test. It includes testing tools like Two-Sample T-Test, Chi-Squared Test, and Sample Size Calculator, etc.
ABtestbot: ABtestbot is an A/B testing tool developed by Slack, a workplace chat tool. With ABtestbot, you can easily calculate the results of your A/B test and its statistical significance.
Duration Calculator: Calculate the duration for which you should run A/B tests using VWO's free Duration Calculator. This free A/B test duration calculator estimates the duration for which you should run your test to conclude with statistical significance based on 5 parameters:
Estimated existing conversion rate
Minimum improvement in conversion rate you want to detect
Number of variations/combinations (including control)
Average number of daily visitors
Percentage of visitors included in the test?
Reading Resources for Testing
The Complete Guide To A/B Testing: This comprehensive pillar page addresses all the questions revolving around A/B testing like how to A/B test, what to A/B test, common mistakes while A/B testing, and much more. In fact, this page also offers a free downloadable A/B testing calendar template that will help you while scaling your Testing program.
Practical Guide to Controlled Experiments on the Web: This guide by Microsoft is an excellent paper on how testing should be done.
Complete Guide To Conversion Rate Optimization: Read this pillar page to gather in-depth knowledge about CRO and its multiple aspects. Starting from what CRO is, this pillar page talks in detail about the benefits of CRO, its primary elements, the process and so on.
8 Week CRO Planner: Hubspot and VWO joined hands and presented the first-ever edition of this ebook that takes you through each step of your CRO and A/B testing program and guides you to improve conversions in 60 days.
The Advanced Guide To Scaling a Conversion Optimization Program: Taking the partnership ahead, Hubspot and VWO came together again this year to create a sequel to the 8 Week CRO PLanner ebook. This sequel ebook talks about what comes after you've set up a conversion optimization program.
Data science you need to know! A/B testing[3]:
Get insights on A/B testing and know how to plan your own structured A/B testing program.
Cracking A/B Testing in Your Product[4]: A comprehensive blog taking you through the optimization journey of "Travel Triangle" App that led to a 70% increase in in-app conversions.
Make the Right Choice. A/B Testing for UX Improvement[5]: Decide between two design options of web pages by A/B testing them. This article will take you through different aspects of A/B testing and show how designers improve UX through continuous A/B testing.
VWO Resources: If you want an extensive reading repository that will help you understand real-life A/B testing use cases and success stories, or if you want to read top blogs on A/B testing best practices, blogs on everything CRO, etc then VWO resources is the place for you to be. We also have a collection of webinars that cover a vast expanse of topics on website optimization.
Guess The Test: Guess The Test is a popular digital marketing resource base for everything CRO. It offers case studies in the form of games where you can take a guess on which test version you think won, and then learn about the results, and about how you can apply those findings to your own work. And the best part is that it is absolutely FREE. In fact, they also have a huge library of A/B testing case studies.
Testing Tools
Vanity: Vanity is an experiment-driven and datastore agnostic development framework for Rails.
Genetify[6]: Genetify is an unobtrusive way to A/B  testing and website optimization. It is based on an open-source JavaScript framework for A/B  testing.
Django-lean: Django-lean is a split testing framework for implementing tests in JavaScript, Python, or Django template code. It also gives you administrative views for analyzing the results of those tests.
Petri: Wix is a free website builder and Petri is its experimentation system. It offers many services like running A/B tests, defines your experiment's sample, and much more.
VWO Testing: VWO Testing is the world's leading A/B testing tool. VWO Testing helps you improve your websites conversion rates by enabling you to build an experimentation roadmap. VWO Testing's connected platform allows you to conduct qualitative and quantitative visitor behavior research, A/B tests, split URL tests, and multivariate tests. With its Visual Editor, you can drag and drop any element from one position to another in real-time anywhere on the web pages.
Wasabi A/B Testing Platform[7]: Wasabi is an API driven, real-time A/B testing service, that empowers users to use their own data and run experiments across all devices. Wasabi is the experimentation platform for TurboTax, QuickBooks, Mint.com, and other Intuit offerings.
Five Second Test[8]: Five Second Test is a simple method of A/B testing images and designs to find out what information they are giving away within the first 5 seconds of viewing it. Multiple variations of an image or design is shown to visitors and a few questions are asked around them to measure which one conveys the closest message.
In September last year, VWO ran a five second test on the brand logo and changed the brand logo. This is what our previous logo looked like:

We came across many instances where people were finding it difficult to understand the logo and decided to run an A/B test on it. And this is what our logo looks like now: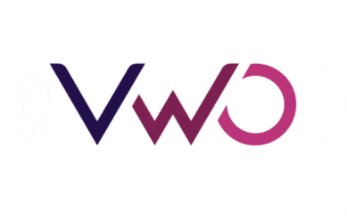 This list is in no way exhaustive. You can still lookout for more options and figure out what software can be used or build for A/B testing, what are the best tools to use for A/B testing or what is the best A/B testing tool that is not very expensive. Once you lock in on a testing platform, gather and analyze as much real-time website and visitor behavior data using research tools and then start testing.
If you have any other suggestions for additions to this list, we will be happy to add them. Please drop us an email at marketing@vwo.com!