14 Ways to Prep Up Your eCommerce Store for the 2013 Holiday Season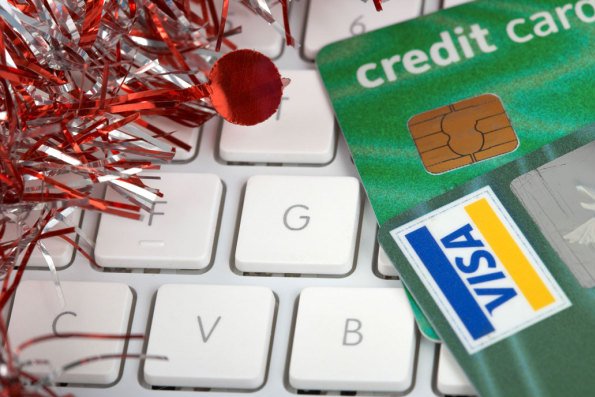 Holiday season. Exciting times. Aren't they?
The rush of seeing the awesome spike in your revenue gives a high of its own. According to a survey conducted by e-commerce consultancy, most retailers are expecting more than 10% growth in their online sales this year.
Some of you might think it's too early to think about 2013 holiday shopping. But the pros in the business know that it's time they should start prepping up their sites to have a super rewarding holiday season.
In fact, Wal Mart has already launched its hot toys list last week, for this holiday season. So let's get started..
1. Set up your calender
Remember holiday season is not just about the Christmas cheer. Know about these holidays and plan your campaigns to target the spirit of these holidays. Here's the 2013 holiday calender for you:

Cyber Monday was the busiest shopping day for 2012.
National Retail Federation survey last year revealed that 41% American holiday shoppers begin their purchasing before the Halloween, and around 20% of them start buying by September end. Now that doesn't leave you with much time. Does it?
And while it is important to plan for these dates, don't forget to dig into your Google Analytics to find dates or patterns that have specifically been important for your online store during the previous holiday seasons.
2. Optimize the Performance of Your Server
While it's true that every one second of delay in site load time can reduce conversion rate by 7%, this data might mean a higher loss for you due to the high-traffic volumes received during the holiday season. Here's an Infographic from Kissmetrics to elaborate this idea:

After putting in all your effort in optimizing your site for maximum conversions, the last thing you would want is for your site to crash or load at a snail's pace because of higher traffic volume during the peak season.
As many of you might know, page load time is also a considerable factor for Google in assigning organic rankings for a website. So, do all the code level and server lever changes that you want right now.
Talk to your hosting company and developer to do this for you, or you may even want to upgrade your hosting/hardware plan to avoid any disruptions with the spike in traffic on your website.
3. Go Mobile Now!
This might be easier said than done. But there has been a consistent and drastic increase in mobile shoppers in the past few years. And the trend will continue to rise in the coming years too. You better be a part of this shift sooner rather than later as this might not remain an optional choice for long.
Multi-screen shopping is also catching up. As Google reported last year, majority of multi-screen shoppers begin browsing over their mobile phones but complete their purchases on their PCs, mostly on the same day.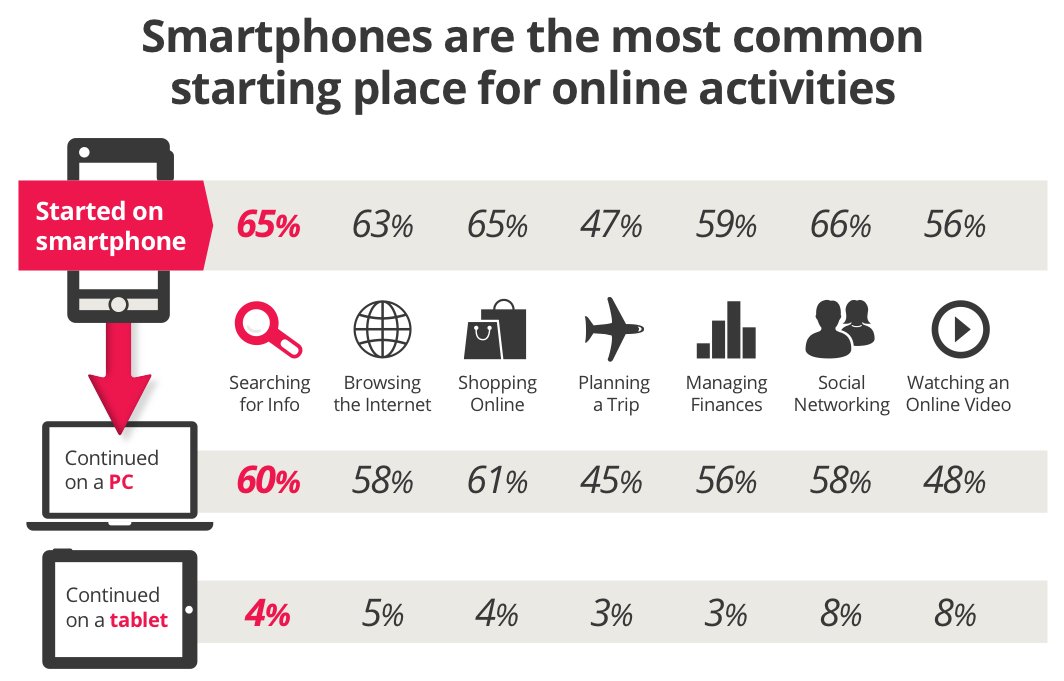 4. Figure Out the Popular Products You Need to Promote
A lot many of you probably have your popular products on your fingertips. But don't concentrate on sales metrics only. Look for return figures too.
Another thing that you can do to tap in early on popular trends for the holiday season is to host a "Grant a holiday wish" campaign on your social media. Prompt your fans to tag your company and write a message along the lines of: "Hey @[Your company's name], the only thing I want for this holiday season is, [the name of the product from your site with product URL]"
This campaign can help you in many ways:
a. It will give you a list of popular products
b. This might increase your popularity on social media and add to your fan base
c. This will make people browse through and engage with your website more
d. You will be able to build good relationships with your fans
Of course, don't forget to declare a few winners and actually give them what they asked for. Fine, add a conditions apply or something if you want to restrict this to a certain price level.
Once you have your list of popular products ready, direct targeted email, PPC (pay per click), and banner traffic to these products for maximum sales. And yes, that does mean that your homepage might not be your top priority page where you should be driving all the traffic.
Product demands can be seasonal and it's better that you leverage the opportunity to improve your profit figures, until they are still trending.
You can even consider getting professional videos made and adding bullet-ed product descriptions only for your popular products, even if you're not ready to do this for the entire website. After all, they play an important role in improving conversions.
5. Let Them Customize Their Gifts, Gift Wrap Them, and Add a Message
Just getting a gift delivered seems impersonal. A lot many people will be delighted to see that you have the option to customize those gifts for their loved ones and will be happy to add a message to it too. Providing them an option to gift wrap them is even better.
See how Underwater Audio customizes its products for their customers and allow them to add a message as well: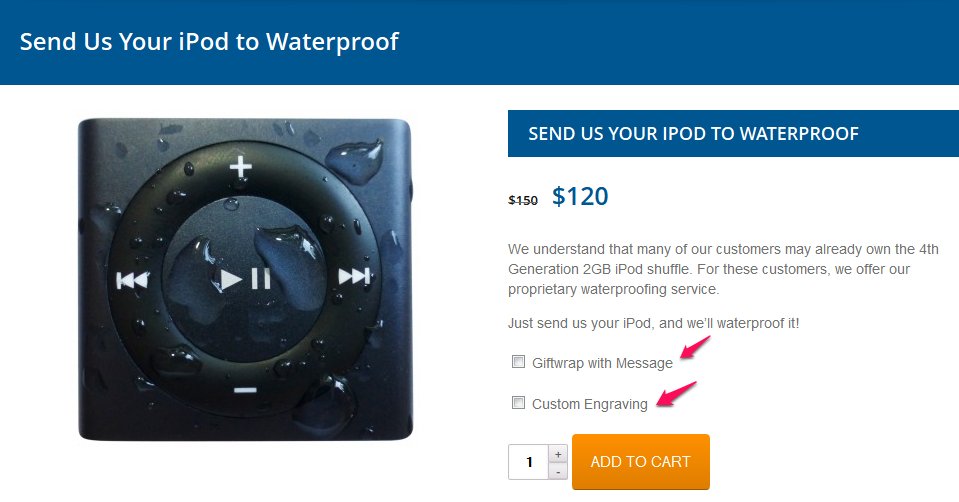 6. Develop Different Profiles of Prospective Customers and Add it to a Separate Holiday Navigation
Create a separate holiday navigation or customize your current navigation to provide buying guides according to the person for which the gift is being purchased. So, this navigation will have categories, like "Gifts for Dad," "Gifts for teenagers," and so on.
You can also include additional filters to this for customers to select the price range. So, these filters can say, "Gifts for $20 or less," "Gifts for $50 or less," and more.
This might need work but the best part is, you have time and you can still work it out. The easier you make for your consumers to find the stuff they are looking for, the better your conversions will be.
7. Provide Brave Guarantees and A/B Test Them
It's strange that not many people test their offers even when they know that these offers directly impact the conversion rate of a website. Guarantees are a great way to get people to buy from you.
One of our customers tested his $5 discount or a free shipping offer against the next-day shipping offer and saw a 41% sales lift with his next-day shipping offer.
See how Best Buy implemented this:

Of course, this guarantee does have "Conditions apply" to this. And here they reveal that if the delivery gets delayed, they will provide them with a $10 or $20 coupon, depending on their order: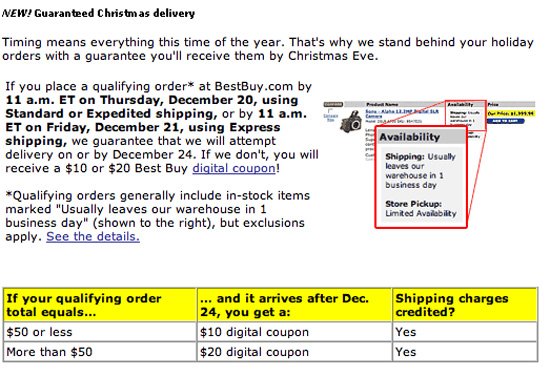 For better conversions, instead of the $10 or $20 coupon which will probably not mean much to a disappointed customer, see if you can give them a 100% refund or store credit in their account, on request.
If you have different holiday cut-offs for different locations, make sure to display them upfront to avoid bad user experience. Here's an example from American Eagle Outfitters:

8. Plan Your Offer Carefully
Oli Gardner from Unbounce explains this perfectly. "Buy one pair of shoes for $100 and get the second pair free" v/s 50% Off. In both the cases, the net value of a pair of shoes to the retailer is $50. But chances are that the $100 for two pair of shoes will get a higher revenue for the store than the 50% off campaign.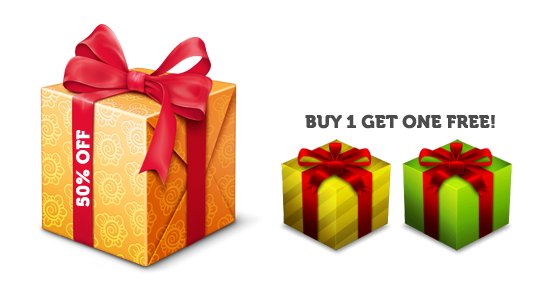 You can test this on your website and see which one generates better revenue for you. But be careful as this may not work for all products the same way. Think about it. Does it make much sense to offer the same $100 for two video games, even if it is a good deal? Exactly!
9. Enable Live Chat
Imagine having to roam around the entire store to find someone to answer your query. Frustrating is the word. And online it's easy to switch, so most people would rather leave if the help is not readily available. Don't let bad customer experience bring your sales down. You can use a tool, like Olark and enable live chat on your website.
10. Create Urgency
Adding an urgency statement can make careful buyers take action without any further delay. Amazon pulls this off really well:

You can even tempt your customers with some discount offers that they can avail only if they order within the limited time (like, the next three hours) maybe?
11. Plan Your Email Marketing Campaigns
Don't wait for the holidays to arrive to create your email marketing campaigns. Check your holiday calenders and plan them right now.
Offer some exclusive discounts or deals for your subscribers only and make them feel special.
If you have a holiday sale going on, you can email people for specific products that they added to their wishlist and are now on sale.
12. Get New Shoppers into the Loop on Thank You Pages
Most sites get a good majority of first-time shoppers during the holiday time. They use the guest checkout and they are off the hook to never think about your site again. Retain those first-time shoppers. Give them a coupon code on the thank you page. They are warm leads, they trust  you, it will be easy to convert them later. The coupon code will get them into the loop and make them come back again.
13. Localize Your Store Internationally
Threadless tells their visitors right away if they ship to their country:

Another great way of localizing your store is to provide currency conversion options for your target market. After all, it's a hassle to calculate mentally how much it will cost in your currency.  Thankfully, Underwater Audio understands this pretty well:

14. Leverage the Power of Social Media
Host a Pinterest content, encouraging people to pin your popular products with specific hashtags for your product or site.
You can create a similar buzz on Instagram by asking people to click their pictures using your products and tag them to a trending hashtag, like #weblogholidays2013 or something like that, which combines your company name and the spirit of the holiday season.
You can then use some of these pictures on your website for better conversions.
Whichever of the ideas given above you might try, be sure to test them first.
Finally, understand that directing all the traffic to the homepage or making all conversion optimization tweaks might not be as lucrative as making changes on other popular areas of your site.
Every prospect, no matter what product they might buy, will go through the checkout process on your website. So, make sure you test it beforehand to avoid higher cart abandonment.
Besides, homepage might seem to be getting majority of the traffic, you can check your Google Analytics to find if the combined traffic of all your product page templates together is more than your homepage traffic, it is better that you first concentrate with running site-wide test on your  product page template.