Lead Generation: 4 Studies, 4 Conversion Lessons, 1 Common Goal
At last, you're here.
Maybe A/B testing isn't a priority for you yet. You've probably left it on the backburner for days, or even months. That's okay!
Today, you've finally managed to make some time to give this bad boy a spin.
Before inspiration takes your leave for another month — you need a couple of quick, solid test ideas.
Something that's easy to set up, yet capable of getting you the swagger in the next monthly targets meeting with your boss.
Don't worry! I've got you covered.
The conversion lessons below will give you the transferable principles that you can go back and implement on your website. And for the gentle actionable push, you can seek inspiration from the lead generation studies that follow.
So go ahead and start testing. Convert your visitors into leads with these conversion lessons:
1. Stock Photos are Icky!
You know how it is so annoying when someone is trying to be what they are not? It's so easy to call out their facade. It leaves an icky feeling in your stomach.
"Why can't they just be who they are?" you wonder.
Online businesses that use stock photos leave the same icky feeling.
Case Study – Harrington Movers is a VWO customer that provides interstate moving services in the USA.
The generic stock image on their original interstate service page was pitted against two versions.
Version 1 contained an image of their crew members. Version 2 showed an image of one of Harrington Movers' truck that they use for transportation.
To emphasize Harrington's brand, the team also made sure that their logo is easily spotted in both the images.
Both the versions with real photos beat the original and generated more free quote leads from the page.
Read the complete case study here
See the comparison image below: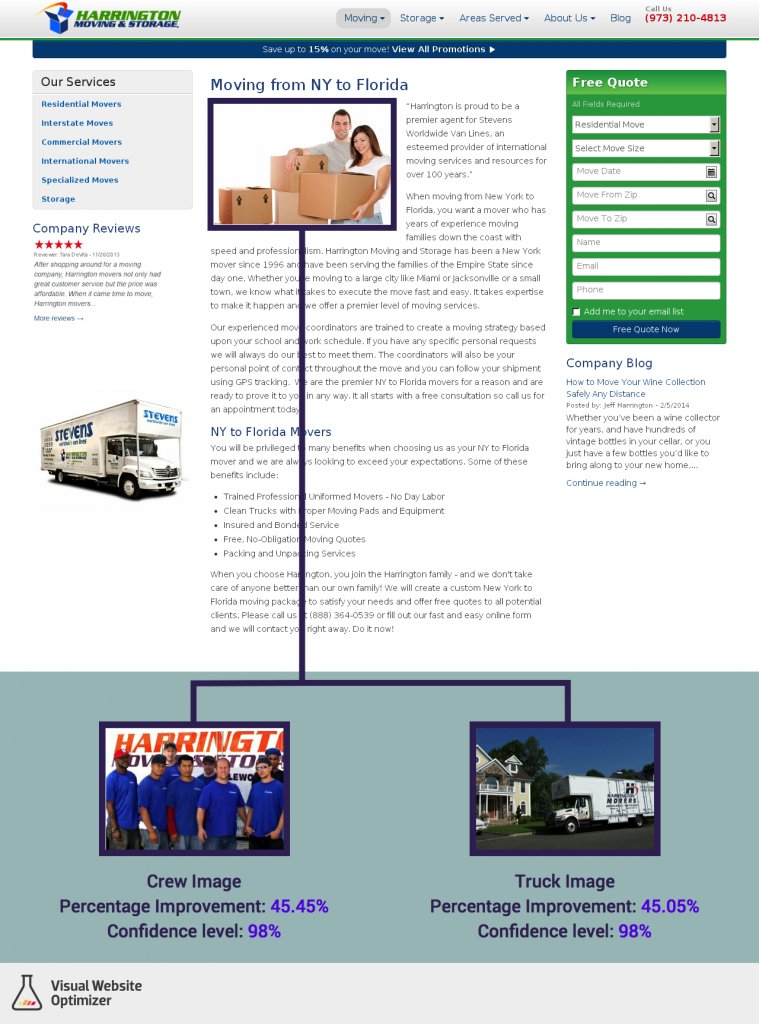 Stock photos are a pretense. Perfection portrayed in these pictures are highly overrated. Their fabrication is apparent and with time, people have learnt to ignore them.
Real photos might not be as perfect and that's okay. They help people trust your brand. It tells them that they are working with real people and not some scammers who might run away overnight.
They lend the much-needed human touch to your online presence, add to your site's credibility, and hence improve conversions.
Conversion Lesson: Want to improve conversions? Want your visitors to trust you? Say goodbye to your stock photos. The Internet world has got enough of that crap already!
2. Your Call-to-Action is a Loner-by-choice. Give it Some Space. Let it Breathe!
As the crowd drowns the energy of a loner, the importance of your call-to-action is diluted when it's occupied by too many things. Both need their space to breathe and perform well.
Case Study: Open Mile makes it easier for people with shipping and carrier needs to get and compare free quotes from various truckload freight companies who are a part of their platform.
Their testing team decided to A/B test their masthead to increase free quotes request from one of their high-traffic landing pages.
Their rather busy masthead represented visual clutter at best. Too many things called for visitors' attention, including the hero-shot on the right; and their dismayed social media buttons, unwanted 'talk to us' option, strangulating their call-to-action button on the left.
Quite likely, distractions in the masthead continued to lead visitor astray until a variant was tested against this page.
The clutter-free masthead in the new version gave their call-to-action undivided attention and gave it the space it needed to deliver optimal results. The new landing page version with a clean masthead improved Open Miles' lead generation rate by 232%.
Read the complete case study here
See the comparison image below: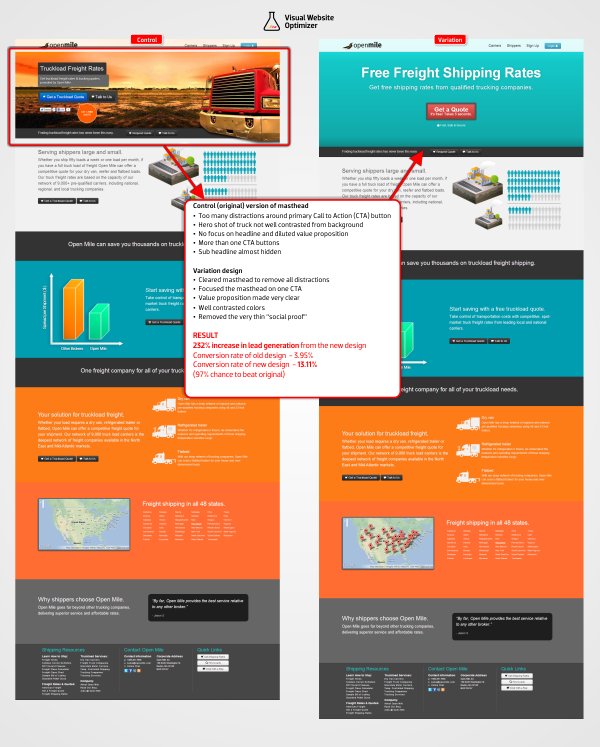 Click on the image to see the larger version
Conversion Lesson: Your call-to-action needs a little space to breathe and stand out. Blending in with the crowd is not its thing. Understand that.
3. Umpteen Choice = Action Paralysis
We, humans, are weirdly wired. Being 'spoilt by choice' might seem like a great situation to us. But that's what is most taxing for our brains.
Processing too many options makes a simple comparison difficult. This makes us indecisive and we end up not choosing anything at all.
This action paralysis is exactly what Professor Sheena Iyengar's popular Jam study pointed out. In the study, Iyengar shows how more Jam options attracted more people, but the consumer group that was shown limited options for Jam made more purchases.
Case Study – Unbounce empowers technically-challenged marketers by helping them make landing pages without any I.T. help.
They conduct a weekly "Master Unbounce in 30 minutes" demo. Their landing page shows different time and date slots for registration.
When they tested four registration slots of their original page against three slots in their variant, their registrations increased by 16.93%.
See the comparison image below: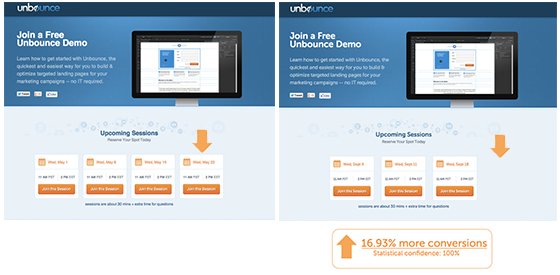 Although this was just the case of reducing choices, the ideal conversion situation is to reduce the number of options (read: call-to-action) to only one.
Conversion lesson: You ask, "How much is too much?" More than one is too much. The fewer the call-to-actions on a page, the better it is.
4. Understand Quirks of Your Target Audience
Our quirks are the unique psychological features that distinguish us from the rest. Your target audience share similar set of quirks. When you identify and use their eccentricities to customize your messaging, you win their hearts.
That's also how it happens in real life too. Isn't it?
We meet few people with whom we immediately click. Because they understand our quirks, share our unique belief system, and maybe some habits too, we start trusting them. Our guards go down when we are with them.
Case Study – BrookdaleLiving.com offers living solutions to senior citizens. Their service vary from those willing to live independently to those who need nursing help or caregivers.
The goal on their homepage is to use the "Find a community" search.
Two new versions of the homepage were pitted against an original page.
While the original page was completely different from the new versions, there was only one difference between the two new homepage versions that were created.
Where the first version contained the image of an old lady, the second homepage version displayed a testimonial video instead.
A test like this is almost a no-brainer for many. Most people will confidently place their bets on the version with the testimonial video. Surprisingly though, the image version outperformed the video version of the page.
A 3.92% increase in 'Find a community' searches was attributed to the homepage with the image (estimated to boost Brookdale Living's monthly revenue by $106,000); against only 0.85% increase recorded for the video version.
Read the complete case study here
See the comparison image below: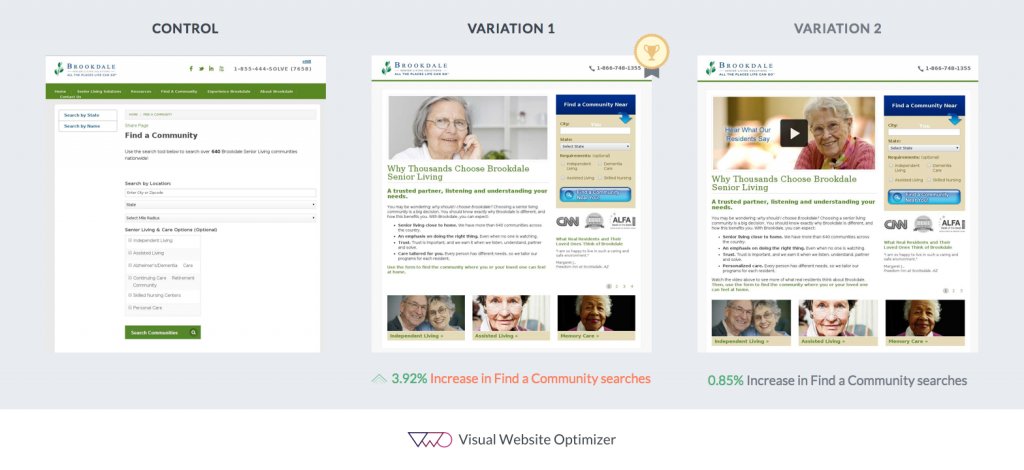 Click on the image to see the larger version
It's quite likely that the aging demographic of target audience added the twist to the results.
An interesting analysis was proposed by Tommy Walker of Conversion XL who mentions in the comments that anything that is not text or images might be "too much Internet" for the older generation.
It's possible that many of them didn't even bother to play the video. Or maybe those who did probably didn't have good Internet speed (as hypothesized by the author in the case study based on some stats).
Using A/B tests to learn more about your audience helps you understand the quirks of the demographic you're targeting. This improves your targeting in future tests and also improves your conversion lifts.
Conversion Lesson: Conduct customer surveys, read research studies, and try to understand your target audience through previous A/B test results (irrespective of their outcome). Analyze and identify patterns in their behavior to understand their quirks and adapt to their preferences.
You can either make these conversion lessons work today, or think about procrastinating them to yet another tomorrow until you forget about them all.
Start with just one test right now. Open up the dashboard of your A/B testing software. Click on "Create a test" and make this moment count.