This One Mistake is Costing Your eCommerce Store Sales and Revenue
I'm going to take a swipe at one of the most widely recommended 'best practice' for eCommerce websites out there. In fact, it's so widely 'accepted' by the community that most online store softwares like Magento, BigCommerce and Shopify add it by default. Some of you will agree with me, some won't, but please hear me out.
So here's the big deal:
Social sharing buttons on eCommerce product pages are most likely costing you sales and revenue, and you should remove them!
But don't believe me just yet. Let me give you the data and then show you how to test whether social sharing buttons are working for you or not.
Why should you remove social sharing widgets?
Social sharing widgets can have a number of drawbacks:
The most obvious reason is that they lead to an increase in the page load time. And it's no secret that page load times have a strong effect on eCommerce bounce, conversion rates, sales and revenue.
A low number of social shares act as negative (or unimpressive) social proof.
They take up precious real-estate that should be used to show more relevant information on product pages.
They're a distraction when the goal of the page is to get visitors to buy.
So let's get started with understanding whether you need social sharing widgets or not.
First, the proof
Finland based eCommerce site Taloon.com ran an A/B test last year where they tested the original product pages (which had social sharing widgets) against product pages without any social sharing widgets. Here's the result: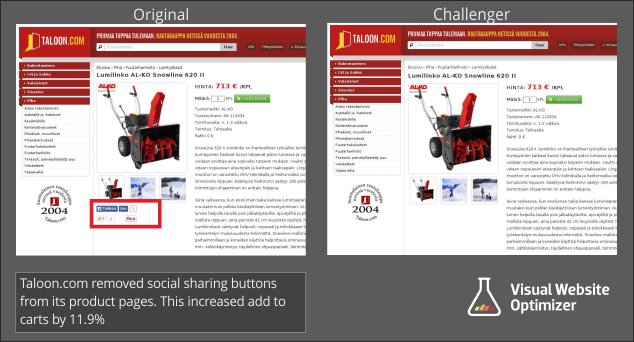 Second, find out if you're getting any social shares
To find your social shares, follow these steps:
Get a list of your product page URLs (preferably of the same category) from Xenu or Screaming Frog
Check those URLs in SharedCount.com

Get a list of social metrics about those URLs (here's the sheet I used to track some of Target.com's URLs)

Third, decide if you need social sharing widgets or not
The factors you need to consider are:
Your average customer. Do they share things online? And is the product being bought something that people share on their social networks? For example, are men in their 40's going to tell their friends on FB that they bought power tools, or bathroom fittings?
The amount of social traffic you receive to product pages. Simple Google Analytics will do here.
The number of times your product pages are shared on social media.
The increase in load time due to social sharing widgets.

A real social media strategy! If you don't have one, it's better to let go of the sharing widgets.
So, what are your alternatives
Here's what you can do instead of adding widgets to your eCommerce product pages:
Potential shoppers need a lot of information to make the purchase. You can help by replacing social sharing widgets with:
– Product availability
– Product details (dimensions, weight, cleaning, washing)
– Payment methods
– Shipping options
– Returns policy
– Size guide
– Color options
– International pricing
– Trustmarks like security certifications
– Special offers and discounts
– Cross selling
– Upselling
Instead of loading widgets that send HTTP calls, add links that use PHP to share the current page. See how Taloon have done it after their site redesign.

If you absolutely must add social sharing widgets, look for one that loads asynchronously.
Okay, but how do I know removing social sharing widgets will work for my eCommerce store?
You A/B test it. Not familiar with the term? It simply means you create a version of your product page that does not include the social sharing widget and then measure if that leads to increase in add-to-carts, sales and revenue.
Here's how you do that:
Sign up for a free trial of VWO (VWO). I know I know, am not being very subtle, but seriously, do this (it just might significantly increase your revenue). You get one month and 1000 visitors to test.
If your online store is on BigCommerce, Magento, Shopify or WooCommerce, use our plugins to include the VWO Javascript code on your website, or ask a developer to do that for you.
Once done, create a 'Website Optimization Campaign', load your most popular product page in the Visual Editor, and remove the social sharing widget.

After this, when choosing the goal, select "Visit to a page" and input the URL of the "thank you" page that shows when a purchase is completed.
In the test settings, integrate this test with your Google Analytics (it's a single click integration).
You're done. Now sit back and wait for the test to run for at least a week.
If you face any problems, just reach out to me at siddharth.deswal @ wingify.com
Once you're done finding out what works for you
Tell us how it worked out. Happy optimizing!